So you've decided to take up carp fishing. Maybe you're tired of fishing for silvers or you want to catch carp in the depths of your local pond. Either way, you're about to embark on a rollercoaster journey fishing for some of the most prized fish in the country. Now carp fishing for beginners can be very overwhelming. The sheer growth of the sport in the last 15 years has led to so many variations in tackle, tactics and rigs, that it's very easy to become confused.
But you needn't be, carp fishing can be as simple or as complicated as you make it, and even the most wary of carp are caught on the simplest rigs and tactics.
Our aim for this article is to cut through the BS and give you an overview of what you need to get started carp fishing as a beginner. Hopefully by the end of this article you'll have enough knowledge to go and bag yourself that PB carp!
Looking for your first carp set up?
If you're short on time and reading this article to find out what gear you need for carp fishing, you can skip straight to our carp gear for beginners recommendations here
Use the links below to jump to each section of this article:
Getting a Rod Licence for Carp Fishing Beginners
Before casting a rod into the water anywhere in England and Wales, you will require a rod licence. It is against the law to fish without one, and if caught, you could face a fine of up to £2500. Rod licences are quick and easy to purchase via the government website, with lengths varying from one day all the way up to one year. – Perfect if you only fish every now and then.
The licence costs are quite respectable, helping to fund our Environment Agency and ensuring our rivers and lakes are well looked after for years to come. Below are the prices you can expect to pay, including discounts for juniors, over 65s and the disabled.
| Licence Type | 2-rod | 3-rod |
| --- | --- | --- |
| 1-day | £6 | Not available |
| 8-day | £12 | Not available |
| 12-month | £30 | £45 |
| 12-month (over 65 or disabled) | £20 | £30 |
| 12-month (junior aged 13-16) | Free | Free |
| | | |
As you can see, the EA (Environment Agency) licence also stipulates the amount of rods you can use at any one time. This is worth bearing in mind if you fancy jumping in straight away with a 3-rod carp setup. (In which case you would need to opt for a 12-month licence straight away).
Well, thats the boring legalities out of the way, let's get to the fun stuff; catching carp!
---
Finding Carp Lakes to Fish
When it comes to carp fishing in the UK, we're spoilt for choice. You can find carp in many lakes, rivers, streams and reservoirs. There are also a growing number of commercial day ticket carp lakes that are designed just for carp fishing.
However, as a carp fishing beginner, it's worth taking into account that not every carp lake will be best suited to you. Every water is different, whether that be in pure size, the number of other species present or just generally how many carp it holds.
Generally speaking, a larger lake that holds a smaller stock of fish will be much harder than a smaller lake with a good head of carp. That being said, even some of the so called 'carp runs waters' nowadays hold fish to over 40lb, so you'll still be in with a chance of a biggie!
My best piece of advice for beginners in this respect is to go somewhere with a good chance to catch each time so that you can build up your skills consistently. In doing so you'll quickly improve your watercraft, casting, landing and fish care amongst other things.
TIP: Before you fish, take a look at the lake rules online. The last thing you want is to be in the bailiffs bad books on your first session!
---
Choosing the Right Equipment – Carp Fishing for Beginners
Once you know where you're going to fish, you need to get your carp gear ready. Now this can be one of the most confusing parts, especially with the sheer amount of options available to you. Step into your local tackle shop and you'll come across tonnes of gear, most of which is there to catch the angler, rather than the carp!
For the sake of this beginners guide, we're going back to basics, highlighting only the absolute carp fishing essentials. Like most sports, there are various options available to you in terms of budget, and we'll try to cover a mid range for this guide.
That being said, fishing gear can often take a battering so there are some things that simply aren't worth skimping on. (Like carp care!)
Rods
Undoubtedly one of the most important pieces of equipment to consider are your rods for carp fishing. Typically there are two things to consider when choosing a rod; test curve and length. Let's take a look at the two key points to help you choose your starter carp rod.
Carp Rod Test Curve
Whilst test curve may sound like some sort of science, it's actually quite easy to understand! The rods test curve is the amount of weight it needs to compress the tip through to a 90-degree angle from the butt of the rod.
Generally speaking, the higher the test curve, the stiffer the rod and the more weight it can launch out into the lake. Now, you might be thinking thats great, I'll go for the highest test curve. However, there does need to be some compromise as the higher up you go, the less cushion and flex you'll have when playing a carp.
It's all about finding the balance between being a rod thats right for your type of fishing, but also one that will not hinder you when trying to land carp.
To put test curve into perspective, here are some typical fishing situations and test curves to match:
2.5oz Test Curve – Fishing small ponds and canals where you may only be casting short distance.
2.75oz Test Curve – A little more backbone than a 2.5oz, therefore you can start launching out some small solid PVA bags a little bit further.
3oz Test Curve – A great all-rounder, capable of small water work and some distance, but still forgiving in the tip and offering great playing action.
3.25oz Test Curve – Excellent for distance casting, can launch solid bags and method feeders for miles, however you will notice a stiffer action.
3.5oz Test Curve – Great for pure long-range carp fishing
Hopefully that gives you a better insight into carp rod test curves. Overall I would consider something around the 2.75oz mark when starting out, as it's important to get used to playing fish safely with a more flexible rod.
Carp Rod Length
Like test curves, there are a few carp rod lengths to choose from, each offering different a style for a different situation. In general, longer rods are harder to handle, however they will aid you in casting distance. A carp rod of 10-12 foot is an excellent starter.
In addition, there are a couple of other things to think about:
Fishing overgrown, confined areas? If this is the case, you may opt for a smaller 6-9ft carp rod. These have dominated the market in recent years, offering a transportable solution as many of them tend to be telescopic too.
Do you have limited car space? Again, going for a telescopic 6 or 9 footer is ideal in this scenario as they pack up small enough to fit in the boot of any car.
Carp Rod Recommendations
Over the years we have provided overviews for most of the carp fishing gear on the market. Here are a few options that you may consider when looking to buy carp rods. We've provided options to cover all budgets. Personally, I use the TX2s. You can see our full Shimano TX2 Review here.
Budget Option
Wychwood Riot Carp Rods
Mid-Range Option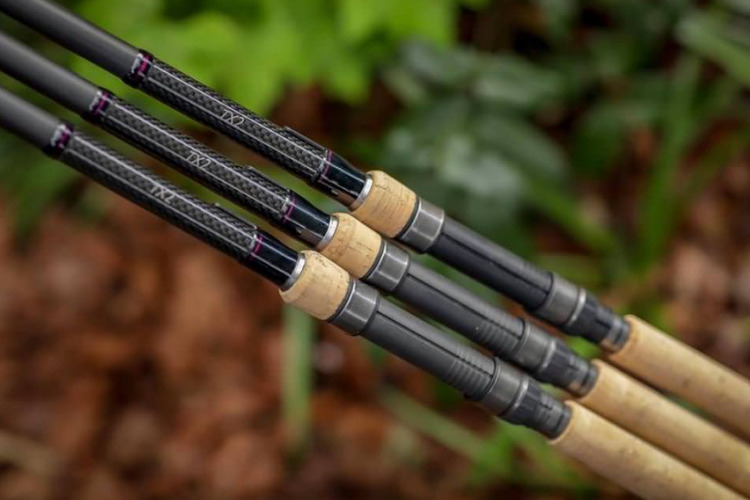 Shimano TX2
High-End Option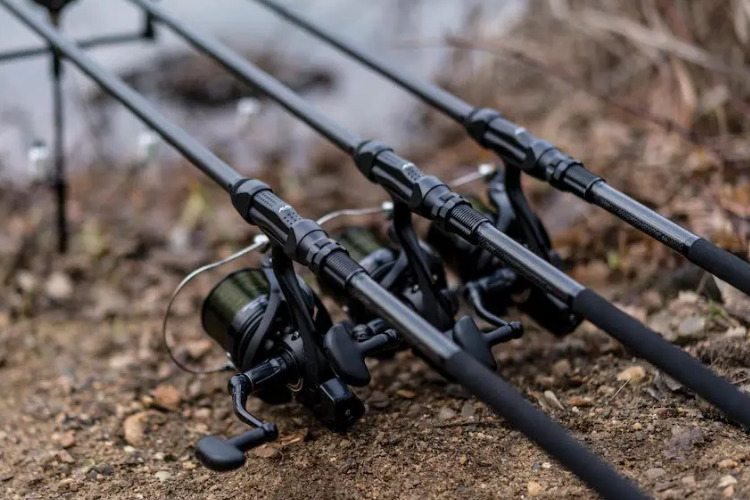 Daiwa Infinity X45
Reels
Like with carp rods, there is a huge variety when it comes to reels. If you've already had a look, you'll notice that there are two types of carp reel; bait runners and big pits.
In most cases, bait runners tend to be the smaller of the two. They house a clever mechanism on the rear of the reel which allows you to switch it into a runner mode for when you're waiting for a take. This is handy for carp fishing beginners as it gives you more control when you're initially attached to an angry carp!
With baitrunners being the smaller of the two reels, they offer better balance for shorter or lower test curve rods. This is worth taking into account when buying your first carp set up.
However, if you're looking to do any fishing on larger lakes, you'll want to opt for a big pit reel. As the name suggests, they are bigger all over, but more importantly, the spools are bigger. Not only does this allow the reel to hold more line, it enables line to come off the reel at a faster rate, increasing your casting distance. If you're just starting carp fishing, it might be worth checking out our new guide to the best carp reels under £100.
Baitrunner or big pit reel?
Overall, it really depends on where you're fishing, as this will dictate which rod and reel you'll likely need. Just remember, the most important thing is balance between the rod and the reel. The last thing you want is a 6 foot telescopic carp rod paired with a huge big pit reel. – It just won't feel right in your hands. Whilst the baitrunner functionality is helpful in some situations, a similar affect can also be achieved by using the front drag on a big pit reel.
Carp Reel Recommendations
Budget Option
Wychwood Riot Carp Reels
Mid-Range Option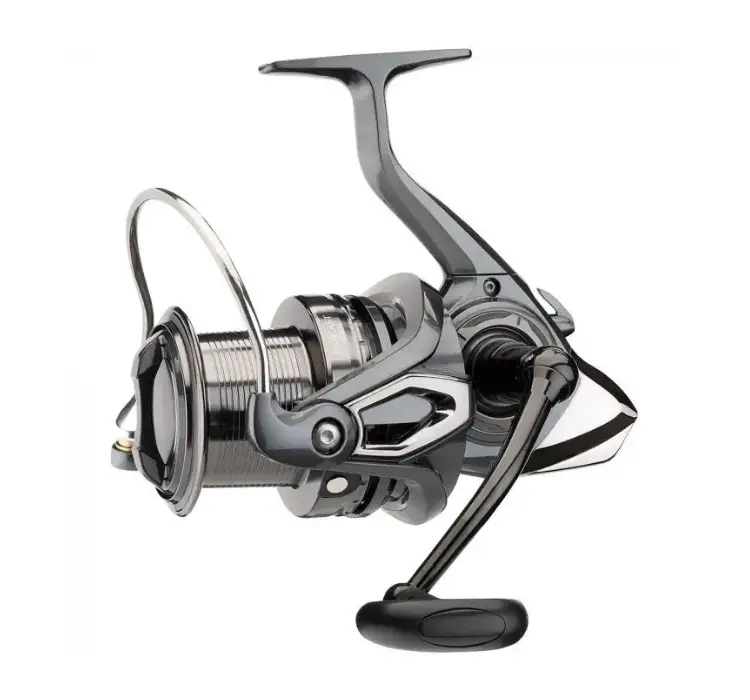 Daiwa Emcast Reel
High-End Option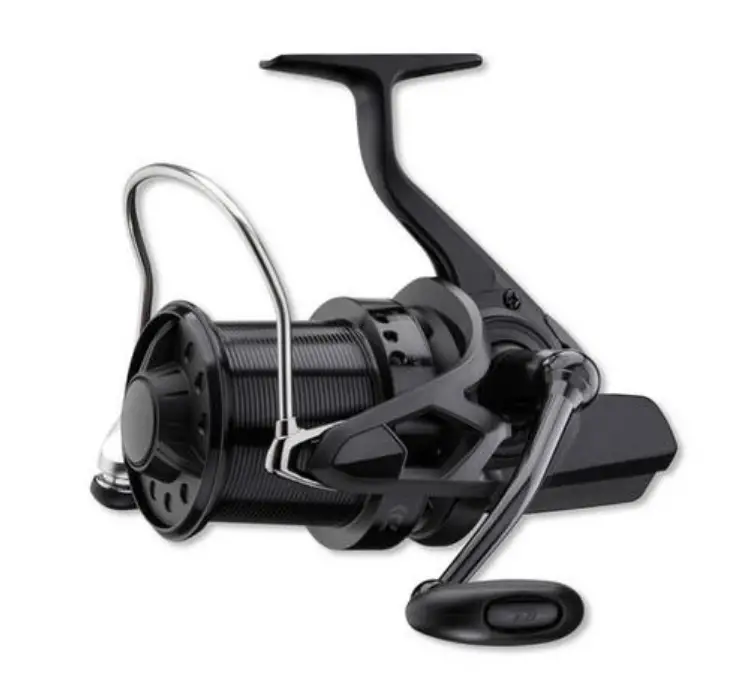 Daiwa Basia
Carp Line Setup
Once you've chosen your reel, you'll need to purchase some line to fill it with. As a carp angler you have three choices;
Monofilament – The most common type of carp line, cost effective, easy to tie and handle in general. If you are looking for a cost-effective mainline, check out our Daiwa Sensor Line Review.
Fluorocarbon Monofilament – Similar to standard mono but with a more transparent coating, suited to clear lakes. It's also heavier, so has great sinking properties. However, this comes at a price and fluorocarbon isn't well known for it's long-range casting abilities.
Braid – A completely different material made from multiple woven fibres. None stretch in it's form, braid is much harder to work with in general, making it more suited for carp anglers with experience.
This is broken down even further by the fact that all lines come in different breaking strains. This means the minimum force a mainline can take, measured in pounds (lbs). Don't be confused in thinking that this is the maximum sized fish you can catch! Remember, the rod takes most of the strain!
As a general rule of thumb, a monofilament carp line with a breaking strain of 12lb is ideal for a beginner. You can also look to increase this to 15lb if fishing snaggier waters. More importantly than anything though is to check with your chosen fishery, as it's quite common for them to stipulate a particular line.
Rigs
Now most people will argue that it's the last 6 feet of what you put out in the lake that matters the most, and I tend to agree! Carp are wary old creatures and without a solid carp rig in place, you hinder your chances massively.
Carp rigs is one of the most debated topics in the sport. Rigs come in all sorts of shapes and sizes, with every angler claiming to have the best rig in the game!
In all honesty, like most of the gear available, many rigs are tweaked and made to push a particular new product.
Typically the concept of a rig can be split into two areas:
Hooklink – This is the business end of the rig, that you want to be as concealed as possible. Generally speaking, the hooklink consists of the hook (with a mounted bait), a length of hooklink material and a swivel. (Check our blog here on what size hook for carp.)
Lead System – Consisting of your lead, and a length of tubing, leadcore or leader to help you pin the last metre or so to the lakebed (and out of the view of carp).
MORE READING: What is a leader in carp fishing?
Hooklink
The most common carp rig available on the market is known as the hair rig. Widely used, it's still as effective today as the day it was invented. It's strong, easy to tie and perfect for anyone starting out in carp fishing.
With the hair rig, the bait is mounted on a piece of hooklink material that runs off the back of the hook (known as the hair). Mounting the bait in this way leaves the hook fully exposed and available to catch hold in a carps mouth. Hair rigs vary in length, although anything from 8-12 inches is great to start out with.
Lead System
The hooklink is not the only component that you'll be casting out into the lake. You'll also need a lead system. Again, these can vary, but we would recommend a safety lead clip or inline lead setup with a length of anti-tangle tubing to start off with.
All of these components can be purchased as ready-made, which we would advise when carp fishing for beginners.
When you purchase ready-made rigs, it's easy enough to see how they fit together, before going ahead and buying the components to create yourself at a later date.
With rigs, I must stress that the most important thing is to find something you're confident in and stick with it.
Chopping and changing every week based on what you read in the magazines will only leave you will more questions than answers. And on that note, here is a great video on the subject by Fox sponsored angler Ian Chillcott:
Bite Alarms & Bobbins
Bite alarms are what we use to tell us whether we have hooked a carp or not. They have become a vital tool in modern day carp fishing, enabling us to accurately night fish without watching a float or rod tip all night!
Over the years, bite alarms have improved massively, now offering multiple settings including tone, volume and sensitivity. Perhaps the most important is sensitivity, as this enables you to stop any false bleeps if you're fishing on a windy day or if weed blows into your lines.
MORE READING: Carp Fishing in Heavy Weed: Top Tips for Success
When it comes to night fishing for carp, we'd recommended opting for a set that includes a wireless receiver. This just gives you that extra peace of mind that you'll have an alarm in your bivvy to wake you up if you're sleeping a short distance from the rods.
You get what you pay for…
Speaking from experience, when it comes to buying an electronic, these are one of them items where paying for a reputable brand really counts. Luckily there are a few reputable brands that have built some entry-level alarms. These include the Fox Mini Micron and Nash Siren S5.
Now it's worth mentioning that not all carp takes will be a full blown one toner! (Unfortunately). It is quite common for carp to swim back towards you, and in this instance it is a little harder to register a bite on the alarm. To assist with this, it is important that you invest in a set of carp bobbins.
Bobbins clip onto your line and sit under your bite alarms. They are vital in helping you register a take if you receive a drop-back (a carp swimming back towards you).
Rod Support
You'll need some sort of support to keep your rods off the ground, in place and sat properly on your bite alarms. There is few different options available, each being good in particular fishing scenarios. The options you will have available to you include a rod pod, single bank sticks, buzz bars or a goal post setup.
Which one is best is of great debate amongst the carp fishing community. However, in truth, each rod support setup has it's day.
For carp fishing beginner, we recommend a rod pod which should keep you covered for most situations that you come across.
Rod pods stand independently, so you don't have to push bank sticks into the ground. These are particularly helpful on waters where you'll be fishing from a wooden or concrete platform and have no way of driving your sticks in.
Another added benefit of going for a rod pod first is that many of them can be adapting into goal post or single bank stick set ups if you need a little extra rigidity. An example of one such pod we would advise when carp fishing for beginners is the Nash KNX Pod, available in 2 and 3-rod versions.
It's also worth taking a look at the Cygnet Quicklock Pod, which covers a few scenarios mentioned above, in one compact package.
Landing Net
Once you have hooked a carp and have it close to the bank, you'll need a landing net to safely scoop it up. Landing nets come in all shapes and sizes, but typically for carp fishing you'll need a 42 inch specimen net. You can purchase smaller nets, however the cost saving is minimal and it's becoming more frequent to see 42 inch nets as a minimum for carp lakes.
Specimen nets are wide across the front and offer extremely deep mesh which can aid you in landing any size carp that you're likely to catch in the UK.
One thing to note is that your landing net is likely to come up against plenty of abuse whilst out fishing. Landing large carp, resting it up against bushes and trees, folding it down when taking a carp out of the water all take it's toll. Where possible, try to spend a little extra here and go for one that will stand the test of time. Personally, I am still using a Fox landing net that has lasted over 15 years! Obviously that has since been replaced on Fox's carp range but here is the alternative.
Unhooking Mat
Probably the most important item on this list and something you should absolutely not go fishing without. Carp unhooking mats are designed to provide proper support and protection to our prized capture whilst we have them on the bank for unhooking, weighing and photography.
It goes without saying that you choose one which is large enough and offers sufficient protection. There are plenty of mats available on the market, however we would advise going for a carp cradle or cot. Usually these have raised edges and quite often a safety flap over the top that provides extra protection when your unhooking and getting them PB photos!
As a carp fishing beginner and someone who it potentially new to handling large carp on the bank, this extra protection provide by a large cradle or cot will prove to be a great asset. Check out our Avid Carp Cradle review for an example of a well-padded, extra-safe carp cot.
TIP: Make sure that after each session you take out and fully dry your unhooking mat to prevent spread of diseases such as KHV.
Weigh Sling
Another vital part of your carp care kit is your carp weigh sling. Weigh slings are designed to provide a safe place to put the carp, taking the strain as you lift it it to weigh it.
There are plenty available and the most important thing is that you have one which is the right size for the carp you're fishing for.
Over the years, they have improved massively and now provide much more protection in terms of safety, from fish-friendly mesh to floatation/retaining devices.
As a beginner, you should consider investing in a retaining weigh sling over anything else. Aside from weighing the fish, these enable you to zip the carp up and leave them floating safely in the edge, attached to a safety cord for a short period of time. This is ideal for when you're sorting your camera kit out or waiting for a friend to walk around the lake to take photos.
Carp Care Kit
An absolute staple piece of your carp care kit for any carp fishing venue should be some topical treatment such as Propolis. Propolis is a specialist medicated lotion which can be quickly applied to any wounds on the carp whilst you have them out on the bank.
Typically, it comes in either spray or squeeze on bottles, making it really easy and quick to apply.
Studies show a significant improvement in wounds such as hook marks or lifted scales whilst using a treatment such as Propolis.
Ad a carp fishing beginner, this should be a vital part of your carp care kit, and one which you'll need to gain access to the more established carp fishing venues in the UK.
Carp Bivvy/Shelter
If you're going carp fishing in the UK, there's a high chance that the weather will turn for the worst. At this point, you're going to need a carp bivvy or shelter which is fast to erect and keeps you and year gear dry for the duration of your session.
If you're going overnight, you'll certainly benefit from a proper carp bivvy to sleep in. They come in a wide variety of versions and sizes depending on if you go alone or take a mate.
When it comes to buying a carp bivvy, we would recommend steering clear of the cheapest on the market. Bivvies take the brunt of whatever the weather throws up at you and for the sake of a little extra money, I think it's better to buy something that will last.
That being said, there are some excellent affordable bivvies available from the likes of Fox, where you won't be breaking the bank either. The Fox EOS is one example of an affordable carp bivvy which has great reviews.
Of course, if you're not fishing overnight, then you might not need something as bulky as a bivvy. In this instance, a simple 60 inch oval umbrella would do the trick. These are fast to erect, provide ample coverage and can even slip into your rod holdall/quiver. A very popular umbrella on the market is the Abode Night & Day 60″ Carp Brolly.
Bedchair & Sleeping Bag
To really enjoy your first night on the bank, you will need to stay warm and comfortable. The beauty of modern day carp fishing and the invention of bite alarms is that when the rods are out, you can kick back and get a few hours sleep. (That's if you're not catching of course!)
As we previously mentioned with the purchase of a bivvy, we would also recommend steering clear of the cheapest bedchairs and sleeping bags on the market.
Whilst it feels good to save some money at the outset, the cheap bedchairs really are poorly made and can provide long-lasting back pain if you're a regular angler. The carp bedchair market has come on leaps and bounds in recent years and starting from the middle of the range, you can see well padded beds with plenty of support for your back.
What to consider when purchasing a bedchair…
Transport Size – Bedchairs are inevitably one of the bulkiest items you'll take night fishing, so make sure it fits on your carp barrow or in the boot! If a lightweight bedchair is needed, you might want to check out our tried and tested review of the Trakker RLX Bedchair.
Padding – Bedchairs of the nineties and early 2000s were terrible for your lower back. Luckily, we have more choice available to us now, so be sure to check one with enough padding throughout.
Weigh Capacity – Be sure to buy a bedchair that's capable of holding your weight. Most are, but it's better to be safe than sorry!
When it comes to buying a new bedchair, you can checkout out our best carp bedchair guide for more help!
In addition to a quality bedchair, you will need a decent sleeping bag that can be used throughout the seasons you'll be fishing. A solid 5-season sleeping bag will see you throughout the entire year. There are plenty of these available on the market, specifically designed to be fitted to carp fishing bedchairs.
Down either side of carp fishing sleeping bags you'll find crash zips too. The benefits of these is that they open up really quickly when you get a take in the night!
---
What do you need for carp fishing?
One common we're asked quite regularly is what do you need for carp fishing? Aside from our thorough descriptions in this guide, here is a list of the carp fishing essentials that you'll need whilst carp fishing for beginners.
Use this as a guide to tick off all of the equipment you need for your first session carp fishing:
Carp fishing equipment list
Carp Rods & Reels
Bite Alarms
Bobbins or Swingers
Bank Sticks or Rod Pod
Unhooking Mat
Carp Weigh Sling & Scales
Carp Care Treatment
Rigs for Carp Fishing (Including Hooklink & Lead Arrangement)
Line (12lb or 15lb preferably)
Carp Chair
Bedchair & Sleeping Bag
Carp Bivvy
Bait
Luggage (to carry your mountain of carp gear!)
Bivvy Heater (for the winter months obviously!)
---
Choosing the right carp bait when starting carp fishing
If you can locate carp properly, you can catch them on pretty much anything. That being said, you want to be using a bait that it's nutritionally attractive to the fish.
For that reason, most carp anglers opt to use boilies. Boilies are semi-hard round balls made from ingredients such as fishmeal, ground nut mix and various other additives.
Boilies for carp fishing beginners
Highly attractive, boilies are easy to use straight out of the bag and there isn't a carp in the land that'll bypass a bed of boilies.
As you would expect, there are numerous boilie companies to choose from, all offering various flavours.
In all honesty, they will all catch fish. However, some do have stronger track records than others, so it's always worth finding a bait that is known to catch lots of fish. A large portion of carp fishing is about confidence. When you finally have confidence in your bait, it's a game changer as you will focus more of your efforts on finding the fish instead of chopping and changing bait constantly.
We will be creating a full carp bait guide in the near future. In the meantime, here are a few tried and tested baits that will work for your first time carp fishing:
The beauty of all of the baits that we've listed above is that they offer a full range of matching pop ups, pastes and pellets to go alongside your boilies.
Carp pellets
Similar to boilies, pellets are a man-made food item packed full of nutritional goodness for carp. Go to your local tackle shop and you'll see plenty of bags of pellets in various flavours and sizes.
Pellets are an excellent bait option as loose feed in your swim. By that we mean using them to attract carp into the area, with the goal of getting them to come across your hookbait.
The majority of carp in day ticket waters have been raised on pellet, so offering feed that's closely related to their diet is a good option whilst fishing.
Soluble in their nature, pellets take on water fast and are excellent at bulking out spod mixes, or moulding into balls and firing into the lake using a catapult.
Particles for carp fishing
Particle carp baits have been used to catch carp for years and still remain a huge favourite of carp anglers today.
Particles are cheap, easy to make and carp absolutely love them. There are numerous particles available, with many firms mixing variations that can be added into your spod mix and so on.
There are numerous different particles available, including:
Barley
Buckwheat
Chickpeas
Hemp
Maize
Maple Peas
Pigeon Conditioner
Particles are a great way of bulking out your loose feed when baiting up. Baiting up with just boilies can become very expensive, so particles are a great way to alleviate that.
it also gives carp some variation in their feed and keeps them grubbing around on the various seeds that are included in particle mixes.
Baiting up for carp fishing beginners
You'll often hear the phrase 'baiting up' in carp fishing. Typically, this refers to the task of putting out bait in your swim as a means to attract carp to feed more and eventually be caught.
One of carp fishings biggest dilemmas is how much bait should you put out? To be honest, it ranges on a few factors that I'll outline below. Like choosing a hookbait, knowing when and how much to bait up is of personal preference and you will get a feel for it over time.
What to consider when baiting up
Amount of Carp – Obviously, the more carp your venue holds, the more fish you're going to be feeding, so it is worth bearing this in mind with your baiting up approach.
Time of Year – Carp are predominantly more active in the warmer months. It's in these months that they'll be up for moving distances and feeding more. In the winter months, carp are much more dormant, eating less. For this reason, bright hookbait and smaller PVA bag type approaches work well in the colder months.
Number of Anglers – You can pretty much guarantee that day ticket carp venues see kilos of bait every day of the week. For that reason, it pays to be cautious about what you're putting out. If you're arriving at the lake on a Sunday after a busy weekend, you may already be fishing over plenty of free offerings that have been put out by other anglers.
Carp Feeding – If you're getting regular bites, it pays to keep the fish in the area. Like most other species, carp are competitive and when you're on the fish, you're going to want to keep them around for as long as possible. Personally, I prefer a less is more approach when carp fishing. I start by fishing for the first bite with minimal free offerings and then gradually introduce as fish activity increases.
You can always put more bait in…
One thing to remember when it comes to baiting up, is you can always put more in the lake, but you can't take it out. It's far too common these days to see anglers turn up and spomb 10kg without a single sign of a carp in a swim. When you think about it logically, all this is doing is limiting the chances of a carp initially picking up their hook bait, should they turn up in the swim.
As carp fishing beginners, it's much better to take a cautious approach and keep the bait going in little and often.
---
Guide to Setting Up – Carp Fishing for Beginners
Now that you've got all your gear in place, you're going to need to get everything set up correctly for your first carp fishing session. Whilst we could write through the whole process of setting up your carp gear, these sort of things are much better explained over video.
For that reason, we've compiled some of the best how-to videos for doing everything from spooling up your reels to spombing out a bed of bait.
Loading your reels with line
The team at ESP have put together an excellent video on how to spool line onto your reels. We couldn't have explained it better ourselves!
Tying carp rigs
As we've previously mentioned, carp rigs are an important part of carp fishing for beginners. However, it's important not to overcomplicate things.
Opting for ready-tied carp rigs is a great place to start. Once you've used a few of these, it's easy enough to buy all of the components yourself and start tying some up.
As above, it's much simpler to watch a video of how to tie a simple carp rig, than explain the whole thing here. Carl & Alex have explained how to tie a simple carp rig here:
Keep an eye out on our Carp Fishing Blog too as we will soon be releasing in depth rig guides for the most popular carp fishing for beginners rigs.
How to cast a carp rod
Like most activities in carp fishing, how to cast a carp rod is one of them things that will come with practice and time spend out fishing. Like playing golf, it really is one of them things that can help you achieve success in the sport.
Whether that be to cast to a snaggy island overhang, or accurately cast to showing fish at range, how to cast a carp rod is a skill worth mastering.
As we have previously mentioned, you can't beat YouTube for videos, so here's one of the most reviewed videos on how to cast a carp fishing rod:
---
How to Find Carp in a lake – Carp Fishing Watercraft
Undoubtedly the most important part of carp fishing is being able to find carp. At the end of the day, if the fish are not in front of you, you're not going to catch them.
Developing your carp fishing 'watercraft' is an art form and something you will learn and improve on over time. How to find carp in a lake is never easy but you will improve over time. The more lakes you'll fish, the more instances of carp feeding you'll begin to notice. This should all feed in to your decision making process when it comes to choosing a place to fish each time.
One thing you will find though, is that the carp in each venue will respond differently. This is because the layout of each lake will be affected in different ways depending on the weather conditions. For example, carp in large, open, windswept lakes are much more likely to follow the wind than those in lakes surrounding by trees with plenty of cover from the wind.
As we have mentioned, there are lots of factors to take into account. Here are just a few things you should be looking for when trying to locate carp on your new carp fishing venue:
Follow the wind for carp
Carp love to follow the wind. You will often find carp in the corner of the lake where the wind is blowing. A strong wind will blow all sorts of food sources across the lake and hungry carp are often the first to follow.
Typically, if you can fish into the face of a south westerly wind, you're onto the winner. Wind from the south west is typically much warmer and the carp love the warmer water that it brings.
On the other hand, if the wind is blowing heavily from the north east, you can often find carp on the back of the wind. Here they will be sheltering in snags or in slack water around islands where it isn't as affected by the wind. You'll even noticed the difference yourself in temperature just by waking around the lake.
Carp in the snags
Snags, such as overhanging trees, are an excellent place to find carp lurking. Like any animal, carp like to find safety in their environment. This can often be in the form of sunken trees, man made structures like jetties or anything of note that gives them some sort of protection from the elements.
Checking out the snaggier areas of the lake is an excellent starting point for finding carp.
As a side note though, just make sure that if you are fishing near snags, that you're ready to grab your rod quickly! When hooked, a carp will often head straight to it's safe sanctuary in the snags, and before you know it, you've lost a good one.
Lily pads and reed beds
Similar to snags, lily pads and reed beds offer a form of sanctuary for carp to hide amongst. Fishing to the edge or lily pads and reed beds is an excellent tactic and one which will often result in a bite.
Not only do they offer safety to the carp, they're also full of food, so carp are used to feeding in and amongst them. When it comes to looking for carp, watch out for lily pads and reed beds knocking and rippling as carp move amongst them.
Watch for bubbling carp
Carp will often give themselves away whilst they're feeding. Keep an eye out for bubbles rising constantly over a particular spot. This is a great sign of fish in the area and worthy of some more investigation.
Jumping Carp
Otherwise known as carp 'boshing'. It's one of the biggest signs of carp being in a particular area of the lake. Carp love to jump, primarily to clean their gill plates or rid their scales of any lice that may have become attached over a cold winter.
Whilst carp are known to jump throughout the day, you'll see them more during dawn and dusk. If you can, get down to your venue at first light and watch the water before getting your gear out of the car. A jumping carp giving away it's position is often the fine line between a great session or a blank!
How to find carp in winter
Carp fishing in winter is much harder than in the warmer months, as the carp are less active. However, they do show themselves and following the advice above will. The biggest piece of advice for how to find carp in winter is to wake up at first light and find an area of the lake where you have a good viewpoint of the water.
Carp will often give themselves a way by jumping in the early hours as the sun rises. Locating carp like this can be the difference between a poor or great carp fishing session!
---
Carp fishing for beginners: How to bait up your swim
We've already touched on how much and what bait you can choose to use carp fishing. But how do you get it out there?
Quite often you can be fishing at distance where it's simply impossible to throw your free offerings out by hand. In this scenario, there are a few things that you can do:
Spombing or Spodding
Spombing or spodding are excellent ways to get your free offerings out in the swim. It's often the most popular method due to the accuracy of casting a spomb or spod at short, medium or long range.
A spomb or spod is essentially a rocket-like device which holds a certain amount of bait. You cast it out using a dedicated spod rod and the rocket releases the bait when it hits the water.
Spombs can pretty much deliver any sort of bait into your swim, from boilies and pellets to slopping particle mixes. The opportunities are endless.
Like casting your carp rods, spombing is quite an art so don't be deterred if your first few casts go wayward.
Catapult
The good old fashioned catapult needs no introduction! Catapults are great for getting bait out at short to medium range, making minimal disturbance in the process.
Catapults do vary slightly depending on the bait you're putting out. If it's large boilies you may need something with strong elastic, or for pellets a wider pouch. That being said, I've always stuck to one catapult as I hate carrying tonnes of gear around.
Personally I use the ESP Particle Pult and find this an excellent catapult for boilies, dog biscuits and carp pellets too.
At just under £15, i've had years of use out of it and not had to change the elastic once!
Throwing Stick for Boilies
If you're using boilies only, throwing sticks are excellent for getting your free bait out at range. A throwing stick is essentially a round tube which is used to throw the boilies out individually.
With some practice, you can achieve some serious distance with a throwing stick. There is a downside though, and that's accuracy.
Unlike a spomb where you can concentrate your bait in a tight area, it's much harder to achieve it with a throwing stick.
That being said, some carp anglers have great success creating a wider spread of boilies and fishing simple pop ups over the top. It's a well known method that has seen the downfall of some of the UK's largest carp!
Baiting Pole
One method of baiting up that has become incredibly popular in recent years is a baiting pole.
This is essentially a large buoyant spoon on the end of an extending pole. Bait is added to the spoon and it is pushed out in to the lake by adding new sections extending the pole as you go.
You can then turn the spoon over and drop your bait and rig in position.
By carefully pushing the bait over the water, you can use the pole to fish areas that are often hard to reach using a traditional cast. Areas such as overhanging bushes, snags and up against lily pads are perfect places to use a baiting pole.
It's a stealthy approach which can work wonders on the right venues!
---
Carp Fishing Setup for Beginners
We've already covered most of the items that make up a full carp fishing setup. When it comes to choosing your carp gear though, you'll notice the sheer amount of options available when you look online. It can be daunting making the right choice.
Therefore, in order to help you make the right choice, we've handpicked the best carp fishing gear for beginners based on wider-market reviews.
The kit we mention here won't necessarily be the cheapest, but it will represent value for money as that is extremely important when you're buying a full carp setup for the first time.
You're going to need gear that is functional, can stand up to early beginners abuse, but also works to help you put fish on the bank.
Rods – Wychwood Riot Carp Rods
Wychwood have developed an excellent reputation for producing cost-effective carp gear over the years. The Wychwood Riot Rods are their entry range and are ideal for anyone new to carp fishing.
Made from carbon blanks, the rods are available in multiple test curves to cater for short to long range fishing. You also have a choice of length and handle style too.
With a progressive action they are ideal for playing your first few carp, but with enough power to punch out a solid PVA bag or heavy lead.
Reels – Wychwood Riot Carp Reels
Again, we couldn't help but include the Wychwood Riot Reels here. The Riot range offers great value for money and with the Riot you'll have a reel that will withstand some abuse for your first few seasons.
With 5+1 bearings, the Riots are smooth, with plenty of cranking power to get the rods in quickly.
Wychwood have also included a spare spool too, which is a rarity these days but will help you keep your carp fishing setup costs down.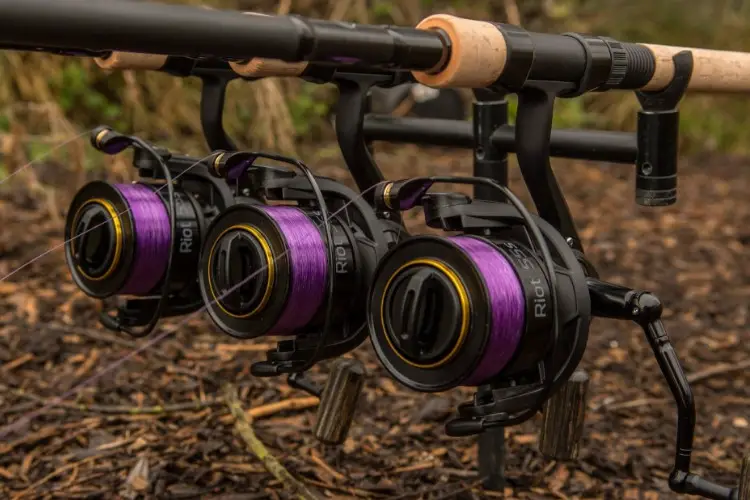 Line – Korda Carp Line
Korda Carp Line is a super-strong, long-lasting monofilament line. Available in various breaking strains, Carp Line comes in bulk spools of 1000m.
With this line, you'll have more than enough to cover three reels. From what we hear, the reviews of this line are great too!
Rigs – Korda Korda Ready Tied Carp Rigs
Korda ready-tied carp rigs are an excellent option for carp fishing beginners.
Not only are they well tied, but they're made from quality components that will not let you down.
As a carp fishing beginner, the benefit of using ready tied rigs is that you know that you're fishing properly. You'll also have a ready-tied rig to copy and compare against if you want to begin tying your own in the future.
The Korda Ready Tied carp fishing are available in numerous versions to cover different angling solutions including bottom bait and pop up fishing.
Tackle Box – Korda Basix Tackle Box
You're going to want a tackle box to store all of your bits and bobs to stay organised on the bank.
The Korda Basix if our recommendation for the best tackle box for carp fishing beginners.
It's got loads of internal storage and an integrated rig board for storing up to 8 pre-tied rigs.
Bite Alarms – Nash Siren S5
Nash Siren S5 Bite Alarms are an ideal option for beginners, offering numerous features and being budget friendly.
Nash bite alarms are known for being a quality product so you won't go far wrong with the S5s.
Whilst they don't have all of the bells and whistles of the £100+ alarms, they are super sensitive and offer volume control as standard.
You can purchase the alarms by themselves or add in a receiver which is great for night fishing too.
Bobbins – Gardner Tackle Bug Indicators
Gardner Bug Bobbins are a great choice for getting started carp fishing.
Offering the same bite indication as more expensive bobbins on the market, the Bugs offer great value for money.
They're lightweight, strong enough to last a few seasons and have the option to include an isotope so that you can see them at night.
Available in old school white or carpy blog, the Gardner Bug Bobbins look good too!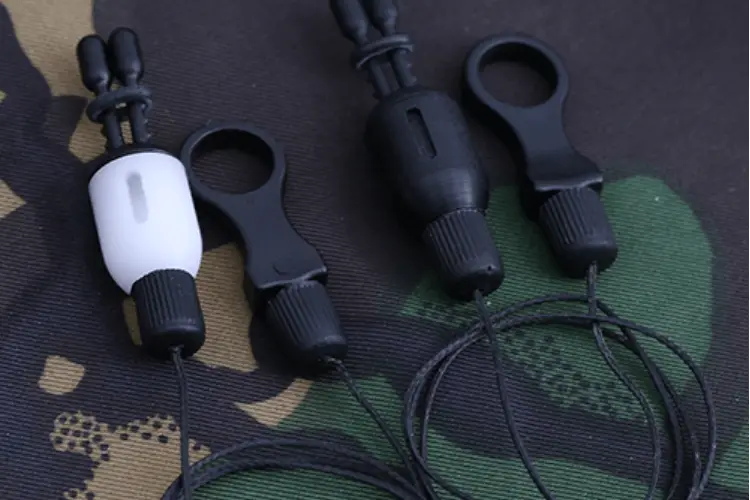 Rod Support – Sonik Vader X Rod Pod
The Sonik Vader X Rod Pod can hold up to three rods and is stable once setup and in position. It's fully adjustable, allowing you to put your butt rings behind your alarms for extra stability.
The frame itself is completely collapsible and easily transport in it's supplied carry case.
As far as costs go, it doesn't cost the earth and is a great option for carp fishing beginners.
The Sonik Vader pod is available in two or three rod versions too.
Landing Net – Fox EOS Landing Net
For carp fishing beginners, a large 42 inch + landing net is a must.
You'll need something large enough that won't restrict you in anyway when it comes to landing carp.
Due to the simplicity of a carp landing net, even the more cost effective versions on the market are excellent products. Personally, I am still using a Fox Warrior landing net after 15 years of use.
Whilst the Fox Warrior is no loner around, it's successor, the Fox EOS Landing Net, is constructed to the same specifications.
The handle is a solid 6 foot carbon construction whichis both strong and light (very important when landing carp).
The mesh itself is super soft and at 70cm depth you have plenty of room to play with.
Overall an ideal landing net for carp fishing beginners.
Unhooking Mat – Avid Compact Carp Cradle
No matter if you're new to carp fishing or experienced, a solid carp fishing unhooking at is essential.
This is one of them items that you shouldn't try to be cheap with.
The Avid Carp Cradle is an excellent choice for all carp anglers, and is one that we've tried and tested over the past 3 years.
Summary – Carp Fishing for Beginners
Whilst carp fishing can undoubtedly be one of the most complex forms of fishing, it doesn't need to be. There is lots to learn when it comes to how to carp fish for beginners, but don't let that get in the way of you getting out and enjoying your time on the bank.
When everything comes to plan, carp fishing can be so rewarding, and one of the most exciting forms of fishing.
Whilst we could write all day about carp fishing, I've tried to cover most of the common tactics that you're likely going to need on your first few sessions.
Hopefully this carp fishing beginners guide helps you put your first few carp on the bank!
About the writer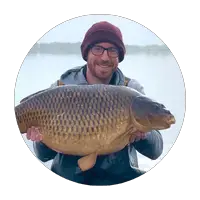 Rob W
I'm Rob, Carp Squad's main contributor. I've been carp fishing on and off for 15 years, but the bug is well and truly back at the moment. Hopefully the articles I write on here help you put more carp on the bank.