This week we take a look at the best carp bivvy for night fishing. Undoubtedly one of your biggest purchases for carp fishing, there are hundred of carp bivvies available and we're here to help you make a choice.
Whether you're looking for something lightweight to move onto fish, or more of a home away from home, this guide has you covered.
We've tried to make this guide as extensive as possible, but also suitable for every type of carp angler. Throughout, you'll find a host of different types of shelters, at varying price points to suit every budget.
In a hurry?
If you don't have much time use the links below to quickly find the best carp bivvy for you on eBay and Amazon. You can be assured that we only highlight tried and tested products…
Let's get started! Use the links below to skip through the contents of this article:
What to Look for in a Carp Fishing Bivvy
Carp night fishing bivvys have changed dramatically over the past twenty years. We're no longer sitting under brollys on your nan's old deckchairs (remember them days?!). We're all striving for a little more comfort, our home away from home if you will.
For that reason, we're seeing so many new features included in the new bivvies, all aimed at making your stay on the bank as comfortable as possible. Here's what you should look out for when you purchase your next bivvy:
Overwrap/Second Skin
It's good to know that the bivvy you'll be buying has an overwrap available, so that you can continue to use it throughout the winter months. With an overwrap, you'll enjoy your nights on the bank more, particularly throughout winter. Although it doesn't matter too much if you are the type of angler to invest in a bivvy heater.
Overwraps serve two purposes, to keep you warmer, and to prevent condensation. Like layering up your clothing, warm air is trapped between the bivvy and overwrap, improving insulation and warmth within.
Even if you won't need one straight away, it's good to know that one is available for your bivvy! Most of the time they can be purchased separately, or you'll see them otherwise called a 'second skin'.
Most bivvies ob the market do come with an overwrap, although many are now starting to manufacturer skull caps or skull wraps. These serve a similar purpose and can often be left on the bivvy during pack down which makes your fishing trip a little easier.
Set up Speed
Let's not forget, we go out to catch fish and that can mean moving multiple times in a session. When that's the case, you want something that's lightweight and ultra fast to setup and take down.
Most bivvies on the market are relatively fast to erect, and gone are the days of threading poles. That being said, some are super fast, particularly those built on a central block design like the Trakker Tempest. Watch videos of the bivvy being set up on YouTube, that should give you an indication of speed.
Tradition brolly style bivvies remain to be one of the fastest shelters to erect, although they come at the expense of a little more weight than the block-style bivvies.
Vents
Most new bivvies on the market include mesh air vents, but some don't, so be sure to check. Vents allows much needed air circulation, preventing condensation in the winter and cooling you down in the summer.
If you don't like waking up with condensation all over your gear in the morning, these should be a must-have on your list. Just make sure that if you are an overwrap user, any bivvy that you buy has matching air vents on the overwrap too, otherwise they'll be deemed pointless if they're covered up all of the time.
Bivvy Size/Footprint
Choosing the right bivvy size is really important to ensure a comfortable night on the bank. If you're someone who takes minimal gear, then just a one-man bivvy will be more than sufficient.
However, if you like to take more of your home comforts, or if you're planning to take a friend or the mrs night fishing with you, then you'll probably need a 2 man bivvy. Most of the standards are just about big enough for one man and his kit. To really remain comfortable with a second person (including a second bedchair) then you'll need a two-man.
It's also worth taking into account the size of your carp bedchair. Some of standard bivvies are too small for the wide-boy style bed chairs that have taken over the market in recent years. We recommend checking the measurements of your bedchair and bivvy before purchasing.
Height
Consider your height when choosing a bivvy and pick one that will be comfortable for you to get in and out of on a regular basis. Some of the standard bivvies on the market are around 125cm high, which takes a bit of bending down for someone over 6 feet tall. – That can make for an uncomfortable session if you're on the bank for more than 24 hours.
Luckily, the manufacturers are aware of this and we are seeing more models for the taller angler being released, such as the Trakker Tempest 100T Brolly, which we recently reviewed on our Tried & Tested Series.
What type of bivvy should you choose?
Central Block Bivvies
Bivvies built around a central block/hub are the most popular on the market right now. They are fast to set up and pack down, whilst remaining incredibly stable. On these types of bivvy, the ribs essentially come together into one central hub which makes them really easy to 'fan out' and clip together in a matter of seconds.
Perfect for all seasons, most of the central block style bivvies come with a host of accessories including skulls caps, internal vapour guards, social caps and skull wraps. With these accessories, your bivvy can be adjusted to suit various types of angling, from day sessions with the front zipped off, through to socials where you need a little bit of extra space in the front.
Another major benefit of these types of bivvy is that they are often free standing, meaning that you don't need to peg them down which is great if you're fishing on a platform or concrete jetty.
Pram Hood Bivvies
Pram hood bivvies have been around for a long time. They remain to be the choice for anglers looking for a comfortable, spacious bivvy for a night on the bank. Pram hoods are simple to erect, although take a little more time than the newer central block style bivvies.
To erect, simply connect the poles, then pull the front rib up from back to front. Most pram hood bivvies come with tension bars too, so you can really tighten up the pram hood when the weather turns.
Like most types of bivvies on the market, almost all of the pram hoods come with optional overwraps too. This helps to insulate the bivvy and provides an extra layer to prevent condensation build-up too.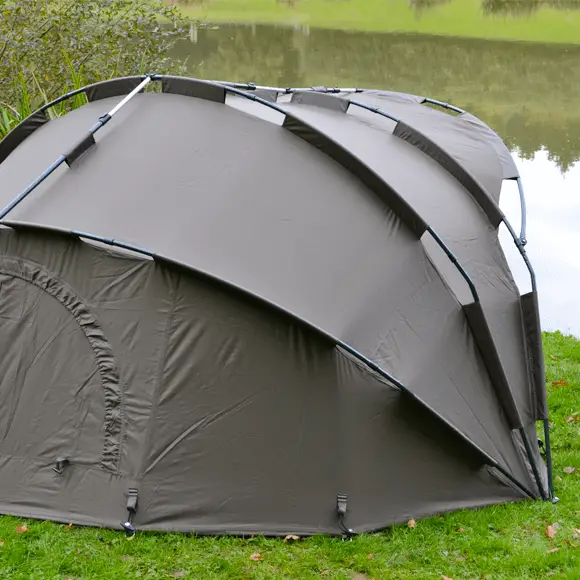 Brolly Systems
Carp brolly systems are very popular for carp anglers who fish shorter sessions. Whilst they may offer less protection that full pram hood bivvies, they are very adaptable to various fishing sessions, whether you go for day sessions or weekend sessions.
As the name suggests, they are based on a traditional umbrella design, featuring ribs that open up with the use of a central pole. Typically, most brollies on the market are 60 inch brollies, giving more than enough room for a decent sized bedchair and your kit. You'll also find that most of them feature storm sides which gives you a little more protection from the elements.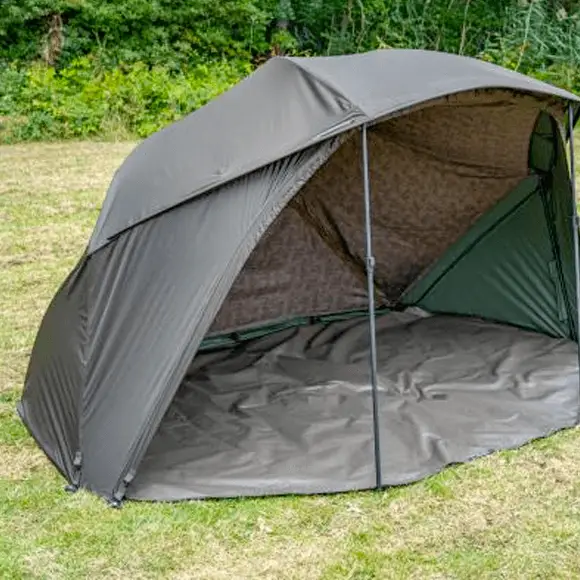 How we picked these recommended bivvies
Real + Group Reviews
We've combined real experience plus group reviews from Facebook and leading eCommerce stores to determine what products to feature on this guide.
Variety
Different bivvies suit different angling situations. Therefore we tried to provide some variance amongst the products we've looked at.
No Commission Focus
Whilst we do earn from some links clicked through this site, we have not been biased towards a single product because of that. This is unlike other guides that only feature Amazon listed products.
Trakker Tempest Advanced 100 Bivvy
Trakker have been known for their hard-wearing fishing gear since the mid 90s, so it's no surprise to include them in our list here. The Tempest range has gained worldwide acclaim amongst carpers since it's launch, and Trakker took in one step further with the Advanced 100.
Set around their popular block design, the Tempest Advanced 100 is rapid to set up, and includes some good features that make this a an ideal choice for the session angler.
Constructed from Aquatexx material, the Tempest Advanced 100 is both breathable and waterproof, so you'll no longer be worrying about that dreaded condensation in the winter months. The material is an upgrade on the Tempest range of brollys, giving you a much warmer and darker feel within the bivvy itself.
Trakker have also incorporated vents pretty much around the full width of the bivvy, so you can keep the air flowing if you want to.
What we like most about the Tempest range is how adaptable they are, which makes the price a little more palatable!
Instead of having a full bivvy for the winter and a lighter system for the summer, with the Tempest you have it all in one. You can fish without the infill panel and groundsheet in the summer as more of a open-fronted setup, then convert it to a fully insulated bivvy with an overwrap, skullscap or skullwrap when the cooler nights set in.
Sonik AXS Bivvy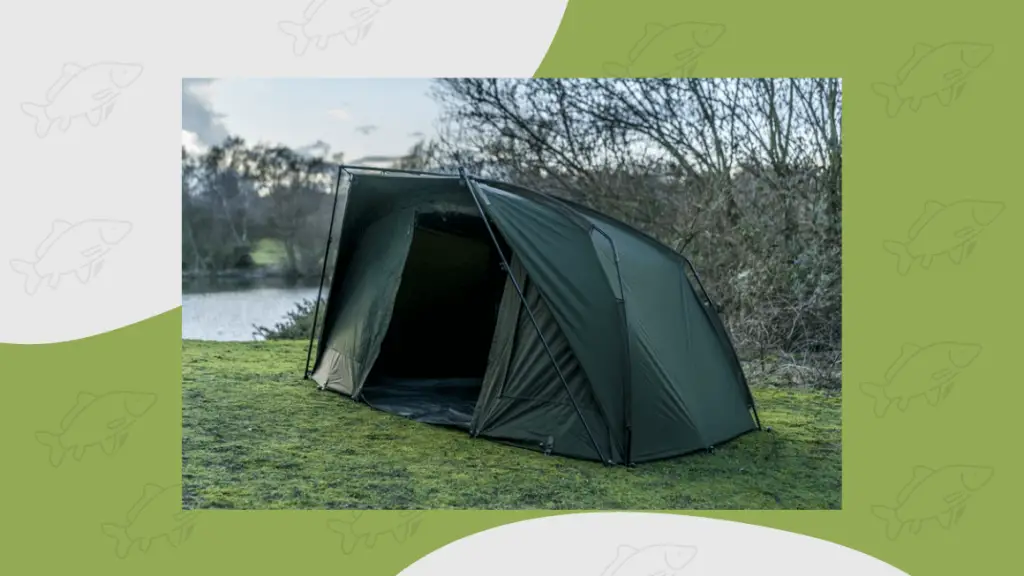 Built with an aluminium frame, the AXS is extremely quick to set up, so ideal if you're looking for a bivvy that you can pack up quickly for when you're moving on to fish. As you can see from the video, the AXS is slightly squarer than some of the other block type bivvies in the market, and that gives you one distinct advantage; you can maximise the floorspace by pushing your bedchair right to the back of the bivvy.
Not only that, but there is a nice design feature on the front too. Unlike the Trakker bivvies, where you need to buy an additional skull scap to gain some protection over the door, the AXS comes with an extended peak as standard. This helps to eliminate any driving rain entering the bivvy whilst you've got the door open.
Weighing in at only 9.2kg, it's a decent weight too in comparison to other bivvies, and comes supplied with two 48" quick connect storm poles, heavy duty clip in groundsheet, four vent spacer bars and heavy duty T-pegs.
Another handy feature is the oversized compression bag, so gone are the days of trying to stuff a wet bivvy in to a tiny bag! 🙈
Fox Frontier Bivvy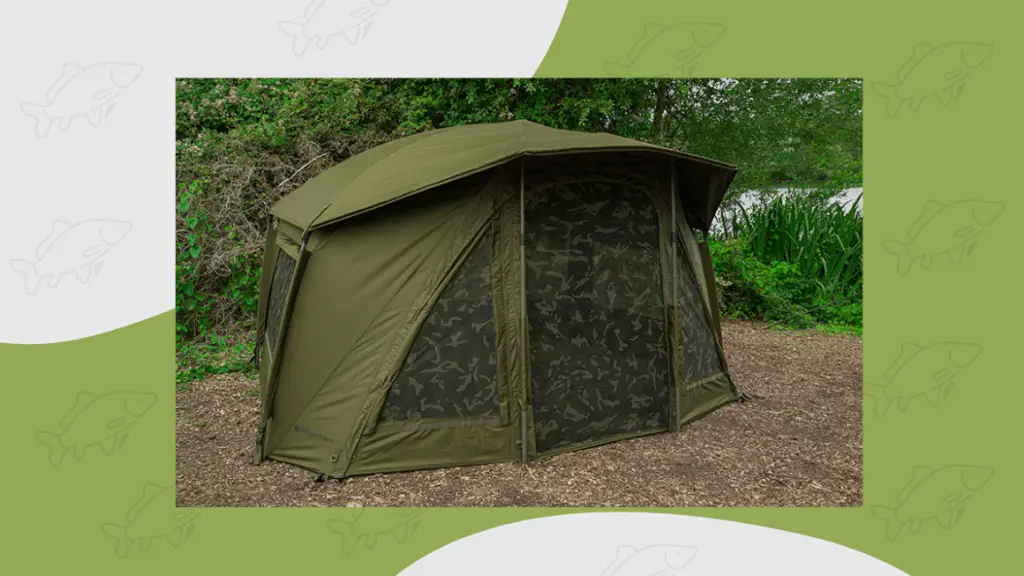 Fox have been known for producing well-designed bivvies since the early 90's, so it's good to see them finally bring back the Frontier line in the shape of a 'block-design' bivvy.
It's taken a while to put together, so we can only imagine that a lot of work has gone in to getting this right.
Similar to the Sonik AXS, one thing you will notice about this bivvy is its steep frame which give it excellent space and height inside, even for the biggest of bedchairs. Thanks to the height of the frame, it's easy to sit up on your bedchair and watch the water without hunching over and hurting your back.
Constructed from Fox's 20,000 HH VenTec material, you can rest assured you'll remain dry and condensation drip free. This is backed up four vents that surround the bivvy, letting all important air flow throughout in the summer months.
So what makes it different to the others I hear you ask? It seems like many of these bivvies offer the same functionality, but Fox have tried to stand out with a new addition to the groundsheet. Incorporating a new mud flap, you can roll back the ground sheet of the frontier to stop muddy boots in the entrance.
If you're mad for Fox's Camolite colouring, you'll be pleased to know that this is featured throughout the design of the mesh vents, so it can blend in with the rest of your gear! That's Carpy, as Mark Pitchers would say!
Cygnet Cyclone 100 Bivvy
Cygnet have branched out further into new categories and launched their first bivvy in late 2022.
With their close ties to Aqua Tackle, they've taken the step to launch a more cost-effective version of the infamous Aqua Pioneer.
At first glance, it has taken the hinge umbrella mechanism and incorporated it into the Cyclone bivvy.
What you get then is a super quick erect bivvy which is also immensely stable, hence the Cyclone name! Given that this is under the Cygnet brand, it is at the lower to mid range in terms of price, so you've got to expect less features in some way or another.
By the looks of it, that comes in the way of the material, which is a 210D polyester fabric. Not the most futuristic of bivvy materials but more than enough to keep the rain off you for a weekend session.
It's lightweight, quick to erect and stable. Worth checking out if that's your criteria for a new bivvy this year.
Nash Titan T1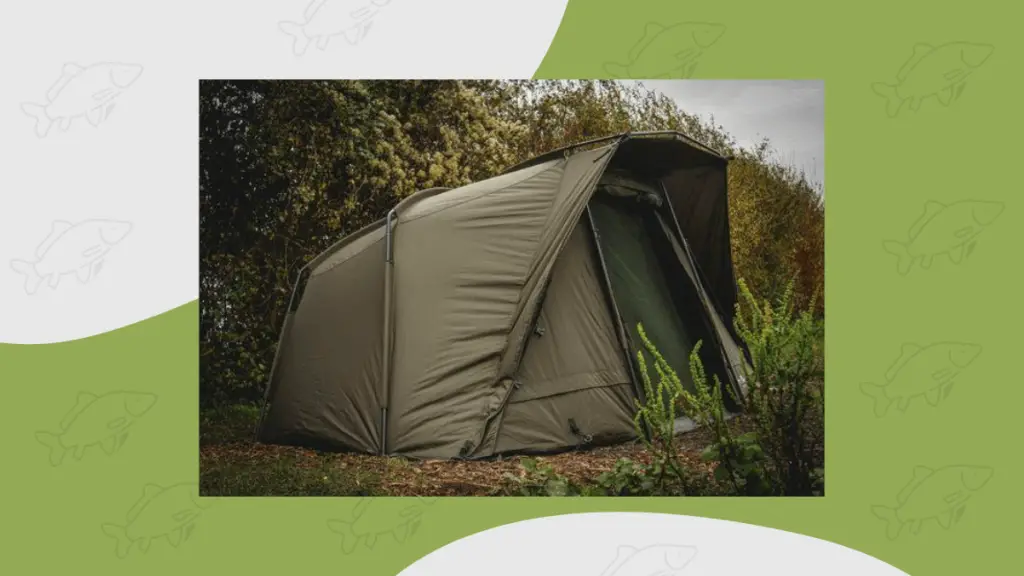 Do we need to even write anything about the Nash Titan?! (I think they were around before I was born!!)
Again, the titan is a block-design bivvy, meaning that you benefit from rapid set up times as well as a solid frame capable of handling anything the UK weather will throw at you.
To make things even more comfortable, the Titans come with a removable inner capsule, something we are seeing more of amongst the higher end bivvies. They're not for everyone, but if you're looking for more luxury, and to keep the bugs at bay, then they are a great addition to your bivvy.
What most people like about the Titans is their front ribs, which extend to give a peak to the bivvy, eliminating any driving rain coming in whilst you've got the door open.
Overall the Titan is a solid choice for the session angler, particularly those who like a bit of comfort. Probably not the one for you if you like to move a few times per session though, as they are a little bulky.
Wychwood Tactical Bivvy
Wychwood haven't followed the block-design route for their latest bivvy, instead they've gone back to a pramhood style for the Tactical Bivvy.
But don't fret, it's not your usually rounded shape that we've seen for years. 😅
Wychwood have gone for a more square pram hood design with the aim of giving you masses of floor space in a bivvy that packs down relatively small. In fact, it packs down to a measly 5kg, which is why it's a focal point of their 'Tactical' range of kit designed for those who like shorter sessions/lighter gear.
It's also relatively high at 1400mm, so ideal if you're tall and don't want to be bending in half to get in and out of your bivvy.
And last but not least, how can we not mention the DPM material for the tackle tarts amongst us? 😉
Aqua Pioneer Bivvy System
The Aqua Pioneer has been around for years, so had to make it on to this list. Made using Aqua's exoskeleton design, the Pioneer is a rigid shelter that's ready to stand up to any weather.
In terms of the footprint, it resembles a traditional 60″ brolly, but all of the pole mechanisms are on the outside, maximising your internal head room.
Designed using Aqua's own AquaTexx material, the Pioneer will keep you warm and comfortable all year round. A zipped infill panel allows you to quickly adapt the bivvy to match whatever conditions you're fishing in. If you want to trim it down the the summer months you can do.
For the winter months, an additional skull cap can be purchased to keep the warmth in and eliminate condensation.
Avid HQ Dual Layer Bivvy
If you're looking for a true HQ for a weekend on the bank or longer sessions, then you may consider the Avid HQ Dual Layer Bivvy.
Built on a three rib design, the Avid HQ Dual Layer bivvy is constructed from Avid Carp's 20,000mm Hydrostatic Dura-Stop fabric, to provide protection from whatever the weather can throw at it.
As the name suggests, inside the bivvy you will find an internal skin which offers complete coverage inside, eliminating condensation and keeping the bugs out around the base. Carp bivvies with built in groundsheet are becoming a more sought after feature for those who like more comfort whilst on the bank.
What separates this from any bivvy on the market is the removable rear end, meaning that you can open it from front to back and allow airflow through on them warmer trips. – Or perfect if you're looking for something to keep you cool on a week long European trip.
Ridgemonkey EscAPE XF1 Standard 1 Man Bivvy
Like everything in the Ridgemonkey range, they've left no stone unturned and designed a bivvy for those looking for maximum bankside comfort.
Designed on an X-frame, the EscAPE bivvy sets up and packs down extremely fast, which is rare for a bivvy of this size and spec.
Featuring a removable groundsheet, flysheet and front panel, the bivvy can be configured to suit your needs and weather conditions you're facing.
On the front of the bivvy you have a peak/porch area, which gives you some additional coverage to store muddy boots and bait buckets without needing them right next to you inside the bivvy. There's just enough room to store your new Ridgemonkey bait boat, if you've invested in one of them too!
Front, side and rear insect mesh vents keep the air flowing in the warmer months.
Obviously the only downside to all of these bells and whistles is the weight, which far exceeds anything else we've including in this best carp bivvy guide. Coming in at over 19kg, these are nowhere near light and you better have a decent barrow to push it around with.
That being said, it's common to turn up to day tickets now with to availability to move pegs, so if thats the case where you fish, and you want maximum comfort, then the EscAPE bivvy is worth checking out.
Fox EOS 1 Man Bivvy
Moving on to the more budget friendly bivvies in the best carp bivvy guide, we had to include one from the EOS line, which represents aims to represent value for money.
Giving you protection at a price point that you can afford, the Fox EOS 1 Man Bivvy is for those who are new to overnight fishing. Made from a traditional pram hood design, the EOS is extremely stable once set up, making it ideal for even the harshest of weathers.
Lightweight yet durable, the EOS comes in at just 7kg, so you won't feel the strain too much if you like to keep mobile.
If in the winter months you want to take it to the next level, there is an overwrap available with the EOS which will give you a second skin, keeping in the warmth.
The only downside we would see to the EOS is the lack of rear vents which are becoming a given in almost ever new bivvy designed.
Fox have always been good when it comes to budget friendly bivvies, and the EOS is no exception.
Conclusion
Hopefully we've been able to shed a little more light on the current bivvies available and help make your choice an easy one.
If you have any questions about the bivvies available, or anything else related to your search, please don't hesitate to drop us a message in the comments below.
Don't forget to subscribe to our carp fishing blog and check out our other buying guides and tried & tested reviews.
About the writer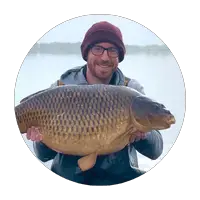 Rob W
I'm Rob, Carp Squad's main contributor. I've been carp fishing on and off for 15 years, but the bug is well and truly back at the moment. Hopefully the articles I write on here help you put more carp on the bank.