Carp fishing in the depths of winter can be tough. The fish are less mobile, they rarely give themselves away, and the cold weather can be a real challenge. Carp are catchable in the winter though, as long as you tailor your approach to the conditions. Read on to find out 5 winter carp fishing tips that might help you bank a lump this winter.
Find the carp
As with any carp fishing trip, the most important thing to do before you set up is to find the carp. This becomes even more important in the winter though, as the fish move around much less.
With the fish more dormant, there really is no room here to be baiting and waiting it out as you might do in summer. You could simply be waiting for something that will never happen, as the fish tend to stay in particular areas throughout the colder months.
Your best bet is to simply walk the banks prior to setting up.
Keep an eye out on the water, look for bubbles or carp rolling, and try to do a lap ahead of sunrise.
If you fail to see any signs, go with your instinct. Check out snaggy areas or overhanging bushes that may provide carp shelter from the harsh winds.
Try to remember where there were lily pads or weed beds earlier on in the year, as these will have died right back but can still contain vital food sources for the carp.
Choose shallower venues
Simply switching up your venue for the winter months can work wonders for your confidence and catch rate.
Shallower lakes have a tendency to fish better throughout the winter. On warmer days, they heat up faster which can give the carp that little extra push to go for a feed.
It's not uncommon to hear of multiple hits of fish from shallower waters on warmer winter days (which are few and far between).
You'll also notice that the fish tend to move around much more too, not just because of the heat, but because of the shear lack of depth in the water column.
Park lakes are always an excellent choice in the winter, rarely deep and with a constant trickle of bait going in from the duck feeders. In the winter months I tend to head over to fish Yeadon Tarn, my local park lake which has great winter form.
Overall, if you're looking for a winter bite, don't be afraid to switch up your venue. There's often nothing worse than slogging it out on a tricky big pit knowing that your chances of catching are slim to none!
Stay warm
This one may seen self-explanatory, but it's amazing how many people fish in inadequate clothing and footwear.
The saying really is true; there's no such thing as cold, just unprepared!
Staying warm will not just keep you more comfortable too, it will keep you motivated and ready to move, resulting in more fish on the bank.
Invest in a quality carp fishing suit and some well made carp fishing boots that'll keep your feet warm and dry throughout the duration of the session.
Don't be too harsh on scaling your gear down either. Whilst it can be worth keeping things like in the winter, don't do it at the expense of your cooking/tea gear.
A nice warm meal and a few cups of tea will help get you through your session.
MORE READING: Winter carp fishing essentials
Target water inlets
If you can't visibly see the carp in the winter, using your intuition in feature finding can often pay off.
We've already touched on snags but you should also investigate any incoming water inlet pipes.
Any sort of water inlet pipe running into a lake can be a great place to find carp holding up, for a variety of reasons.
Water inlets are typically bringing water from somewhere else into the lake. Often this can be a change of temperature too, which the carp will likely respond too.
Water inlets are well known for oxygenating the water too which is another reason why they're a holding ground for carp.
Fish days only
We've already touched on the motivation factor of winter fishing.
You motivation can soon disappear long into a 24 or 48 hour session which can feel like a slog. Often you can be left thinking was it even worth going fishing in the first place?
This is not uncommon in winter conditions, when you can barely move your fingers or you lose a carp in torrential rain. When night fishing in winter starts to feel like a slog, I urge you to try shorter day sessions.
Day sessions give you much more scope to pick and choose the time to fish. If the weather turns for the worst, you can throw your stuff on the carp barrow and go. You can even keep a small scope setup in the boot of the car, ready to go when the conditions are more favourable.
Fishing short sessions in the winter can be extremely rewarding. Get in, catch a fish, get out and enjoy doing something else for the rest of your weekend!
Fishing should always be enjoyable, and short sessions in winter can help keep it that way.
Use maggots for winter carp fishing success
One of the best carp fishing winter tips is to add maggots to your baiting approach.
When all else fails, the liveliness of maggots can be enough to trigger carp into action.
Unlike summer months, there is less activity from silver fish too so you can often get away with not being plagued by roach and perch.
Most people tend to add maggots to their winter spod mix. You don't need to use loads, just a few pints added to your spod mix and small PVA mesh bags over the top.
It's always worth adding some to your hookbait too. A great way to do that is to thread 15-20 maggots onto some bait floss and use this to tie off your pop ups.
You end up with a sort of medusa looking hookbait which is great to use in the winter months.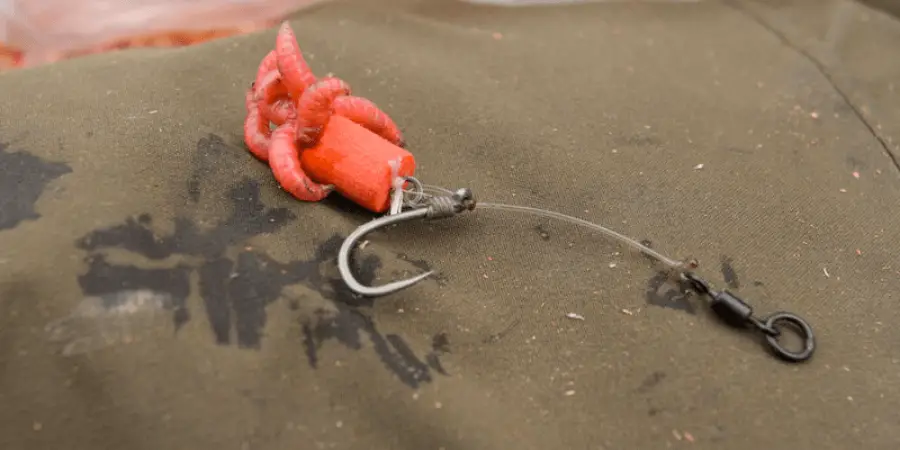 Get on the zigs
If your chosen lake does have some depth to it, try fishing with zig rigs throughout the winter. It's a massively underused tactic, but one that can work wonders.
The upper layers are generally warmer throughout the winter, and this is where the carp will spend most of their time.
If you're struggling to get bites on the bottom, try suspending your baits using zig rigs at various depths.
Trial and error is the name of the game here. A good method of finding the depth is to stagger all three of your rods at different heights in the water column.
As soon as you get a bite, switch the other two over as it is likely that the carp will be at the same depth. In terms of hookbait, small pieces of foam in various colours should be the order of the day.
You can even boost these with added attractors such as hemp oil or goo. Always carry a few zigs ready to go in your carp tackle box!
Enjoy your winter carp fishing
With a little preparation, and by adjusting your winter fishing tactics, you too can enjoy catching carp throughout the colder months.
The banks are quieter, the fish are less pressured and overall it can be quite a pleasant experience. Carp are generally at their best weight and condition at this time of the year too, so there's always the chance of a winter PB!
Hopefully these winter carp fishing tips help you put a cold water carp on the bank!
---
About the writer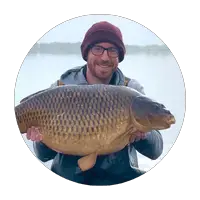 Rob W
I'm Rob, Carp Squad's main contributor. I've been carp fishing on and off for 15 years, but the bug is well and truly back at the moment. Hopefully the articles I write on here help you put more carp on the bank.