The best carp landing net is on that will help you easily land your carp without providing any damage to the fish. If you're lucky to catch plenty of carp, a landing net can be one of your most well used (and often abused) pieces of kit.
However, in my experience, buying a landing net is one of them purchases where the old saying 'buy cheap, buy twice' comes into play.
Luckily, the carp fishing market these days is full of tackle brands all battling to provide value for money. There are plenty of landing net for carp fishing to choose from; short and long handled, different net configurations etc.
It can be a bit of a minefield when looking to buy a landing net. Hopefully this list can help you in your search. Use the links below to skip through the contents of this article:
In a hurry?
If you don't have much time use the links below to quickly find the best carp landing net for you on eBay and Amazon. You can be assured that we only highlight the best products…
What to look for in a carp landing net
Landing Net Size
Most carp landing nets that you will find in the UK typically measure anywhere from 32 inches to 50 inches. The most common size landing net is 42 inch, which is more than large enough for UK carp and larger carp overseas.
Most UK carp venues now only accept anglers who have a 42 inch landing net a part of their gear, so be sure to check your local lake rules before investing in a new net.
Handle Length
You'll need a strong, sturdy landing net handle that's capable of taking years of abuse. These are thrown on the floor, stood on, lent against trees, so the more well-made the better in my opinion.
You should also take into account the length of the landing net handle that you will need. The average length is around 6 foot.
However, with the growth of carp fishing from boats in recent years, manufacturers have started to develop smaller landing net handles or those that split in the middle.
On the complete other end of the spectrum, you might require a longer than average landing net handle for fishing deep canal and river basins, so just take that into account.
Mesh Type
Most carp landing nets on the market now come with soft, fish friendly mesh, which is a major plus for fish care. However, some of the cheap landing nets on the market do feature thicker, wider mesh which isn't particularly great for carp.
Not only that, but they can be a pain when it comes to landing fish, with wider mesh making it easier for the net to be snagged on reeds, nearby branches or even your rig during unhooking.
In my experience, going for the finest, softest mesh is the best approach when choosing a new landing net.
Transport Length
With the increasing popularity of telescopic carp rods and urban fishing, it makes sense to buy a landing net that matches your style of fishing.
Personally, I have a standing landing net for my weekend fishing, and a telescopic landing net that stays in the boot of my car with my Dwarf rods for the impromptu trips.
How we picked
Real + Group Reviews
We've combined real experience plus group reviews from Facebook and leading eCommerce stores to determine what products to feature on this guide.
Variety
Everyone uses their tackle box in different ways. Therefore we tried to provide some variance amongst the products we've looked at.
No Commission Focus
Whilst we do earn from some links clicked through this site, we have not been biased towards a single product because of that. This is unlike other guides that only feature Amazon listed products.
Saber 42″ Carp Fishing Net
Like with most of Saber's products, this landing net is no-nonsense, well made and doesn't break the bank. In fact, it's on of the most cost-effective landing nets on the market.
At 42 inches, the Saber landing net features a deep net profile with a flat base, providing ample protection once you've landed a carp.
In terms of the mesh itself, it is a micro-mesh design as you would expect. It's more than fine enough to prevent damage to carp but not as soft as some of the higher end landing net mesh on the market.
Coming down to the spreader block, it's made of a tough plastic material. When it comes to landing nets this is where you begin to see the difference between a budget product and a high-end one. Don't get me wrong, the tough plastic on this landing net will work for years, but it will always be outlasted by the stainless steel or aluminium spreader blocks on the higher end landing nets. – Just something to take into account.
A nice little plus for Saber is that they've incorporated a night light slot into the spreader block too. I've never needed one myself but some people love to add betalights to all of their gear. If thats you, then you're sorted!
Moving onto the handle itself, Saber have included a compact 6ft 2-piece handle with this landing net. It's always handing having a two piece which makes boat work that little bit easier. They've added Japanese shrink wrap in two places too which is a nice little touch.
When you purchase budget carp gear, you don't quite expect it to include anything extra.
For that reason, we were quite surprised to find that Saber has included a drawstring stink bag with the 42 inch landing net. Some of the leading brands don't even do this, and whilst it may not be made from Aquatexx or any other similar material, it will do the job in keeping the back of your car dry and carp slime free.
Overall, a worthwhile choice if you're on the lookout for a landing net that won't break the bank.
AVID Breach Net
AVIDs Breach range of landing nets are mid range but have the look and feel of something twice the price.
Starting at the business end, you've got a 42 inch super soft fish-friendly mesh which is put together by two reinforced carbon landing net arms. The carbon arms really are a standout on this product as they keep the net lightweight and easy to manoeuvre when landing a carp.
Aside from being super-soft, the mesh used is reinforced around the edging and base too, which is always handy.
AVID have included an aluminium spreader block in the Breach landing nets. Not only is this super strong, but it's incredible lightweight, which once again just makes thing a little easier when landing fish.
The carbon arms slip nicely into the spreader block and are simple to remove when breaking the net down.
You'll also see that there's an etched logo on there too which is a nice little touch.
In the Breach range you get the option of a one or two-piece handle.
Naturally, the two-piece handle gives you a little more flexibility for close quarter stalking situations or fishing from a boat. There's two sections of Japanese shrink wrap to provide extra grip on the landing net; one at the tail end and one at the mid section.
In our opinion, to cover more eventualities, it's well worth going for the two-piece version.
At only £5 extra it will give you some added flexibility if you ever decide to hop in a boat or go stalking for carp.
Trakker Sanctuary Carp Net
Well-known in the world of quality carp gear is Trakker. Their sanctuary net, alongside their other range of fish care products is well reviewed on the market.
As with all of the nets in this guide, the Trakker Sanctuary has been designed with fish care in mind, featuring super soft mesh throughout.
The net itself is constructed using two reinforced carbon arms that are bound to last for years. They're also extremely lightweight too, so as you would expect this net is very easy to handle.
One area that Trakker have paid particular attention to is the spreader block. Often the weak point on any landing net, the spreader block takes plenty of force when you pushing the net through the water and scooping up your price.
For that reason, Trakker went on extra and revamped the spreader block on the sanctuary net during it's 2019 remodel.
The net now comes with a bespoke, stainless steel spreader block, providing superior strength. Whilst it may be on the heavy side, it will last a lifetime and the carbon arms help balance out the weight.
The spreader block has been very well designed, with two stainless connectors sitting on the end of the landing net arms. It all seems really solid and well made when put together, and it's easy to break down too.
Unlike the AVID net mentioned above, the Trakker only comes with a 6 foot one-piece handle. However, like the rest of the net, it's very well made, featuring a full carbon build.
As you would expect, you've also got some Japanese shrink wrap on the handle too, making it easy to grip in even the wettest conditions.
The handle is finished in a classy matte black colour with subtle branding.
Overall, easily one of the most well-made landing nets on the market. Well worth a look if you want something that will last some regular abuse!
SONIK Xtractor Recon Landing Net
When it comes to rods, anything telescopic seems to be the rage these days, and naturally you need a landing net to suit!
That's where the Extractor Recon comes in.
Built to the same design as the ever-popular Xtractor carp rods, this landing net is a super compact, telescopic landing net.
With a transport length of just 30 inches, it's on of the most compact on the market, making stalking or river roving a doddle.
Whilst you may be forgiven for thinking the transport length hinders the net elsewhere, it doesn't. This net is still actually a full sized carp net.
SONIK has been able to minimise the transport size of this net with the use of both telescopic landing net arms and handle.
The handle itself is a dual, 3 piece telescopic handle that's been glued and pinned for extra security.
The spreader block is quite neat too. Whilst it's only made from a solid nylon construction (to save weight we presume), it seems solid.
There's also a handy recess built in for you to tuck the mesh into, making it less cumbersome when carrying it around the lake.
Like all of the other landing nets on this guide, SONIK has been sure to include super-soft hex mesh on this telescopic landing net. At 95cm deep, it's actually one of the deepest available on the market, and the team at SONIK claim to have found the right balance between provide ample room for the fish and making the net flow easy through the water.
Overall, if keeping your gear to a minimum is the order of the day, this net is worth a look. There are more moving parts with a telescopic fishing net though so it's worth taking into account that it may not last longer than a standard carp net.
SONIK S1 Carp Net
If you're looking for a net with a one-piece handle that will suit most budgets, then the SONIK S1 is for you.
Unlike the Xtractor net which is packed full of features, the S1 has been stripped right down to be a simple carp landing net.
Starting from the top, the net features a 42 inch soft mesh which is put together with the use of two oversized arms. This makes it incredibly easy to construct this net and more importantly, break it down once you've got a fish.
The mesh itself is medium depth so nowhere near as deep as some of the other nets featured on this guide. That being said, there's ample space for even the largest of carp.
It also doesn't have a flat base, and whilst this make it easier to push through the water, it doesn't provide as much room for a carp as you leave it resting in the edge.
Moving away from the business end, you've got solid plastic spreader block which again, is no thrills. Like we have already mentioned, a plastic spreader block does have a life span and is much more prone to break than steel or aluminium.
In terms of the new handle, SONIK has kept it simple again with a lightweight carbon composite handle that measures 180cm.
Whilst it may be a no frills net, SONIK have made sure not to make it look cheap.
A sleek matte black finish throughout and subtle branding gives a feeling of a net that costs much more than £40.
Overall, a worthy contender if you're on a budget or starting out. (If you are starting out, be sure to check out our carp fishing for beginners guide.)
Fox Horizon X4 Net
Fox have been creating solid carp gear for years so there is no surprise that they would be included in this guide.
Predominantly known for their mid-range gear, it's actually their higher spec landing net that we're featuring here today; The Horizon X4.
Built to compliment their well regarded Horizon X4 rods, this landing net shares the same build quality and high-end feel.
The net itself is 42 inches as standard, with two carbon arms used to spread the khaki, fish-friendly mesh. Fox worked hard to upgrade the carbon arms since 2019, increasing the diameter to reduce net flex during the netting process.
Perhaps one of the best features of this net is it's reinforced fabric corners. Naturally one of the first parts of your net mesh to deteriorate is the corners, from catching on brambles etc. Fox has taken this into account and added extra material on the corners of the net, to try to expand the lifeline of the mesh.
The spreader block is always the key point on a landing net and Fox have done well with this one. Built in a similar shape and style to that of the Trakker Sanctuary, the Horizon X4 spreader block is made from super strong, lightweight aluminium.
A slight downside for us though is the way that the spreader block is permanently fixed onto the pole. Whilst it doesn't make sense for strength, it does limit the use of your landing net pole. It's common that some anglers use their landing net pole to attach a weigh hook or baiting spoon. Unfortunately you don't get that option with the Horizon X4.
Coming further down the net, the pole itself is of the highest quality, constructed from a 3K high modulus carbon. A nice black gloss finishes it off in addition to a smart butt cap.
An extra surprise if you're considering the Horizon X4; it comes in 3 styles. 42 inch and 46 inch with a 6 foot pole or 42 inch with an 8 foot pole. The 8 foot pole is a real game changer if you fish steep banks, reservoirs or don't like donning your carp waders.
Overall, one of the highest quality nets on the market and worth a look if you want something to stand the test of time.
Fox Explorer Telescopic Carp Net
Built to the same high standards as the Horizon X4, the Explorer is Fox's most compact carp landing net.
Coming in at a standard 42 inch size, this landing net features Fox's unique camo mesh, making it ideal for them close quarter stalking opportunities.
As with the Horizon, Fox has incorporated their new fabric edges to the net itself to protect the mesh. We see this as a great feature for this landing net, considering much of it's use could be stalking where you're more inclined to be catching your kit on the undergrowth!
It goes without saying, the mesh itself remains to be super-soft, so Fox has also prioritised fish care here.
Coming down the new, you have a machined black aluminium spreader block. This is both lightweight and strong, ready to provide years of abuse.
Fox have used a high modulus carbon blank for the make up of the handle itself, which is nice. The blank matches the rest of Fox's range including their Horizon X4 rods and Explorer range of rods.
With a two-piece telescopic build, the Explorer is one of the most compact landing nets on the market. However, not as compact as the Sonic Xtractor.
That being said, at only 108cm during transportation, the Explorer is more than compact enough and can even be strapped to a bike frame for them canal towpath missions!
If you're looking for a compact landing net that's of high-quality, then the Fox Explorer may just be the one for you.
Frequently Asked Questions
What size landing net for carp?
A 42 inch landing net is the recommended minimum size for carp fishing. A 42 inch landing net will provide enough width across the front to accurately and safely land carp as big as you are likely to catch in the UK. Some manufacturers provide 50 inch versions of their landing nets which are perfect for trips abroad or where catfish may be present.
Can carp landing nets be used for pike?
Yes they can, although you may find that the finer mesh materials on a carp fishing landing net prove to be problematic. Fishing for pike can often mean using lures or trebles which can have a tendency to catch in micro mesh and be hard to remove without ripping the mesh itself.
For that reason, you may look to get hold of replacement mesh which is slightly thicker or go for a dedicated pike landing net.
What type of landing net for carp?
For carp fishing, you're going to want a specialist carp fishing landing net. They are typically described as 42 inch and are triangle in profile once set up. The wide profile makes it easier to land your carp, particular if it is of a large size.
In addition to the size, landing nets for carp fishing tend to have very deep mesh. This is designed to make sure the carp has plenty of room to recover once it has been netted, and also ensures that it cannot escape if you need to leave the fish in the net in the edge whilst you sort your camera equipment etc.
Can you retain carp in a landing net?
It is best to retain a carp in a specialist retaining carp weigh sling. However, on occasions where you may only need to leave the carp for a short period of time (for example to set up your camera) then it is fine. In this case just make sure that the fish has plenty of room to recover and that you secure your landing net in the edge by sticking a bankstick through the spreader block.
Alternatively, to make things even more secure, you can opt to use a landing net holder like the AVID Lok Down Landing Net Holder.
Can you get replacement spreader block?
Naturally the spreader block is one of the parts of a landing net that can break. Luckily, most manufacturers provide replacement spreader blocks, meaning that you won't need to purchase a whole net landing net if it breaks.
You can even upgrade your spreader block, with some smaller retailers manufacturing high quality, stainless steel quick release versions like this Top-notch Tackle Spreader Block on eBay.
Conclusion
Thanks for reading our best carp landing net guide.
A landing net is a key piece of kit, so it's well worth doing your research before purchasing. The options have been increasing in this area in recent years, with the inclusion of telescopic handles which add another dimension and option into the mix.
Hopefully we've been able to make your buying decision a little bit easier with the info on this guide.
If you have any questions about the products mentioned here, don't forget to drop us a comment below. Tight lines!
About the writer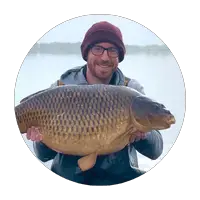 Rob W
I'm Rob, Carp Squad's main contributor. I've been carp fishing on and off for 15 years, but the bug is well and truly back at the moment. Hopefully the articles I write on here help you put more carp on the bank.