Investing in the best carp weigh sling should be a top priority for any carp angler. Fish care is paramount if we're to continue enjoying fishing for carp for years to come. A well-designed carp weigh sling works to protect your catch throughout the entire weighing and photography process.
Like most items of carp gear though, there are loads to choose from, some better than others. For anyone looking to buy a new carp sling, we're here to help. We've worked hard to research all of the slings available so that we can provide an in-depth guide on the best carp weigh slings available. Let's get started with the carp weigh sling reviews!
In a hurry?
If you don't have much time use the links below to quickly find the best carp weigh slings on eBay. You can be assured that we only display the highly rated products…
Let's get started! Use the links below to skip through the contents of this article:
How we picked
Real + Group Reviews
We've combined real experience plus group reviews from Facebook and leading eCommerce stores to determine what products to feature on this guide.
Variety
Everyone prefers different items of gear. Therefore we tried to provide some variance amongst the products we've looked at.
No Commission Focus
Whilst we do earn from some links clicked through this site, we have not been biased towards a single product because of that. This is unlike other guides that only feature Amazon listed products.
What to look for in a carp weigh sling?
Size
Probably the most important thing to take into account when looking for the best carp weigh sling is the size. It's vital that you take into account the size of carp that you'll be fishing for. Most of the leading brands on the market offer two sizes of weigh sling; standard and XL.
In our experience, most of the 'standard' sizes are more than enough for the majority of carp you'll catch in the UK. If you're heading abroad though, you might want to invest in an XL recovery sling. Having one oversized will just make things that little bit easier when handling large carp on a regular basis.
When it comes to transport size, most of them pack down to roughly the same size to fit in a sling bag or rod holdall. If you are looking for a compact recovery sling though, you may want to look at one that has foldable arms.
Choosing carp gear is often a weigh up between luxury and transport weigh/size. In this case we would always urge you to go for something large that will properly protect the carp.
Floating Weigh Sling or Not?
Carp weigh slings have improved massively over the years. Nowadays, the majority of slings on the market are known as 'floating weigh slings' or 'recovery slings'. These provide two purposes; allowing you to accurately weigh your catch, and allowing you to leave the carp safely recovering in the sling.
These are a much safer alternative to the traditional carp sack that was used in the early days of carp fishing. Whilst there are some none-floating weigh slings available, to be honest they provide little benefit as you can't use them to let the fish recover whilst you sort your photography gear or get the rod back out on to the spot.
For us, a floating weigh sling is a must and that's why you'll see them featured on this carp sling reviews guide.
Strong Handles
Ever tried to lift a huge carp out of the water? If so, you'll know how hard it is! For that reason you'll need a carp weigh sling with strong handles to make the job easier. Personally, I always slip the carp retaining sling under the net in the edge and pull the whole thing out in the sling. A sling with strong handles it just a much safer place for the carp as you transport it from the bank to the unhooking mat.
The Trakker Sanctuary Weigh Sling is a firm favourite for big carp anglers. It features 4 handles on each corner, so you can a friend to help you lift a hefty carp safely out of the water.
Soft Mesh
Carp are delicate creatures and we need to do as much as we can to look after their natural protective 'mucus' that covers the majority of their scales. Choosing a carp weigh sling with ultra-soft mesh will help with this, in addition to helping you drain water and get a more accurate weight on the scales. The majority of the carp weigh slings that we will cover in this guide are made from a fine mesh material.
Avid Camo Recovery Sling
If you've read our Avid Carp Cradle Review, you'll know that we are fans of their carp care gear. Their new Camo Recovery Sling is no different.
With removable floats on either end, the Avid Sling can be adapted to be a standard sling rather than a floating one. This is the main selling point of this sling and one of the only slings to have this feature. The beauty of this is that it allows you to still use it on venues where floatation slings are banned. (This is becoming more frequent for carp safety reasons).
Made from a super soft mesh material, carp will stay safe in this sling whilst you weigh and photograph them.
As you can see, the sling is designed in Avid's unique camo material which is known to help keep the fish calm whilst they are being retained.
With a dual zip opening on the top, you can rest assured that your prized carp will stay safe in this retainer whilst you get your photography gear set up, or wait for your mate to come around and do the pics.
A high-visibility 5M cord makes it really easy to see the cord at night, with a handy bankstick attachment to keep it safe.
We also like the small buoyancy ball that is included with the cord. This is certainly a nice touch which is rarely seen on the other carp weigh slings on the market.
When it comes to the weighing your carp, you'll notice that the Avid Weigh Sling features two rings on the weigh straps. These are especially designed in the centre of the sling and help to keep it stable whilst weighing.
Aside from the sling itself, Avid have included a seam-welded stink bag with the weigh sling too, which is a nice touch. It's not just a standard nylon bag either, it's made with their super waterproof stormshield material.
Overall, a worthy inclusion in our carp weigh sling reviews guide. I actually use the Avid Carp Cradle & Sling together as a combo and they haven't let me down in the past 3 years.
Trakker Sanctuary Sling
Top Pick
Trakker Sanctuary Sling
Considered the best carp sling on the market by many big fish anglers. Trakker have a reputation for quality fish care products.
Pros:
Fish-friendly material

Fast-drain mesh to help with accurate weighing

Double zipped opening to keep the carp secure
View Price
It wouldn't be a best carp gear guide without a Trakker inclusion! In all seriousness, this Trakker weigh sling deserves to be included, as it is a firm favourite of some of the countries top anglers.
Incredibly spacious, the Trakker Weigh Sling is one of the biggest available on the market, making it suitable if you're fishing for some of the countries biggest carp. Available in three sizes; standard, XL and XXL, there is a sling for every occasion in this range.
The sling itself is made predominantly of mesh, making it really easy to drain and provide an accurate reading of your catch. Now you might be fooled into thinking that the largely mesh construction hampers the strength. However, Trakker have thought about this and provided support which stretches from the handles all the way under the sling.
This Trakker retention sling is a really is a well thought out product.
When it comes to retaining your carp, a double zip covers the top and sides of the sling, making it safe for retention but also really easy to use when releasing the carp.
Double reinforced handles are included in the Trakker Sanctuary Sling, giving you something solid to grab onto when lifting heavy carp out of the water. It's not surprise that many of the UK big carp anglers choose to use the Trakker Sling.
As you would expect with any half decent weigh sling, you also have a 5 metre retention cord included, with integrated bankstick attachment.
Similar to the Avid Sling, there is also a couple of rings on the weigh straps, helping you get an accurate reading when weighing your carp.
FYI, you may see this sling advertised online as the Trakker Sanctuary Retention Sling V2!
Korda Basix Weigh Sling
Korda Basix Weigh Sling
A very well-made but cost-effective sling from Korda.
Pros:
Good value for money

Central bars break down in half

Lightweight
Cons:
Not a retaining sling, so no floats included
View Price
If you're looking for something a little more compact than the large weigh slings on the market, it may be worth looking at the Korda Basix Sling. Korda's Basix range is all about giving people access to cost-effective products, without compromising on quality.
In terms of a sling this means maintaining a high level of fish care, but giving you something that won't break the bank.
Constructed from a fish friendly material, the Basix Sling is sure to keep your carp safe during the whole weighing and photography process.
So, what makes this sling different to the others? It's all about the central bars. Unlike the other slings which simply roll up, the bars on the Basix Weigh Sling break down in the middle, allowing you to fold it and roll it into a much shorter profile.
In our opinion, this a great choice for the roving carp angler, or just someone who likes to keep their gear as compact as possible.
Korda's product team have done a good job with the carp sling, providing something a little more compact without compromising on fish safety.
Sonik SK-TEK Floating Weigh Sling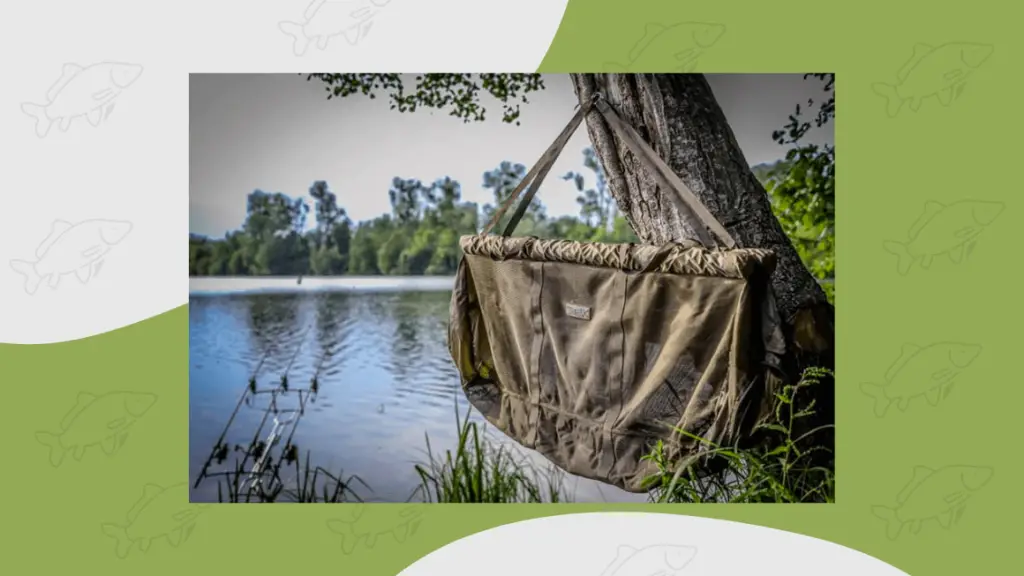 Next on our best carp sling list is the SK-TEK Floating Weigh Sling from Sonik.
Like others on this carp sling reviews list, the Sonik Weigh Sling is made predominantly from mesh, which is comfortable for the carp whilst your handling them.
The mesh isn't at the front and rear of it though, but there's a reason for that. Sonik have included a full infill material at the end which is designed to calm the carp as it is being retained.
Along both sides of the sling is a full length float. You'll have no problems with this carp retainer sling sinking in the margins.
Furthermore, Sonik have included a ring directly in the centre of the two weigh straps, allowing you to weigh your carp with the utmost accuracy.
Dual handles at either end of the sling make it really easy and safe to hoist your prized capture out of the water.
You'll also have no problems keeping an eye on the retainer if you plan to use it at night. Along both edges is two reflective strips which you'll easily see with a flash on the head torch.
In terms of size, the Sonik sling proves to be one of the largest in terms of depths, offering plenty of room for a carp to rest up with you're retaining it in the edge.
Overall, the Sonik Weigh Sling is worth considering if you're in the market for a new sling.
Gardner Tackle Retention Sling
Gardner Tackle are known for their no-nonsense carp tackle, and the Gardner Weigh Sling is no different. With a 50% mesh profile, this weigh sling is soft enough for the carp in the places where it's needed most. The mesh panels are great for allowing water to flow through and help with draining when weighing too.
Solid panels to the upper sides are specifically placed to prevent light penetration when retaining carp in the margins. This is known to calm the carp down as they are being retained in the sling.
The Gardner Sling is all about durability, with a solid, perforated base rather than mesh that can be found on most of the other slings on the market.
During the night, if you need to retain your carp in the edge whilst you set up your photography gear, it is more than simple enough to do with the Gardner Weigh Sling.
Attached to the sling is a 4 metre retention cord which features a thread which can be easily attached to a bankstick. With high visibility strips on either side of the sling, you'll have no problems keeping an eye on it at night either. (Just make sure they're not seen on your camera flash!)
Gardner Tackle have been producing quality gear for years and we would expect you to get plenty of use out of this sling if it proves to be your next purchase.
Price wise, the Gardner Tackle Sling sits in the lower end of the retainer sling market, which surprised us for such a well established brand. A worthwhile choice if you ask us.
Saber Weigh Sling
Saber are known for producing good quality gear with the expensive price tags. For a little over £30, we had to include the Saber Floatation Weigh Sling in this guide.
Made with a fish-friendly mesh material, the Saber Weigh Sling is soft enough to protect carp but will also stand up to plenty of bankside abuse.
Starting at the top of the sling, it's around 120cm long with a folding central bar, so perfect enough for large UK carp.. Similar to the Wychwood Sling previously mentioned, the bars fold in half which is great if you're looking for a sling that packs down a little shorter.
Four padded foam tubes at either corner of the top bar ensure that the sling will float well when you're safely retaining a carp.
You've also got the benefit of a retention cord which packs down neatly into a small pocket attached to the side of the sling.
When it comes to packing up, Saber have supplied a nylon waterproof stink bag with the sling to help keep things dry in the car. (if you've caught for once!).
Obviously as part of our reviews we do like to highlight any cons versus others on the market. In the case of the Saber Weigh Sling, it's the lack of rings on the weighing strap. They're not an absolute game changer, but it is one of them small additions that make the weighing process a bit easier.
Overall though, this is an ideal choice if you're looking to keep the cost of your gear down to a minimum.
My choice of weigh sling
My personal choice is the Avid Carp Weigh sling, which I have been using for a few years now. In my opinion, the quality is good and it provides amply support for the carp during weighing.
It's worth noting though that the particular design that I have has been discontinued now. However, some minor adjustments were made in the newer camo version, including removable floats and of course the distortion camo netting.
Carp Weigh Sling FAQs
Is a weighing sling necessary?
Yes, a weigh sling is necessary for carp fishing. You'll need a weigh sling to safely and accurately weigh your catch. They are also handy to help transport heavy carp from the water, where using a net can be quite cumbersome.
Why wet a weigh sling carp fishing?
Carp are not naturally meant to be out of the water, so we must ensure we do everything we can to keep them wet whilst we weigh and photography them. This means wetting all of your unhooking/weighing equipment such as your mat and fish weigh sling. In the summer, you've also got to take into account how hot your weigh sling can get, so it's vital to make sure that it's wet with fresh lake water before touching the carp.
What other carp care equipment do I need?
As a minimum, when fishing for carp, you should have the following carp care bits with you:
Large carp landing net (minimum 42inch) (Check out our best carp landing net reviews)
Landing net float
Padded unhooking mat or carp cradle
Carp weigh sling – preferably a retainer sling
Weigh scales
Forceps
How to prevent KHV spread with my weigh sling?
KHV is a highly contagious carp disease that is spread between fisheries on unhooking mats, slings and so on. Therefore, we must do our best to kill the disease if it is present on our gear before fishing.
Personally, I like to give my unhooking mat, net and sling a proper hose down after ever session, then let them fully dry out before hitting the banks again. As always, we would advocate the use of dip tanks if these are available at your chosen venue.
You can find out more about KHV on the UK Government website here.
What unhooking mat would you recommend to go with my fishing weigh sling?
We will be covering the best carp unhooking mats in a future carp gear reviews guide. However, my personal preference is the Avid Carp Cradle which we recently reviewed as part of our tried and trusted reviews.
Conclusion
And there you have it, the best carp weigh slings available on the market right now. There are plenty available, but when it comes to carp care, you really can't skimp on price and should always try to go for the best that you can afford with your budget.
MORE READING: How to hold a carp correctly
About the writer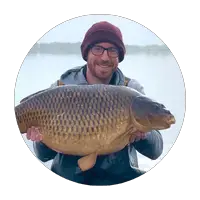 Rob W
I'm Rob, Carp Squad's main contributor. I've been carp fishing on and off for 15 years, but the bug is well and truly back at the moment. Hopefully the articles I write on here help you put more carp on the bank.