Next up on Tried & Tested is our Daiwa Sensor Line Review. We've focussed heavily on larger pieces of items on our recent reviews, but for this one we wanted to review one of the most important items of carp tackle; mainline.
Daiwa Sensor has been around for years and rarely changed. It's a cost-effective monofilament designed by Daiwa, one of Angling's leading reel manufacturers. This mainline has been popular with carp anglers for over 20 years, with many claiming that it outperforms other lines costing twice the price.
Personally, I've used Diana Sensor for around 15 years, so I'm in a good position to write this Daiwa Sensor Line Review. 
Read on to find out what I think about Daiwa Sensor. Use the links below to jump to each section:
Why you should trust this Daiwa Sensor Review
I've been using Daiwa Sensor for nearly 15 years as my mainline for carp fishing. I am not sponsored by Daiwa in any way. Therefore with this review, you'll be getting my honest opinion of this mainline. 
I've got good experience using a number of variations of the range, including clear and brown, 10lb, 12lb and 15lb carp line breaking strains. 
If you've never come across out Tried & Tested reviews before, they are exactly what they say they are. Opinions of carp gear that have been put through their paces over sufficient periods of time. This is in comparison to the rest of carp angling media that seems to rave about gear after only one short session on the bank.
Hopefully this review can help you make the decision on whether Daiwa Sensor is right for you or not.
Daiwa Sensor Strength & Abrasion Resistance
Rating: 5/5
If you're looking for a line that you can rely on in terms of strength, you won't go far wrong with Sensor. In my experience, I've had very few breakages which I'd put down to using Sensor as my main line. 
Daiwa has released Sensor in a variety of breaking strains to suit various styles of angling. 
Available from 4lb breaking strain, all the way through to 50lb, Sensor can be suited to a variety of angling situations. However, over the years it has become popular amongst carp anglers in both the 12lb and 15lb breaking strains.
Personally, I have used both the 12lb and 15lb versions.
First and foremost, I will always go for the 12lb which tends to suit most carp angling situations you are likely to face. That being said, many fisheries are now stating that 15lb mainline should be a minimum. In this case, I always have a spool of 15lb ready to go too.
At what strain will Daiwa Sensor actually break?
I mentioned that I have never had breakage problems with Daiwa Sensor and professional tests have backed it up.
Every few years, The Tackle Box in Kent test leading carp mainlines against their stats. To no surprise, Daiwa Sensor always performs well in their breaking strain tests. Here are the results:
| Line Specification | Stated Strain/Diameter | Tested Strain/Diameter |
| --- | --- | --- |
| Daiwa Sensor Brown 12lb | 12lb / 0.33mm | 16.5lb / 0.32mm |
| Daiwa Sensor Brown 15lb | 12lb / 0.35mm | 17.63lb / 0.36mm |
Stats courtesy of The Tackle Box.
As you can see, Sensor breaks slightly above it's stated strain, which explains why I've never had any problems with it breaking.
More importantly, whilst the breaking strain is higher than stated, it's diameter is less. This helps particularly when it comes to casting, which we'll cover later on in this Daiwa Sensor Line Review.
Colour
Rating: 4/5
Line colour plays more on some people's minds than others. For me, I just like something fairly dark in colour that matches most of what you'll find on the lakebed.
Sensor comes in two different colour variations: Daiwa Sensor Brown and Daiwa Sensor Clear.
I can only comment on the dark version which is what I use for all of my fishing.
It's a murky brown colour which blends in well with various lakebeds.
A common concern with most carp mainlines is their tendency to fade over time. In all honesty, I've never had this happen with Sensor. That being said, I do tend to replace the line on my spools every few months. (Another major benefit of Daiwa Sensor Line is that it's cheap enough to replace regularly!)
Unfortunately, I am unable to comment on how the clear variation lasts after a few months of use.
Casting Capabilities
Rating: 3/5
With the modern day angler doing all that they can to 'get on the fish', it's common to see anglers using everything they can to their advantage.
Your choice of line is an important one if you want to be distance casting.
Most importantly, you want to find a line with the lowest diameter which is still within your desired breaking strain. The lower diameter, generally the lower weight of the line and therefore it's resistance as it travels through the eyes of your rod.
When it comes to casting capabilities, I would consider Daiwa Sensor as OK. It's not the thinnest of lines, but it is certainly not as thick as some fluorocarbon mainlines on the market.
I've never felt that it has massively affected my range fishing. I'm easily able to hit 25+ wraps with Daiwa Sensor 15lb, Daiwa Emblems and the Shimano TX2.
That being said, if you're looking to take advantage of everything you can for distance casting, it may be worth going for a lower diameter mainline. Fox Exocet is one distance casting carp line which is well-renowned for it's distance casting diameter.
In short, I've scored it a 3 as it's not the worst, but there are certainly better distance casting lines out there.
Line Lay
Rating: 4/5
In my experience, line lay is more to do with your reel set up and how you load your mainline.
Personally, I've never had any issues with line lay when it comes to Daiwa Sensor.
The spools on my Daiwa Emblem Blacks aren't particularly great for the flattest of line lay. I haven't modified the washers or worm shaft in any way which probably doesn't help.
I have seen others use Daiwa Sensor and achieve superb line lay using the newer shallow spools and slow oscillation reels.
Line any carp line, Sensor can retain some springiness. However, I tended to notice this more when using baitrunners on my old Nash Dwarf rods. Being lazy with the baitrunner, I would often using to release lines and as always, this is prone to increase tangles in the future.
In conclusion, I've never had a problem with Daiwa Sensor line lay. Yes, you may be able to find more supple mainlines on the market, but you'll be paying twice the price.
For me, a major benefit of Daiwa Sensor is the affordable price. As a result, I don't feel too bad changing line more regularly and keeping the spools fresh.
Lastly, just make sure that if you do change your line regularly, you use the Anglers National Line Recycling Scheme.
Use a spin doctor if line twist persists
If line twist is a constant issue for you (not that it is individual to Daiwa Sensor) then you could try a spin doctor. A few cast and retrieves of this may be the answer to your problems.
Pros & Cons
Pros
Breaking strains from 4lb to 50lb available
Clear and brown colour variations
Brown version retains it's colour for a long period of time
Mid-table in terms of diameter
Cost effective to regularly respool. (Costs about half of other lines on the market)
Breaking strain is tested higher than what the manufacturer states
Cons
Not the greatest casting line (particularly in the 15lb version)
Conclusion – Daiwa Sensor Line Review
In all honesty, it would take a lot for me to change from Daiwa Sensor. It's just an excellent all-round line that doesn't break the bank.
It can be easy to fall for the very good marketing of Korda, RidgeMonkey etc who claim that their mainlines are ground breaking. In reality, like most carp gear, they are overloaded with 'carp tax' and will rarely perform better than their more cost-effective alternatives.
Daiwa Sensor has always worked for me and I'll continue to use it in the future.
Where to buy Daiwa Sensor Bulk Spools
eBay
Amazon
About the writer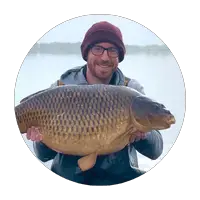 Rob W
I'm Rob, Carp Squad's main contributor. I've been carp fishing on and off for 15 years, but the bug is well and truly back at the moment. Hopefully the articles I write on here help you put more carp on the bank.