The best carp fishing bivvy heater is one that will keep you both warm and safe.
Let's not beat around the bush; winter carp fishing can be tough. Having that extra bit of a warmth from a fishing bivvy heater can make all the difference between a comfortable session and one where you can't wait to get home in the morning!
Winter carp fishing is all about being prepared, and when used safely, a bivvy heater can be a great piece of kit.
If you're on the lookout for a carp fishing bivvy heater, you've probably come across plenty of options made by both tackle companies and camping brands. It can be confusing to know which one to go for. Hopefully this list will help you choose the right portable heater.
In a hurry?
If you don't have much time use the links below to quickly find the best bivvy heater for you on Amazon. You can be assured that we only highlight the best products…
Let's get started! Use the links below to skip through the contents of this article:
Best Carp Fishing Bivvy Heater List
Bright Spark Portable Gas Heater
"Gas carp fishing heaters are undoubtedly the best when it comes to heating a bivvy fast. However, they must be used SAFELY, with adequate ventilation and a carbon monoxide detector"
Portable Heater Summary
Powered by gas to provide instant heat
1.3kW heating warms a bivvy instantly
Adjustable angle and variable heat control
Lasts up to 3 hours with a full gas canister
Powered by an A4 butane gas canister (available at most DIY stores & camping shops)
Safely lit by a piezo automatic ignition
UCO Candle Lantern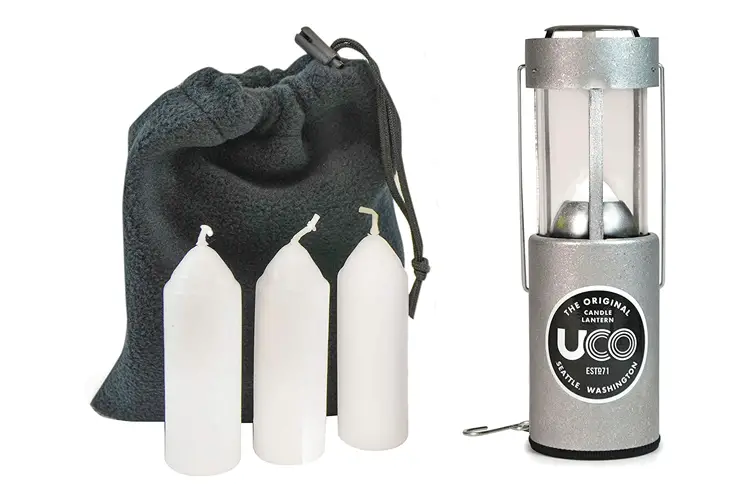 Carp Bivvy Heater Summary
Alluminium lightweight contruction
Powered by three 9-hour candles
Works as both a light and a bivvy heater
Fully windproof
Twist lock base ensures a secure place for the candles
Replacement candles available in unscented, beeswax or citronella scent
Goldmiky Mini Heater
Bivvy Heater Summary
Chimney design provides 360 degree heat
Constructed from premium stainless steel which is durable yet lightweight
Stable base fits securely to most common carp stoves
Carry bag included
Distributes heat evenly
Bivvy Heater Alternatives
AVID Thermatech Sleeping Bag
Sleeping Bag Summary
The first ever heated sleeping bag to enter the carp market
4 heat settings ensure that you can be as comfortable as possible
Powered by USB and compatible with all carp fishing power packs
Waterproof and breathable like other Avid Sleeping Bags in the range
Fits neatly on all carp bedchairs, including XL size
Heavy duty crash zips make it easy to get out of the sleeping bag in the event of a take
50% more compact than other 5 season sleeping bags – easy for transportation
Best Bivvy Heater Overviews
Bright Spark Portable Gas Heater for Carp Fishing
Naturally, a gas heater is one that is going to provide you with most warmth in your bivvy.
Gas heaters are very powerful, allowing you to quickly heat up a small space such as a carp bivvy.
Many of the best gas bivvy heaters on the market are not actually designed by carp tackle brands, they are designed by camping brands.
This is the case for the Bright Spark Portable Gas Heater, which makes it to the top of our list due to to a host of unique features.
Firstly, this little heater really packs a punch, powered by a single butane gas cylinder (the same used to power flat square camping cookers. Butane gas cylinders are readily available in most DIY stores, don't cost the earth and they're nice and compact too.
It's powerful too…
Powered by a single butane gas canister, you can expect around 3-5 hours of use from the Bright Spark Carp Fishing Bivvy Heater. Although that might not sound a lot in the grand scheme of a weekend session, you only need to power up the heater intermittently to keep the bivvy warm.
Thats the beauty of gas bivvy heaters; they are very powerful and with the space of 15 minutes it can be like sitting in a sauna.
Lighting at the touch of a button, the Bright Spark is incredibly simple to use and there's no need to be messing around with a lighter. A simple click ignition get's the heater started up instantly.
Variable heat control…
A nice feature is the variable heat control. As we've previously mentioned, gas heaters like this can pump out some serious heat. In the confined space of a one-man bivvy, being able to turn the Bright Spark down will be a major plus point. From our research, most people tend to run this at it's lowest setting, which further extends the gas usage time too.
For us, a major consideration for heaters on this guide was stability. The last thing you want is something which can easily topple over burn a hole in your groundsheet. Luckily, the Bright Spark has that covered, with a wide base which keeps a solid centre of gravity.
Adjustable head section…
Coming up to the main heater section itself, the Bright Spark benefits from being fully adjustable. For carp fishing this is particularly handy, as you can tilt the heater towards you on the carp bedchair with the heater remaining on the ground.
If you're one for statistics, the Bright Spark pumps out 1.3kW. We're not going to pretend to know what that means, all we know if that it's hot enough!
Overall, this is a bivvy heater packed full of features and designed by a reputable stove/heater brand in the camping space.
---
UCO Candle Lantern
Gas heaters aren't for everyone, and that's where the traditional candle lantern comes in. Typically a safer alternative, candle lanterns might not be as warm, but they provide enough heat to take the chill of that's for sure.
One lantern that we see rave reviews about in the outdoor space is the UCO Candle Lantern.
Encompassing a simple design, the UCO Lantern uses three 9-hour candles to provide long lasting light and additional warmth in your bivvy.
Each candle is spring-loaded into the central chimney, which is then further protected from the elements via a glass enclosure. The candles provide ample light in the bivvy, and after a few hours you will notice the temperature rising too.
One common misconception with lanterns and tea light holders is that they will heat up a bivvy like a gas heater. This is not true. However, they do provide enough heat to just take the chill out of the air. (And sometimes that is all that's needed)
Lightweight aluminium construction…
Constructed from aluminium, the UCO lantern remains lightweight overall, which as you'll know from all of our carp gear reviews, remains a real plus for us!
In terms of it's overall shape and size, it measures around 20cm tall and weighs around 1.4 grams. It can only be described as a more traditional lantern shape, with a carry handle which is handy for a midnight walk around the lake, or for hanging up high.
Regular, citronella and beeswax candles…
This one is sure to perk up the mosquito haters amongst us! When purchasing replacement candles for the UCO Lantern, you have the choice of regular (unscented), beeswax or citronella candles which can be used to deter the mosquitos in the summer months. (Although I'm not sure how effective they are in comparison to more specific pieces of kit like the Wolf Mozzi Zapper.
One thing worth noting is that the candles themselves do seem to be a very specific shape, designed to fit into the lanterns unique spring loaded candle holder.
They're around £6 for a pack of three off Amazon here. I'm not sure of there availability at other outdoor stores, so it's just one of them things you're going to have to make sure you have a nice stock of before a session.
Available in multiple colours…
How could we forget the most important thing? The UCO Candle Lantern is available in multiple colours too, including original silver, red or olive green for the carpy folk amongst us.
Overall, an ideal choice if you're looking for something to take the chill of and provide a more natural light than a standard fishing head torch. It could well be the contender for the best lantern for night fishing.
---
Goldmiky Mini Bivvy Heater
If you're looking for something lightweight which packs down small, this little heater from Goldmiky is the one for you.
The beauty of this fishing bivvy heater is that it works off your existing stove; something that even carp fishing beginners recognise as a key part of their fishing set up.
Essentially, it is a heat distributor, which slots onto the top of your stove and uses the heat from the flames below.
With a cylinder shape and holes throughout 360 degrees, the Goldmiky takes the heater and even distributes it all around. It's a simple concept, but one that works very well.
Fits most carp fishing stoves…
This bivvy heaters key features is it's ability to fit on to existing stoves. Not only does this make it incredibly versatile, it means you no longer need to take another heat supply such as gas or candles.
On the base of the Goldmiky stove are 4 purposely designed slots which align perfectly with the arms of your stove, ensuring a safe and stable base. From our use, we know this works perfectly with the Trakker Armolife CG-3 Stove and the Fox Ultralight Stove.
Similar heat to your stove…
As this bivvy heater runs off your usual stove, in theory, you're not going to get much more power than what you would if you just left the stove on by itself. I don't know about you, but during the night I do like a brew and blasting the stove for 5 minutes usually does the trick in heating the bivvy.
The Goldmiky isn't really designed to provide more heat than a standard stove. It's primary use is to distribute the heat better, rather than it going straight up.
Don't expect it to be anywhere near as warm as a purpose built fishing gas heater like the one outlined above.
Ideal for the travelling angler…
Where the Goldmiky really comes into it's own is when travelling light. If you're someone who likes to move alot, even during the winter, it can become a tough task to keep your gear to a minimum.
The Goldmiky is lightweight and compact, runs off your existing stove and will take up minimal room in your rucksack.
It comes with a neat little storage bag too!
---
Bivvy Heater Alternatives
Avid Thermatech Heated Sleeping Bag
Just when you thought carp bedchairs and sleeping bags had become as comfortable as possible, Avid launched the Thermatech!
The Avid name has been synonymous with comfort for years, having pioneered in the use of memory foam bedchairs.
In essence, the Thermatech sleeping bag from Avid is a heated 5 season sleeping bag. – The first of it's kind might we add.
Utilising heated elements alongside the length of the sleeping bag, you're able to heat the entire sleeping bag in only a short space of time.
It's an excellent use of technology and one that will massively improve comfort on them long winter nights.
Powered by USB…
As you would expect, the Avid heated sleeping bag is powered electronically via USB. It's therefore incredibly easy to power, as we all carry at least one carp power pack with us on the bank these days.
Your power pack simply plugs into the cable and the head end of the sleeping bag and you're good to go. There's even a handy pocked for you to store the power pack whilst it's in use, keeping it out of your way whilst you try to sleep.
In terms of power pack drainage, it won't take too much of that either. Avid recommend that you only need it on for an hour or so before you're left with a toasty sleeping bag.
Four different heat settings…
We're glad that Avid have kept the settings so simple on this sleeping bag. There is simply four heat settings that you can cycle through by clicking a single button situated at shoulder height. No messing around, it really is simple.
The four settings available make it customisable no matter how hot you like it. The bag itself isn't as thick as a standard 5 season sleeping bag, as you simply don't need all of that added material.
In fact, the Avid Thermatech is on average 50% less bulky that traditional 5 season carp sleeping bags. That's a huge amount of bulk shaved off, particularly important if you light to travel light.
Overall, a huge step forward in carp fishing comfort and a worthy alternative to a carp fishing heater.
---
Carp Fishing Bivvy Heater FAQs
Are bivvy heaters safe?
Like most things, bivvy heaters can be unsafe if used incorrectly. There are many anglers that use bivvy heaters throughout the winter, although we must stress that the use of gas bivvy heaters can be extremely dangerous with minimal ventilation. Gas heaters give off carbon monoxide, otherwise known as the silent killer.
If you do choose to use a gas powered bivvy heaters, it's vital that you leave your door open and do not fall asleep with the heater running.
If you prefer the safer option, invest in the UCO Candle Lantern above and set it up in a steady place where it has no chance of toppling over.
Does the Nash bivvy heater work?
Enter the carp forums at this time of the year and you're bound to see this question! The Nash bivvy heater runs off a number of small tea lights, which make it extremely low powered and unsuccessful when it comes to heating a bivvy.
That being said, tea-lights can help to take the chill out of the air and reduce condensation. Just don't be expecting a roasting hot bivvy like you would get with a gas fishing heater!
In our opinion, miss-sold product which somehow has gained unicorn status and still manages to sell for up to £100 on eBay. (I would be interested to hear your opinions if you're an owner of the Nash bivvy heater, drop us a comment below!)
How to make a bivvy heater?
Bivvy heaters can be made DIY style. The ones that most people tend to make are the tea-light holder style which give off minimal heat. There are plenty of videos on YouTube about making your own bivvy heater. Check them out here.
Where to buy a bivvy carbon monoxide detector?
Investing in a bivvy carbon monoxide detector is a very worthwhile choice if you do go down the route of using a gas carp fishing bivvy heater. Like you would have in your home, a carbon monoxide alarm will alert you to dangerous levels of carbon monoxide. Typically these are battery powered and you can quite simply use one similar to the one used around the home.
Here are a few popular carbon monoxide detectors that you may wish to take fishing with you;
Conclusion
Thanks for reading our bivvy heater buying guide
Hopefully we've made your decision that little bit easier, and your winter sessions a little bit warmer!
Remember, the use of gas powered heaters should be done with extreme care. If you are one of the more cautious amongst us, there are plenty of other options for staying warm, such as a lower powered candle lantern, layering up the carp clothing or investing in an Avid Heated Sleeping Bag.
Just remember to stay safe and enjoy you're winter fishing.
P.S. We would love to hear your thoughts on the use of bivvy heaters, drop us a comment below!
About the writer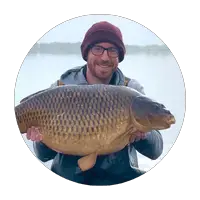 Rob W
I'm Rob, Carp Squad's main contributor. I've been carp fishing on and off for 15 years, but the bug is well and truly back at the moment. Hopefully the articles I write on here help you put more carp on the bank.