This week on our tried and tested reviews we are going to take a look at the Trakker RLX bedchair (flat 6 superlite version). Prior to purchasing the Trakker Superlite, I was on the lookout for a bedchair that was both lightweight and comfortable. Not an easy task by all means!
Fortunately, the Trakker RLX 6 bedchair ticked these boxes and after 3 years of use I am now in the position to provide real honest feedback on Trakker's lightest bedchair.
As the name suggests, the Trakker RLX superlite Is a lightweight, flat profile carp fishing bedchair. It has been specifically designed to be lightweight and easy to transport, without compromising on comfort. 
Use the links below to jump to each section of this review…
How the RLX6 has held up?
It's been a whole year since I wrote this review. As always, things can change so I wanted to come back and give a little update.
The RLX6 is still going strong and is still my bedchair of choice. The roped mid section has started to come loose slightly after months of sitting in the middle of the bed during my sessions where I didn't take a chair. This is quite common with most bedchairs after years of use.
If this happens to you, just untie the knots and tighten the whole rope section again. – Simple!
Why you should trust us
I've been using the Trakker RLX for two years now. This is a completely impartial review. I have no affiliation with Trakker and paid full price myself for this bedchair. As I state on all my reviews, I tend not to look after my gear too much these days, so whatever I review tends to get its fair share of abuse!
If you're not aware of our tried and tested reviews on Carp Squad, they are exactly what they say they are; no sales pitch, no sponsorship, no BS. Just gear that we've put through their paces over sufficient periods of time.
Weight – Trakker RLX Bedchair
Rating: 5/5
Now given the style of this bedchair, it only makes sense to start by discussing size and weight. Coming in at just under 7kg, the Trakker RLX 6 bedchair is officially one of the lightest bed chairs available on the market.  
If you're regularly on the move or like to keep the weight of your gear to a minimum, this should definitely be a consideration for your next carp bedchair. 
Check out the carp groups on Facebook, and you'll see this bedchair recommended hundreds of times to people looking for the lightest bed chairs available. 
The RLX 6 has been available for around 3 years now and has gained raving fans throughout the carp fishing community, and rightly so. 
The weight of this bedchair there was one of the main reasons why I purchased it in the first place. I like to move onto showing fish, so a bulky, cumbersome bedchair over 12kg was not ideal. 
The Trakker RLX 6 Bedchair is comfortable too…
That being said, I didn't want to compromise on comfort too. I had previously checked out some of the JRC bedchairs, but for me they were a little bit small and stripped back for my liking. The Trakker RLX 6 has found the perfect middle ground in my opinion.
Whilst it is not as comfortable as it's bigger brothers, Trakker have done everything in their power to reduce the weight without compromising on comfort.
Firstly, Trakker has reduced the padding in the central section of the bed chair, which makes up a fair proportion of the weight of most modern bedchairs. To counteract the loss of comfort here, Trakker has included a roped midsection instead of elastic. 
The reason for this is to maintain the flat profile as much as possible and limit sagging within the middle of the bed (also meaning that less central padding is required). To be honest, I was quite surprised at how comfortable the bedchair is without the elasticated midsection.
The bedchair stays incredibly flat and provides ample lumbar support, even for someone suffering from minor lower back problems.
You even have the option of adjusting the roped midsection to suit how firm you would like the bed.
The aluminium/steel frame is solid too, but we'll come to that later!
Size
Rating: 5/5
The size of your bedchair is also vital to a good night's sleep. Now when it comes to designing a lightweight bedchair, it can be easy for a manufacturer to simply make the whole thing smaller.
Trakker has not done this with the Trakker RLX 6 Bedchair, and I was pleased to see that. The bedchair itself is actually 4kg lighter and much longer and wider than my old Total Fishing Gear Bedchair.
Length wise, the Trakker RLX 6 comes in at 206cm, so fine even if you're over 6 foot tall. In terms of width, you've got plenty to play with at 78cm too. It's no Nash wideboy, but perfect if you're of average build like myself.
It's a decent fit in my Trakker Tempest 100T Carp Bivvy too, providing plenty of foot space at the front and storage at the rear. This was another key consideration for me. 
Easy to transport, although not the most compact
If you're looking for superior transport size with the Trakker RLX 6 Bedchair, you're not going to get it unfortunately. Whilst it is lightweight, it doesn't fold up any more compact than other beds. The bedchair is 3-fold like most of the other bedchairs available on the market. 
As we've already mentioned, it's a decent length and width too so there has been no compromise there. If you have a small car boot or a tight fit in the shed, you might take a look at the Nash Scope Ops 4 Fold Sleep System as an alternative.
There is a handy buckle which keeps the bed together once folded, and the whole thing can stand up straight on it's own, which is a nice little feature! 
It's also worth mentioning that the bedchair can be folded with a full winter sleeping bag and bedchair cover still attached. I personally use the Trakker Big Snooze Plus and the Trakker Big Snooze Bedchair Cover and they fit fine. Simply fold the whole thing together, press the air out of the bag by kneeling on it and buckle the bedchair together.
Overall to summarise the size, you'll be pleasantly surprised at how large it is considering the light transport weight.
Strength & Stability
Rating: 4/5
As we have previously mentioned, the Trakker RLX Bedchair is constructed from a combination of steel and aluminium. I'm not sure exactly where each of these materials is on the frame, but I'm guessing the steel is focused around the areas taking most of the load.
In terms of its strength, Trakker claims that the RLX Flat 6 has enough stability for even the largest of anglers. As I said, I'm 13 stone so of average build really. 
I'm sure that it could take the weight of someone much heavier than me though.
The build quality overall on the frame seems rock solid. The hinges don't rattle and they are not loose enough that the legs drop out when you unfold the bedchair.
A big part of the stability of your bedchair will come from the leg mechanism. The Trakker RLX Compact Bedchair has 6 adjustable legs which can go from 28cm to 38cm. Whilst I find that fine for most of the swims I come across, it may still leave you uneven on steep river banks. That being said, I don't think there's any solution to that really. 
The actual leg mechanism isn't anything revolutionary. Trakker have stuck with a tried and tested push button mechanism which has served them well on previous bedchair ranges. To be honest, I'm pleased with that too, as some manufacturers have tried to reinvent this part of their beds and failed miserably. 
Comfort
Rating: 3/5
Over the years, bedchairs have been getting flatter in their design, and the Trakker RLX 6 fits that mould too. Essentially, the flatter beds provide much more lower back support, limiting sagging across the midsection.
The profile of the RLX 6 Bedchair is incredibly flat once folded out. Going from a budget, camwheel style bedchair to the RLX 6 has done wonders for my back.
I'm no longer hunched over after a two day session and to be honest, night fishing has become much more comfortable.
Material wise, it's fair to see that more padding could be used on the RLX 6 Superlite. If you view it in person, the first thing you will notice is the lack of padding. 
Don't let this put you off though. The roped midsection makes up for this and to be honest, any additional padding would only add unnecessary weight.
A good quality sleeping bag should provide some good cushioning too, or at least my Trakker Big Snooze does anyway. I have heard of RLX 6 users investing in the Trakker inflatable mattress to use on longer sessions, or over in France when they may not be as mobile around the lake.
Trakker RLX Bedchair Photos
Pros & Cons
Pros
Lightweight at less than 7kg
Wipe clean material
Ultra-flat design helps to eliminate back problems
Fully extendable legs throughout
Transport straps to keep the bed together during transit
Decent height provides ample room for luggage and/or carp tackle boxes underneath
Trakker RLX Bedchair Review Conclusion
When I go fishing, I go to catch fish, and that often means being able to up sticks and move quickly and easily throughout a session. For that reason, I try to keep all of my kit to the lightest possible weight. 
On the other hand, I want a bit of comfort too but not too much that I feel I'm taking a king sized padded bed with me! For me, the Trakker RLX Flat 6 Superlite Bedchair finds the perfect balance between weight and comfort, and that's the reason it will be my bedchair of choice for the foreseeable future.
If you're looking for a lightweight, transportable bedchair that won't wreck your back, the Trakker RLX 6 Superlite Bedchair should have a place on your list.
Of course, if at the end of this review you have decided that the Trakker RLX is not for you, it may be worthy checking out out best carp bedchair guide for some more recommendations.
Where to buy the Trakker RLX 6 online
eBay
Amazon
---
About the writer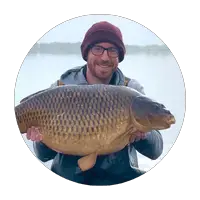 Rob W
I'm Rob, Carp Squad's main contributor. I've been carp fishing on and off for 15 years, but the bug is well and truly back at the moment. Hopefully the articles I write on here help you put more carp on the bank.