Put down the spomb rod and throwing stick, as it's time to check out the best boilie catapult for baiting up in 2022.
OK, so it might be less common to see catapults used on the banks these days, but that doesn't mean they don't work.
Catapults can be one of the most effective short-medium range baiting tools.
They work perfectly when you don't want the noise of a spomb or the continuous action of a throwing stick. They're also much less engaging for resident bird life, which is a major plus in my book!
When you're a new or experienced angler, it's always worth having a catapult in your tackle bag.
But what is the best boilie catapult?
Let's check them out.
6. Gardner UltraPult Catapult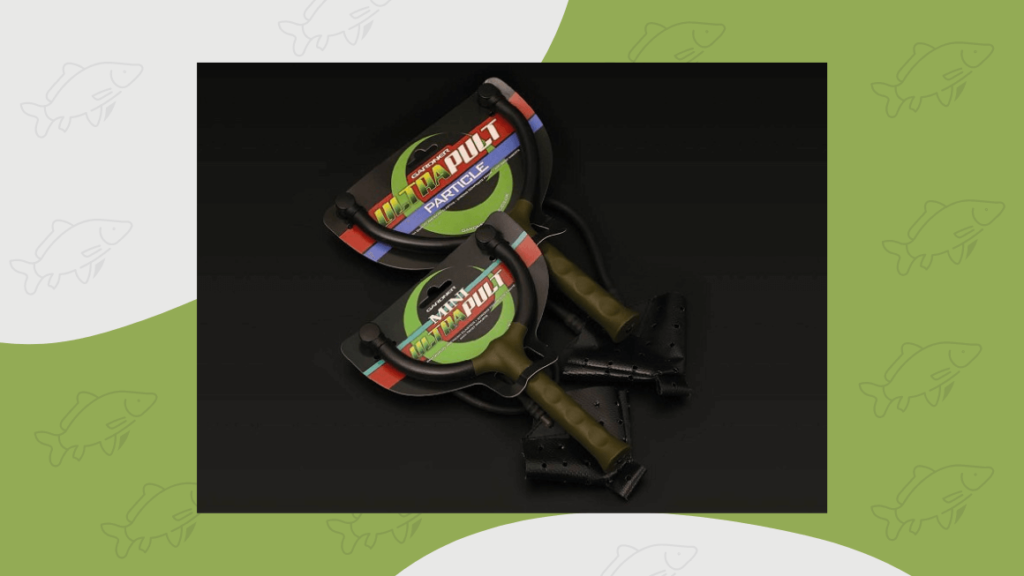 Gardner are known for producing no-nonsense carp gear and their UltraPult is no different.
This is a classic design, with a moulded grip handle that makes baiting effortless and comfortable on the hands.
It's got a large pouch that's capable of taking a handful of boilies. But it's equally as good at firing out particle too. This was a major consideration for us with this list, as it's just unnecessary carrying multiple catapults for multiple baits.
Let's move on. We all know that the most important part of a catapult is the elastics, right?
So what are they like on the Gardner UltraPult?
They are made from surgical-grade elastic according to Gardner. They feel like they've got more than enough strength to last a few seasons that's for sure.
What's more, if they do happen to break (which is inevitable), you can purchase replacements directly from Gardner themselves.
5. ESP Boilie Pult Catapult
Another no-nonsense catapult to add to the list is the ESP Boilie Pult.
This exact design has been sold by ESP for some years now, which is testament to it's success.
Much like the Gardner UltraPult, it doesn't have many bells and whistles.
A simple, moulded grip is paired with hard-wearing elastic and a good sized pouch.
Speaking of the pouch, you can actually buy this catapult in two versions; one for particles and one for boilies.
Personally, I use the particle variation for all of my fishing and it fires boilies fine at distance. Don't let them tell you otherwise!
What I've found it that the elastic has lasted around 3 years. Now I don't use it on every session but it does get a beating being attached to the outside of my rucksack.
I'd say that's pretty good going!
4. AVID Carp Precision Catapult
Ever tried to fire your bait out and had it just land in the margins? Or worse, land all over the ground in front of you?
That's typically due to the elastic twisting and not being able to fire the bait in a straight line.
This catapult from AVID was designed to resolve that.
And it's all due to how the elastic is attached to the handle itself. Whereas other catapults have a pin which has a tendency to spin at times, the elastic comes straight out of the top of the Precision Catapult.
From our tests it seems to work well, although we wouldn't say it's revolutionary. Certainly not as much as the Catapults that we'll cover shortly.
As far as catapults go, this one does the job and it's in the average price bracket too.
3. Korda Katapult
Another one of Korda's ventures away from terminal tackle is their baiting up range.
Alongside the Korda Eazi-Stick is a range of catapults that had a redesign in early 2021.
With Korda's credentials we were expecting something a little more revolutionary to be honest.
Instead, what we have is a range of three catapults that closely rival the ESP and Gardner catapults listed above.
They do edge them out slightly though, hence why they are higher up this list.
The main reason for that is the way the elastic is attached. Korda has re-engineered this area completely, adding in new connectors that can be un-screwed to help change the elastic.
It's much easier than the traditional way of pushing on new elastic which can be a bit tedious. If you're someone who finds themselves regularly breaking catapult elastic, this ones for you!
2. Fox Rangemaster Powerguard Multi
Completely at the other end of the spectrum when it comes to revolutionising a traditional design is the Fox Rangemaster.
We all know that feeling of a sore hand in the winter after it's been slapped by the catapult elastic don't we?
Well that's a thing of the past with this nifty invention from Fox.
Like most good inventions, the simplest are always the best. This is a catapult no different to the ones listed above, apart from one additional feature.
Fox have added an integrated hand guard to the front of the catapult. When the pouch recoils it no longer hits your hand which is protected by the guard at the front. – Perfect if you like to use the catapult for baiting up with boilies in the winter.
Elsewhere you've got a decent sized pouch and swing head fixings at the top.
I'm told these help to stop the elastic twisted around the handle itself.
One thing that might divide opinions on this catapult is the orange elastic. It's perfect if you have trouble losing stuff. Not so ideal if you like a sneaky midnight pre baiting mission.
1. JAG One-pult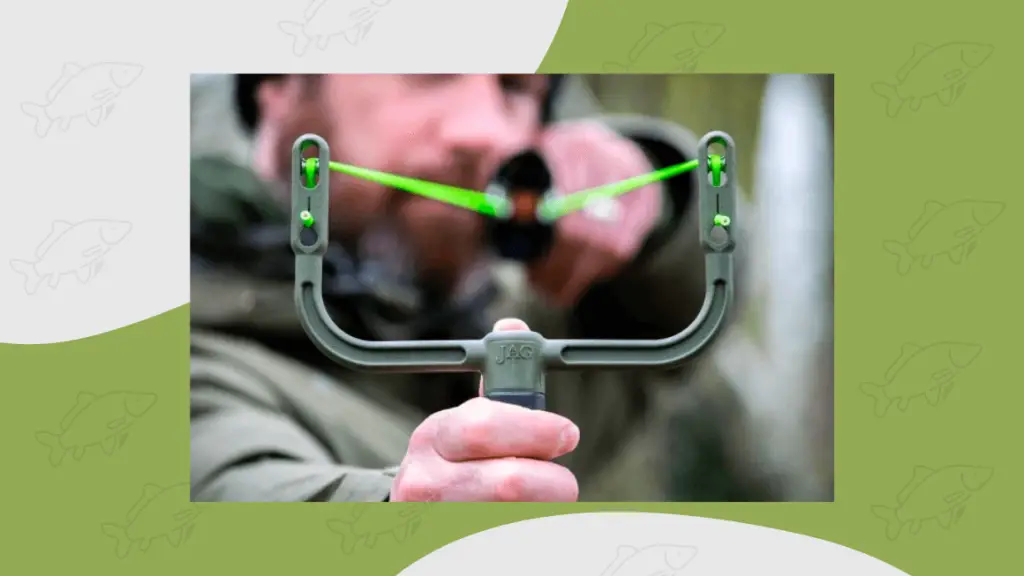 The longevity of a catapult is typically dictated by it's elastic.
So when JAG announced that it was working on a catapult to eliminate elastic breakage, it was like music to carp angler's ears!
This nifty catapult is designed using a roller system on the catapult arms. These take the strain off an individual area of the elastic, further elongating it's life.
It's a simple change but it really does work.
What's more, you have complete control of the length of the elastic too. Within a matter of seconds you can lengthen or shorten the elastic depending on how much strength you need.
Simply unclip it from the front and slide more elastic through the rollers.
It's also super easy to remove the elastic so you can store it in a safe place and stop it getting caught on things. (Which has definitely ruined my ESP catapult a few times).
JAG are known for the UK-based innovation and for us this is by far the best boilie catapult on the market.
Why use a catapult over a throwing stick?
It does seem that the use of a catapult has dwindled over the years, in favour of throwing sticks.
However, the major downfall with using a throwing stick is that your baits need to be slightly hardened for it to really work.
This is fine with shelf life boilies straight out of the bag. However, if you prefer to use softer freezer baits or soaked baits, then you need to think of other means of baiting up.
Catapults are excellent in this respect, as you can fire out any sort of bait, as long as it fits in the pouch.
About the writer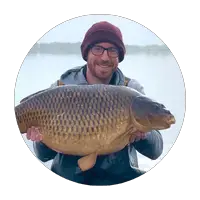 Rob W
I'm Rob, Carp Squad's main contributor. I've been carp fishing on and off for 15 years, but the bug is well and truly back at the moment. Hopefully the articles I write on here help you put more carp on the bank.