Carp fishing has come on a long way in the last 20 years. As anglers, we now have more choice than ever when it comes to bait, so choosing the best carp bait companies to use can be tough!
Pop into your local tackle shop and you'll be amazed by how many brands there are. Sticky Baits, Mainline, Nutrabaits, the list goes on. Not only that, but there are various brands when it comes to particles, pellets other free offerings too.
As a carp fishing beginner or more established angler, it can be hard to know what pcarp bait company is best. For that reason, we've put this full best carp bait companies guide together to help you along the way.
Use the links below to navigate through this article and find out more about each bait company, their history and the products that they offer:
How we picked these bait companies
Real + Group Reviews
We've combined real experience plus group reviews from Facebook and leading eCommerce stores to determine what products to feature on this guide.
Variety
Everyone wants something different from their chosen bait company. Therefore we tried to provide some variance amongst the companies we've looked at.
No Commission Focus
Whilst we do earn from some links clicked through this site, we have not been biased towards a single product because of that. This is unlike other guides that only feature Amazon listed products.
1. Sticky Baits
Price Range: £££
Key Range: Boilies and Pellets
Availability: Most tackle shops
Sticky Baits are undoubtedly one of the leading carp bait companies at this moment in time. Since their inception in the mid 2000's, the brand has gained huge acclaim for catching some of the largest carp in the country.
Much of the success of sticky has revolved around sticking to their three core bait ranges; bloodworm, krill and manilla. Equally, all baits are consistent carp catchers and this only goes to reaffirm the quality of their baits.
Over the years, they have signed up many a top carp angler too. Head over to the Sticky Baits YouTube Channel and you'll be able to watch the likes of Scott Lloyd, Myles Gibson, Oz Holness and Tom Maker hauling on their baits.
Needless to say, if you're looking for the best boilie company to try, you won't go far wrong with Sticky.
Best Sticky Baits products to try
The Krill Boilies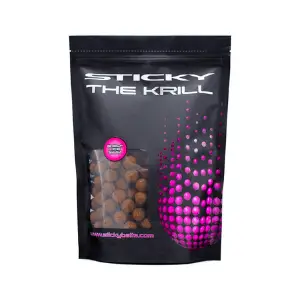 Mulbz Pop Ups
Krill Pellets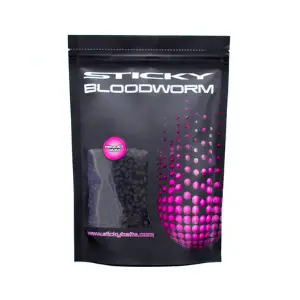 2. Mainline Baits
Price Range: £££
Key Range: Boilies and Pellets
Availability: Most tackle shops
Mainline baits are one of the pioneers when it comes to boilie companies in the UK. Being at he forefront of the market in the 90s, Mainline have gone on to experience enormous growth throughout the UK and abroad.
With one of the most extension product lines, you can use Mainline for most of your bait needs, from boilies, to pellets and matching carp liquids.
Over the years, the range has grown exponentially to include various flavours in both shelf life and freezer bait format. However, it is their freezer baits which remain to be the most popular products, as anglers opt for the freshest carp bait available.
Flavours in the range haven't changed much of the years. You can now choose from The Link, Essential Cell, Hybrid, Cell, Activ-8. Ask any carp angler what their favourite Mainline bait is and I'm sure they'll tell you The Cell. It's emptied waters up and down the country!
You can find Mainline Baits at most tackle shops in the UK. Just don't expect to be paying under £10 for a kilo of boilies.
Top Mainline Baits products to try
Cell Boilies
Toppers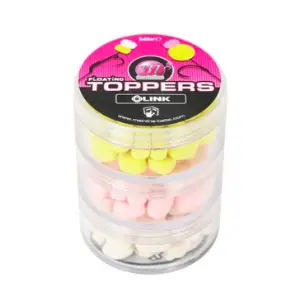 Smart Cream
3. Nutrabaits
Price Range: £££
Key Range: Boilies, Pellets, Hookbaits
Availability: Larger tackle shops and their own online store
Moving on, we're throwing another classic carp bait manufacturer on the list in the form of Nutrabaits. Established in 1986, Nutrabaits are one of the pioneers of the bait making scene.
Being around for over 35 years is a testament to the quality of the bait that the Nutrabaits team produce.
Their baits have gained a cult following over the years, with the prolific Trigga Ice leading the way. If you were to pick up an issue of Carp Talk in the early 2000s, you wouldn't miss the catch reports from this bait.
Since the early days, the company has grown their bait range to include pellets, shelf-life boilies, pop ups, wafters, hard-hookers and liquids.
In terms of flavours, their Trigga Ice still remains a solid favourite. That being said, if you fancy trying other parts of the range, you can opt for CO-DE, an amino-rich birdseed blend which is known to work all-year round.
When it comes to getting your hands on some Nutrabaits boilies, you can find them at a select few tackle shops or order them directly from their online shop.
A great tip is to also check out the clearance section on their website as it's always full of discounted stock that they want to clear.
Price wise, like any of the established brands, don't expect to pay under £10 per kilo of boilies.
Nutrabaits boilies to try on your next trip
Trigga Boilies
Tecni-Spice Pop Ups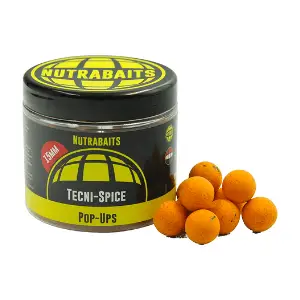 Trigga Pellets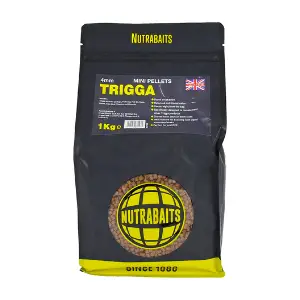 4. DNA Baits
Price Range: £
Key Range: Boilies, Hookbaits, Liquids
Availability: Online
DNA Baits have really made a move on the carp bait scene in recent years. Where more established brands have increased their prices to extortionate levels, DNA have undercut them.
Their famous bulk boilie deals offer exceptional value for money, giving you a chance to try their range of boilies, hookbaits and dips.
There are plenty of bulk boilie deals to choose from too, and the higher quantities you go for, the more you save.
Undoubtedly the most popular deal from DNA is their 20kg bulk boilie deal. This includes 20kg of your chosen boilies (freezer or shelf-life), a tub of hookbaits, 1 litre of liquid and free postage for just £135. Walk into any tackle shop and purchase Mainline Baits and you would be paying around £240 for that bundle.
As you can see, DNA are a good choice if you are looking for cheap bulk boilies.
DNA Baits Boilie Deals
| DNA Baits Boilie Deals | What you get | Price |
| --- | --- | --- |
| 5kg Boilie Deal – Option 1 | 5kg boilies, hookbaits, free postage | £45 |
| 5kg Boilie Deal – Option 2 | 5kg boilies, hookbaits, 1 litre liquid, free postage | £55 |
| 10kg Boilie Deal – Option 1 | 10kg boilies, hookbaits, free postage | £80 |
| 10kg Boilie Deal – Option 2 | 10kg boilies, hookbaits, 1 litre liquid, free postage | £90 |
| 20kg Boilie Deal | 20kg boilies, 2 x hookbaits, 1 litre liquid, free postage | £135 |
| 30kg Boilie Deal | 30kg boilies, 2 x hookbaits, 1 litre liquid, free postage | £200 |
| 50kg Boilie Deal | 50kg boilies, pop ups, wafters, 1 litre liquid, free postage | £320 |
The typical thought when it comes to cheaper bait is poor quality. However, DNA have been around for 2007 now and are backed by some of the UK's leading carp anglers, including Simon Crow.
The range has expanded too, from the ever-popular SLK to the unique 'Bug' range which is make from a ground insect powder. (Something never product by any other bait companies in the UK).
5. Dynamite Baits
Price Range: £££
Key Range: Boilies, Hookbaits, Liquids, Particles
Availability: Most major tackle shops
Dynamite baits are another one of the best carp bait companies that have been around for years.
Walk into any tackle shop and you will see Dynamite occupying much of the shelf space. The real beauty of choosing Dynamite as your baits provider is that you can get everything under one brand.
Where other bait manufacturers tend to stick to boilies and pellets, Dynamite cover the whole range including an extensive particle product line.
If you're an angler who likes to add particles in their mix, you won't go far wrong with Dynamite baits frenzied particles.
In terms of boilies, Dynamite have a classic line-up to choose from, spearheaded by the legendary 'Source'. Developed by Terry Hearn in 2002, it's accounted for many of Terry's big carp and remains his go-to boilie to this day. If their boilies are good enough for Terry Hearn, they're good enough for anyone!
Other products in their range include dips, rehydration liquids (if you like to air-dry boilies), and an extensive range of pop ups and match-the-hatch hookbaits.
In conclusion, you won't go far wrong choosing Dynamite as your bait provider. It's easy enough to stock up with a visit to the tackle shop too!
Dynamite Baits range to try on your next session
Tiger Nut Boilies
Marine Halibut Pellets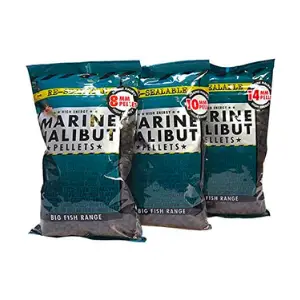 The Source Boilies
6. Nash Bait
Price Range: £££
Key Range: Boilies, Hookbaits, Liquids, Particles
Availability: Most major tackle shops
It's rare that you see a company dominate in both tackle and bait, but that's what Nash have done.
Nash bait has been around for as long as their Titan bivvies, and still catches big carp to this day.
As one of the early pioneers in the carp bait scene, many anglers will remember Jim Shelley heading up the brand in the late 90s – mid 2000s. He caught the iconic Black Mirror from Colnemere and The Client from Fen Drayton using their Scopex Squid recipe.
Scopex Squid was also the downfall of the legendary Two Tone from Conningbrook no less than six times, including it's first capture over 60lb. It's one of the reasons this bait appeared recently on our list of best shelf life boilies.
Whatever you say about Nash, you can't fault the ability of their bait.
Despite the success of the Scopex Squid, in more recent years it is the Citruz Range that catches the headlines as a successful boilie for winter. Often used by Alan Blair, the Citruz Range is a well-known catcher when winter carp fishing.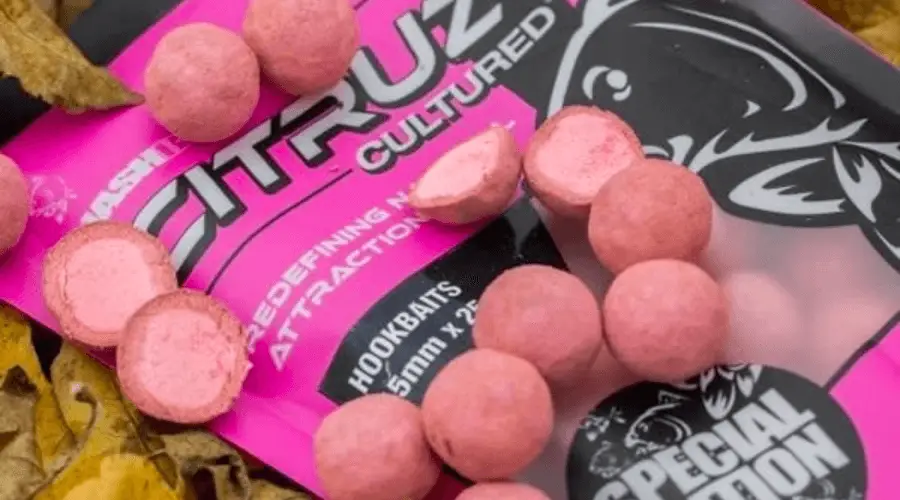 The Nash Bait range extends further than just standard boilies too. Recently the team launched their range of 'cultured' baits. These are effectively boilies with an outer skin that dissolves over time, releasing attractants into your swim.
Like many of the ranges we've already listed in this guide, you won't go far wrong with Nash Bait.
What Nash products should you try?
Nash Citruz Boilies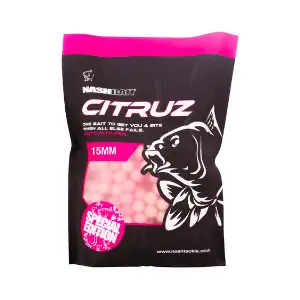 Scopex Squid Pellet
Cultured Hookbaits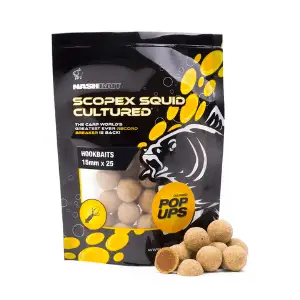 7. CC Moore
Price Range: £££
Key Range: Boilies, Hookbaits, Liquids, Particles
Availability: Online
CC Moore claim themselves to have 'the ultimate collection of carp baits' and they might just be right.
Like some of the other boilie manufacturers on this list, CC Moore have been around for as long as anyone can remember!
Their Odyssey XXX and Live System baits have caught carp for decades. Therefore it's great to see them stick with their tried and tested baits.
Many leading anglers have put their name to CC Moore over the years, so it's no surprise to see them going strong for so long.
CC Moore go the extra mile when it comes to catering for those who like to make their own baits. Online you'll find all of their base mix ingredients and additives, enabling you to try to make your own boilies in the legendary CC Moore ingredients.
They also sell their base mixes to other bait makers too, which is testament to the quality of the ingredients that the CC Moore team source.
If you're someone who likes to tinker with your baits to give you that edge over other anglers, CC Moore is definitely worth a look.
CC Moore baits to use when you're next fishing
Tier one
Odyssey XXX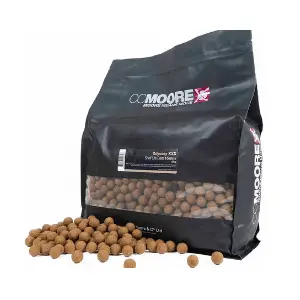 Live System
8. Parker Baits
Price Range: ££
Key Range: Boilies, Hookbaits, Liquids
Availability: Online
Parker Baits are a relatively new company on the block, but they're making waves with their innovative range.
Unlike other companies who simply promote the process of dusting and coating boilies to increase attractiveness, Parker Baits do this for you with pre-coated boilies straight out of the bag. (In addition to many other products in their range.)
Having sampled this range first-hand, I can say they are some of the most high-attract baits I've ever seen out of the bag. If you're strapped for time and want high-quality baits that are pre-cured and coated, Parker Baits are the ones for you.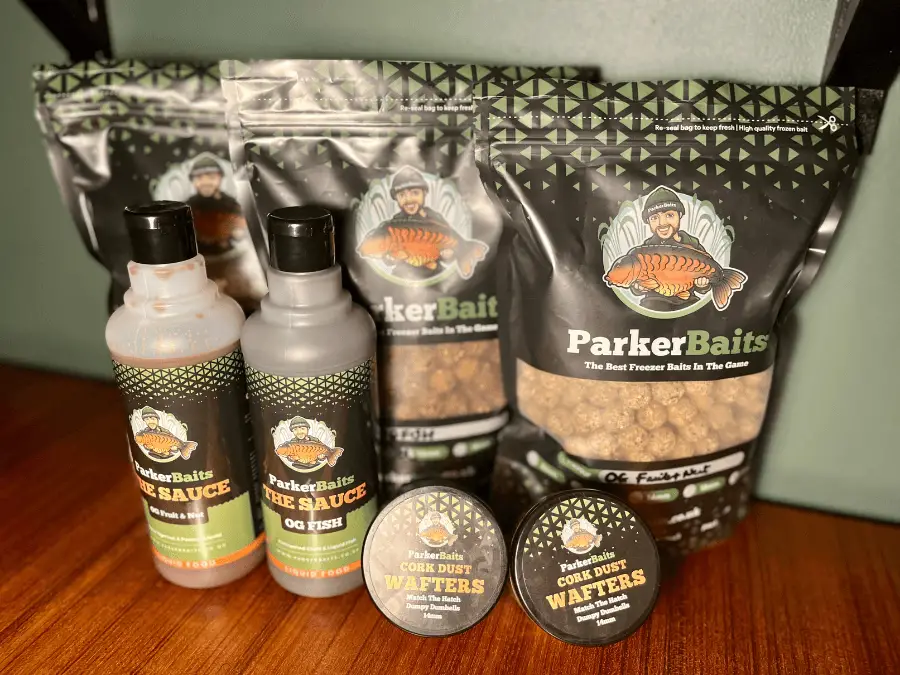 But it's not only the dusting process that seems to be proving popular at Parker Baits.
Owners Tom and Ben have bucked the trend by opting to steam their baits rather than boiliing them. The reason for this is clear; steamed baits only lose 11% of their nutritional value, in comparison to traditional boilies losing 66%.
It's a big tick in our book for Parker Baits, choosing to stand out and maintain the highest possible nutritional value in their baits rather than conforming.
In terms of the range itself, it's relatively small at the moment as they look to maintain quality. The freezer range is made up of two flavours; OG Fish and OG Fruit & Nut. The classic flavour profiles of these baits should appeal to most anglers.
OG Fish is a deep red fishmeal bait flavoured with squid, octopus and chilli. – A proven big carp flavour combination.
OG Fruit & Nut is a nut/birdseed based boilie, giving off chocolatey orange aromas and being more suited as a colder water bait. (But can be used all year round)
As you would expect, the freezer baits are further complimented with pop ups, wafters, liquids, coatings. There really is something for everyone at Parker Baits. Whilst they may not be the cheapest, the guys have put together some favourable bulk boilie deals which can be mixed and matched, giving you a chance to try the range.
If you're looking for something a little different, give them a try.
OG Fish Boilies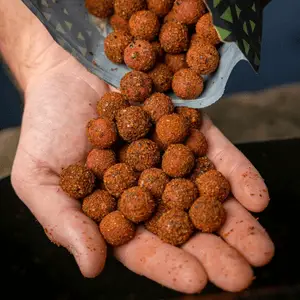 OG Fruit & Nut Boilies
Magic Dust
9. Poacher Baits
Price Range: ££
Key Range: Boilies, Hookbaits, Liquids
Availability: Online
A personal favourite of mine, Poacher Baits have remained consistent carp catchers since 1996. With a small team and well-established product line, Poacher Baits first made a name for themselves around the Kent area.
With prolific catches, the success of their range has spread it further afield throughout the UK, and it's capable for catching some of the biggest carp home and abroad.
Despite being around for so long, their range has not changed much. Whilst this may not be ideal for those who like to switch baits often, it shows consistency of their ingredients and catch reports.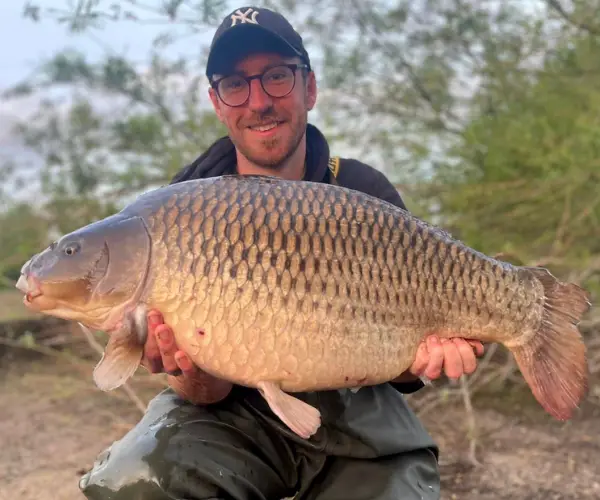 But what does Poacher Baits have that other firms don't? – They were the pioneers of the eggshell boilie. Where other best carp bait companies remove eggshell from their mix, Poachers leave them in to give an added crunch to the mix!
In terms of the range itself, their Tiger Nut & Maple is a firm favourite of mine. Having used it for 15 years, I can confirm that it's as good today as it was years ago.
Additionally, the Purple Haze was a great bait. Whilst this has been discontinued as a main product line, the guys will still roll a batch every now and then when they can get hold of the ingredients.
If you're looking for a small, independent boilie maker rather than lining the pockets of the big brands, give Poacher Baits a go.
10. Impact Particles
Price Range: £
Key Range: Particles
Availability: Online
Using particles as free offerings is a big part of many carp anglers armoury. They are widely known as one of the best carp baits in summer. For that reason, you may opt to look for a dedicated carp particles supplier.
Monster Particles are the leading particle supplier in the UK, sponsoring anglers such as Tom Maker and Dave Lane to use their baits.
If you've never fished with particles before, you will be astonished with how many options are available from Monster.
The team puts together various monster mixes and flavours, including particles such as hemp, tiger nuts, maize and more.
There's a good selection to choose from, starting with their 'Tier One' mix which starts from just £11.99. If you're looking for ore expensive particles in your mix such as tiger nuts, you can opt for the 'Monster Nutty' mix which goes for £14.99.
Whilst these may sound expensive for a bag, Monster are well-known for their deals. It's well worth checking out their Facebook page before buying online, as they usually have some discount codes available.
Additionally, you can also sign up to their Monster Club for £50 a year. With this membership, the cost of your particle is reduced to just £1 per kilo for the entire year.
If you're an angler that likes to fish over large beds of particle, choosing Monster Particles membership is the way to go.
Monster particle mixes available online
Tier One Mix
Nutty Mix
Chilli Mix
11. Proper Carp Baits
Price Range: ££
Key Range: Boilies
Availability: Select tackle shops and online
Every month, a new UK bait company arrives on the scene. However, very rarely do we see them led by anglers who've been there and done it on the carp fishing scene.
That's exactly what happened when John McAllister and Sean Leverett set up Proper Carp Baits.
The brand has quickly established itself as a provider of quality carp baits throughout the UK.
The Proper Carp Baits team have developed a range of baits based on classic flavour combinations. Throughout the range you will find Chilli & Liver, Cinnamon & Cream, Garlic & Blue Cheese and Banana & Anniseed.
Proper Carp Baits pride themselves on using only the finest quality ingredients, complimented with balanced levels of protein for the perfect attraction.
Since their inception a few years ago, the brand has gone from strength to strength. We expect more anglers to start using Proper Carp Baits in the coming years.
12. Enterprise Tackle
Price Range: ££
Key Range: Plastic and imitation baits
Availability: Most tackle shops
A slightly different addition to this list of best carp bait brands, but we thought we had to include the leading manufacturer of artificial carp baits.
Enterprise tackle were the first company to specialise in artificial baits as their use grew throughout the UK and abroad.
More often than not, anglers will use artificial baits in their fishing, whether that be as a boilie topper, surface bait or for when there is a carp fishing crayfish problem.
As anglers views towards artificial baits has improved, the range has grown. From starting with just fake sweetcorn, Enterprise have grown the range to include fake maggots, castors, tiger nuts and boilies to name a few.
Frank Warwick is the leading figure behind the development of the range. If you're old enough, you'll remember the buzz around the industry when they released the Niteglow range of baits.
Whilst Enterprise Tackle Baits don't have that leakage attraction of real baits, artificial baits definitely have their place on today's carp scene.
Artificial baits to have in your tackle box
White Corn
Fake Casters
Fake Tiger Nuts
13. Mistral Baits
Price Range: ££
Key Range: Boilies
Availability: Online
One thing that most angling bait companies on this list have is that they have been around for a long time!
To really understand whether it's worth investing your time and money into a bait brand, you need to see whether they have been consistently catching big carp.
Mistral Baits are one of those brands that has been around for decades, which is testament to the quality of their bait. In fact, they have now been active on the bait making scene for over 33 years!
As you would expect, their range of baits hasn't changed too much in that time either.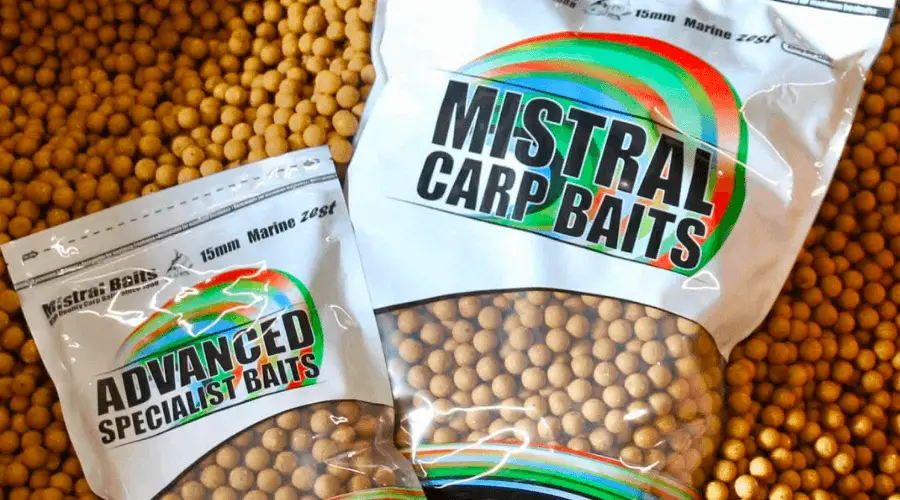 Rosehip Isotonic remains to be their most popular bait all of these years on. Additionally, they've added a few more to the range including Atlantic Crab, Belachan Shrimp and Marine Zest.
They're not the biggest bait company in the UK but they certainly know how to make a carp bait that catches big carp!
Price-wise, you can expect to pay around £10 per kilo which isn't bad considering how effective Mistral baits are known to be.
14. Urban Bait
Price Range: ££
Key Range: Boilies
Availability: Online
Urban Bait are relatively new to the carp scene, however their bait has been tested for over 30 years.
Their Founder Terry Dempsey has been around the carp scene since 1981. Ever since that time, he has made various baits for his own fishing and helped others by arming them with quality ingredients.
With the start of the Urban Bait brand, he's basically opened up his kitchen for other anglers to use the bait he's been catching on for over 40 years!
Urban Bait have chosen to stick to a few well-known flavours in their range, including Spicy Fish, Tuna & Garlic and Strawberry and Nuttcracker, their all time best seller.
In more recent years Urban have expanded their range to include Pink Himalayan Salt versions of their boilies.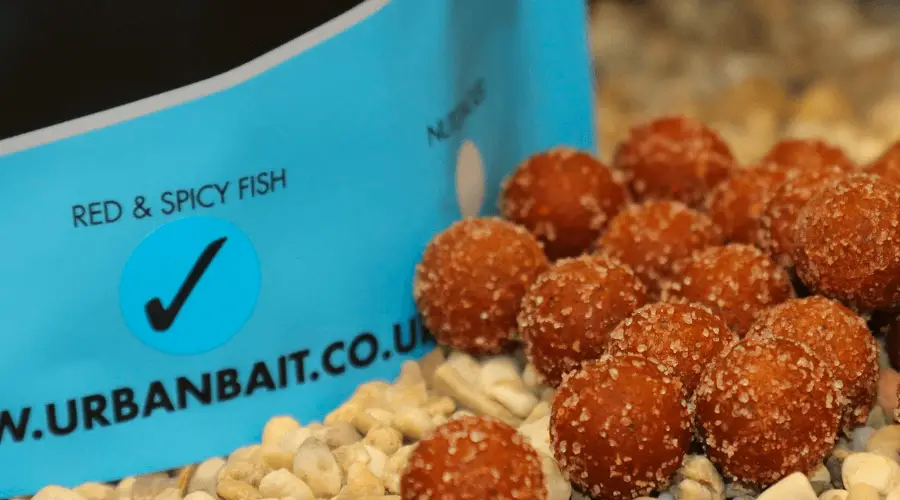 Himalayan salt is a well know carp attractant, usually added by anglers to their boilie mixes and spod mixes. Urban Bait have taken away the hassle of doing that by including it in their base mix and within the packaging. – This is a definite edge for Urban Bait and well worth considering if you like to use Himalayan salt in your fishing.
15. Kent Particles
Price Range: £
Key Range: Particles, boilies and pellets
Availability: Online
As the name suggests, Kent Particles started out primarily supplying particles in their local region.
Such was the success of their venture, the range has grown to include their own boilies, groundbait and pellets.
With 27 thousand followers on Facebook, Kent Particles has developed quite a loyal customer base over the years. It's not surprise really, as the cost of their bait is very affordable in a time where everything else seems to be going up.
Looking on their site, you can grab yourself their popular 10kg boilie and pellet deal for just £119.99 post free. That's excellent value, considering it also includes a tub of hookbaits, pop ups, wafters, and a bottle of matching glug.
Similar to CC Moore, Kent Particles also provide everything you need to make your own boilies too. On their site you can purchase all of their popular base mixes and additives. – Perfect if you like to make your own baits to give yourself an edge over other anglers!
If you're looking for a bait company that can supply you with everything at an affordable price, check out Kent Particles.
16. Munch Baits
Price Range: ££
Key Range: Particles, boilies and pellets
Availability: Online and most major tackle shops
Started in 2011, Munch Baits is the brainchild of two brothers who started rolling baits in their mums kitchen! Fast forward to today and you can see the Munch Baits brand in all major UK tackle shops and Go Outdoors stores.
It's rare that you see a small bait company manage to grow so quickly, but they are now competing with the likes of Sticky Baits and Mainline who are much longer established.
Such growth is testament to the baits that these guys have been able to produce.
With a small range of boilies, particles and pellets, Munch Baits have gained a following for being able to consistently catch carp throughout the UK.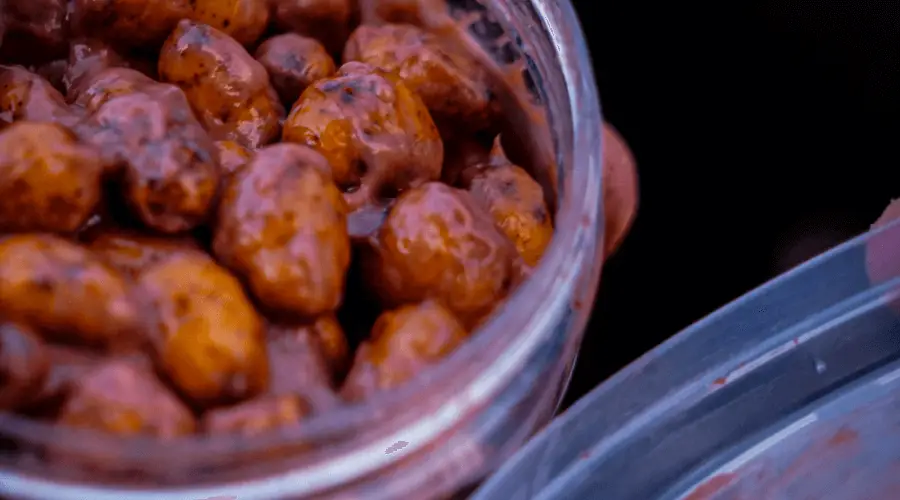 Their range isn't enormous, but it's well thought out and covers all angles. Three flavours make up their range of boilies, including Bio Marine, Cream Seed and Citrus Nut. No matter whether you're looking for a fishy type bait or something sweeter that you can store in the house freezer, there's something for everyone in the range.
All of their baits are designed to used all year round too, which shows the quality of the ingredients and helps if you're putting in a full campaign pre-baiting mission!
Their Bio Marine in particular is an excellent bait that seen it recently listed on our guide to the best fishmeal boilies.
The team have also developed a range of interesting hookbaits too, including jumbo cola tigers and jumbo cream tigers!
Buying munch baits online
Cream Seed Boilies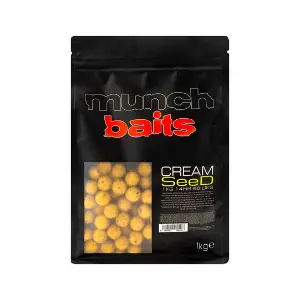 Washed Out Pop Ups
Bio Marine Boilies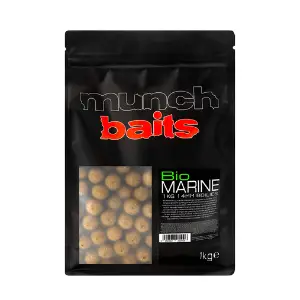 17. Carp Company
Price Range: ££
Key Range: Boilies
Availability: Online
Not the most glamorous or mainstream bait brand, but if you've been carp fishing for a long time, you'll certainly know the name Carp Company.
These guys have been producing top quality carp bait since their inception in 1992.
Their Icelandic Red with Cavier & Cranberry has caught big carp wherever it's been used, and the recipe remains the same today as it has ever been.
Like some of the other longer established brands on this guide, Carp Company has a serious amount of followers who will simply not use anything other than their baits.
Despite the success of the Icelandic Red, the range has grown over the years to include other flavours such as The Freeze and Nutty Squid.
If you're looking for an independent bait company where you know the ingredients are going to be the best quality around, contact Carp Company.
18. Secret Squirrel Hookbaits
Price Range: £££
Key Range: Pop ups, wafters, tiger nuts
Availability: Online
New to the bait scene is Secret Squirrel Hookbaits, set up by ESP sponsored angler Alfie Russell.
If you've been around the industry in recent years, you'll know Alfie know's what he's doing when it comes to targeting big carp.
Having studied carp at close quarters in the rivers and canals, Alfie puts special emphasis on the hookbaits that he's using, and they've certainly banked some units over the years.
After years of rolling his own hookbaits, Alfie set up Secret Squirrel where you can now purchase his range of high attract hookbaits.
There are a few flavours to choose from including the very fish Billingsgate, Candyberry and Esterberry.
Give these a go if you're looking for some new hookbaits to try that might just give you an edge!
19. Mad Baits
Price Range: £££
Key Range: Boilies, pop ups,
Availability: Online
Relatively new to the bait making game, Mad Baits have been catching carp consistently on many UK venues. For that reason, we thought they were a worthy inclusion on this guide!
The brand supply bait to some of the leading venues, including Ladywood Lakes in West Yorkshire.
If you follow their page or fish that venue, you know how deadly their baits are!
In terms of the range, they have something for everyone really. There's five baits to choose from, with everything from fishmeals through to high visibility freezer baits like their ever-popular Wicked Whites range.
Furthermore, they have recently launched a new bait, aptly named 'Pandemic' which is a krill-orientated bait with a difference. We're looking forward to seeing how this one spreads!
Conclusion – Carp Bait Companies
As carp fishing has progressed, we as anglers have more choice than ever before when it comes to choosing a bait company in the UK.
Luckily, there are some excellent brands out there, many of which are making use of the best ingredients and adhering to recipes that offer adequate nutrition to carp.
The best bit of advice would be to find a company and bait that you have confidence in and stick with it. – That way on every session you only need to worry about finding the fish, and not whether the bait you are using is good enough.
Either way, hopefully this guide has helped you understand more about the bait companies in the UK and gives you some food for thought.
About the writer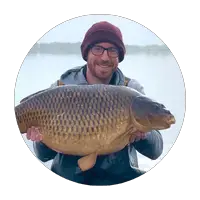 Rob W
I'm Rob, Carp Squad's main contributor. I've been carp fishing on and off for 15 years, but the bug is well and truly back at the moment. Hopefully the articles I write on here help you put more carp on the bank.