A comfortable carp bedchair is vital if you're to enjoy a night on the bank. Gone are the days of sleeping on an old deck chair! It's all about making your time on the bank as comfortable as possible so that you can fish at your best. (And hopefully catch a few!)
Now if you've already been looking at bedchairs for carp fishing, you'll know that there are plenty of options available to you. But like any bed purchase, it's important to take some time to read up on the features to find the one which will suit you best.
Luckily, like most of our carp gear guides, we've worked hard to research the full market so that we can provide an in-depth guide on the best carp bedchair. Let's get started, use the links below to jump through the sections:
In a hurry?
If you don't have much time use the links below to quickly find the best carp bedchair on eBay. You can be assured that we only display the highly rated products…
What to look for in a carp bedchair
Comfort
It goes without saying that you're going to want a comfortable bedchair. Carp fishing gives us enough aches sand pains without an uncomfortable bedchair making it worse throughout the night. The most important thing to consider for comfort is the mattress. Over recent years there has been great development in this area, with beds such as the Avid Benchmark and Nash Indulgence range setting new standards with memory foam.
These more comfort focussed mattress do attract a premium price, but you can't put a price on comfort now can you?! It's also worth noting that the more padded bed chairs tend to be the heaviest, so that's worth taking into account if you prefer to travel light.
Transport Weight
Bedchairs are typically one of the largest pieces of kits you'll take on a night fishing session. However, there are huge differences in weight between the beds that are readily available. Take the Nash SS4 for example, they're around 16kg which is a fair weight to be lugging around the lake!
You'll want to take the weight into account a key factor in choosing the best carp bedchair for your needs. Typically the more comfortable/feature-packed beds are heavier, so it's a case of weighing up your priorities in weight vs. comfort and features.
Luckily there are some exactly beds which sit right in the middle, offering minimal transport weight but a comfortable nights sleep. The Trakker Flat 6 Superlite is a well reviewed bed that satisfies many anglers needs.
Size
Size should be a consideration when choosing a carp bedchair. You'll want to take into account both the transport size and the length/width to make sure that it properly fits your shape and size. Most standard bedchairs are fine if you're average build. However, if you're a big fella, or well over 6 foot tall, you'll want to look at some of the beds that have been made specifically for people of your size. The Avid Benchmark X is one of the largest beds available on the market.
Bear in mind that if you purchase a bigger bedchair, you'll have to take into account whether it can fit on your carp barrow.
Adjustable Mid Section
We're all different when it comes to how we sleep. Whilst carp fishing bedchairs are never going to be as good for your back as your bed at home, it makes sense to make every adjustment possible. We recommend going for a bedchair that has an elastic or rope mid section (where the mattress attaches to the frame). Typically, these are adjustable by simply tightening or loosening the rope. It's understated how much doing this can have a great affect on your quality of sleep.
If you light a bed a little firmer, just tighten up the rope or elastic, and vice versa if you like things a little softer. These are also great as bedchairs tend to sag over the years, so you'll notice it loosen it's firmness naturally anyway.
Flat Bed or Bedchair?
In many ways, the term bedchair is used wrongly these days. Bedchairs have evolved massively over the last few years and most that you'll find on the market can't be used as a conventional chair any more. The reason for this is that manufacturers have strived to improve sleep comfort by creating flat profile beds and removing the clunky side wheels which many original bedchairs were built around.
It's been a revelation for a good nights sleep, however it does mean that most beds on the market have only one use, – as a bed to sleep on. If you are adamant on buying a bedchair that also works as a chair to sit up in, they are still available. However, they are typically the lower end of the market and don't benefit from the added comfort features that flatbeds provide.
If you are really serious about your comfort and long-term posture, we would recommend going for a new style flat bed. Couple that with a high back fishing chair and you'll be as comfortable as you can be on the bank.
How we picked
Real + Group Reviews
We've combined real experience plus group reviews from Facebook and leading eCommerce stores to determine what products to feature on this guide.
Variety
People are different shapes and sizes, therefore we tried to provide some variance amongst the products we've looked at.
No Commission Focus
Whilst we do earn from some links clicked through this site, we have not been biased towards a single product because of that. This is unlike other guides that only feature Amazon listed products.
Nash MF60 Indulgence 5 Season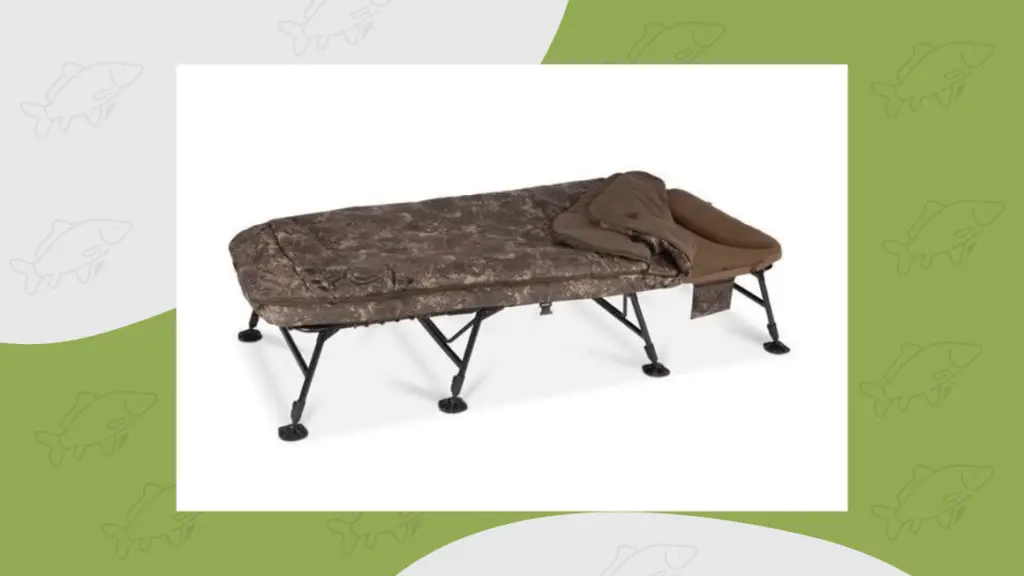 The Nash Indulgence bedchair has been around for years, and now it has had a facelift for 2021. Known for it's comfort, this new Nash bedchair features their MF60 memory foam mattress, designed to ensure a comfortable nights sleep.
With a fully adjustable lumbar support section, the bed is ideal for people who require a little more comfort to get a good night's sleep on the bank.
A 6 leg design which has been well thought-out by the Nash team. Unlike most bed chairs, the Indulgence houses 4 legs directly under the centre of the bed, evenly spreading the weight and providing more support for your lower back.
At each end of the bed is a single leg to support the foot and head sections of the bed.
Nash has included some nifty tech in this bedchair too, by including USB connectivity that allows you to charge your phone, keeping it to hand whilst lying on the bed. – They certainly have pulled out all the stops.
Obviously, as you can expect with this many features and a memory foam mattress, the indulgence does weight quite a lot, so expect to upgrade your barrow if you go for the larger version.
Speaking of sizes, the MF60 comes in a variety of shapes and sizes, including wide and compact versions for those who have smaller carp bivvy. If you need a wide bedchair, this is the one to go for.
Trakker RLX Flat 6 Bedchair
For us, the Trakker RLX Flat 6 Superlite bedchair is a great balance between transportability and comfort. Looking at it initially, you wouldn't think that it's a comfy bed, however the super flat profile ensures a good nights sleep on the RLX.
It's been around for a few years now, and a quick search amongst the Facebook groups will show plenty of recommendations for this as the lightest fishing bedchair. Weighing in at just 6.9KG, it's as light as a feather, yet surprisingly large, both in terms of length and width.
6 individually extended legs enable adjustment for uneven ground, further adding to it's flat profile. As you would expect, Trakker have added some pretty robust mud feet to this bed too.
One thing that isn't really shouted about too much with this bed is it's wipe-clean material. If you're a bit of a clean freak, or someone who's forever spilling glugs on your bed, you'll benefit from it's simple wipe clean material that covers the top section.
When it comes to folding the bed, it couldn't be simpler. Double hinges enable even the largest of bags to be folded inside it. A handy bundle keeps the whole bed together during transport.
In terms of bells and whistles, there isn't many really. It's a simple flat bed which has been designed to keep weight to a minimum for those who want a balance between comfort and actually being able to move the thing!
This is my personal bed of choice, coupled with a Trakker Big Snooze Sleeping Bag and matching bedchair cover. I've been using this set up now for around two seasons after upgrading from a cheap TFG bedchair and it's worked wonders for my back.
UPDATE: We recently did a full tried and tested review of the Trakker RLX Bedchair (Superlite Version).
Avid Benchmark Lite Memory Foam Bed
If you're looking for that extra bit of luxury in your lightweight bedchair, it's worth taking a look at the Avid Benchmark Lite.
The benchmark beds have been around for a few seasons and took the industry by storm as the first to incorporate a memory foam mattress.
With memory foam that covers the entire top of the bedchair, you can expect ultimate cushioning and comfort throughout your night on the bank.
Weighing in at only 7KG too, Avid have managed to keep down the weight which is a real surprise. They've done this by building on a magnesium alloy frame that is strong but doesn't have the same weight as a traditional steel frame.
Like most other flat beds, the hand wheel has obviously been removed which saves plenty of weight. However, this does mean that you can't use this as a standard carp chair, so you'll have to factor that into account.
As you would expect with a bedchair thats made to be transported easily, the Avid Benchmark Bed packs away easily too. Double hinges across the leg sections ensure that the bed can be folded with even the thickest winter sleeping bags in place.
Another nice little feature is Avid's unique adjustable leg system. They are simple push button, so the legs drop down to the desired height without having to pull them down whilst holding the button. Overall, a worthy addition to our best carp bedchair list.
Check out Carpology's Avid Benchmark Lite review in the video below.
Sonik SK-TEK Sleep System
When doing bedchair reviews, it's often about weighing up the pros and cons in terms of weight and comfort. The Sonik SK-TEK Bedchair is one that probably sits somewhere in the middle. You get a whole lot of bed for your money, without it breaking your back in terms of transport weight.
It's been designed with comfort in mind, as you can see from the super-soft fleece lining which covers a large portion of the top of the bed.
You could be fooled in thinking that lightweight bedchairs are lacking in the strength department, but you'd be wrong. The Sonik SK-TEK is built from a super-strong aluminium frame which will withstand years of use.
The shoulder section and the centre section feature elasticated lumbar support which provides added support to your back, no matter whether you're a back, side or front sleeper. What we've noticed is that many of the light flat beds have substituted the elastic for rope in a bid to save weight. Although this may be beneficial from a transport perspective, you're never going to beat the added flex in the elastic. We're pleased to see that Sonik have stuck to their guns and kept the elasticated mid section on this bedchair.
Sonik have also gone one step further with their aim for comfort with this bed, by adding a nice soft, fleece-lined integrated pillow.
Another nice handy feature is the twin fold out mesh pockets on either side of the bed. These are good for keeping your valuable such as a phone, fishing head torch or carp power pack close to hand.
With 3 sizes in the range; standard, compact and wide, there is something for everyone with the SK-TEK Levelbed.
Solar Tackle Undercover Camo Bedchair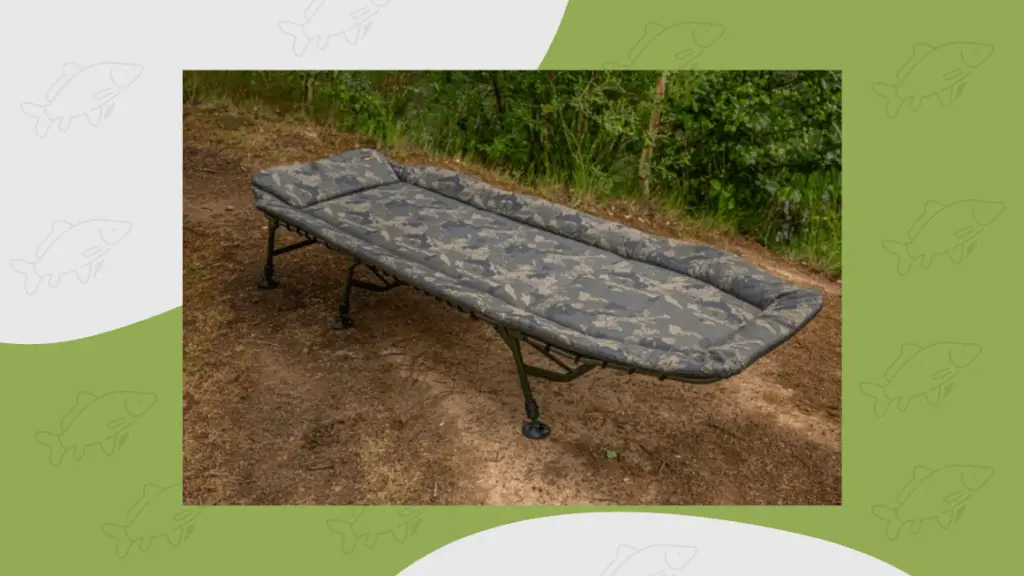 Well, it wouldn't be a best carp bedchair reviews guide without us featuring something camo for the tackle tarts would it?! Seriously though, Solar Tackle are known for their high-quality carp gear so this is well worthy of being on the list.
Starting with the padding, Solar have used a 600D, PVC-backed mattress which will give you more than enough support for a few nights on the bank. As the name suggests, the upper material is made using Solar's unique 'Undercover' camo material which can be found across their entire range of carp luggage, bivvies and chairs. – Perfect if you like to keep everything blended in and on-brand!
In terms of functionality, it is a standard flatbed really. 6 heigh-adjustable legs provide ample support across the entire bed. Solar swivel mud feet stop the bed rom sinking on soft ground.
If you're looking for a bed with a little more head support, then you'll be pleased to know that Solar has raised the head end to provide you with more neck/head stability.
Solar are known for their high-quality metal materials and this bed is no exception. A super-strong frame will stand the test of time and double hinges make it easy to fold your sleeping bag up without needing to remove it.
With how strong and sturdy this bed is though, you do pay for that in the weight. At 9.8KG, it is a third heavier than the Trakker RLX 6, so that;s worth bearing in mind if ease of transport is on your wish list.
JRC Stealth X-Lite Levelbed
The JRC Stealth X-Lite Levelbed is the lightest bed on the market and for that reason it deserves a place on this guide.
Built from aerospace grade aluminium known as 6061, the JRC Stealth Bedchair weighs in at only 6.7KG.
This ultra-lightweight frame makes it ideal for those who like to keep gear to a minimum, or maybe someone who doesn't take a barrow night fishing with them.
What's the catch? Well there isn't one. Despite the lightweight frame, JRC have managed to keep the structure solid but also add in some comfort features too. The bedchair incorporates an extra thick 600D polyester mattress. This has been ergonomically designed to provide ample support in the areas where you need it most.
There's plenty of room to move too, with the bed being 195cm in length and 70cm wide. Not bad if you only have a small carp brolly system to fit the bedchair and all of your gear under as well.
Like the majority of bedchairs on the market now, the Stealth has been designed to be completely flat, offering ample protection to your lower back throughout the night.
Furthermore, the Stealth is fitted with 6 adjustable legs and swivelling mud feet to prevent sinking on soft ground.
The Stealth is the choice for many who are looking to scale down their kit.
DAM MAD BSX Flatbed
When we put these review guides together, we always try to include products that suit a variety of budgets. The DAM MAD BSX Flatbed is one bedchair that you should consider if you have a smaller budget.
It's also a wise choice for newcomers to the sport.
Designed with a strong steel frame, the DAM MAD BSX lies completely flat, offering great support for your lower back. This is quite the contrast to other entry-level bedchairs, which tend to be built on the classic hand wheel design which is clunky and sags in the middle.
Additionally, further adding to it's flat profile, you have 6 legs which can be fully adjusted on uneven ground.
Typically the cheaper steel framed beds seem to be the heaviest. But nit in this case, DAM have managed to keep the bedchair under 10kg, so it won't break your back when moving it to your swim either.
Whilst DAM might not be the most well established brand out there, this bedchair certainly has it's plaudits amongst the carp fishing community.
Fox Flatliner Bedchair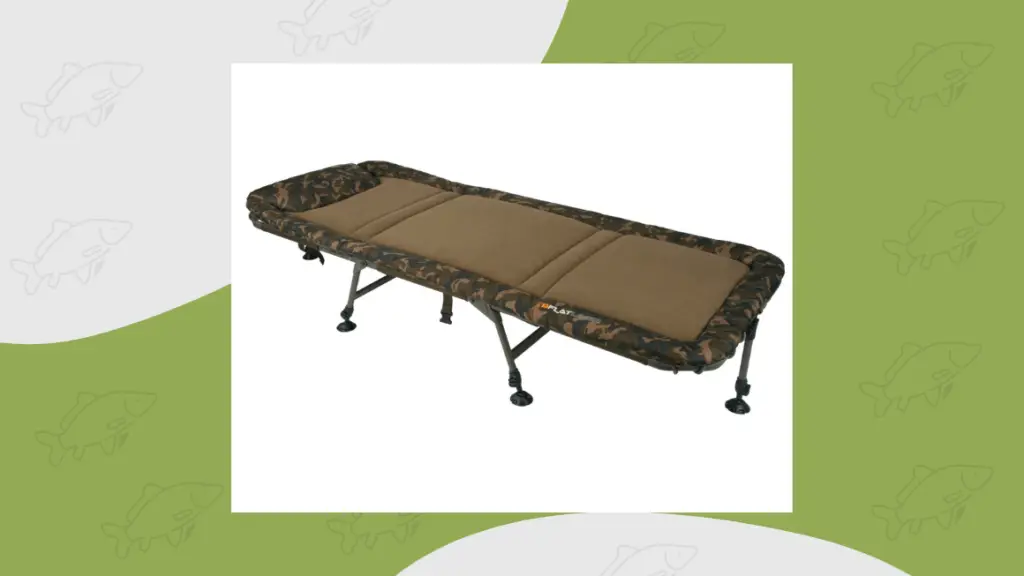 The bedchair market is a pretty competitive space so it takes a brave company to invent something unique. That's what fox have done with the Flatliner Bedchair.
Recognising that the majority of your weight is spread across the central section, Fox has re-engineered the standard 6 leg bedchair frame to ensure that 4 legs are directly underneath the centre of the bed.
What this does is massively improve lumbar support, prevent sagging over time and just generally offers the flattest profile of any bed on the market. (The flatter the bed, the comfier in our experience).
For the head and foot sections of the bed, Fox has done away with the double legs, instead opting for a single leg at either end. This is more than enough to support both ends of the bed comfortably, whilst doing away with some of the weight too.
Clearly with comfort in mind from the beginning, it's no surprise to see Fox has invested heavily in the deign of the mattress for this one. Incorporating a 50mm, soft touch mattress, you can rest assured you'll get a good nights sleep on this bed.
Fox has even thought about the outer edge too, increasing the mattress thickness to limit any pressure on the frame when sitting on the edge of the bed.
The Fox Flatliner has full lumbar support throughout, benefitting from Fox's 'Fold Over' support design.
Transporting the Flatliner is easy too. Simply fold the hold whole together with your sleeping bag intact and use the dual compression straps to tighten it all down.
Carp Bedchair FAQs
What's a level carp bedchair?
A level carp bedchair, otherwise known as a 'flat bed' is the new breed of carp beds which are now the most popular on the market. With a completely flat profile, they have been specifically designed to ensure you remain good posture support for a great nights sleep.
What is the largest carp fishing bedchair?
Nash have always been the pioneer when it comes to creating the largest carp bedchair. Their Nash Indulgence 5 Season Emporer is one of the largest available on the market at 115cm wide and 212xm long. – Nearly 20cm wider than most other bedchairs!
What's the bed carp bedchair?
We're regularly asked what is the best carp bedchair? To be honest, it all depends on your requirements in terms of comfort, weight, affordability and transport size. There are many things to take into the equation. However, what we can do in this carp bedchair reviews guide is highlight the most popular ones on the market. Typically we find that the following are listed:
Trakker Flat 6 Superlite
Avid Benchmark Memory Foam
Sonik SK-TEK Sleep System
Fox R-Series
Solar Tackle Undercover Camo Bedchair
JRC Contact 3 Leg Bedchair
JRC Stealth X-Lite
Where can you buy a used bedchair?
Buying a used bedchair is a great option if you are looking to save some money. Many of the bedchairs listed on this guide are available second-hand online. You can find a large selection of bedchairs from top brands at great prices for sale on Dangler.
Conclusion
Thank you for reading our ultimate guide for the best carp bedchair on the market. With so many to choose from, it can be a bit of a headache choosing a bedchair for night fishing, but hopefully we've made things a little easier for you today.
If you have any questions about this guide or any of the bedchairs included in it, drop us a comment below!
Don't forget to subscribe to our carp fishing blog and check out our other best buying guides and tried & tested reviews.
About the writer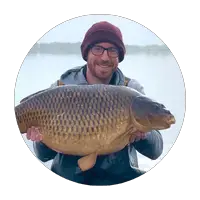 Rob W
I'm Rob, Carp Squad's main contributor. I've been carp fishing on and off for 15 years, but the bug is well and truly back at the moment. Hopefully the articles I write on here help you put more carp on the bank.