UPDATED FOR 2022: This Carp Cradle by Avid has been discontinued and you may struggle to find it at retailers. It has now been replaced by their new Avid Folda-Cradle.
This week on our tried and tested reviews, we're taking a look at the Avid Carp Cradle. For this past three years, I've been putting the Avid Card Cradle through it's paces as my main unhooking mat, so it's fair to see I'm in a great position to provide an honest review of this product for anyone who may be looking to buy one.
Avid's brand has grown rapidly in recent years, becoming established in the manufacture of carp care equipment, carp landing nets, carp barrows and the best carp bedchairs.
About our reviews…
Now if you're not aware of our tried and tested reviews on Carp Squad, they are exactly what they say they are; no sales pitch, no sponsorship, no BS. Just gear that we've put through their paces over sufficient periods of time.
Looking to buy the Avid Carp Cradle – Check out the latest pricing here.
The Avid Carp Compact Cradle is an ultra padded carp unhooking cradle, designed to offer excellent protection to your capture but not overbear you with an enormous mat to transport. With various sizes available in the range, the Carp Cradle from Avid offers something for everyone, whether you're fishing for twenties or catching lumps in France.
Padding & Protection
When you take a look at the Avid Compact Carp Cradles, you'll notice that it is very well padded throughout. In fact, you've got a 50mm padded base and super-thick walled sides that provide carp with ample protection when you're unhooking and photographing them.
Now when you purchase an unhooking mat of some sort, you're always a little bit apprehensive about the longevity of the padding. That was certainly the case for me. However, I'm pleased to say that the Avid Cradle has stood the test of time over the past three years. It's as well padded today as it was when I bought it. I even fold it up to sit on sometimes when roving around the lakes in the evenings. So it's seen it's fair share of abuse! (I'm known to do not look after my gear one bit!).
I am a big fan of these types of walled unhooking mats over flat ones. They just give you that extra bit of protection needed especially when handling carp alone. The walled sides are a massive benefit when fishing alone and doing self takes. The bigger flat mats make it far too easy for them to flap and slide off in my opinion.
There is no upper cover to fold over the mat which we are beginning to see with other mats on the market. But to be honest, I've never found the need as the carp weigh sling is always to hand to cover the fish.
Material & Durability
As you would expect from an unhooking mat, it is made from a smooth material on the inside. This helps to protect the carp as much as possible on the bank. The hardwearing, waterproof inner material is great when handling fish as it retains plenty of water to help keep the carp wet and cool. This is stark contrast to other flat mats where water simply spills off onto the floor.
I always like to have a small water bucket ready next to the mat. This is more than sufficient to keep the carp wet during it's time on the bank. As I say, most of the water is retained within the walls of the mat so you don't need to keep refilling too often
On the outer you have a 10,000mm hydrostatic head waterproof material, (similar to a carp bivvy). This is hardwearing and stops the inner padding getting soaked.
One thing I have started to notice in recent months is some slight cracking in the corners of the inner material. In all honesty, I put this down to general wear and tear from someone who batters their gear. Not to mention that I do at least 50 nights per year! I also live in a back-to-back terrace so have to leave the mat outside on the concrete to dry after a wet session! This cracking of the material hasn't hindered the use of the mat in any way.
UPDATE 4 YEARS ON: This cradle is beginning to reach the end of it's life. After many sessions and quite literally hundreds of carp, it's staying to shoe more than just general wear and tear. The protective coating is beginning to peel away from the majority of the cradle, starting in the corners.
Whilst it still offers protection in terms of padding, it no longer has that fish friendly, slippery material as you can see from the images below.
I have since replaced it with the ESP Quickdraw cradle, which is a more transportable solution.
Size of the Avid Carp Cradle
As the name suggests, the Avid Compact Cradle is 'Compact', but that only refers to its pack-down size. When opened up there is ample protection for large carp. There are two options in the range; Standard and XL. To be honest, the standard is more than enough for anything you're likely to catch in the UK. (It's 100cm wide and 50cm in depth). If you're someone who likes the odd trip abroad in search of bigger fish, it may be worth going for the XL option though. The XL gives you an extra 10cm width and 15cm depth for them deeper bodied fish!
Either way, for the size of mat that you get, it packs down very well. This was one of the main draws of this carp cradle for me. I like to keep my gear light without that impeding on fish safety. The Avid Compact Carp Cradle has proved a good choice for that.
Standard Size
Open: 100cm x 50cm x 36cm
Packed away: 60cm x 60cm x 15cm
XL Size
Open: 110cm x 65cm x 36cm
Packed away: 70cm x 70cm x 15cm
Transportation
Packing it down is more unique than others I've seen on the market, which allows it to adjust to such a compact size. There are 2 zips around the matt which essentially zip up and hold the sides in place. Again I was apprehensive about these zips due to the dirt and abuse they get, but they've stood up to the job. As you would expect they can be a little fiddly if they're packed full of dry mud but other than that it's fine.
When you've fully unzipped it, you're left with the central mat and two side flaps. At this point you just fold the sides in and clip it together to form a nice compact square. you can then choose to tighten it down with the zip to compress it even more.
The Avid Carp Cradle comes with it's own waterproof, drawstring carry bag which is really easy to put the mat into and helps to keep the car clean after a wet/muddy session. The bag itself is made up of the same 10,000mm waterproof material as the mat (the same as most carp bivvies). Given how much effort has gone into producing Avid's range of Stormshield products, I am surprised they haven't given the option for a Stormshield bag for the Compact Carp Cradle though. Whilst the bag provided is waterproof, it only has a draw-string top so it isn't great at keeping the smells at bay!
Avid Cradle Photos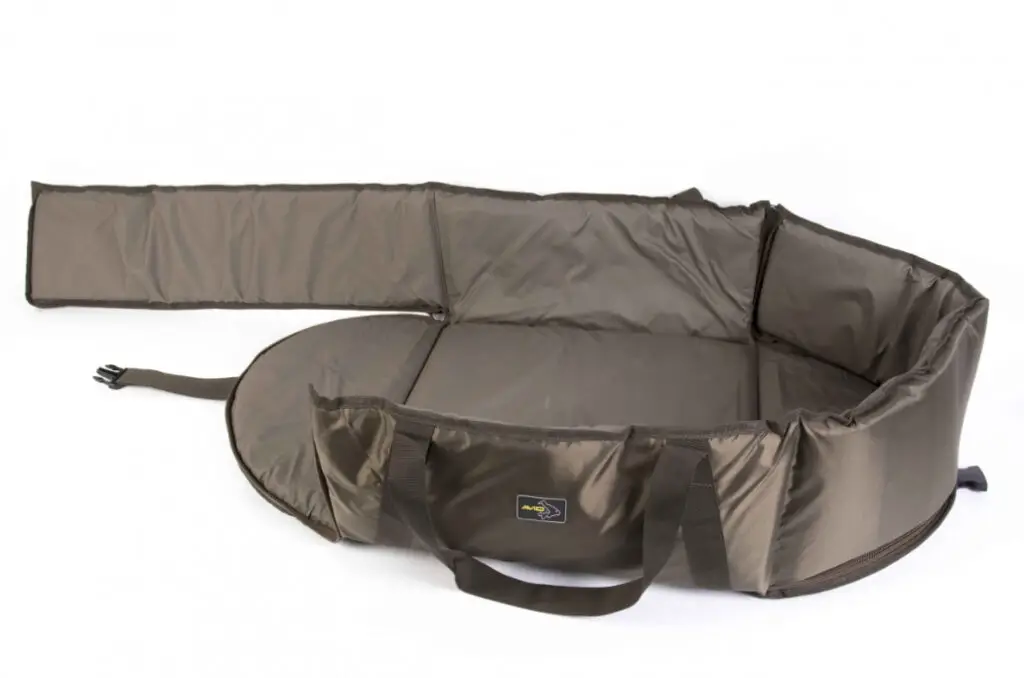 Pros & Cons
Pros
Very well padded
Small pack down size
Fish-friendly, wipe-clean inner material
Two size options
Shape is well retained after 3 years of use
Waterproof bag included
Cons
No pegging points
Waterproof bag would be better with zip rather than drawstring
Slightly more expensive than alternatives (typical with well though out Avid products)
Where to buy Avid Compact Carp Cradle
If you're looking to purchase the Avid Carp Cradle, you can do so via most Avid Stockists. Almost all of them sell via eBay or Amazon and this is where you can often find the most competitive pricing.
Avid Carp Cradle Review Conclusion
The Avid Compact Carp Cradles have been designed for anglers looking for a compact, walled mat that offers great protection to your quarry. There aren't many mats on the market that can offer that but this Avid cradle sits right in the middle for me. – Great protection for the carp but not ridiculously sized in comparison to other carp cradles. Personally I am am more than happy with this cradle and would happily purchase one again in the future if this one fails me. (but I reckon It's got more than a few years yet).
Buying new carp gear is never easy with so many options available! Hopefully this Avid Carp Cradle Review has helped make your decision a little bit easier.
If you feel that the Avid Cradle is not right for you, check out our latest guide where we cover the best carp cradles.
Our Latest Tried & Tested Reviews