With the amount of gear most carp anglers take on the bank, it's no surprise that a carp fishing barrow has become a staple piece of our kit. If you're on the lookout for something to lighten the load, you've come to the right place. Let's check out the best carp barrow for 2023.
There aren't many things worse than carrying all of your gear to your swim. It takes multiple trips, you end up sweating loads and ruining your back in the process. And that's why carp barrows are often at the top of our shopping lists.
No matter whether you're looking for something small and compact to fit in the boot and fish off for day sessions, or a powered beast that can lug around everything but the kitchen sink, this carp barrow guide has you covered.
As with all of our carp gear reviews & guides, we've tried to make this as extensive as possible, covering all bases. Within this guide you will find a host of carp barrows, for different styles of fishing and also to cover multiple price points.
Let's get started!
In a hurry?
If you don't have much time use the links below to quickly find the best carp barrow for you on eBay. You can be assured that we only highlight the best products…
Should you buy a standard carp barrow or go electric?
Standard pushable barrows and electric ones both have their uses. If you still have the strength to lug a barrow a fair way, you can probably get away with a standard pushable barrow.
They have a major benefit of being significantly cheaper, and you don't need to worry about charging them up either.
However, there are times when an electric barrow is the way forward. You might not have the strength to push a fully loaded barrow to your swim, or you might be venturing over uneven terrain. on a regular basis.
In both of these scenarios, a little extra battery power to turn the wheels can make all the difference.
It's worth noting though, the market for electric barrows isn't huge right now. As a result, the options available carry a rather large premium. You can expect to pay over £800 for a purpose built powered barrow, which is more than many peoples rods and reels.
As the market for these products matures though, we expect more competition to drive down prices, hopefully!
What to look for in a carp fishing barrow?
Transport Size
Not everyone has the luxury of having a van to transport their fishing gear, so keeping your gear to a minimum so that it fits in a carp boot is a priority. Admittedly, some of the barrows on the market are enormous, so you need to take into account their pack down size and look for a compact carp barrow if you only have a small car.
Barrow Bags Included
If you're someone who likes to keep their gear on the barrow for as long as possible before committing to a swim, then a carp barrow with barrow bags included can really come in handy. There are plenty on the market now that come supplied with barrow bags that are easily accessible without having to fully unload your barrow. The Fox Explorer Barrow is by the far the best if this is an important feature for you.
Extendable Size
You won't to make sure that the barrow you choose has enough space to take all of your gear. If you're someone who likes to take a lot of gear, it's always worth looking for a barrow that extends in length. This way you can simply adjust your barrow when needed.
Removable or Foldable Carp Barrow Handles
For ease of transportation, you want to make sure that you have the ability to remove your barrow handles or fold them. Personally, for the speed factor, I like a barrow that has foldable handles rather than removable. They are just generally a little faster to set up and you don't need to worry about leaving the handles at home by accident!
How we picked
Real + Group Reviews
We've combined real experience plus group reviews from Facebook and leading eCommerce stores to determine what products to feature on this guide.
Variety
Everyone is looking for different things from their carp barrow Therefore we tried to provide some variance amongst the products we've looked at.
No Commission Focus
Whilst we do earn from some links clicked through this site, we have not been biased towards a single product because of that. This is unlike other guides that only feature Amazon listed products.
Most Compact: Carp Porter Porterlite 2 Barrow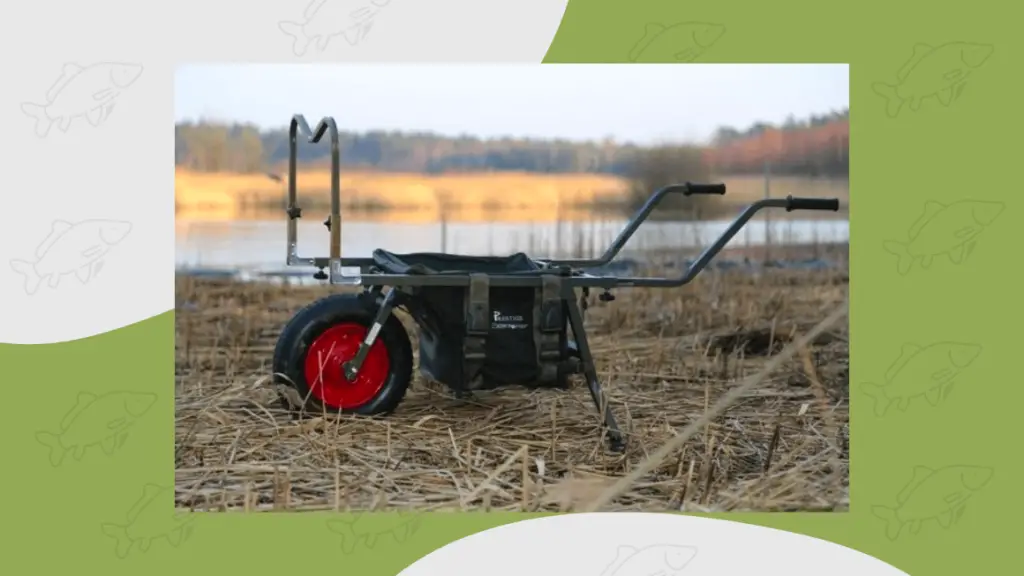 When you talk about the best fishing barrow, you just have to include the Carp Porter brand. They've been leading the way in barrows for years now. And as of 2023, they have been brought under the Korda marketing machine, which we're sure will take these products even further.
The Porterlite style of barrow has been around almost for as long as the Carp Porter brand itself, which tells you something about how well received this barrow is in the industry. There have been a few tweaks here and there in the design, but overall it is still as good now as it was when it first hit the scene.
As the name suggests, the Porterlite is one of the lightest and most transportable barrows available. Weighing in at only 11.5kg, it's light and compact. This makes it perfect if you have a small car, or want something nimble enough to squeeze down overgrown pathways.
It packs down easily, with removable handles and a removable axel meaning that it packs down pretty much flat.
Given how lightweight and portable it is, you could be fooled into thinking that it won't carry much gear. – But you'd be wrong. Firstly, it comes complete with a large top-loaded barrow bag, giving you ample room for smaller items or buckets of bait.
Secondly, you can extend the front of the barrow, given you more capacity or making it easier to accommodate a bigger bedchair.
Overall, an excellent barrow for those who need something small, lightweight with the ability to carry enough gear for an overnight session. It's easily the best compact carp barrow on this list!
Best for Storage: Fox Explorer Deluxe Barrow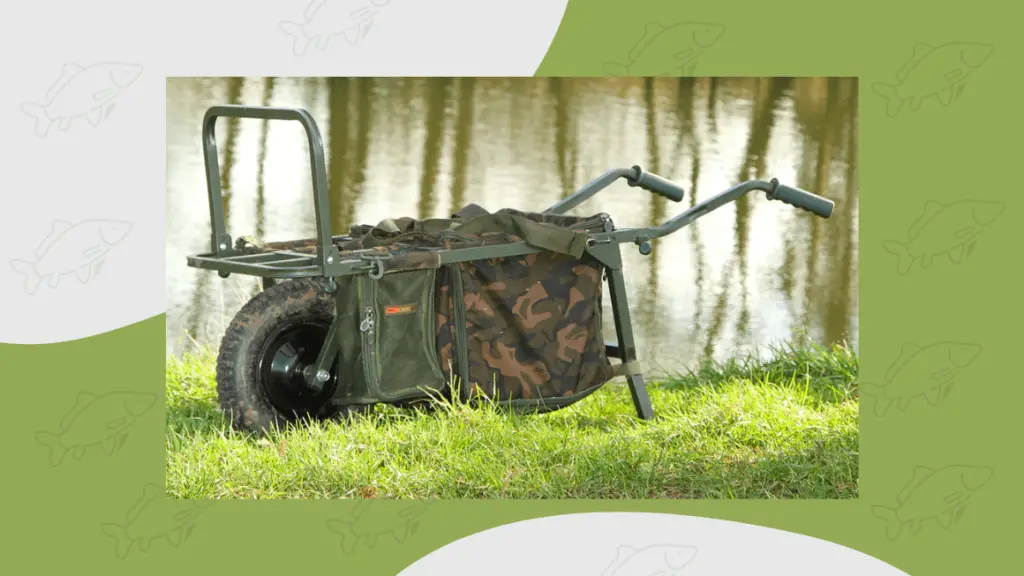 The Fox Explorer Deluxe Barrow is easily one of the most versatile barrows you're likely to find. There are tonnes of pockets available which make this perfect for day sessions 'fishing off the barrow'.
However, it's equally as comfortable lugging all of your gear for a weekend session. Versatility is the key with this barrow.
As you can see from the photos, the Fox Explorer barrow houses more pockets that most barrows on the market. But what we like most about it is how accessible they are. So with even a full loaded barrow, you can easily zip open the pockets from the side for quick access without needing to remove your gear off the top. – It really does make setting up easier when you're just fishing off the barrow for the day.
Another one of it's key features is the extendable front barrow rack, which allows you to basically extend the length of the barrow. This is perfect if you have a large bed chair and need a little extra space on the barrow. Even when it's extended, it still remains to be a very well balance fishing barrow when you're pushing it around the lake.
As you would expect from a fishing barrow that's made for short sessions, the Fox Explorer Deluxe packs down really well. It's great if you only have a small car or shed to store your gear in.
It packs down pretty much flat, with the handles and axel being completely removable with the use of a few thumbscrews. The tyre itself is a standard pneumatic tyre, hard wearing and easily replaceable if you have a dreaded puncture at any point!
Overall, an excellent barrow which has been around for a few years now. It's a firm favourite amongst the carp community due to it's versatility, balance and included storage space. You won't be disappointed with this one!
Saber Terrain Barrow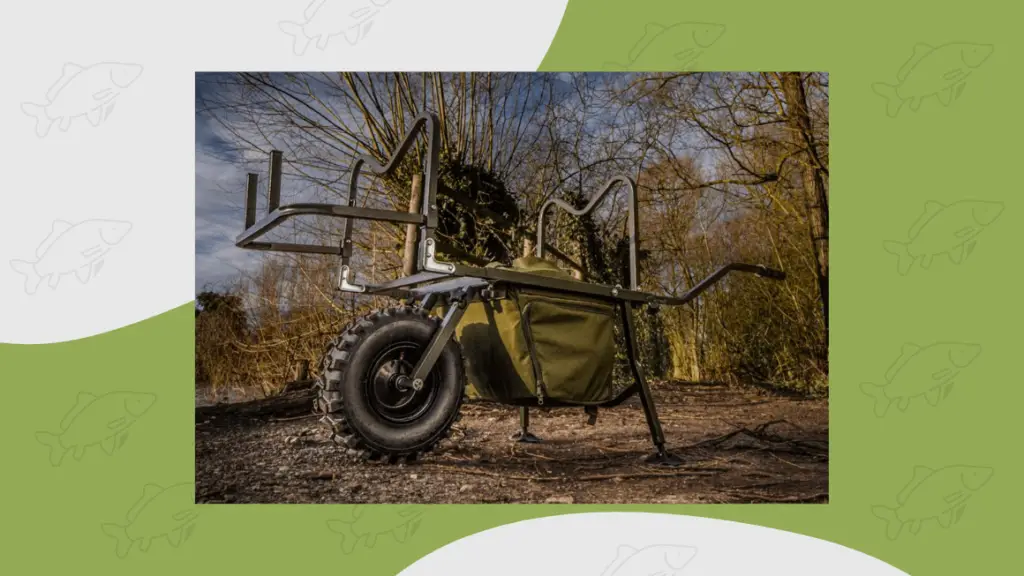 Saber have really upped their game in the past couple of years and continue to bring affordable products to the market. One of their most recent launches is the Saber Terrain Barrow. After hearing great reviews, we had to include it on our list of the best carp fishing barrows.
The sheer number of features you get on this barrow for the price is excellent.
Designed with the versatile angler in mind, this is perfect for those who want something which is good for day sessions but also has the capacity for them longer weekends on the bank.
Like most barrows on the market, they all have their own unique feature. In the case of the Terrain barrow, it's the front rack. Whilst it may look like a space for a compact rucksack (like the Saber Rucksack), the front rack on this barrow is actually designed to accommodate your bedchair in an upright position. This puts the majority of the weight over the front of the barrow, making it extremely sturdy.
Having the bedchair away from the main section of the barrow leaves you with plenty of excess room too, which is great if you need to transport a big carp fishing bivvy to your swim.
The Terrain features an extending front rack too, meaning that you can increase the capacity of the barrow even more if you need to with the use of a few simple thumbscrews.
When it comes to packing it down, the Terrain is surprisingly compact and would be fine it you have a small car or limited storage space at home. Simply remove the axel and handles and fold down the main section into a compact unit. With a total weight of 14kg, it might not be as lightweight as the Carp Porter Portlite, but you do get more features with the Saber Terrain.
There's an in drop-in barrow bag too which is always handy. This is made of the same quality material as the rest of the Saber luggage, so it will definitely be up to the test. With zips on both the side and the top, anything inside is easily accessible without having to take everything off the barrow first. – This is great if you like to fish off the barrow for day sessions.
Overall we think this is an excellent barrow for carp fishing. As with a lot of Saber products (like the saber head torch), you definitely get a lot of features for your money and it is well worth the investment.
NGT Dynamic Carp Fishing Barrow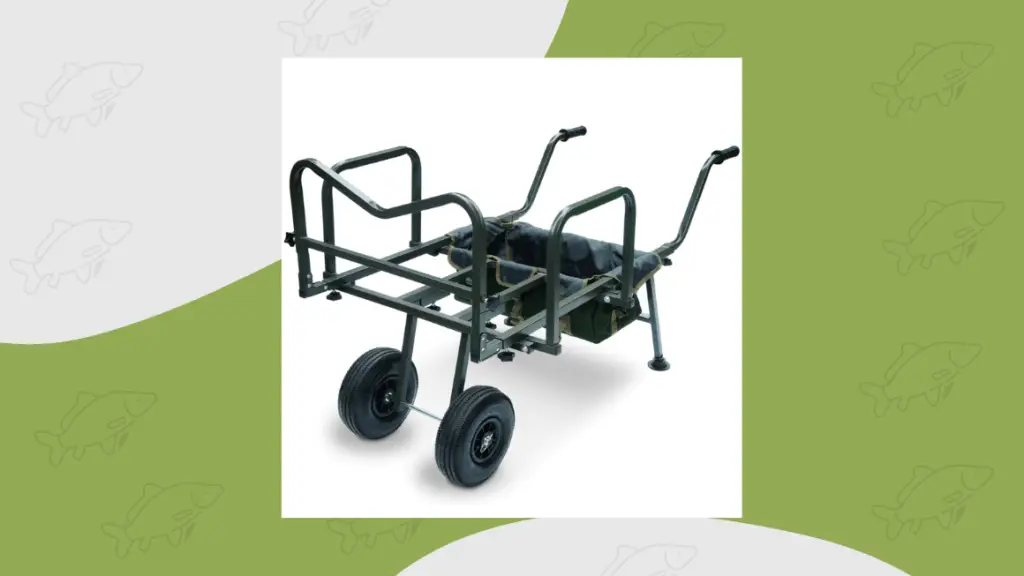 NGT products always find their way onto ourbuying guides. They might not be the most fashionable brand, but their products do the trick. That also goes for their barrow; The NGT Dynamic Barrow.
Perfect if you're looking for a versatile barrow under £150, there really is a lot to shout about with this barrow.
Starting off with the wheels, unlike the other barrows we have listed, the Dynamic is twin wheeled. This makes it much more stable when pushing along flat pathways. It also helps prevent it toppling over which is a common occurrence with 1 wheeled barrows.
We were quite pleased to see that the dual wheels can be converted to one too. This will make it much easier to push through smaller pathways in the undergrowth.
The barrow itself is made from a robust frame, which is more than strong enough to carry a few days worth of kit. We really like the inclusion of foldable sides which again just adds to how stable this barrow is when loaded with gear.
As with almost every carp wheelbarrow on the market, it can also be folded flat for storage and transportation.
A removable storage bar is a nice addition to this barrow, and something you wouldn't expect at this price point. It's a handy place to store your smaller bits bags, bait or water containers.
Overall a cracking barrow for the money which has nearly 50 5* reviews on eBay!
Trakker X-Trail Galaxy Barrow
The Trakker X-Trail Galaxy Barrow is new for 2021 and designed for anglers who want a barrow to suit any fishing situation.
Equally adept at short day sessions due to its compact size, the Trakker Barrow can also be loaded with a weekends worth of kit and push be pushed to your peg with ease.
With a unique central design, the X-Trail barrow maintains an excellent centre of gravity when fully loaded, meaning large loads of gear feel easier to move. Not to mention you'll have less chance of tipping it over, which is always a plus!
At the front of the barrow, you have loads of ground clearance which adds to the ease of moving plenty of carp gear with this barrow.
A nice handy feature is the mud guard that Trakker have included to help keep your bedchair and sleeping bag clean in transit!
Like many of the leading carp barrows in this guide, Trakker have included a drop-in barrow bag to help keep all your bits and bobs easily accessible.
For me, Trakker are pioneers when it comes to carp fishing gear and this is one of the best on the market by far.
Trakker have also managed to pack so many features into a very compact barrow. The handles even fold, meaning that you no longer need to worry about forgetting them next time you head onto the bank
A worthwhile candidate for your next carp barrow!
JRC Contact Barrow
If you're looking for someone ultra compact, fast to set up or ideal for a small car boot, then take a look at the JRC Contact Barrow.
I personally use this barrow for all of those reasons above and it does the job perfectly.
Originally released in 2015, the JRC Contact Barrow flew off the shelves until it suddenly disappeared from tackle shops in 2020. Luckily it has now hit the shelves again and in 2021 you can get your hands one of of these compact carp barrows.
Built with a robust, black steel frame, the Contact Barrow is super strong and will withstand years of abuse, as with most of JRC's bankware products.
Whilst it may look like most other barrows on this carp barrow reviews guide, it isn't. What makes the JRC different is it's folding ability. Instead of having removables handles, this barrow basically folds in half, making it the most compact barrow we've found on the market.
Without removable handles, it's a lot faster to set up and pack down too. Simply pull the pins, fold the barrow in half and remove the wheels. It couldn't be simpler.
Whilst that may have you worried about the transport capacity, it shouldn't. The JRC Contact Barrow is capable of carrying a full sessions worth of gear with ease.
The front central wheel helps to keep everything well balanced as long as you position your heavier bits of gear towards the front.
In terms of storage, the barrow comes fully equipped with a deep barrow bag too. Bear in mind though that there is no side access to the barrow bag so you do need to be mindful of what goes in there if you like to fish off the barrow on day sessions. The Fox Explorer barrow is a much better option if barrow bag storage is more of a requirement for you.
Coming down to the base of the barrow, you have one pneumatic wheel which is removable with the use of a couple of thumbscrews. The wheel itself is similar to that of a wheel barrow, so it's easy to get your hands on a replacement inner tube if need be.
Overall, an excellent choice if you want something compact to slide under the bedchair or go in the back of a small car.
Carp Barrow FAQs
How to load a carp barrow?
There is no one particular way to load a carp barrow, as it all depends how much gear you take for a session. That being said, it's always worth putting your heaviest piece of kit towards the front of the barrow to ensure that you're not lifting the majority of the weight above the handles.
This will make it much easier to push and give you some momentum when the majority of the weight is across the barrow wheel. Other than that, if your carp fishing barrow doesn't have any sides, it's always handy to lay your bedchair flat on the barrow and open the legs. These can essentially act as the sides of the barrow and help to your carp gear from falling off as you make your way around the lake.
Hopefully these tips help you when it comes to how to load your carp barrow!
Do carp barrows collapse down flat?
Yes, the majority of carp fishing barrows (or carp trolleys) listed on this guide are folding carp barrows. This makes them very easy to transport, with most being compact enough to fit in a small car boot. If you are looking for the most compact carp barrow, then we would recommend the Carp Porter Porterlite 2.
---