Looking for some new carp bobbins to improve your bite indication or just give your set up a new lease of life? Let's check out the best bite alarm bobbins on the market right now.
Bobbins are vital for accurate bite indication. When set up correctly, they help you understand whether you've 'been done', had a line bite or of course, a screaming take.
Bobbins are arguably as important as the bite alarms themselves. But like most items of carp gear, they're a personal choice and there are lots of carp bobbins to choose from.
Some anglers prefer barrel bobbins and chains whereas other's prefer the more futuristic swingers that dominated carp set ups in the mid 90's.
Whichever you prefer, here are a few options if you're looking for a new set of bite alarm bobbins.
How we picked these carp bobbins
Real + Group Reviews
We've combined real experience plus group reviews from Facebook and leading eCommerce stores to determine what products to feature on this list.
Variety
Anglers need bobbins for different fishing situations such as slack line and tight line fishing. Therefore we tried to provide some variance amongst the products we've looked at.
No Commission Focus
Whilst we do earn from some links clicked through this site, we have not been biased towards a single product because of that. This is unlike other guides that only feature Amazon listed products.
Korda Stows
Korda made their name in the terminal tackle world, but in recent year's they have branched out into other areas such as bank sticks and bobbins.
Korda Stows were their first venture into the world of bobbins, and they've been a major hit amongst carp anglers.
Based around the original Elstow bobbins, Korda have taken the design, improved it and set about creating a set of bobbins which gives optimum bite indication in almost all fishing situations.
Set around a slim profile body, the Stows feature a plastic line clip that hugs your mainline tightly, giving you bite indication even in the event of a slow drop back. – Often missed by conventional barrel bobbins.
As you would expect from a bobbin in the £20 price bracket, they can be fully adjusted with the addition of weights too. When the wind picks up in the winter months, simply slide on a purpose built overweight to give your bobbins a little more resistance against the elements.
And speaking of the elements, these bobbins should last you a fair few seasons. The chain, which often get's the most abuse, is made from solid stainless steel so it's unlikely that you'll witness it snap when you lift into a fish.
Overall, a very popular set of bite alarm bobbins, and for good reason.
Fox Black Label Dumpy Bobbins
A personal favourite of mine are the Fox black label dumpy bobbins.
Available in a number of vibrant colourways, the black label bobbins have an old school look about them which makes them sit well against most carp set ups. Ideal if you're a bit of a tackle tart! Personally, I have them paired with my Cygnet 20 20 Bank Sticks, Buzz Bars and Quicklock Pod.
With a chunky, opaque body weighing in at 13g, I've found the black label dump bobbins to be ideal throughout all weather conditions, providing ample bite indication.
There has been times in storms where I've required a little more weight to be added, but I don't think there are many bobbins suitable for the winds I was fishing in.
What I was most worried about when I purchased these bobbins was the ball chain. I have previously owned Gardner Bug Indicators which tended to snap every other week.
However, I've been pleasantly surprised by the black label dumpy bobbins. They've been battered by me for over 3 years and are still doing their job.
They might not offer as much intricacy as stows when it comes to sensitive bites, but they are well worth a look if you prefer old school bobbins.
Delkim SlimLite
I wasn't sure whether to include these on this article, but given the amount of anglers investing in the new Delkims, I thought they were worth a shout.
Delkim have led in the world of bite alarms for years, so it only felt like a natural progression for them to release their own set of bobbins.
Made for the tech lovers amongst us, the Delkim SlimLites are packed full of features to go alongside their alarms.
For starters, they're illuminated, giving you ample lighting features that work in tandem with the Delkim Bite Alarm heads.
In many ways, they are sort of a halfway house between a bobbin and a swinger. The SlimLites have a carbon stabiliser which enables the bobbin head to tilt and slide as the line moves through.
What this does is give you really intricate bite indication in almost all weather conditions. You'll have no problems registering slow drop backs or even crayfish picking at your bait.
I must say though that they are quite delicate in comparison to standard bobbins. If you're someone who bashes your gear around or is regularly moving/stalking fish, they might not be worthwhile. I could see these being regularly bent or crushed against other items on your barrow as you're moving around the lake.
Korda Basix Stows
When Korda announced their budget 'Basix' line, it was good to see them include some cheap bobbins in the range too.
The Basix Stows are essentially a toned down version of their original Stows that we covered further up in this article.
In terms of bite indication, they offer exactly the same functionality. Suitable for both tight and slack lines, they provide good bite indication in most weather conditions.
Probably the only difference is in the quality of materials used in the Basix range. At less than half the cost of the original stows, you can't expect them to be of the same quality.
For example, the Basix feature a plastic moulded hockey stick in comparison to a stainless steel one on the standard Stows. Not only that, but the thick chain has been substituted for a thin ball chain.
Whilst these may affect longevity of these bobbins, when it boils down to is, they still offer the same functionality. The Basix Stows are well worth looking at if you're putting together a budget carp setup.
ESP Barrel Bobbins
Considered by many as the ultimate old school bobbins, ESP Barrels were a big hit when they entered the market a few years ago.
They can be closely compared to the Fox Dumpy Bobbins, both providing solid bite indication and being based around a thin ball chain design.
With ESP making most of their stainless gear in the UK, these do tend to feel a little sturdier than the Fox bobbins though. Whilst I've never had problems with the Fox Dumpy Bobbins, the ESP Barrels feature solid stainless ball chains and hockey sticks. They do feel like they will last a bit longer.
Not only that, but we like the way the Barrel Bobbins are sold as a full kit too. For just £15, you get a hockey stick, bobbin head, two chain sizes and two line clips.
It's refreshing to see a tackle company put everything in one cost-effective kit, rather than trying to charge for all of the extras.
The long chains in particular are great, as they allow you to fish super slack lines with the bobbin head and chain resting on the ground.
Overall, an excellent choice if you're looking for a new set of bobbins. The only downside I can see is they are only available in shiny stainless steel and not black. For the tackle tarts amongst us, this simply won't do!
Fox Swingers – MK3
In the mid 90s it was rare to see a rod pod set up without the use of swingers. Over the years, their use declined as more anglers opted for the old school look of their set ups.
But fast forward to today and it looks as if swingers are making a bit of a comeback again.
Possibly, it's due to Fox's launch of the MK3 swinger. Heavily based on the original swingers, the MK3's share most of the same features, however they now come in a slick black finish to complement the whole range of black label, bank sticks, rod pods and accessories.
Regardless of whether you like them or not, swingers do their primary task well; offer great bite indication.
Many regard them as the best when it comes to indication, as the rigid arm prevents any side movement from strong winds, much like the Delkim SlimLites.
Not only that but the Fox Swingers come with a moveable weight too, which is a major plus in poor weather conditions. This makes it really simply to apply more resistance to each swinger head individually, without having to remove the line clip etc.
Like the SlimLites, the only downside with swingers is that they are a bit more delicate than bobbins. You can't really pack them away fully attached to your buzz bars, which isn't ideal if you're someone who likes to pack up and move fast.
What not to buy: Gardner Bug Indicators
I made a massive mistake of trying to buy cheap bobbins when I was re-building my setup after taking a break from carp fishing. That led me to trying the Gardner Bug Indicators which are around £10 each.
In my experience, Gardner Tackle products are usually quite well made. However, I didn't find that to be the case with the Gardner Bug Bobbins.
Whilst the bobbin head and line clip were OK, it was the ball chain that was constantly breaking. I found myself having to repair them every other session after about 6 months. It was at that point that I upgraded to the Fox Black Label Dumpy Bobbins.
Based on my experience, I would recommend avoiding these bobbins.
Conclusion
And that's it! There's your list of the best bite alarm bobbins on the market right now. I'm sure that there are enough on the list there to cover multiple angling situations and set ups that you might have. Hopefully our research and reviews makes your
About the writer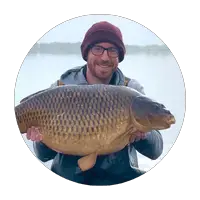 Rob W
I'm Rob, Carp Squad's main contributor. I've been carp fishing on and off for 15 years, but the bug is well and truly back at the moment. Hopefully the articles I write on here help you put more carp on the bank.