For months Ali Hamidi and his One More Cast team have teased us with their biggest ever launch.
The one product that was destined to 'change the game'.
The one product that had Ali Hamidi in tears after banking one of the largest carp to be caught on an underwater camera.
And if you don't already know what it is, you've probably been living under a rock for the past 24 hours.
Update: The Magic Twig is now available
Now Available!
OMC Magic Twig
The much anticipated Magic Twig! An innovative self-hooking device which has been designed to improve hookholds. It's now available to purchase online.
Pros:
Designed to convert pick ups into more hooked fish

Self-triggering hooking device

Available in light, medium and heavy
View Price
Enter, the OMC Magic Twig
On Sunday, The Magic Twig was revealed on the One More Cast YouTube channel.
In a documentary style video, Ali talks about how midlands carp angler Craig Barwell approached him with a new rig component that he wanted to release to market.
The Magic Twig as it is now known, is essentially a spring-loaded component that triggers when a fish picks up your hooklink, helping to drive the hook home.
While it's marketed as revolutionary, there has been similar rig adaptations in the past; most notably Steve Renyard's hermit rig or the bungee rig often shown by Jim Shelley.
The carp community responds
In all my time carp fishing, I don't think I've ever seen a product divide the carp angling community like The Magic Twig has.
Some are well behind it, buzzing to give it a try and see if it lives up to it's claims as a game changer. – Typically those who are all for innovation and improvements in carp angling.
Others are quite loudly sharing their opinions of how it's a shocking product that's synonymous with how carp fishing is becoming a 'catch at all costs game' – Typically the old school anglers who've been around a while.
I can understand both angles.
To me the product does seem a little 'crude', but on the other side of the fence we've got to remember that whilst we all preach the highest concerns for fish safety, we are putting a hook into a carps lip at the end of the day.
There are genuine concerns around it being something else for a carp to become tethered on. Again, this is a completely viable comment and one where it all depends how the product is used.
Fisheries are already banning The Magic Twig OMC
In the most bizare twist of events, fisheries began to quickly ban The Magic Twig, without it even hitting the shelves.
One of the UK's most high-profile day ticket lakes, Farlows, quickly announced the ban.
Each to their own, but this did seem to have a domino effect and multiple venues across the UK followed suit.
My own local venue Yeadon Tarn actually went the other way, announcing that they will make a decision upon seeing the product live themselves.
We've still got to remember, The Magic Twig is still yet to be used extensively.
Embryo Angling banned The Magic Twig after some time reviewing whether it was safe for use on their portfolio of waters.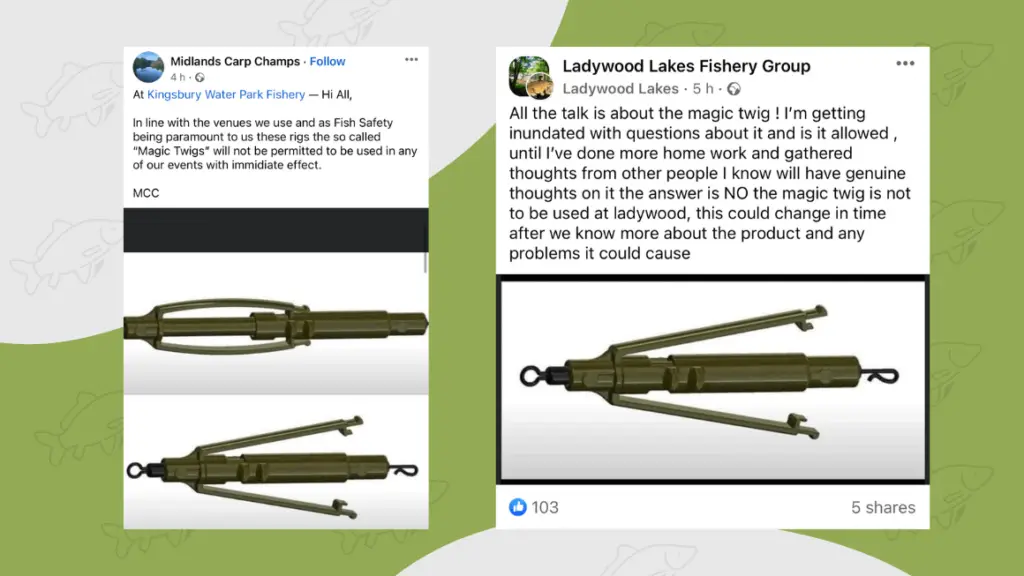 What is it that people don't like about The Magic Twig?
Like anything new, there are always concerns, but reading the comments; the biggest questions and concerns people have with The Magic Twig include:
The Magic Twig snagging in the net
The Magic Twig gathering weed or making it easier for a fish to become tethered if you crack off
These are just a couple of the concerns. In my opinion, a lot of the negativity comes from how the product is marketed. OMC have quite a loud marketing strategy, claiming that it's a game changer. Almost like you can't live without the product.
What this tends to do is come across like you HAVE to purchase it, angering the catch at all costs haters.
Perhaps a more subtle strategy might have seen a better response to The Magic Twig.
Similar Products
Nash TriggaLink
Nash TriggaLink, the original elasticated hooklink material designed to improve the hooking potential of your rigs. Widely used by Jim Shelley as part of his Bungee Rig setup, Nash TriggaLink is worth looking into if the Magic Twig is banned on your venue.
Pros:
No additional plastic added to the rig

Improves hookholds with an elasticated effect

Can be used on venues where The Magic Twig is banned
Ali Hamidi responds to The Magic Twig criticism
Ali has been hammered with criticism since the launch on Sunday 6th August.
To his defence, he's come straight back to his critics via a live video on Facebook.
For 35 minutes Ali answered each and every question posed about The Magic Twig, including the concerns about fish safety as outlined above.
Ali presented very well, with a response to every concern posed by the general public.
He even mentioned how he'd spent the day talking to fishery owners and has more calls scheduled in to alleviate their concerns.
In all due respect, the product has been developed over two years, in consultation with leading fishery owners including those who manage Grenville Lake and Rob Hales Fisheries.
What do you think of The Magic Twig?
I'd love to know what you think of The Magic Twig. Good or bad? Will you use it in your angling? Let us know in the comments below!
About the writer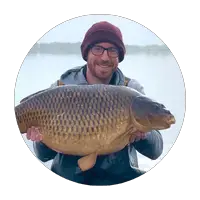 Rob W
I'm Rob, Carp Squad's main contributor. I've been carp fishing on and off for 15 years, but the bug is well and truly back at the moment. Hopefully the articles I write on here help you put more carp on the bank.