Looking to save yourself a few quid and find the best carp reels under £100? You're in luck, because that's exactly what we're covering in this guide today.
If you've done some research already, you'll notice the sheer price difference in carp reels, ranging from under £100 to over £600 per reel.
But the truth of the matter is, they all serve the same purpose. Yes there are some quality differences, but you can most certainly get by using a reel in the sub-£100 bracket.
In this guide we'll be covering the best reels you can buy under £100. We'll be highlighting the pros and cons of each, and helping you make an informed decision on which reels are best for you. 
Description:

A smooth Shimano reel for well under £100, it's very hard to beat the Aerlex Reels.

Description:

Cheap and cheerful, that's exactly what the Sonik Vader range is about.

Description:

My reel of choice when combined with 9ft rods for canal carp fishing.
Top Pick
Description:
A smooth Shimano reel for well under £100, it's very hard to beat the Aerlex Reels.
Cheapest
Description:
Cheap and cheerful, that's exactly what the Sonik Vader range is about.
Baitrunner
Description:
My reel of choice when combined with 9ft rods for canal carp fishing.
Will a carp reel under £100 stand up to the rigours of regular carp fishing?
It's a good question. And my answer if yes, as long as you are someone who regularly cleans and looks after your carp gear.
Reels are intricate pieces of equipment, with many moving parts inside. Unfortunately, it's these internal parts where the cost savings are usually made by manufacturers. – supplementing solid metal components for cheaper plastics.
When left to house dirt and degrade, they can quickly seize up and become unusable. I have found this to be the case with cheaper carp reels on the market. If you've read our guide to the best spod reels, you'll know that I'm a big fan of the Wychwood Dispatch Spod Reel. It's a cheap reel made from budget materials. However, as I regularly clean and maintain it, the reel is still going strong after 4 years of use. 
With some due care and attention, you can ensure your reels are smooth for many seasons to come. 
Annual maintenance should keep them in check. As a minimum this should include removing the spools, clearing away any visible dirt and regreasing them. 
You can also invest in a reel mat to stop dirt splashing up into your reels during heavy rainfall.
Personally, I'm a big fan of cheaper carp reels. I just feel that from a value perspective, I get much more from a set of reels that cost less than £300, rather than sitting behind reels that cost more than you're average second hand car. 
Either way, I guess it's all down to what you value!
What to look for in a carp reel under £100
If you're looking to purchase a budget carp reel, here are some things you'll want to consider.
Size
You'll need to consider the size of the reel that you need, and this is typically done in accordance with your rods.
For 12 or 13 foot rods, you're probably best going for a big pit reel like the Shimano Aerlex or Daiwa Black Widow. Something that will work on small waters but not limit you when it's comes to distance casting.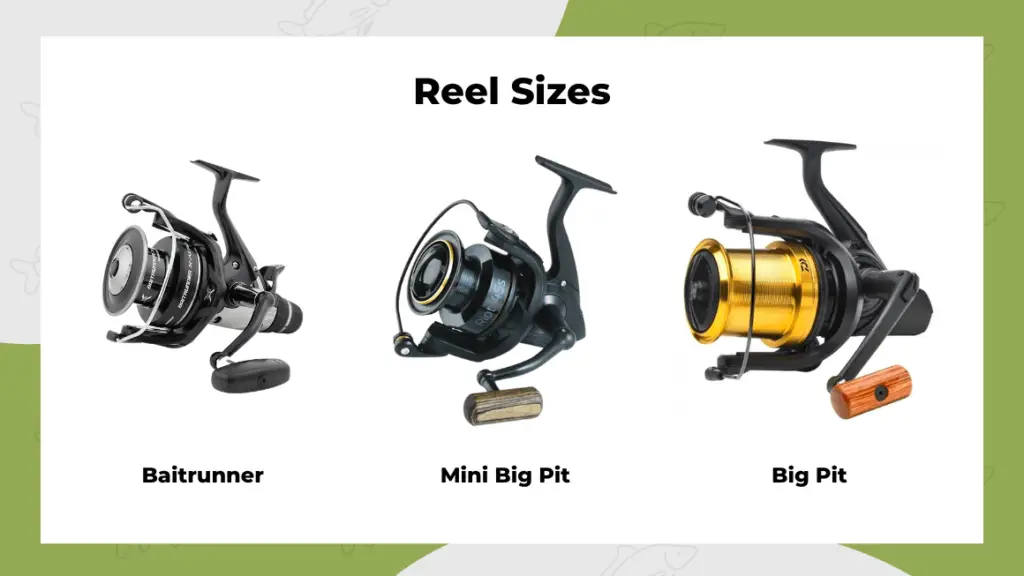 Typically, the bigger and longer the spool, the faster line will leave the reel and therefore propel your cast to the horizon. 
That's one of the primary reasons why you don't see the largest big pit reels coupled with rods less than 9 foot. They're just not needed for smaller waters and stalking opportunities.
That's where baitrunners and mini big pits come into play. They're essentially downsized reels that are designed to balance well alongside carp rods under 10 foot.
Over time I've personally acquired a set of smaller reels and bigger reels. This allows me to chop and change reels to suit the waters I'm fishing. Here's what I've got:
Daiwa Emblem 5000T – I use these for most of my fishing, particularly on larger venues that I'm currently fishing such as Yeadon Tarn and The Approach Fisheries.
Shimano Baitrunner ST RB – This is my go-to reel for stalking, canal carp fishing and surface fishing. Lightweight with an excellent drag system. 
Line clips
Line clips have become one of the most important features of carp reels in recent years. It's rare to see anglers cast out without clipping up, so be sure that your reels have decent clips included.
Unfortunately, some brands still haven't caught up when it comes to supplying decent line clips on their carp reels under £100.
They're often the old plastic style clips which can damage your line with frequent use. Worst of all though, they're incredibly hard to use when your hands are freezing in the middle of winter!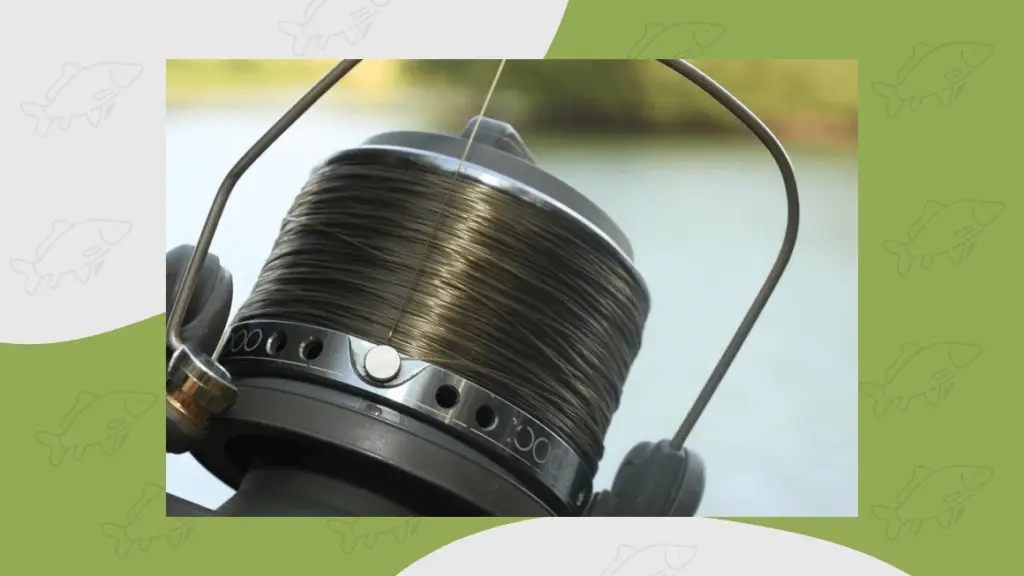 My advice would be to ensure that your reels have the newer round style line clips that are slightly elevated and easier to use. Alternatively, you can buy some self-fit line clips which is what I did for my Emblems.
If line clips are a big consideration for you, the Sonik Xtractor 5000GS or Sonik Tournos are probably the best ones featured on this guide. 
Clutch performance
Despite most budget carp reels having inferior internal components, it's vital that you choose a reel with the smoothest clutch.
There's nothing worse than a reel with a sticking clutch, or a spool cap that's tough to turn. As carp lunge under the rod tip, you need to be able to give them line just at the right time.
Equally, you may rely on a good clutch to get you out of trouble, like steering carp away from snags.
Shimano and Daiwa reels have always been known to have solid inner workings. And whilst their budget reels won't have the same smoothness as their high-end gear, you can rest assured that they will have the best clutches in this price bracket.
How we picked these sub-£100 carp reels
Real + Group Reviews
We've combined real experience plus group reviews from Facebook and leading eCommerce stores to determine what products to feature on this guide.
Variety
People have different budgets for their carp reels. Therefore we tried to provide some variance amongst the products we've looked at.
No Commission Focus
Whilst we do earn from some links clicked through this site, we have not been biased towards a single product because of that. This is unlike other guides that only feature Amazon listed products.
Our Pick: Shimano Aerlex XTB
Top Pick
Shimano Aerlex XTB
A smooth Shimano reel for well under £100, it's very hard to beat the Aerlex Reels.
Pros:
Smooth gears

Decent line lay

Solid body will take years of abuse
View Price
It's hard to look past Shimano for the best reels, and that's why they're our top pick for this guide.
The Aerlex reels have been around some time, representing exceptional value for money.
It's a classic big pit reel, with a short body and a large spool capable of holding large amounts of line for distance carp fishing.
For all intents and purposes, this reel will work for the majority of angling situations in the UK and on the continent.
Now it wouldn't be a Shimano reel without some sort of new technology included. That's where the Aero Wrap comes in.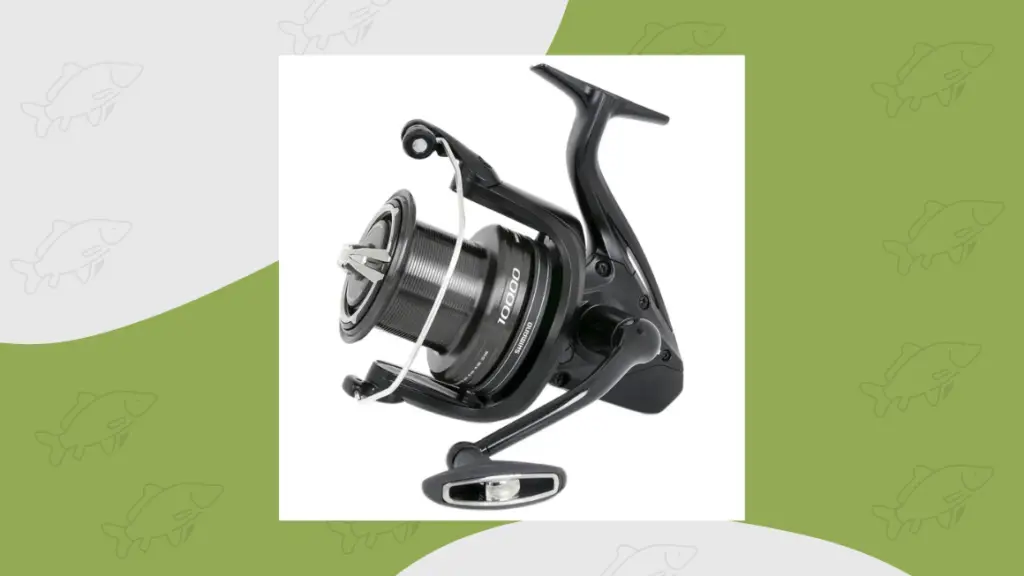 Coupled with the slow oscillation on the Aerlex, Aero Wrap works to ensure that your line lay remains consistent over time. A nice feature that separates this from many other sub-£100 carp reels. I've seen these reels in action and can confirm that the line lay is pretty decent.
Looks-wise, it's hard to be too specific when you're on a budget. However, the Aerlex actually looks the part too. 
At a glance it can be mistaken for the immensely popular Ultegra range which retail at around twice the price. They won't look out of place alongside some high-end carp rods that's for sure.
As for additional features, the Aerlex comes complete with a quick drag spool and a large line friendly line clip. Two absolute minimums that we would expect to see in a modern day carp fishing reel.
Perhaps the only downside with the Aerlex is the lack of a spare spool. So if that's a requirement for you, be prepared to spend an extra £20-25.
Whilst the Aerlex isn't the cheapest on this guide, retailing at around £80, it offers great value for money. For that price you get a hell of a lot of features, and Shimano gear is known to stand the test of time. 
Daiwa Black Widow Reel
Daiwa Black Widow Reel
Daiwa's Black Widow range offers exceptional value for money, but falls just behind the Aerlex for us.
Pros:
Strong graphite body and rotor

Aluminium spool
Cons:
Looks a lot cheaper than other Daiwa reels
View Price
Coming in at a very close second is the Daiwa Black Widow Reel. 
Daiwa's Black Widow Range was designed to offer value for money. Giving anglers the chance to get their hands on some well made gear that won't break the bank.
And whilst their Black Widow luggage might not be much to shout about, this budget big pit reel really is. 
After all, Daiwa's primary product range is reels, which are endorsed by many anglers including Team Korda.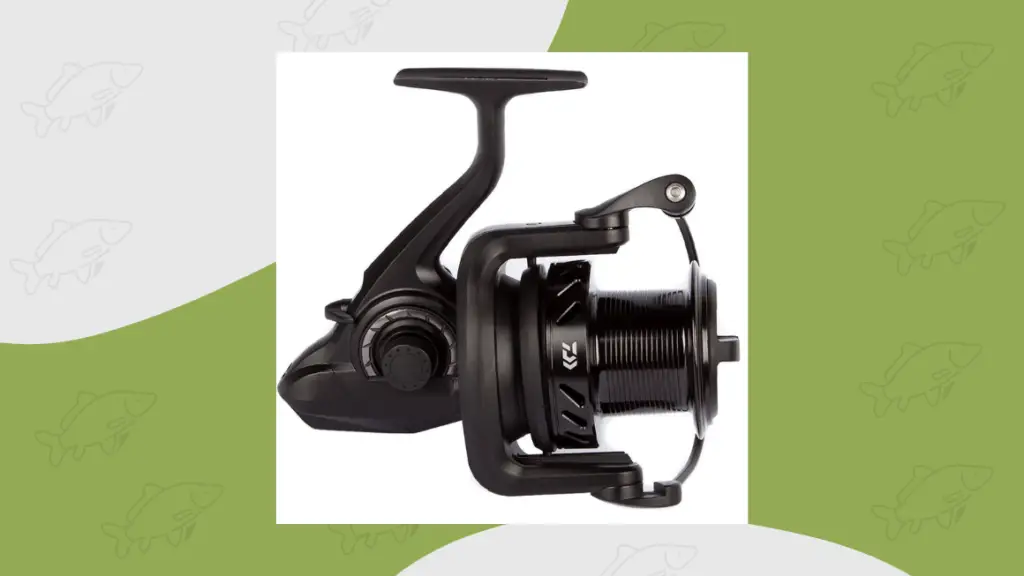 The Black Widow is sort of a smaller brother to the Emcast Range, which was previously Daiwa's budget carp reel.  
It's hard to see where they differ though. The Black Widow offers a sleek stylish black outer body that would see this compliment even high-end rods perfectly. 
An aluminium spool holds a whopping 530mm of 0.35mm line. (Roughly the same diameter as Daiwa Sensor). Whilst this may sound far too much for even the most accomplished distance caster, it's ideal you're a bait boat user. Alternatively, if you regularly fish the continent and boat out your rigs, you'll have no trouble running out of line.
With the Black Widow, you've got the cranking power to back up the line load too. A soft touch handle brings in 85cm of line per turn. Yes, it's not as much as most spod reels but that's pretty decent for your carp reel.
One thing that will alarm some buyers is the lack of ball bearings advertised for the Black Widow. In this instance we can conclude that there aren't many. Albeit, having used a set previously, I can vouch that they do feel smooth. 
But given that the inner workings are probably not as robust as a Basia, you might want to keep them clean and well looked after. 
Budget Option: Sonik Vader X
Sonik Vader X Reel
Cheap and cheerful, that's exactly what the Sonik Vader range is about.
Pros:
Quick drag system

Sleek black finish with wooden handle

Line lay washers included
Cons:
View Price
Those who have read our Budget Carp Rod guide will know that we really like the Vader range. 
For those looking for a deal or carp fishing beginners, you really can't beat it.
The Vader X reel compliment 12 foot carp rods perfectly, offering an affordable solution to any angler.
Admittedly, side by side with the Daiwa's or Shimano's, you can see a clear quality difference.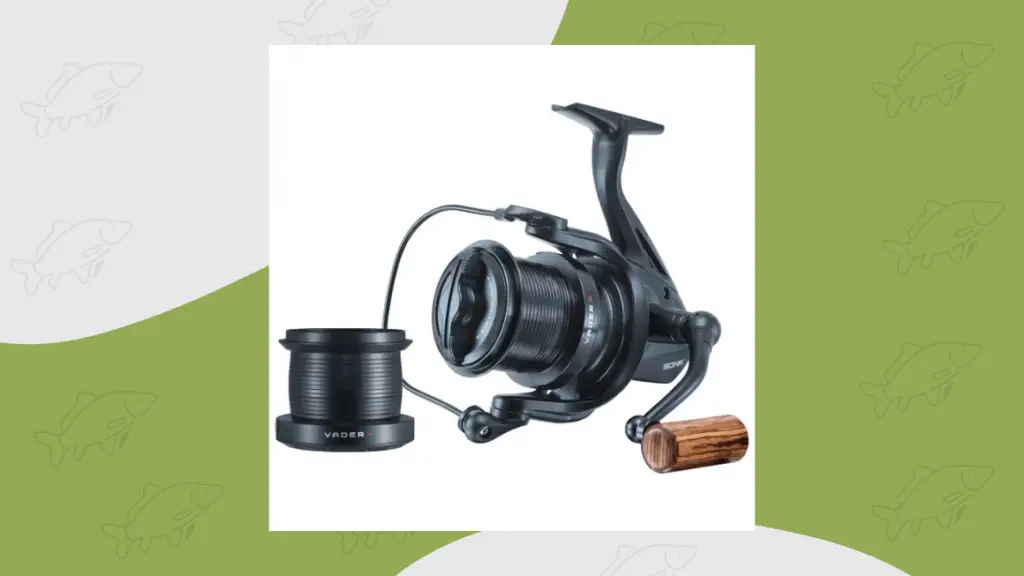 But the Vader has everything you need. It's a generously sized big pit reel for starters. 
Capable of holding 280m of 0.35mm line, it's got enough in the tank for fishing the largest carp lakes in the UK. 
For a general carp reel, it has an unbelievable retrieve rate too. One crank of the wooden effect handle will pull in 1.1m of line. That's more than some of the most popular spod reels on the market.
Something else we were quite surprised about is the line clips. For a reel retailing under £50, I didn't expect anything more than a basic plastic line clip.
But what the Vader RS has is twin line clips, making it much easier to clip up to different areas of your swim. 
6 ball bearings finish off what is in our view the best budget carp reel.
Quite how Sonik have manufactured a reel of such spec for this price we don't know. You can even bundle it up with a Vader carp rod for just £95. 
Sonik Tournos XD
Sonik Tournos XD
Sonik's top of the range reel is still considered budget in comparison to Daiwa and Shimano.
Pros:
Slow oscillation for optimum line lay

Quick drag system

Bail arm lock

Sleek black design
View Price
When I got my hands on my mates Sonik Tournos, I was instantly surprised by how smooth they were.
Despite Sonik already having the sub-£100 market stitched up with the Vaders, they've gone ahead and launched a reel here that can compete at the same level as the Daiwa's and Shimano's.
It might not have the brand name, but it certainly has the features. The Tournos are feature-packed with 15 ball bearings, a quick-click folding handle  and twin loaded line clips.
You even get something seen only on high-end reels; slow oscillation. As a result, line lay remains pretty consistent on the Tournos. Even if you're someone regularly catching, you're probably not going to need to change your line as regularly throughout the season.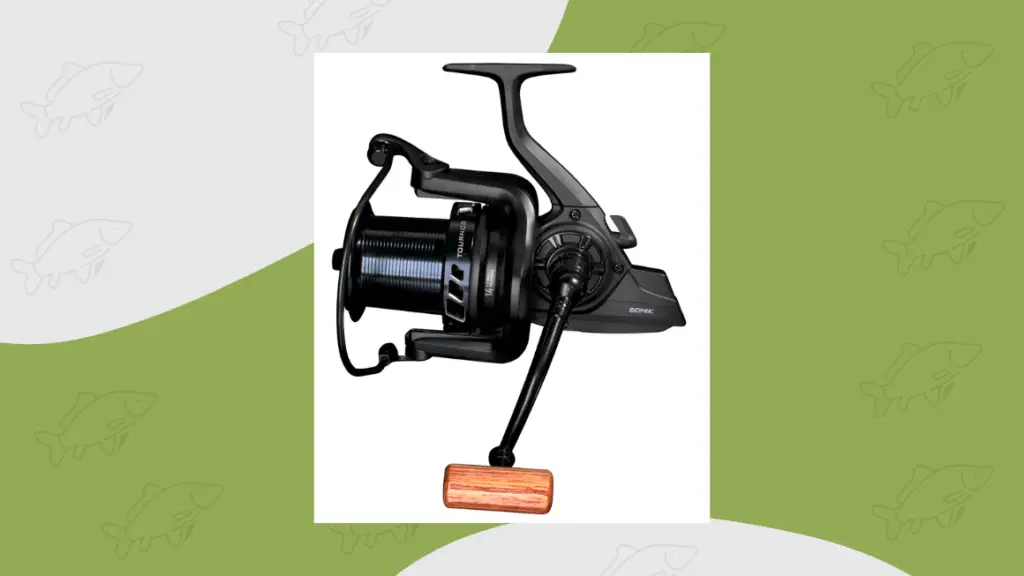 Looks wise, I would say they have the perfect balance between modern and classic.
For the old school anglers, you've got a black composite body and a carpy wooden handle. These will look the part alongside full duplon rods that's for sure.
On the other hand, the body shape itself is of a modern design. The spool in particular looks great, with holes showing the inner workings. In many ways it's like what we see on the Nash Scope Reels.
Admittedly, they're probably not the lightest of reels, coming in at over 660grams. With that in mind, you'll need to be pairing these with rods over 12 foot for them to feel balanced.
Best Baitrunner: Shimano Baitrunner ST RB
Baitrunner
Shimano Baitrunner ST RB
My reel of choice when combined with 9ft rods for canal carp fishing.
Pros:
Exceptionally well-built for the money

Based on Shimano's popular baitrunners of the 90s/00s
Cons:
Spare spools can be hard to come by
View Price
Back in the 90's, you couldn't walk past a carp angler without seeing a set of Shimano Baitrunners on their set up.
But since the big pit revolution, with anglers wanting to cast further, they're seeing less use.
But the fundamentals of baitrunners still remain. The ST RB version from Shimano encompasses an excellent baitrunner mechanism with a solid, hard wearing body.
If you use short rods or only fish small waters, they're hard to beat. The baitrunner mechanism gives you instant connection with the fish, which is just what you need on smaller intimate venues.
Personally, I use the ST RB baitrunners on my Nash Dwarf 9ft Rods. Whilst they don't see any use on lakes, they're absolutely perfect for canals. Lightweight, hard wearing and perfectly balanced. 
In the world of Shimano baitrunners, the ST RB is the budget option. From what I can see though, the only really difference between these and the higher priced variations is the material used in the body. 
These have a hardwearing XT-7 plastic frame, in comparison to other Shimano reels which offer a steel coating. After 4 years of use and plenty of bashing them off the canal towpath, they're still going strong for me.
If it's baitrunners you're looking for, give these a go. 
Best for Stalking: Sonik Xtractor 5000 GS
Best For Small Rods
Sonik Xtractor 5000 GS
You don't expect something this carpy looking for less than £40!
Pros:
Basically a smaller version of the Vader reels

Sleek gold spool

Twin line clips
View Price
Stalking will rarely see you using a big pit reel. But what you will need it a reel that is:
Small and lightweight enough to balance a short stalking rod.
Suitable for hit and hold tactics with a good clutch.
There a plenty available but few that fit the bill as well as the Sonik Xtractor 5000 GS.
In fact, Sonik have excelled in the short rod/stalking market altogether with their Xtractor range.
At first glance, you could mistaken these for the smaller Shimano GS3000s that are almost vintage. 
But whilst they may not bare the Shimano badge, they certainly live up to the hype as a mini big pit.
For starters, you get a reel here that has 6 ball bearings. That's more than many Daiwa and Shimano reels in this price range.
It equates to a reel that not only looks good, but feels good to use and play fish at close quarters.
And with close quarter fishing, you've got a solid drag system on the 5000 GS too. In a little under half a turn, you go from free spool to locked up, ideal for them tight hit and hold scenarios. 
But whilst these are ideal for under the rod top fishing, you're not just limited in that regard. Sonik have thought about those who want to fish out to open water features, by adding two line clips onto the spool.
This is something you rarely see in reels over £300, so to get dual line clips on the Sonik Xtractors is a real plus.
The reel is further finished with a one touch folding handle and of course, a classic looking gold spool.
Perhaps the only downside to the 5000GS is the weight. – Yes we're being picky here!
But for a reel for this size you would expect it to be lighter. On the other hand that would mean aluminium components and a price increase.
We can't have it all but Sonik have come close with this one. 
About the writer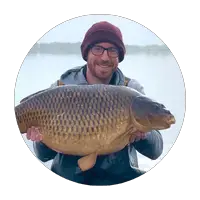 Rob W
I'm Rob, Carp Squad's main contributor. I've been carp fishing on and off for 15 years, but the bug is well and truly back at the moment. Hopefully the articles I write on here help you put more carp on the bank.