The best tackle box for carp fishing is one that allows you to keep your terminal tackle neat and tidy. Ideally, you want something that's easily accessible and well organised to help you tie rigs faster and fish more effectively.
Like most of the carp gear on the market these days, there are loads of carp tackle boxes to choose from. Therefore, to help you out a bit, we've scoured to the market to find the tackle boxes that are most well-reviewed.
We'll cover them in this guide and hopefully it will help your search for the best tackle box for carp fishing a little easier.
Let's get started! Use the links below to skip through the contents of this article:
In a hurry?
If you don't have much time use the links below to quickly find the best tackle box for carp fishing on Amazon. You can be assured that we only highlight the best products…
How we picked
Real + Group Reviews
We've combined real experience plus group reviews from Facebook and leading eCommerce stores to determine what products to feature on this guide.
Variety
Everyone uses their tackle box in different ways. Therefore we tried to provide some variance amongst the products we've looked at.
No Commission Focus
Whilst we do earn from some links clicked through this site, we have not been biased towards a single product because of that. This is unlike other guides that only feature Amazon listed products.
Best Tackle Box for Carp Fishing List
Korda Tacklesafe
Tackle Box Summary
Features 29 storage compartments in various shapes and sizes for your terminal tackle
Central compartment big enough for your rig tools and smaller hooklink spools
Small at just 24cm long, making it ideal for travelling light or stalking
Compact, strong plastic design is hardwearing
Measuring guides on the front case
Magnetic close makes it quick and easy to get into
NGT XPR Tackle Box
Tackle Box Summary
Various secure compartments to suit small and medium size items of carp tackle
Very similar style to the Korda Tacklesafe, but a fraction of the cost
Magnetic open and close
20cm measuring bar on the front for accurate rig making
Compact and hardwearing plastic material
Works alongside Korda Compac 140 and Korda Compac Organiser
RidgeMonkey Armoury Carp Tackle Box
Tackle Box Summary
An all-in-one tackle box including a full sized rig board
Ideal if you want everything in one place
Features 29 compartments with lids
Three separate rig boards provide ample space for your made-up rigs
Integral measuring ruler ensure accurate rig tying
Constructed from robust ABS. – It's strong like the majority of RidgeMonkey products
Wychwood Tackle Box
Tackle Box Summary
Available in large and medium sizes
Large includes 6 internal boxes, whilst medium includes 4
Secure locking latches ensure the box will never accidentally open in your rucksack
Customisable internal sections
Removable handles and axel for easy transportation
30cm measuring ruler on the front of the box
Ideal if you like to carry lots of terminal tackle
Thinking Anglers Tackle Pouch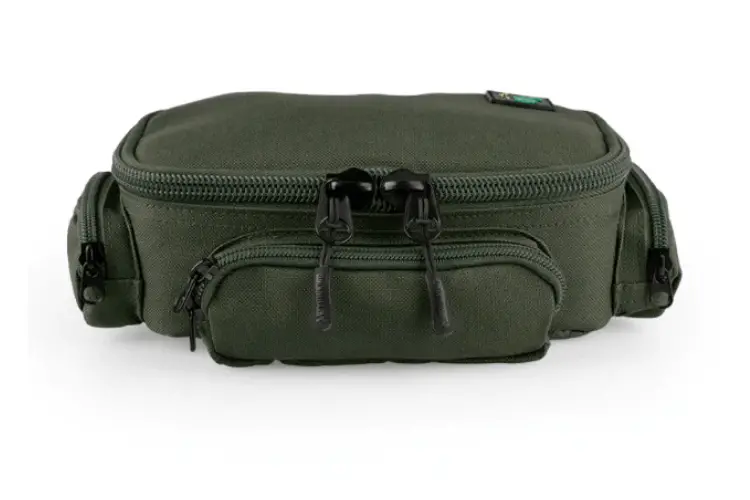 Tackle Pouch Summary
A compact zipped tackle bag to store your essentials
Ideal if you want to keep your terminal tackle items in their plastic packets
Central divider allows you to tailor the size of the main compartment to cater for spools of hooklink or leaders
Three outer pockets are perfect for hook boxes and other bits
Integral mesh compartment and holders for your baiting needles and drills
Korda Basix Tackle Box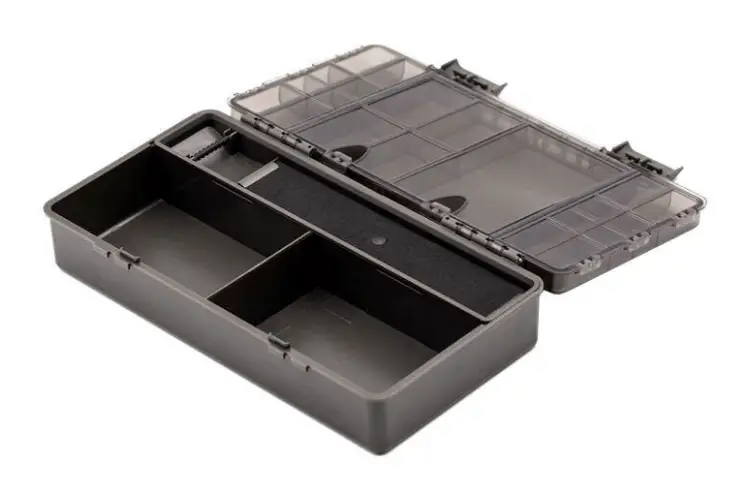 Tackle Box Summary
A toned down version of Korda's original tackle box system
Shockproof, high impact plastic construction
Clear lid allows you to see inside without opening the tackle box
Closes with two latches to prevent it opening in transit
Features 21 compartments of various sizes
Includes an carp rig box which can hold 8 small tie up rigs
Main compartment is deep enough to take large spools of hooklink material
NGT 7+1 Tackle Box
Tackle Box Summary
A large, highly customisable tackle box, design from tough ABS material
Includes 16 removable compartment dividers for easy customisation
Includes 6 small bits boxes, perfect for smaller items of tackle such as hooks and swivels without opening the tackle box
Closes with two latches to prevent it opening in your rucksack or backpack
Front of the tackle box features a 30cm ruler for accurate tying of your rigs
Features 21 compartments of various sizes
Trakker NXG Tackle Pouch
Tackle Box Summary
Perfect for those who don't want a plastic, rigid tackle box
Square design fits well in most rucksacks or backpacks
Soft touch foam handle
Integral main compartment has removable dividers, enabling you to customise for various uses
Integral flap designed for storing packets of terminal tackle
Nyplex base is hardwearing to minimise wear whilst on the ground or under your carp bedchair
Carp Tackle Box Overviews
Korda Tacklesafe
The Korda Tacklesafe is ideal if you're looking for a compact tackle box solution.
It's built around 29 small compartments with secure latch covers. This makes it great for storing your smaller items such as hooks, swivels and beads with the plastic packaging removed. (Pretty much all of your key pieces of terminal tackle).
Like most of Korda's gear, the Tacklesafe is well-built. Firstly, it's constructed from a plastic material that feels solid and should withstand plenty of use.
A nice touch is the magnetic open and close. It just makes it really quick and easy to get into without messing around with fiddly latches.
Unlike other tackle boxes with a lid (such as the Korda Basix), you'll notice that the Tacklesafe opens directly in the middle, with compartments on either side. Moreover, on the top you've got 18 compartments with latch covers, two of which are big enough for standard plastic packets of terminal tackle.
On the base of the Tacklesafe, you've got 8 covered compartments for items such as tail rubbers and lead clips. In the centre there is a large open area which is ideal for your baiting needles and scissors. Just make sure you always open the tackle safe the right way up or anything in the central compartment will come flying out!
Tacklesafe + Compac
The Tacklesafe is designed specifically to be compact. For that reason, you'll need to find something else to store your bulkier items such as hooklinks and carp leader spools.
A common combination is the Tacklesafe and Korda Compact 140. This is an ideal solution which allows you to have the organisation of the Tacklesafe, inside the Compac 140 which can swallow your bulkier bits and pieces.
---
NGT XPR Tackle Box
NGT have excelled in offering value-for-money carp gear since their inception.
In recent years, they have entered the Tackle Box market to compete with the bigger brands.
What I like about their approach is the way they take inspiration from other designs and make their own cost-effective version.
That's exactly what they've done with the XPR Tackle Box, by modelling it on Korda's Tacklesafe.
In fact, it's a very close match. You get the same 29 micro compartments which are ideal for storing your smaller rig items.
Through the centre you have one larger compartment which is just about deep enough for your baiting tools and a spool of floss.
All of the smaller compartments are closed using simple latch covers which ensures everything stays in place. There is no room for your plastic packaging in this box, so you've got to do away with that to get full use from it.
Another handy feature is the measuring ruler across the front. You don't really expect something like this on a budget product, so it's good to see NGT have included it.
When it comes to the construction, that is pretty solid too. I use the XPR for my own fishing and it has stood the test of time for three years now. It's been bashed off the concrete during some urban carp fishing adventures and it still lives on.
NGT XPR or Tacklesafe?
It does feel like there are some minor material differences between the XPR and the Tacklesafe.
For example, I found the hinges on the XPR compartments to be a little loose at times, often popping off if the smaller compartments were a bit overloaded. Don't overfill the tackle compartments and you should be fine though.
Overall, my experience with this tackle box has been very positive. At a snippet of the price of the Tacklesafe, it's well worth looking at. It's virtually the same in every aspect. You can even remove the NGT sticker on the front if you're not a lover of the brand!
If you do choose this tackle box, just remember that you'll need something else to accompany it for your bigger items. I personally use the XPR inside my Korda Compac 140. The Compac fits all of my hooklinks spools and larger baiting accessories, with the NGT tackle box easily accessible on top.
A good combination: XPR & Compac 140
As I've mentioned, I have previously used a combination of the NGT XPR and the Korda Compac 140.
The XPR takes all of the smaller items of tackle such as swivels, lead clips and the like. You can then use the Compac to store larger spools and tools. The XPR (same as the Tacklesafe) fits perfectly in the Compac, which is fully waterproof too.
Overall, I did find it to be a neat solution, which fitted perfectly inside my Saber Rucksack too.
I'd definitely still be using this setup if I wasn't making a conscious decision to lighten up my gear. I now use the Thinking Anglers Compact Tackle Pouch which is a little bit smaller.
---
RidgeMoney Armoury Tackle Box
It wasn't long before RidgeMonkey released a tackle box to accompany their expanding range of terminal tackle.
This is the tackle box for you if you're looking for something that can store absolutely all of your tackle. According to RidgeMonkey, this is the only all-in-one box on the market.
They might just be right. When you take into account the number of features included in this box, nothing comes close.
The Armoury is big enough for all of the items you'll need for even the longest sessions. With three internal rig boards, 29 separate compartments and enough depth to take hooklinks and packs of hand-sharpened hooks. You can even use it to hold your leads if you want everything together in one place.
In terms of the design of the Armoury, it's different to anything else on the market. RidgeMonkey have split this tackle box into three sectons, each held together with magnetic clasps.
On the top section, you've got two full length rig boards. These can store absolutely loads of tied up rigs, and come complete with pins as you would expect. We like the way RidgeMonkey have left plenty of excess room around the bar that you attach the hook to. Some rig boards we've used in the past are a bit tight in this area, meaning you can't stash your rigs with hookbaits already attached.
29 Internal Compartments
As we've already touched on, the Armoury features 29 internal compartments. This might not sound a lot in comparison to the rather compact Tacklesafe or XPR. However, where the RidgeMonkey wins is size and depth.
The overall dimensions of this tackle box are 35cm x 19cm x 10.5cm. It's 10cm longer than the Tacklesafe and 6cm deeper. The major advantage here is that you can store all of your hooklink spools in the Armoury too.
The main section of the Armoury essentially splits into two. On the upper section, you've got another full sized rig board and micro compartments for your tiny bits.
Customisable sections
Coming down to the base of the RidgeMonkey tackle box, you've got a deeper section which has been split into various compartments. You can customise these to however you like by removing the internal walls. If you're someone who likes to take plenty of hooklink options, you can adjust the box to accommodate them all.
As you would expect, RidgeMonkey have paid special attention to ensure that you can accommodate plenty of Ape-X Hook boxes too!
---
RidgeMonkey Armoury Lite Tackle Box
For those who like the look of the standard Armoury Box, but don't need something quite as bulky, you can check out the lite version.
This has recently been released by RidgeMonkey to compete with the Korda Tackle Safe.
It's very similar in design, being a magnetic box with a mix of open and closed compartments within.
Despite how small it looks, it is quite deceptive inside. There's 57 compartments in total.
This has surely got to be enough for any carp anglers to house their rig items.
The obvious difference between this and the standard Armoury box is the lack of a rig board. We don't think that's too much of a problem though.
At the same time as the launch of the lite box, RidgeMonkey have launched a dedicated rig box at the same time. For us this provides a much more efficient solution than having everything in one.
If you're just grabbing a fresh rig, the last thing you want to be doing is pulling out a full rig box too.
For anyone who likes the RidgeMonkey gear but wants to be a bit more lightweight in their approach, this is for you.
Wychwood Tackle Box
The Wychwood Tackle Box is definitely the 'no-frills' tackle box of this list.
It's a tackle box that I've personally tested and used for 4 years, prior to scaling down the amount of terminal tackle I take fishing.
Built from a shatterproof plastic, I found this tackle box to be extremely hard-wearing on both the base and the lid.
11 customisable compartments
Inside the tackle box you've got 11 compartments, varying in size. All of the internal walls that run lengthways can be completely removed. This makes it easy to customise the box to however you want.
If you need the box to store longer items like adjustable zigs or marker floats, simply remove some of the internal walls to create longer sections. There's even enough room for a bunch of leads.
Unlike some of the compact tackle boxes on this list, you get a decent bit of depth in with Wychwood Tacklebox too. In terms of dimensions, it's 34cm x 25cm x 6cm. It's probably the closest you can get to the Amoury's ability to store all of your tackle (minus the rig boards).
One thing to note is that as a box on it's own, there are no micro compartments like the Armoury Box or Fox Box. This is fine if you want to keep all of your terminal bits in their plastic packets. However, if you like to stay a little more organised, Wychwood have released some smaller inner boxes.
Available in various sizes, the inner boxes just slot inside the tackle box, allowing you to make smaller items such as beads and swivels easily accessible.
A value-for-money large tackle box
As anyone who reads my carp gear reviews knows, I don't really look after my gear. The Wychwood box stood up to 4 years of personal use and is probably still working for the person who bought it off me.
If you're someone who likes to take a lot of terminal tackle fishing, but don't want the expense and added features of the larger RidgeMonkey Armoury or a Fox Box, then this one is for you.
---
Thinking Anglers Tackle Pouch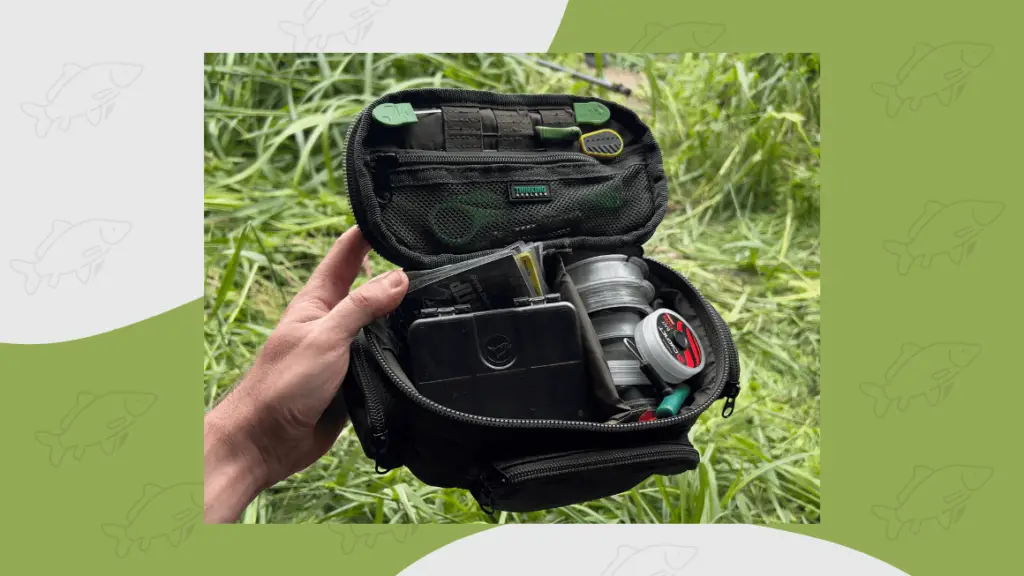 Thinking Anglers are known for their innovative approach to carp gear, and their Tackle Pouch is no different.
Designed for people who like to keep their tackle to a minimum, the Tackle Pouch has just about enough storage for your key items.
First and foremost, you'll notice that the construction is completely different to anything else featured in this guide. Instead of a plastic construction, it's made from a 600D material which is wipe clean and sits alongside the rest of the Thinking Anglers luggage range. It's available in olive and their unique camfleck pattern.
Five zipped compartments
Five zipped compartments give you a variety of places to store your items of tackle. Size wise, it's not massive, coming in at 26cm x 15cm x 8cm. Thinking Anglers market this as a compact pouch. It only really suits people who use a few items of tackle and a couple of hooklink materials.
If you're someone who likes to take various boxes of hand-sharpened hooks, or 10+ hooklinks, you'll want to look at bigger alternatives.
The pouch itself is built around one main compartment. Within here you have a single central divider which allows you to adjust the sizing slightly to fit in hooklink materials and the like. Super simple but it serves it's purpose.
We quite like the upper section of the main compartment. Thinking Anglers have clearly put some thought into this, with a full length mesh pocket for your valuable items. You've also got elasticated loops to keep your all-important baiting needles organised and close to hand.
Additionally, you've also got three outer pockets. Two on the sides which are perfect for leads and adjustable zigs, plus one on the front which fits a hook sharpening kit.
Waterproof base
Aside from the internal compartments, Thinking Anglers have also included a waterproof, wipe-clean base. This is not common with other tackle pouches we've come across, so a nice inclusion on this pouch.
Overall, worth a look if you want a compact solution to storing your main bits of terminal tackle.
---
Korda Basix Tackle Box
The Korda Basix range has got great reviews since it's launch by Danny Fairbrass in 2021. It's great to see a well-renowned manufacturer go the opposite way and release value-for-money products, rather than adding more 'Carp Tax'.
Like most of the Basix range, this tackle box has been built upon the success of a previous Korda Korda tackle box that retails at twice the price.
Don't be fooled though, the Basix packs a punch when it comes to features.
With 21 small-latched compartments on the upper section of the Basix Box, you've got plenty of room for your smaller items. Similar to the NGT XPR, one of the sections has no dividers, allowing you to keep some items of tackle in their original packets if you want to.
For the majority of your tackle though, you'll want to organise your items into the smaller compartments in this tackle box.
Integrated rig board too
On the other side of the Basix Box, you've got two equal-sized open compartments. These have a fair bit of depth, with enough room for hooklink spools and hooks like the Kamakuras.
Additionally, Korda have integrated a rig board on this section too, which can take up to 8 pre-tied rigs. For most people, this really isn't enough, which leaves you needing an extra rig board too. We're thinking that Korda could have used this space more wisely.
That being said, if you're just someone who fishes the odd short day session, a board for 8 rigs might just be enough.
Of course, you can choose to remove the rig section completely if you want to, which exposes a full-length compartment.
Aside from internal storage, the Basix is well constructed too. It's made from a shockproof, high-impact plastic material. This is the same material as their original Tackle Box which is one of the most popular on the market.
Overall, a popular mid-sized tackle box capable of storing a little bit of everything. Just remember that you're probably going to want to consider a lead pouch and extra rig board to go alongside it too.
---
NGT 7+1 Tackle Box
We've already mentioned how NGT entered the tackle box arena with the XPR as a competitor to the Tacklesafe.
The budget-friendly manufacturer has added another box to their range in the shape of the 7+1 Tackle Box. It's certainly a contender for the best tackle box for carp fishing, if you're looking for something that can hold a lot of tackle. (And doesn't cost the earth too).
At 36.5cm in width, 29cm deep and 6cm high, you get plenty of room in the 7+1. It's wider and longer than the RidgeMonkey Armoury, but falls down slightly on the depth of the inner compartments.
Lots of internal storage
As you can see from the photos, this tackle box is more of a traditional single lid style. It's closest competitor on this list is the Wychwood Large Tackle Box.
They're both pretty similar, being constructed from tough shatter-proof ABS. Benefitting from plenty of internal storage, the 7+1 has 16 removable inner walls, allowing you to adapt this box to however you see fit. That's a lot more removable walls that the Wychwood Box.
However, I would say that you can feel a slight quality difference between these boxes. For instance, the plastic on the NGT just feels a bit 'rougher' on the edges. That being said, it won't affect how it's used though, and the inner walls remain firmly in place during use.
When it comes to securing the 7+1, you've got two clasps on the front. They are quite basic, however do the job. Comparatively, they don't give that solid clamp down feel that you get with the locking mechanism on the Wychwood Tackle Box.
Additional rig board included
Where the 7+1 really comes into it's own is with the additional included storage items. For example, you get 6 small inner boxes and a full sized rig board included. Additionally, they all fit perfectly within the box too, meaning that you've not got to carry multiple pouches and rig boards.
NGT have put some thought into the micro compartments too, ensuring that they have a beveled edge. As a result, it's much easier to pick out smaller items like swivels and beads.
In summary, the 7+1 proves to be an ideal choice for those looking at an all-in-one solution that won't break the bank. In fact, at less that £20, we'd say that this carp tackle box is a bit of a steal!
---
Trakker NXG Tackle Pouch
The NXT Tackle Pouch is a compact, customisable tackle solution from the team at Trakker.
Trakker have taken a different approach with their tackle storage, producing an all-in-one pouch rather than a traditional solid box.
Constructed from the same material as the rest of their NXG luggage, the pouch is hard-wearing and waterproof/wipe clean on the base. This means you can stash it on the floor under your bedchair without any worry about your rig bits getting wet.
Inside the pouch itself, you've got a multitude of compartments. The main compartment is split into 5 sections by removable dividers. Similar to the Thinking Anglers Tackle Pouch, these can be quickly removed to customise the sections to your needs.
Although Trakker market this as 'compact', there is a fair bit of size it. With dimensions of 22cm x 22cm x 7cm, you've got plenty of room to store all of your tackle, minus any made up rigs.
Being a square pouch is quite handy too, as it still fits into a compact rucksack unlike some of the larger, rectangle boxes we've features in this guide.
24 piece tackle packet flap
Undoubtedly the main feature of this tackle pouch is the integral flap. It runs through the centre of the pouch and enables you to store up to 24 rig packets. This is a great solution for being organised and keeping all of your bits to hand.
However, just be aware that the pockets are quite narrow so they only work with the Korda/ESP micro tackle pouches. Anything bigger and you might struggle to get them in.
In summary, it's a tidy tackle pouch which can swallow a load of tackle and help to keep you more organised on the bank. A solid contender to the Thinking Anglers Tackle Pouch.
---
Comparing Compact Tackle Boxes
Let's take a look at how the compact tackle boxes in this guide stack up:
| Specification | Korda Tacklesafe | NGT XPR Tackle Box | Thinking Anglers Compact Tackle Pouch |
| --- | --- | --- | --- |
| Material | Plastic | Plastic | 600D Material |
| Compartments | 29 | 29 | 5 |
| Size | 24cm x 13cm x 4cm | 24cm x 13cm x 4cm | 26cm x 15cm x 8cm |
| Customisable | ✘ | ✘ | ✔ (main compartment) |
| Integral Rig Board | ✘ | ✘ | ✘ |
| Ruler Guide | ✔ | ✔ | ✘ |
Comparing Large Tackle Boxes
If you're looking at the large tackle boxes we've covered in this guide, here's so of the specs worth noting:
| Specification | Wychwood Tackle Box | Korda Basix Tackle Box | RidgeMonkey Armoury |
| --- | --- | --- | --- |
| Material | Plastic | Plastic | Robust ABS |
| Compartments | 6 | 21 | 29 |
| Size | 34cm x 25cm x 6cm | 24cm x 12.5cm x 5.5cm | 35cm x 19cm x 10.5cm |
| Customisable | ✔ | ✘ | ✘ |
| Integral Rig Board | ✔ | ✔ (8 rigs) | ✔ (3 rig boards) |
| Ruler Guide | ✔ | ✔ | ✔ |
---
What to look for in a carp fishing tackle box
Size
First and foremost, you're going to want to make sure that your carp fishing tackle box is big enough to fit all of your terminal tackle. Take everything out of your current box to get an idea of the amount of gear you take before buying a new one.
Alternatively, this is a great time to refine your gear to take just the items that you really need. We're all guilty of taking too much tackle. When was the last time you used a full packet of swivels or rig beads on a single session?
When I was younger I was guilty of taking too much tackle. It was only when I actually settled on a few carp rigs that I was able to refine my gear, cutting it down by about two thirds.
MORE READING: What size hooks for carp? + how to choose the right pattern.
Customisation
When it comes to organising your carp tackle box, every item should have it's own place. This will differ from angler to angler though. Some will want easy access to hooks, swivels and the like. Or you may have fingers like sausages that make it near on impossible to pick up rig beads.
That's where I think it's important to consider a tackle box for carp fishing that has an element of customisation to it.
Most of the higher end tackle boxes allow you to change compartment sizes or remove them completely. This is something to think about if you want to keep refining how you use your gear.
Does it need to hold everything?
Think about whether your tackle box actually needs to hold all of your rig items including leads and tied up rigs.
For example, I like to use a separate case for leads and a separate board for tied up rigs and chods.
Personally I think this just makes things a little easier when I'm out fishing. It's much easier to grab a lead out of a small lead case rather than grabbing an enormous tackle box and rummaging through it like I used to do.
I also don't have any tools in my tackle box either these days. These stay close to hand in the top compartment of my Trakker bucket, which also doubles up as a bivvy table.
Waterproof
If you're someone who likes to keep your PVA bits and bobs in amongst your tackle box, you're probably going to want something that is waterproof.
This was important for me as I'm regularly out on day sessions uncovered or stashing my tackle box on wet ground under my bedchair. Luckily there is a great range of waterproof tackle boxes available now with the influx of EVA carp products that have hit the shelves.
What happens when someone else buys you a tackle box…
My work colleagues chipped in and bought me a tackle box for as a carp fishing gift once. Not knowing their Korda's from their RidgeMonkey's, I ended up with this…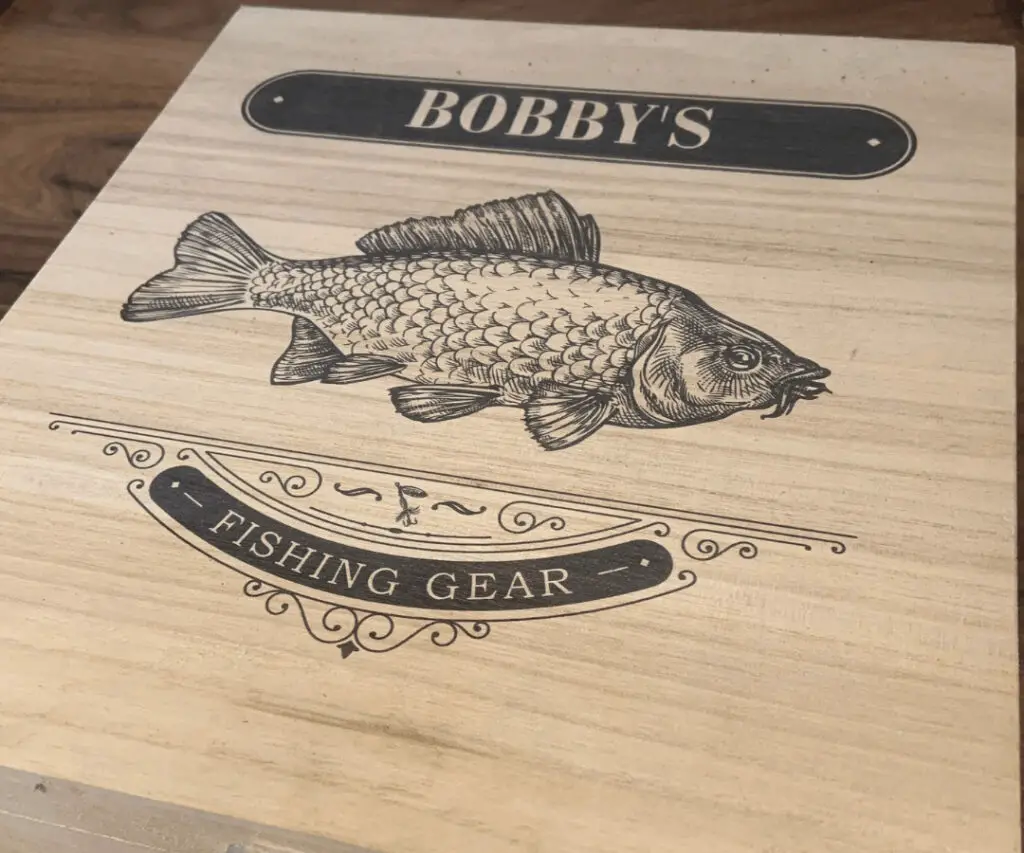 Not something I'll use on the bank but its great for storing leads at home!
Summary – Best tackle box for carp fishing
Thanks for reading our guide to the best tackle box for carp fishing. Hopefully we've given you a better understanding of some of the more popular tackle boxes available.
Whilst you're here, don't forget to subscribe using the box below, to continue receiving more best buying guides and tried n' tested reviews.
---
About the writer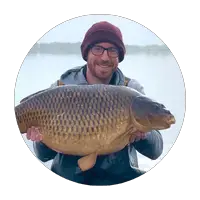 Rob W
I'm Rob, Carp Squad's main contributor. I've been carp fishing on and off for 15 years, but the bug is well and truly back at the moment. Hopefully the articles I write on here help you put more carp on the bank.