This week on our tried and tested carp gear reviews, we're taking a closer look at the Cygnet Quicklock Pod. I spent a lot of time searching out a pod that was right for my needs, and two years ago I settled on the Quicklock due to the versatility that it offers as a lightweight carp rod pod.
After 2 years of use, I now feel that I'm in a great position to give a detailed review of the Cygnet Quicklock for anyone who may be considering it as their next compact rod pod.
The Cygnet Quicklock pod is a super compact, quick setup pod, designed to work in tandem with Cygnet's very popular range of 20 20 banksticks and buzz bars. As the name suggests, it is designed to be quick to setup, offering a stable base for you to fish from on hard ground, when you don't want to be banging in sticks.
Use the links below to jump to each section of this review…
Why you should trust us
I've tried and tested the Cygnet Quicklock for the past two years. I'm not an every day pod user, but this gets whipped out whenever the ground is hard. This has been quite frequently over the past couple of years due to fishing a local park lake. I hate mallets and would rather carry a compact pod for when it's too hard to get my Cygnet buzz bars in.
I have no affiliation to Cygnet in any way so this review is completely my own. Hopefully it can help you make the decision on whether this is the right or wrong product for you.
If you're not aware of our tried and tested reviews on Carp Squad, they are exactly what they say they are; no sales pitch, no sponsorship, no BS. Just gear that we've put through their paces over sufficient periods of time.
---
Size – Compact Rod Pod
Rating: 5/5
Looking at the size of the Cygnet Quicklock rod pod for the first time, you'll be blown away by how small it is. But don't let this fool you, when set up it's as big as some of the other leading brand rod pod on the market. The compact size when it is packed down is genius really.
It's all down to Cygnet's expert designers who have taken the centre piece of the pod and redesigned it. Instead of it being just 1 extending central bar, cygnet have included 3, almost like a telescopic pole. What this has done is enable a standard length pod to be packed down into a tiny frame which features some handy twist mechanisms to keep everything in place. I haven't measure it properly but I would guess when packed down, the overall length of it packed down is around 35cm!
The compact nature of this pod is the main reason I purchased it. I didn't want something cumbersome that needed it's own large padded bag and extra space on the barrow; I wanted something that could fit in the rod holdall or on top of my Saber Rucksack. I don't use it on every session either, if I can get the banksticks in then that is what I'll use. For that reason, having something compact for them 'what if' moments was key, and the Cygnet Quicklock has proved perfect for that.
In terms of its overall length, it's more than long enough for your to be able to get your butt rings behind the alarms if needed. The legs are small but all adjustable with more than enough to steady the pod on uneven ground.
As I say, size when transporting is the main reason I chose the Quicklock. When it comes to packing it down, it couldn't be simpler (or smaller!). Simply flick the legs back in, unloosen the middle two twist locks and thats it.
---
Material & Durability
Rating: 4/5
When the word compact, or lightweight comes to mind, it is often followed up by a sub par product in terms of durability. Well I can hands down say that isn't the case for the Quicklock. To be honest I wasn't expecting it to be either, as Cygnet have built a name in providing high quality banksticks and buzz bars for years.
The Quicklock pod is actually made from the same 16mm material as their ever-popular 20 20 banksticks and buzz bars. These are what I use with the pod itself and I can confirm it's in every way as well made. Cygnet are well known for creating hard wearing goods, including carp barrows, fishing head torches and other bankwear items.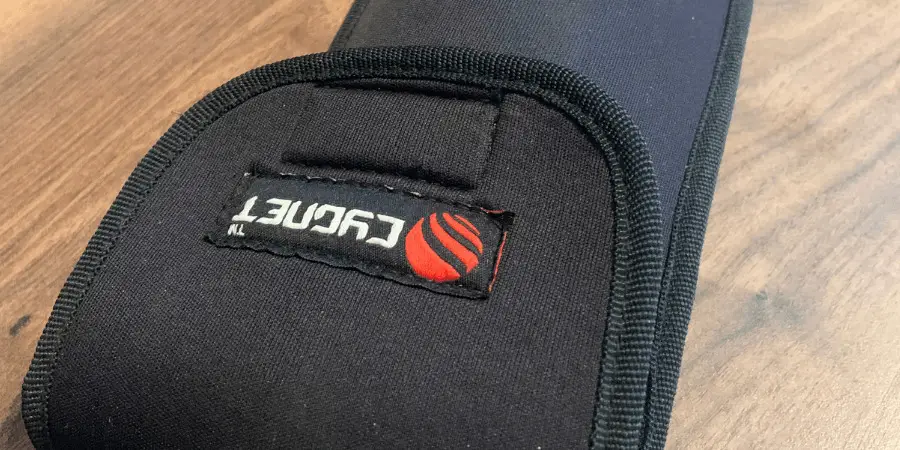 There is some plastic at either end of the telescoping central section, but you can tell it's extremely hard wearing and will stand the test of time. The quicklock is solid where it matters most; the thumbscrews and adjustable legs that are likely to be resting on the solid floor.
Like all matte black banksticks though, you can't get away from the usual scratches that happen in terms of wear and tear. – So don't expect the bottom of the legs to be flawless after a few sessions.
---
Stability
Rating: 3/5
Again, with this being a compact rod pod, you would expect it to not be as stable as others on the market. I had already accepted this ahead of buying, knowing that I'll be using around 50% of my fishing time. How wrong I was!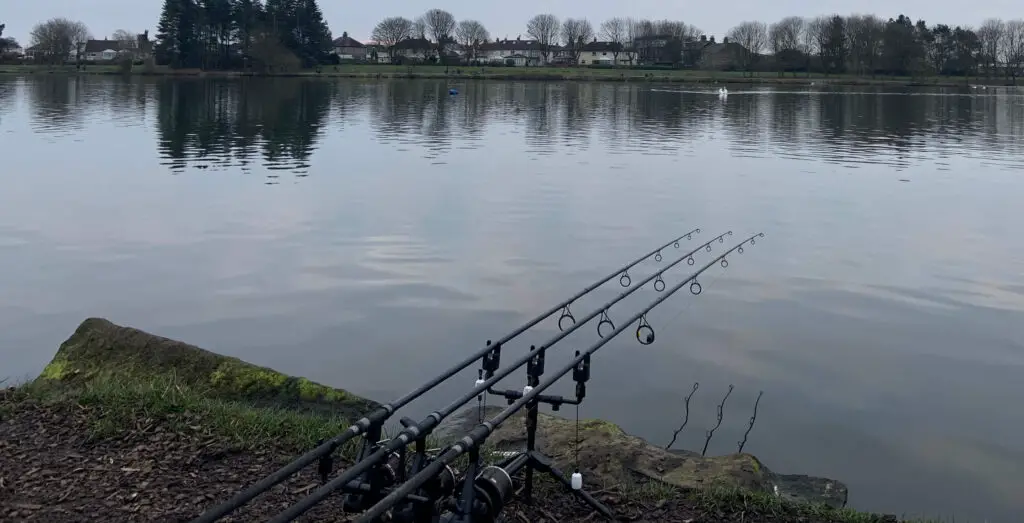 This thing is rock solid. Cygnet have got it just right in terms of the balance of this pod. Not once have I had this tip over on a harsh take, unlike some of the lighter pods that I have witnessed such as the Saber Terrain Rod Pod.
I think it's to do with the way the legs splay out. They go out diagonally rather than parallel to the buzz bars, so as to widen the surface area effectively.
I have used cheaper pods that follow a similar set up to the Cygnet Quicklock and I find that most of the instability comes from the poor thumbscrews. That isn't the case for the Cygnet gear, which uses their no-loss thumbscrews as seen on the rest of the 20/20 range. Trust me, tighten these once and the whole thing is rock solid.
With the Quicklock pod, you do have to use it with their 20/20 banksticks and buzz bars, but I think this adds another dimension of stability. Where similar pods have an upright that just screws in, the Quicklock has a hole with a thumbscrew to push your bankstick all the way through. Once you've don't this, you effectively have 6 legs, further adding to the solid base.
Personally, I use it with 2 x 9 inch 20/20 banksticks and their swan neck buzz bars. Not only is it solid, it looks good too!
---
Versatility
Rating: 5/5
I think I've made it clear that the main reason I chose the Cygnet Quicklock Rod Pod is for the versatility and compact size. The fact that it works straight away with my existing buzz bar set up is a bonus. It's almost like carrying half a pod for the times when you need it. Plus I couldn't think of anything worse than having to remove my alarms to then set them up on pod when the ground is hard.
The Quicklock is so easy and from what I can see on the market, there is nothing to match it if you are looking for a versatile carp fishing rod pod.
As you've probably already guessed, one slight downside is the fact that you need the 20/20 buzz bars and banksticks to use with it. – And these have been quite hard to come by since the Covid-19 Pandemic.
Cygnet have recently overcome this by supplying the pod in a full kit now.
Already got cygnet buzz bars and bars? Buy the pod base on its own here.
Need a full rod pod set up? Buy the full Quicklock Pod Kit here.
And just to confirm, the Quicklock can be used with either two or three rod buzz bars. I've only ever used it with three rods and found it really stable.
---
Other Pods to Consider
By now you might have a good idea of whether this rod pod is right for you or not. There are some times when it won't be ideal, so here are some alternatives.
You want a goal post style pod
Naturally some people want a goal post style rod pod. Typically they add more stability, particularly when fishing locked up as they are less likely to twist. They also have a lower centre of gravity which can improve stability as well.
If a goalpost style pod is what you're looking for, it is worth looking at the well-reviewed Cygnet Compact Pod. It's just as compact as the Quicklock, and made using the same materials we've covered in this review.
It also has the benefit of using the Cygnet 20/20 range so you've still got the versatility of using the setup as traditional goalposts or single sticks.
You want pegging points on your pod
We previously mentioned that one downside to the quicklock is the lack of pegging points. For some this is a deal breaker, particularly if you're fishing on wooden platforms locked up.
An alternative is to bungee cord it and peg it down that way, but if you want something neater, then a pod with pegging points is the way to go. In this case we recommend the Jag Nano Pod. It's of a similar design to the quicklock too, so you still get that compact pack down and versatility of using buzz bars. It is twice the price though, so that's something to bear in mind!
---
Comparing Cygnet Pods
| Specification | Cygnet Quicklock | Cygnet Compact Pod |
| --- | --- | --- |
| Price | £70 – £90 | £80 – £120 |
| Pod Type | Buzz bar type pod | Goalpost type pod |
| Weight | 617g | 465g |
| Compatibility | Cygnet 20/20 range | Cygnet 20/20 range |
| Adjustable | Yes | Yes |
| Materials | Matt black anodised aluminium, plastic joints, neoprene case | Matt black anodised aluminium, plastic joints, neoprene case |
---
Cygnet Quicklock Photos
---
Pros & Cons
Pros
Ultra compact size
Weighs just 600G
Doesn't require additional buzz bars/goals posts or uprights if you already use the 20/20 sticks and buzz bars
Fully extendable
No-loss thumbscrews throughout
Neoprene bag included
---
Cygnet Quicklock Rod Pod Review Conclusion
The Cygnet Quicklock Pod has been designed to be a compact addition to your armoury if you need a pod to overcome some hard ground. There aren't many carp rod pods on the market that offer this level of versatility, working alongside one of the best buzz bar/bankstick set ups in Cygnet's 20/20 gear.
Obviously there are more expensive, heavier, ultra sturdy stainless steel pods on the market which may be more suitable if you like to set up and wait it out. If like me though, and you like to move regularly in a session, the Quicklock is great to pack up quickly and move with. Personally, it's been one of my best purchases in recent years, and hopefully I can get many more years of use out of it.
---
Where to buy Cygnet Quicklock Pod
If you're looking to purchase the Cygnet Quicklock Pod, you can do so via most Cygnet/Trakker Stockists. Almost all of them sell via eBay or Amazon and this is where you can often find the most competitive pricing.
eBay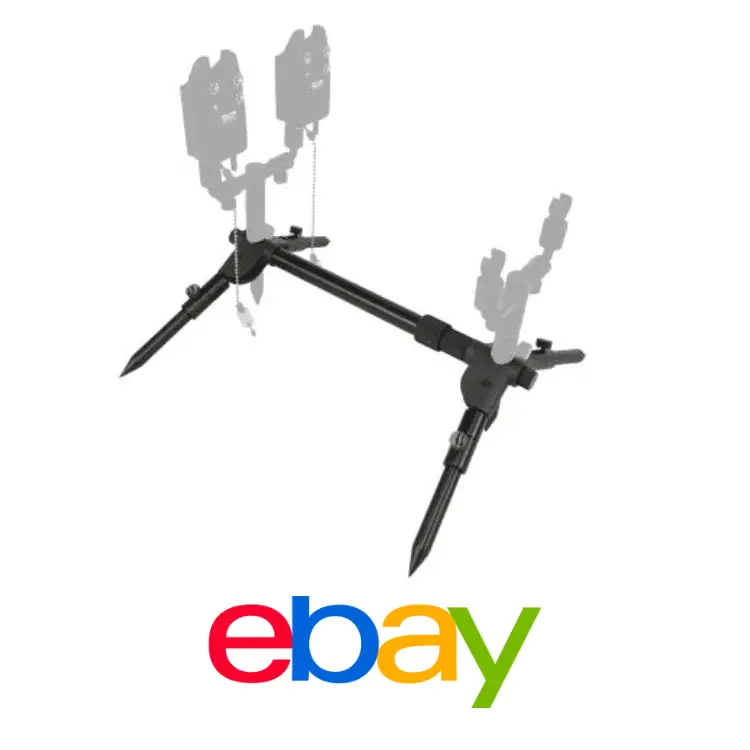 Amazon
---
About the writer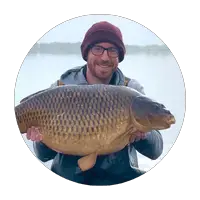 Rob W
I'm Rob, Carp Squad's main contributor. I've been carp fishing on and off for 15 years, but the bug is well and truly back at the moment. Hopefully the articles I write on here help you put more carp on the bank.