On the lookout for some new metalware that'll keep your carp setup feeling solid as a rock? We've got you covered. Let's check out the best bank sticks for carp fishing!
Whilst not the most popular, bank sticks still have their place in many anglers setups. Giving you plenty of flexibility, bank sticks can be used on their own or combined with buzz bars or goal posts.
The adjustable nature of bank sticks makes them great for uneven swims. Likewise, they're perfect for when you may need your rods out at varying angles to improve line lay around weed and snags.
Despite the increasing popularity of rod pods, bank sticks still have their place. In short, it's always worth having some amongst your gear in case you ever need them.
Which are the best though? Let's take a look as we go through the best bank sticks for carp fishing.
Cygnet 20/20 Bank Sticks
Cygnet made their name crafting quality carp fishing bank sticks, so they had to make this list. The 20/20 range is loved by anglers looking for lightweight, yet sturdy bank sticks.
Not only that, but they look the part too. With a matt black anodised finish, they have that old school look that many anglers are trying to achieve. In other words, they don't look out of place alongside some Shimano Tournament 5000T's!
From a spec, point of view, they're pretty solid too. Boasting a sharp inner point, they're relatively easy to penetrate hard ground. That's despite them being 16mm thick too. – Which also adds to the carpyness in my opinion!
The 20/20 range is not just sticks though. For that reason, these are excellent for those who like to chop and change between a pod, bank sticks or buzz bars.
Personally, I use these as my main rod support. In addition, I carry the Cygnet Quicklock Pod which works alongside these bank sticks for fishing swims with harder ground.
Solar Tackle P1 Bank Sticks
Ask any old time carp angler about the best bank sticks and no doubt the brand Solar Tackle will be mentioned!
These P1 sticks from Solar have stood the test of time for years, with many anglers still using the originals. However, Solar Tackle have improved their bank sticks in recent years.
Not including their unique diamond cut locking system, these bank sticks require no traditional thumb screws. Solar claim that this is much more efficient, reducing thumbscrew snags and improving locking strength.
As you would expect from any stainless product, these are incredibly hard-wearing. In addition to the new locking mechanism, Solar has improved the spike too. However, if you still find them too hard to push into the ground, you can always paid them up with the super-stable Worldwide Pod.
Bear in mind though, they're not the cheapest bank sticks, but you get what you pay for.
AVID Carp Lok Down Bank Sticks
AVID dipped their toes into the world of bankware a couple of years ago and they've done surprisingly well.
Their new Lok Down range covers everything from banksticks, to stage stands and a feature-packed rod pod. From reading reviews online, the range has stood the test of time, despite bank sticks starting from as little as £10.99.
Now for that price, you can't expect the finest stainless.
However, these are constructed from a high-grade aluminium. Aluminium bank sticks are becoming more popular now as anglers look to reduce their gear and travel lighter.
Look's wise, they're finished in a matt black style, very similar to the Cygnet Sticks, but not as thick.
There is one major stand out in the Lok Down range and that's the locking mechanism. Avid have incorporated a cam-lock style latch which asserts pressure on the inner stick when closed.
Apparently it provides a much more solid hold over traditional thumbscrews.
JAG 316 Bank Sticks
JAG have carved out a name representing quality in the carp fishing market. Their range of banksticks, rod pods and associated accessories is incredibly well-made.
The new updated 316 range is no different either. Manufactured from the highest quality marine grade stainless steel, these are built to last a lifetime.
The major benefit of these sticks is the machined diamond shaped point. Where you may struggle to push traditional banksticks in the ground, you'll have a better chance with these.
With the diamond point, you can really grind these into the ground without any fear of scratching or breakage.
Additionally, JAG have incorporated their tried and tested 'no-loss' thumb screw to eliminate twist. (Handy when you're fishing close to snags!)
Fox Black Label Bank Sticks
Fox Black Label sticks have definitely been a hit since their launch a few years ago.
Manufactured from 16mm anodized aluminium, they're strong, yet lightweight. For that reason, they're ideal for anyone who likes to travel light when carp fishing or fish off the barrow.
Not only that, but they look the part too. Like the Cygnet sticks, they won't look out of place if you're prefer the old school reels and full duplon handles.
Where these sticks really come into their own is with the locking mechanism. Fox were pioneers of the camlock system on their bivvies and they've now incorporated it into these bank sticks.
What you're left with is a very solid set up, with minimal twisting which is ideal if you want to pair these with buzz bars.
Fox Black Label also comes in a quick release (QR) version too. This is essentially an adapted thread at the top that allows you to easily pop your bite alarms or rod rests off, without having to twist them. This is ideal if you're someone who likes to store your bite alarms and receiver in a presentation case after every session.
Conclusion
There you go, we've covered the best bank sticks on the market right now. In our opinion, all of the ones listed are quality products.
Like most things, it's all about personal preference and how you like to fish. In terms of versatility and value-for-money, the Cygnet 20/20 range just wins it for me. By coupling the 20/20 sticks with the swan necks and super-lightweight quicklock pod, you're left with a setup for all eventualities.
Either way, I'm sure you won't go far wrong with the other products listed on here!
About the writer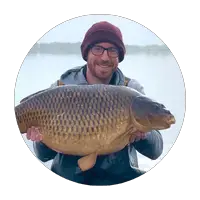 Rob W
I'm Rob, Carp Squad's main contributor. I've been carp fishing on and off for 15 years, but the bug is well and truly back at the moment. Hopefully the articles I write on here help you put more carp on the bank.