This month, we're committing to our long-awaited Shimano TX2 review. Whenever I'm fishing, I'm always asked my opinion on these Shimano carp rods.
When I was looking for a mid-priced rod that didn't look cheap, the Shimano TX2 stood out instantly amongst many others in the same price bracket.
They look like a rod of twice the price and after some deliberating, I took the plunge and ordered 3 of the 3.25lb TC variation. After 4 years of use, and no plans to upgrade just yet, I'm not in the perfect place to tell you my thoughts on these carp rods from Shimano.
Hopefully this review can help you make your mind up on whether they are the right rod for you too.
Use the links below to jump to each section of this review…
---
Why you should trust this Shimano TX2 Review
I've been using the Shimano TX2 Carp Rods for 4 years as my main set of rods. I'm in no way affiliated with Shimano so everything I write in this blog is completely my own opinion. I just want to make sure that anyone considering these rods has a clear understanding of their pros and cons before parting with hard-earned cash.
The tried and tested reviews on Carp Squad are exactly what they say they are: no sales pitch, no sponsorship, no BS. Just gear that we've put through their paces over long (ish) periods of time. That's what allows us to put together helpful guides like this Shimano TX2 Review
---
Casting Performance – Shimano TX2
Rating: 4/5
Let's start off with one of the key considerings for me purchasing these rods; casting performance.
I fish large lakes regularly so despite my small budget, I was in need of something that could cast a decent lead or solid bag to the horizon if that's where the fish are holding up.
For this reason, I opted for the 3.25lb which gives enough backbone for launching solid bags, without it feeling too much like a broom stick.
Whilst I am no pro distance caster, I have been able to achieve up to 28 wraps comfortably with the Shimano TX2's. When hitting the distance, the rods feel solid which definitely helps in giving you the confidence to really follow through with the cast.
I've used other budget rods in the past and they just don't feel like they're strong enough for solid bag work. The Shimano TX2 certainly work for me in this regard. A lot of my fishing revolves around 3oz leads and ESP mini solid bags filled with pellet.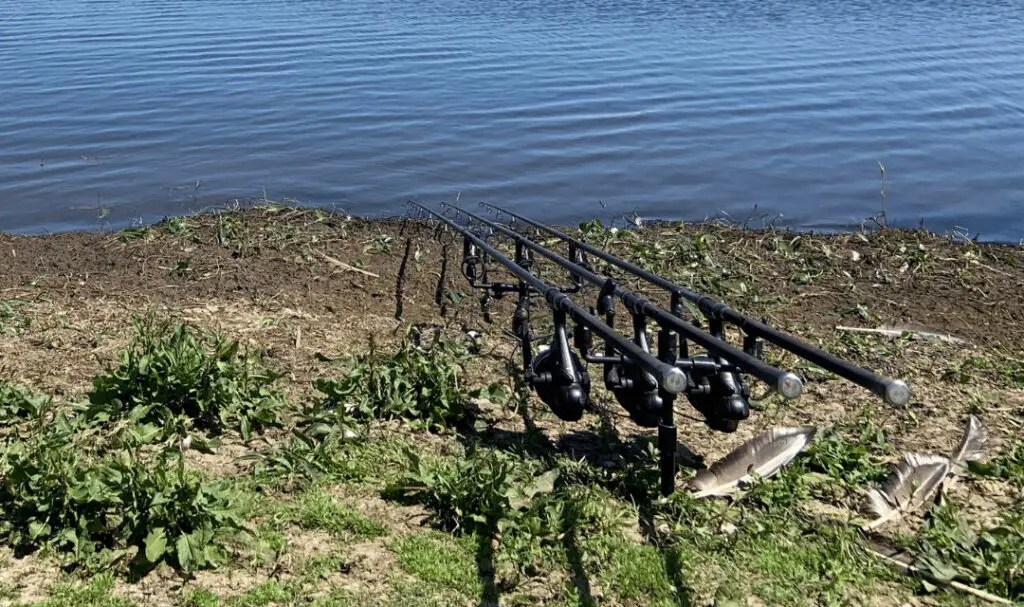 You need a good technique with these rods
One thing I have found is the more budget friendly your rod is, generally the more you need to rely on casting technique, particularly for distance. I have found this to be the case with the TX2's. They take a lot of power to compress them fully and truly get the optimal distance you need.
The tip recovery isn't as fast as some of the higher prices rods on the market.
They are capable of hitting the distance, but just be mindful that these rods won't magically turn you into an amazing distance angler. You'll still need to perfect your technique, perhaps a little bit more so than if you have a £300+ carp rod.
I've tried my friends Free Spirit distance rods and it took a lot less effort to reach over 100 yards. Whilst they are in a completely different league altogether, I would still recommend the TX2s if you need a budget rod capable of hitting the distance.
What test curve is available in the TX2?
The Shimano TX2 comes available in nine different models to suit various angling situations. Whilst I have heard excellent reviews for all variations, I can only solidly provide this review based on my choice of the 12ft 3.25lb test curves. Here are the options available to you:
10ft 2.75lb
12ft 3.5lb
10ft 3lb
12ft 3.25lb
11ft 2.75lb
12ft 2.75lb
12ft 3lb
13ft 3lb
12ft Intensity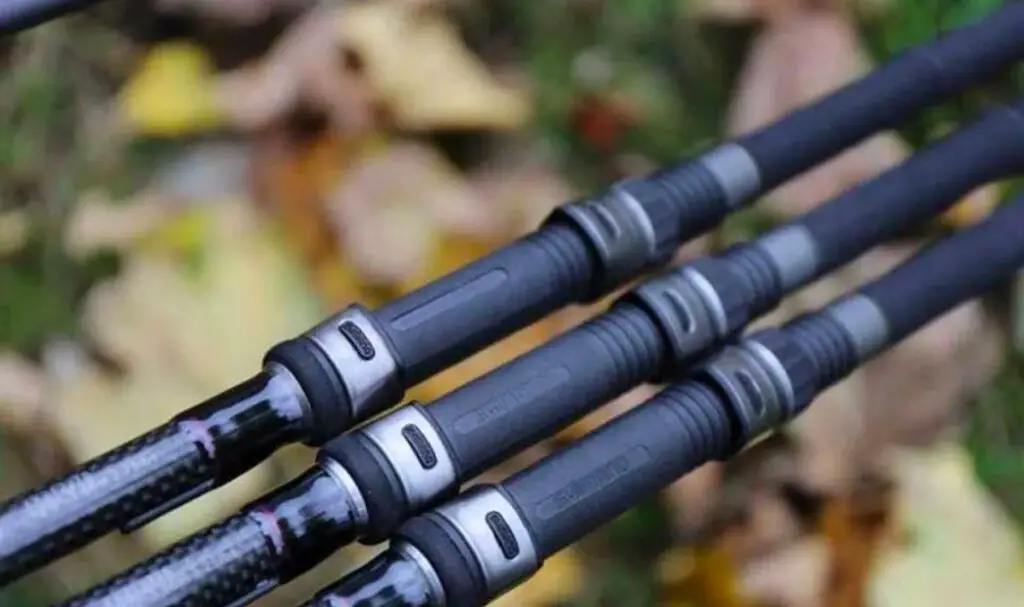 ---
Durability
Rating: 4/5
Durability probably isn't the highest priority for your choice of rod but if you're someone who doesn't look after their gear, it could well be.
Personally, I'm not someone who looks after my gear. Rods will often find themselves thrown on the floor, piled on top of the carp barrow or just generally being squeezed into the boot of my corsa!
You certainly won't see me with one of them rod butt cups to look after the base of the rod either! For that reason, durability when it comes to the choice of my carp gear is imperative.
Overall, I've been quite pleased with the TX2s in this regard. Despite being battered, they still look pretty decent and get looks from the odd tackle tart when they walk through the swim!
The shrink rapped base has maintained its smart finish, with minimal scratches or bumps.
On the base of the butt section there is a stainless steel cap. Mine are pretty scratched from leaning them on concrete jetties, but that's no more than standard wear and tear.
DPS Reel Seat
I have had carp rods in the past where the reel seat begins splitting in places. This hasn't happened on the TX2s and overall, the reel seat looks like a really durability section of the rod.
Even after 4 years of use, the screw fixtures that secure the reel are smooth and working as good as they did when I first put on my Daiwa Embelm Blacks.
Rings and Guides
If there's one area where I've had a problem with these rods, it's the eyes and guides. On occasions, I have opened up my rod sleeves to find slightly bent guides. In one instance I did find that the butt ring ceramic had smashed on one of the rods too.
Now it would be wrong for me not to include that in this Shimano TX2 review, however, I don't think it should deter your from choosing these rods.
Like I say, I batter my rods and often have them squeezed in between the front seats of my Corsa. The eyes really are susceptible to damage in the way that I treat them, so this shouldn't come across as a negative about these rods.
Overall, the guides seem pretty strong, much stronger than the lightweight guides that can be found on more expensive rods as a way of making them lighter.
On a positive note, when I did break the butt ring ceramic, it was an easy fix with a quick order and self fit from eBay. If you've stumbled across this blog looking for a new butt ring for your Shimano Carp Rod, check these out here.
How many rings & guides on the Shimano TX2?
The Shimano TX2 has 6, double-legged guides including an oversized 50mm butt ring and a 16mm anti-frap tip ring.
The importance of good rod sleeves
After my mishap smashing a butt ring, the only piece of advice I can give is to make sure that you invest in some high-quality padded rod sleeves.
I personally store mine in NGT rod sleeves which are nothing more than material protecting the rods. Next on my shopping list and our carp gear reviews will be some high-quality luggage. Watch this space!
---
Fish Playing
Rating: 4/5
Now it can be easy to go for the best distance casting rod, but they are not much fun if you can't feel the fish on the end.
This was one of my biggest worries when I came to upgrading from my small water 9 foot dwarfs to the beefier TX2 carp rods.
Whilst you can't get away that they are a much stiffer blank, I have been quite impressed with their fish playing action. The tip and mid section work well to take on the power of any lunging carp and I've never felt like the rod is too stiff and will hinder landing a carp in any way.
In fact, since getting these rods, I've lost only 3 fish in the last two years. Maintaining hook holds is definitely to be worried about if you feel apprehensive about going up to a test curve of over 3lb.
Whilst they won't bend like a 6 foot scope, they certainly don't take the joy out of actually hooking and landing a carp!
---
Looks & Feel
Rating: 5/5
It would be hard to finish this Shimano TX2 Review without mentioned the sleek, modern look of these rods. Ask anyone about the Shimano TX2 and they will surely mention how they look like a rod for twice the price. This is definitely true after comparing them against multiple other rods in the tackle shop.
Despite being only around the £70 mark, they really do stand out. The first thing you'll notice is a very sleek design, encompassed by the handle.
Instead of going for full duplon or split wrap, Shimano have gone for a slimline wrap that goes from the reel seat to the butt section. It really does feel like an expensive rod, and the sleek finish provides an excellent grip when you're lining up a big cast.
In addition, Shimano has included a slight lip behind the reel seat which stops the rod slipping if you've got the tips facing down in the water. – A nice touch that you wouldn't expect to see on a rod of this price.
In terms of the finishing, Shimano have kept it subtle and minimalist. Throughout the rod you will finalist minimal decals and small flashes of pink whipping above the reel seat and around the eyes.
---
Other Carp Rods to Consider
After reading this Shimano TX2 review, you will in doubt have a better understanding of whether this carp rod is right for you or not. Here are some examples of why you may want to consider other carp rods:
You will be distance casting 90% of the time
Like I've already mentioned, the TX2s are capable of hitting range with the right technique, however distance casting is easier with more advanced casting rods.
If you are looking at fishing at extreme ranges for the majority of your fishing, you may want to increase your budget and opt for a tried and tested range rod like the Avid Amplify Carp Rods.
You want a full duplon grip
Some people prefer the full duplon, old school grip at the base of their carp rods. The TX2s do not come in a full duplon version, in which case you may want to consider the Wychwood Extremis FD.
Shimano TX2 Photos
---
Pros & Cons
Pros
Sleek, modern look
Budget-friendly
Integrated line clip
Multiple variations available
Sleep, wrapped grip
Stainless steel butt cap
Oversized 50mm butt ring
Minimal branding and finishing
Cons
Not the fastest tip recovery
Good technique required to get the most from their distance capability of the higher test curve models
---
---
Conclusion – Shimano TX Review
When it comes to a budget carp rod, there are plenty to choose from. However, it's quite easy to see the quality difference in this price bracket. You either get some rods that look and feel extremely cheap, or some which seem to be of a slightly higher quality.
The TX2 is the latter, and you certainly won't be disappointed by investing in these rods. For me, they've served the purpose of giving me that extra backbone to hit the distance should I need to. An excellent purchase and a set of rods that I will use for years to come.
---
Where to buy the Shimano TX2
eBay
Amazon
---
About the writer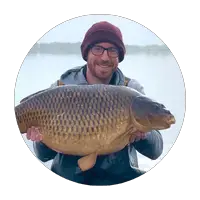 Rob W
I'm Rob, Carp Squad's main contributor. I've been carp fishing on and off for 15 years, but the bug is well and truly back at the moment. Hopefully the articles I write on here help you put more carp on the bank.