This week for tried and tested, we've put together our eagerly anticipated Saber Rucksack Review. After 2 years of use (and abuse) I'm in a good position to tell you the pros and cons of the Supra Compact rucksack from Saber.
The Supra Rucksack is a short session rucksack designed specifically for short sessions or roving anglers. Marketed as a compact rucksack, it's just enough to keep all of your essentials for an overnight session.
Let's jump into the review.
Why you should trust us
I've been using the Saber Rucksack for over two years as my main carp fishing rucksack. I have no affiliation to Saber as a company, so this is a completely impartial review. As a carp angler I don't look after my gear at all, so most of the gear that I use gets its fair share of abuse.
If you're not aware of our tried and tested reviews on Carp Squad, they are exactly what they say they are; no sales pitch, no sponsorship, no BS. Just gear that we've put through their paces over sufficient periods of time. That's what allows us to put together guides like this Saber Rucksack Review.
Size
Rating: 5/5
I'll cut to the chase. If you're someone who takes the kitchen sink, and you want a single rucksack for it all, then this is not for you. 
The Supra is a compact size, perfect for day sessions, short overnighters or roving up and down the river bank. 
Despite being a compact fishing rucksack, I am quite surprised by how much I can actually fit in the Supra. My sessions are rarely longer than 12 hours and it has proved to be perfect for everything I take with me. 
The rucksack has 5 compartments in total; a main compartment with a valuables pocket and three large outer pockets. 
The main compartment is where I keep most of my gear. Measuring 30 x 33 x 26cm, it's a good size to fit your brew kit, lead pouch, rig boards and all of your other chunkier items. 
It's the outer pockets that I'm most impressed with though. On other carp fishing rucksacks I've used in the past, they usually lack depth and therefore end up being useless. 
The two side pockets on the Saber rucksack are especially deep. To give you an idea of size, I fit my Korda Compac 140 on one side and my Cygnet 20/20 buzz bars and bank sticks on the other (with alarms attached).
What fits in the Saber Compact Rucksack?
To give you a further idea of what fits in the Saber Compact Rucksack, here's what goes in mine:
Main Compartment
Front compartment
Left side compartment
Right side compartment
---
Durability
Rating: 4/5
Overall, the Saber rucksack is made from a durable material that has stood the test of time for me (and I don't look after my gear). After two years there is no wear to the outer material at all. 
There is a protective, waterproof base underneath too, to take the brunt of the wear when it's on the ground.
One of the main things to consider with a rucksack is the quality of the grab handles. The Saber Rucksack has three; one above the shoulder straps and two above the side pockets. This makes it really easy to lift on and off your carp barrow or out of the car.
The grab handles are well made and stitched, which is vital if you pack your rucksack as tight and as heavily as mine. 
Be sure not to lift the rucksack using the top compression strap though. I did this once and the stitching came away. It's by no fault of the bag though, as this is made to hold unhooking mats or jackets and not for lifting.
Zips 
Zips are obviously a key feature of any carp fishing luggage item. They are pretty standard on the Saber Compact Rucksack, albeit they haven't let me down yet. 
It would have been nice to see some toggles added as the standard metal can be quite fiddly to find and use in the dark. It's only a minor point and you've got to remember that this is a budget carp rucksack after all.
It's good to see that Saber has added plenty of protection for the zips though. All around the edges there are generous flaps which prevent any water ingress or mud getting stuck in the zips.
Padding & Comfort
Rating: 2/5
In my opinion, this rucksack is made for only short stints on your back. But hear me out…
It probably lends itself more to carp anglers who are wearing it whilst pushing the barrow to the swim, rather than long distance roving. 
For walking around to your swim, it's perfect, but for longer walks etc, I would opt for something that is built for that purpose. 
In terms of the padding itself, there is a large single foam section on the rear of the rucksack. To be fair, it's quite generous in terms of thickness. 
Where it's let down though is its shape. Along with the rucksack, it's all just very square, which doesn't really mould around your back like more professional roving/walking rucksacks.
The shoulder straps have minimal padding, however they are very adjustable which is a benefit.
My only other gripe with the overall padding and comfort area of this rucksack is the chest strap. It just sits a bit too high for my liking, making it quite unforgettable to use when the rucksack is fully loaded.
Saber Rucksack Additional Features
There are some features of the Saber Compact Rucksack which should be highlighted, aside from the standard areas we've covered in this Saber Rucksack Review.
Bankstick Holders
Saber have included some external bankstick holders to the rucksack which will be of use to any roving anglers. As the rucksack is free standing, you can also use these with your bite alarms intact as a makeshift rod pod.
It's an excellent feature for fishing canals or park lakes where you might just stick the rods out for a few years with minimal gear.
Top Strap
Not a very exciting feature but something I've certainly made a lot of use out of. On the top of the rucksack are two adjustable straps that you can use for unhooking mats, slings or other rollable items. 
I personally use it to store my Cygnet Quicklock Pod which is just as wide as the rucksack when packed down in it's neoprene sleeve.
Thinking anglers rucksack alternative
The eagle-eyed amongst you may have noticed that this rucksack is almost identical to the very popular Thinking Anglers Rucksack. 
I would maybe go as far to say that it is probably made in the same factory. 
When you match them up, there is minimal difference, both in terms of quality and design. 
Both rucksacks have the same shape, storage space and padding on the shoulder straps. There are only a few differences.
Firstly, there are some non-removable dividers in the main compartment on the Thinking Anglers version. In my opinion, this is a downside as it makes the main compartment less versatile.
Thinking Anglers have also tried to upgrade their design in 2022 to include an extra pocket on the top. It's definitely an advantage having an extra pocket for valuables at the top, but you can be the judge on whether that plus the TA branding is worth an extra £30.
Other Rucksacks to Consider
After reading this review, you've probably got a better idea of whether this rucksack is right for you or not. Here are some instances when you might want to look at other solutions:
You need a bigger rucksack
The Saber Rucksack certainly fits within the compact category. As I listed above, you can get a fair amount in it for an overnighter. That's pretty much at full capacity though.
If you want to take more bulkier items fishing, you will want to go for something with some more internal space. In this case, we recommend taking a look at the Trakker NXG Rucksack.
At 50 litres, it takes nearly twice as much as the Saber in the main compartment. You've also got the addition of two extra pockets and a removable rig tray too.
You need more back support
You'll see that we've touched on the poor support that this Rucksack offers, and the way the chest strap is too high. For me personally, I can put up with this for simply walking to the swim. However, if you want to do longer walks or roving along a river bank, you may want to opt for another rucksack.
Our recommendation in this instance is the Nash Scope Ops Rucksack. This has been specifically designed for longer stints on your back. The Scope Ops features two padded sections on the rear and thicker, more robust shoulder straps which should feel more comfortable on longer walks.
Saber Rucksack Review: Images
Pros & Cons
Pros
Cheaper alternative to the Thinking Anglers compact rucksack
Large external pockets
Generous main compartment
External bank stick holders
Top straps for unhooking mat or rolled up clothing
Hardwearing base
Free standing
Available in DPM or olive colour
Cons
Chest strap too high
Shoulder straps could use more padding
Not moulded to your back
No hip support
Saber Rucksack Review Conclusion
The Saber Rucksack is a compact fishing rucksack which has taken a lot of abuse from me in the past two years. 
In a rather crowded carp luggage marketplace, it stands out as offering excellent value for money in my eyes. 
If you like to keep your gear and sessions to a minimum, it offers enough space and versatility to cover a these situations. Whilst it is a rucksack, I wouldn't want to be wearing it for long periods of time up and down the river bank or for long walks. I'd personally go for something with better padding, shoulder straps and back protection for that, such as the Fox R Series Rucksack.
On the other hand, as a compact rucksack that will be on your back whilst walking to your swim, it is great for that and is rarely beaten as a compact carp fishing rucksack.
And that's it for our Saber Compact Rucksack Review. Hopefully this has helped make your choice a little easier. If you have any more questions, feel free to drop them in the comments below.
Where to buy the Saber Rucksack online
eBay
Amazon
About the writer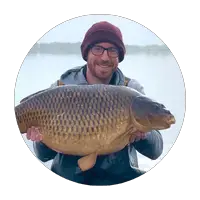 Rob W
I'm Rob, Carp Squad's main contributor. I've been carp fishing on and off for 15 years, but the bug is well and truly back at the moment. Hopefully the articles I write on here help you put more carp on the bank.