This week on our Tried & Tested Series, we're covering the Gardner ATTs Bite Alarms Review. Bite alarms are arguably one of the most important pieces of kit for the modern day carp angler.
For that reason, we wanted to share our thoughts on the popular ATTs Bite Alarms. These alarms have been around for years, well-known for their simplicity and ability to withstand abuse!
Personally, I purchased a set of ATTs Bite Alarms & Receiver over three years ago (The IW version). For that reason, I'm in a good position to share my thoughts on this ATTs Bite Alarms Review.
Read on to find out what I think about the ATTs Alarms.
Why you should trust this Gardner ATTs Bite Alarms Review
I've been personally using the ATTs bite alarms and receiver for over three years now. They replaced my trusty Fox Microns, so they had to be quite a hard-wearing alarm. I have not been sponsored by Gardner Tackle to create this review. Therefore, you'll get my honest opinion of these alarms.
Hopefully, by writing this review I can give you an insight into whether these bite alarms are right for you or not. If you've never come across our Tried & Tested Reviews before, you're in luck.
Unlike other carp websites and magazines, we give honest opinions of gear tested over sufficient periods of time, usually over two years minimum.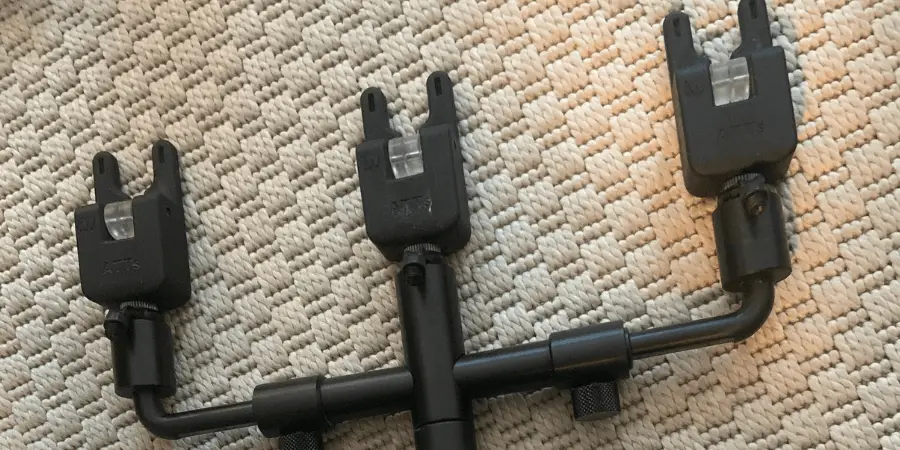 Gardner ATTs Features
Rating: 2/5
I've put this down as a two out of five, because when it comes to features, you could describe the ATTs alarms as featureless!
However, this is not particularly a bad thing, as the ATTs alarms were designed to be a simple alarm. To be honest, the ATTs alarms are about as simple as they can get. Removing the cover turns them on and off, and a single roller wheel alerts you to any line movement.
By not including all of the features that you see with other alarms on the market, you're left with less things to go wrong. – Or at least that's the sales pitch from Gardner!
If you've read any of my other reviews, you'll know that I don't really look after my gear. For that reason, alarms that have very little that can go wrong is a real plus for me.
No sound from the bite alarm heads
Prior to using the ATTs Alarms, I was a little nervous about the concept of having no sound coming from the alarm heads. I can clearly see the benefits of no sound, which typically means no place for water ingress and damage.
On the other hand, what if my receiver suddenly broke midway through a session? What if I drove two hours to the lake and left the receiver at home?
In all honesty, both have happened to me and that's just the risk you take with these alarms!
I quickly learnt to carry a couple of spare AA batteries with me on every session. I'm also much more organised ahead of a trip and try to minimise emptying my rucksack in fear of leaving the receiver out!
As a workaround, I do know people with these alarms who carry a spare receiver just in case. – You can probably pick up a spare receiver for around £60 if you shop around.
No on/off button
An on/off button is another missing feature that you will need to live without. The ATTs Bite Alarms are turned on and off by removing the hard-covers. For that reason, as soon as they are out of the covers, the alarm heads are on for the duration of your session.
Again, this was another feature that I thought I would miss. Prior to these alarms, I had the old Delkim TXIs, which I would quickly turn off whilst setting the bobbins. This can't be the case with the ATTs, therefore you have to be wary of the noise you make whilst setting the bobbins.
On the plus side, the noise does come from the receiver so I always just turn it down to silent whilst sorting the rods out. – It's a habit that you quickly pick up.
Underlit Wheel
I've already mentioned that this review is based on the underlit wheel version of the ATTs. I've found these to not only look good, but to be great when getting the odd beep at night.
On my old fox alarms, the LED would often be hidden behind the rods, depending on where I was bivvied up. In contrast, with the underlit roller wheel, the light is so bright that it's really easy to see what rod is getting picked up etc.
I believe they are also easy enough to change colours too if you get bored. Just send them in to Gardner Tackle Support.
Build Quality
Rating: 5/5
As soon as you pick up an ATTs alarm head, you quickly feel how well-made they are. Mine are always bashed on the ground and stuffed away amongst banksticks, buzz bars and my Cygnet Quicklock Pod. After three years, they are the same as what they were when I got them.
In comparison, I've had Delks in the past which just felt a bit more delicate and plastic-like. If I still had them I'm sure I would have lost a few buttons by now!
But, I guess it just depends how much you look after your gear. I'm not one for spending time taking my alarm heads off and packing them back into a presentation case, so I'll stick with something hard-wearing.
Replaceable Casing
Despite what I would consider good build quality, I have had one problem with one of my ATTs carp fishing bite alarm heads. When changing the battery, I overtightened the screw which enabled a hairline crack to develop on the rear case. – Completely my fault.
Having done a bit of research, I was pleasantly surprised at how active Gardner's service and repair team are when it comes to the ATTs range. A couple of emails exchanged and my alarm was sent off for repair and returned within a week.
It was clear that it's actually quite easy to have the whole outer casing replaced, and you can even change it to the see-through casing if you want to!
Battery Life
Rating: 5/5
Battery life is a definite five out of five for the ATTS. I think it was around two years that my alarm heads lasted before I had to change one of the batteries.
I can only assume that it's the lack of features that means hardly any power drainage. In terms of the batteries themselves, they are GP476A, so don't expect to find them in any local supermarket.
However, you can purchase them from eBay, Amazon and most Angling Direct stores in packs of three.
Changing them probably isn't as easy as most other alarms on the market. Due to the ATTS wanting to remain water tight, the batteries are inside the casing, next to the inner electrics. When it comes to changing them, you'll need a small Philips Screwdriver.
I've got into the habit of carrying a tiny Philips screwdriver and pack of three spare batteries with me, just in case.
ATTS Receiver Battery Life
The ATTS Receiver battery life is decent, but not on the same level as the heads on their own. That being said, I think I've only changed the batteries a couple of times a year.
The receiver itself runs on 2 x AA batteries. Again, I always keep a couple spare, as without the receiver, your alarms are pointless!
One thing to note is that Gardner always state that you should remove the batteries when storing your gear. This is to prevent leakage which I know has ruined receivers for people in the past.
To summarise, if you're looking for alarms that will last a while without you needing to change batteries or think about charging, these will fit the bill.
Gardner ATTS Receiver
Rating: 4/5
You could argue that a big part of any alarm setup these days is the receiver. Many of us are accustomed to using one to extend the use of our alarms and keep bankside noise to a minimum.
I've been impressed with the ATTs receiver. It's simple but does exactly what it needs to. And just to clarify, its the ATTs Deluxe Receiver that I use.
With 5 LEDs at the top, it's simple to program alongside the ATTs heads which is all you can ask for really. Gardner have released a whole load of videos detailing how to sync them up properly. You can watch these on YouTube here.
On the top of the alarm, you've got a simple on/off switch and on the side you've got three buttons; volume up, volume down and sync.
Perhaps my favourite part of the ATTs receiver is just how lightweight it is. I carry it around my neck on a lanyard and hardly know it's there. It's small enough to fit nicely in your pocket too without looking like you're getting too excited!
Rubberised Finish
The receiver has a rubberised finish to it which feels good in the hand. Whilst looking at other Gardner ATTs Bite Alarms Reviews, I noticed that some people have had problems with this. Get it wet in any way and it becomes really sticky apparently, and tough to get back in the case.
Not a problem I've had fortunately, but worth noting for anyone looking at these bite alarms!
Sound Quality of the ATTs Alarms & Receiver
As I've already mentioned, the ATTs heads themselves are silent. For that reason, you're relying on the receiver for your bite indication. Given that importance, I thought I'd include this little section in this ATTs bite alarms review.
The receiver itself has five volume settings plus a silent vibrate mode. To be honest, I've never had to go over setting two whilst fishing and I'm a deep sleeper. Often I'll leave it on vibrate and the sound of it against the bivvy table is more than enough to wake you up.
Optional Extras for the ATTs Alarms & Receiver
As you would expect, there are a whole host of ATTs bite alarm accessories that you can get go go alongside your Gardner ATTs Alarms & Receiver.
Receiver cases in leather or neoprene (I have the neoprene and would recommend this one)
Stand to rest your receiver upright on your bivvy table
ATTs branded lanyard
Hard and soft cases for your alarm heads
Snag backs to increase the height of your alarm heads
Gardner ATTs Support & Upgrades
I've been really impressed with the level of customer service from Gardner when it comes to ATTs repairs and upgrades. At one point last year, I noticed that one of my alarm heads was draining battery after each session.
On closer inspection, there was a hairline crack on the rear casing that was clearly as a result of me over-tightening one of the screws.
A bit of Googling and I was directed to their service and repair page where you simply download and complete a PDF form detailing your issues. After sending it off to Gardner, along with the alarms, they were repaired and returned within a week.
At the same time, I also had the all of the LEDs on my receiver changed to white to match the alarm heads.
When to choose the ATTs Alarms
Summarising all of the points I've noted above, here are a few reasons why you might consider purchasing these alarms after reading this Gardner ATTs Bite Alarms Review:
You want a rock solid set of alarm heads
With minimal water ingress and super tough casing, you wont find many tougher sets of bite alarms on the market.
You're interesting in keeping your gear to a minimum
The ATTs bite alarms and receiver are probably the smallest available on the market. Therefore if you like to keep everything small for roving or stalking trips, these are great for you.
You're new to carp fishing
Why complicate things with alarms that have loads of features? If you're a carp fishing beginner, the ATTs may be perfect for you, enabling you to focus on the things that really matter, like finding the fish and accurate baiting.
When you should consider ATTs alternatives
As always, these alarms will certainly not be right for everyone. Here are some reasons why you may seen some alternatives to the ATTs:
You want easier ability to adjust sensitivity
You can't easily adjust the ATTs sensitivity without completely changing the roller wheel. If you're someone who like to fiddle around with the sensitivity settings during a session, you would be better opting for some Delkim TXI's or Fox RX Plus.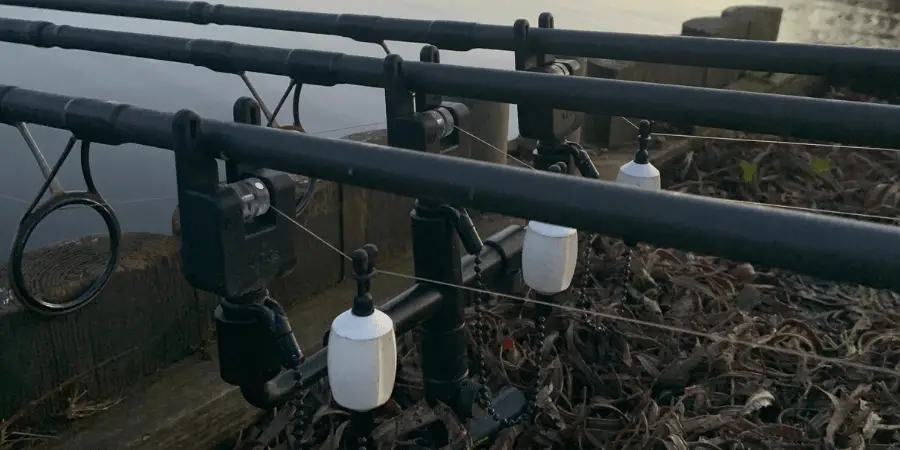 Pros & Cons
Pros
Small, lightweight design, perfect for anglers who like to keep gear to a minimum
Extremely robust casing
Minimal water ingress due to the lack of speaker on the bite alarms
Available in multiple colours
Simple receiver settings with 5 volume ranges and vibration
Gardner's upgrades and service department are excellent
Cons
Batteries aren't the easiest to find (you can't get them from supermarkets for example)
Need to remember to remove batteries from the receiver after a session
On/Off magnet in cover weakens over time
Conclusion – Gardner ATTS Bite Alarms Review
To conclude, I can fully recommend the ATTs Bite Alarms and Receiver after my three years of use.
To be honest, they're not for everyone. There will be some anglers out there that require more functionality from their alarms. That being said, if you're an angler who likes to keep things simple, or doesn't look after their gear too much, the ATTs could well be a good fit for you.
As with all electronics, it's important to take into account the service and repairs should you ever need it. In this instance, I've been very satisfied with Gardner's support and thought they were well worth a mention in this ATTs Bite Alarms Review.
Where to buy Gardner ATTS Bite Alarms & Receiver
eBay
Amazon
About the writer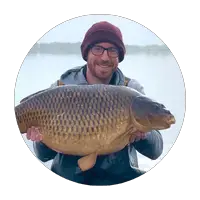 Rob W
I'm Rob, Carp Squad's main contributor. I've been carp fishing on and off for 15 years, but the bug is well and truly back at the moment. Hopefully the articles I write on here help you put more carp on the bank.