Despite how some anglers think, expensive Delkim or Fox Alarms won't help you catch more fish. If you're on a budget, you can find some alarms that will offer you the same bite indication and features for a fraction of the price. Let's check out the best budget bite alarms for carp fishing!
Bite alarms are undoubtedly one of the most important items of your carp angling setup.
First and foremost, you need something that is reliable. Bite alarms are no use if they keep playing up during your session or running out of battery.
But that's exactly what budget alarms used to do.
That was over 15 years ago when I started carp fishing. These days, alarms at the lower end of the market have improved massively.
But can they perform as well as Fox alarms or Delkims for that matter?
Let's take a look.
In a hurry?
If you don't have much time use the links below to quickly find the budget alarms for you on eBay and Amazon. You can be assured that we only highlight the best products…
What to look for in a set of bite alarms
Bite alarms come in all shapes and sizes, with varying features.
Depending on your angling style, you may need alarms with multiple features such as tone, sensitivity and volume as a minimum.. Luckily, you can get all of these features now in cheap bite alarms that are ideal if you have a limited budget.
Here are some things to look for in your next set of alarms.
Additional Receiver
Most bite alarms on the market these days are compatible with a receiver. This is a major plus if you're someone who night fishes a lot. The last thing you want to be doing is waking up the entire lake every time you get a run.
Even if you fish days only, it's handy to have a receiver that you can have inside your bivvy if you're a few meters away from the rods. All of the alarms featured on this guide come with a receiver as part of a presentation set.
Sensitivity Control
When fishing in windy conditions, sensitivity controls on your alarms can be a real godsend.
This allows you to adjust how much the line needs to move before the alarm sounds. When you've got a big wind going across the lake, it can help to eliminate false bleeps and allow you a good nights sleep.
It's not always common for this feature to be present on cheaper alarms. But if it is something you're looking for, you're best looking at the New Direction S9's which allow you to adjust sensitivity via your phone in the comfort of your bivvy!
Battery Warning Signal
Few things are more annoying that turning up to the lake with a flat battery in your alarm. Luckily, a lot of alarms on the market feature battery warning signals nowadays.
If you're someone who is a little disorganised and doesn't often carry spares, consider an alarm that has a warning signal, such as the Sonik SKS.
Rechargeable
A typical downside of budget alarms is that they usually require replacement batteries every few months. Whilst it's not the biggest problem, it can a little inconvenient and costly if you fish quite a lot.
If you do, you might want to consider alarms that are rechargeable via USB. That way even if they run out on the bank, you can easily recharge them with your power pack.
If this is a requirement for your next set of alarms, and you still want value for money, check out the New Direction S9.
How we picked
Real + Group Reviews
We've combined real experience plus group reviews from Facebook and leading eCommerce stores to determine what products to feature on this guide.
Variety
Everyone wants different features on their bite alarms. Therefore we tried to provide some variance amongst the products we've looked at.
No Commission Focus
Whilst we do earn from some links clicked through this site, we have not been biased towards a single product because of that. This is unlike other guides that only feature Amazon listed products.
Fox Mini Micron M Presentation Set
Fox are well known for producing quality bite alarms, with the Micron range being one of the most popular alarms of the late nineties.
With that in mind, you can imagine the excitement when Fox announced that their smallest range of alarms was getting a cult remake.
Whilst the original Micron M range only had volume control, the latest update has seen them brought into the 21st century. The latest set of Micron M's includes volume, sensitivity and tone adjustment.
Not only that, but you get a receiver too, which is just as small and lightweight as the bite alarms. If anyone had the original Micron M, you'll remember having to have a wired sounder box running to your bivvy. (Back when bite alarms with receiver were a luxury!)
If the added sensitivity and tone controls were enough, Fox have improved the inner working of the alarms too. There is now an inbuilt drop back differential. You guessed it, this gives you a different tone for a drop back in comparison to a forward run.
For cheap bite alarms, you certainly get a lot for your money with these Fox Micron M's. Fox has a history of producing long-lasting alarms too, so we're sure they'll last you a fair while.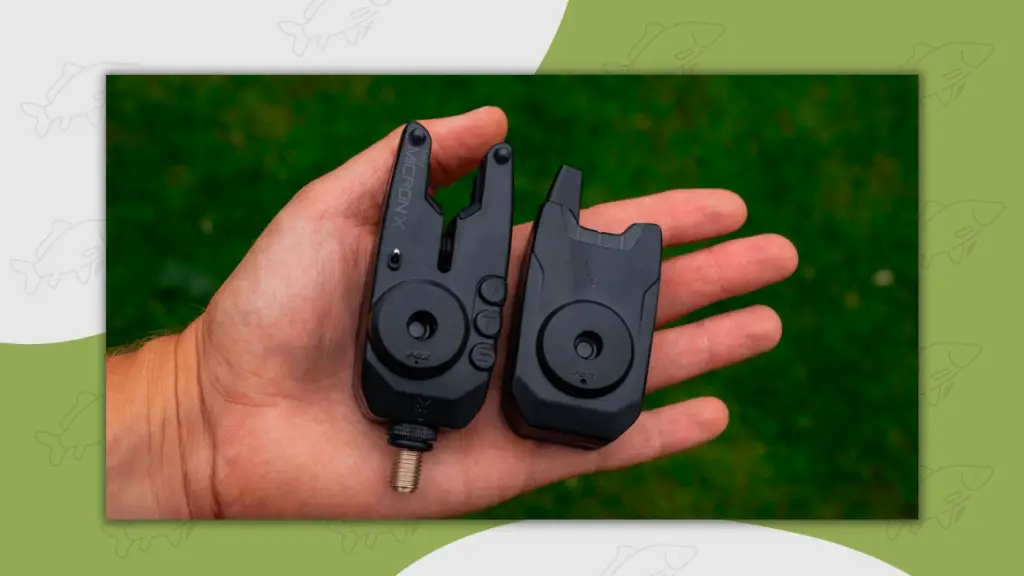 Sonik SKS 3 Rod Set & Receiver
Sonik has carved a reputation for providing good quality carp tackle without the excessive price tag. Their venture into the world of budget bite alarms was no different.
The SKS Bite Alarms have gained rave reviews since their launch a few years ago. At less than £100, you get three alarms along with a receiver and a matching bivvy light.
Whilst you may be fooled into thinking that the price tag means a lack of features, you'd be wrong.
The Sonik SKS are feature-packed, with tone, volume and sensitivity as standard. There is a built-in battery warning system too which gives you a heads up prior to them draining.
Looks wise, they are pleasing on the eye too. Whilst you may not have the budget to be a high-end tackle tart, you won't go wrong with these bite alarms. A slender design and highly visual roller wheel almost gives them that cult feel seen only with Steve Neville Alarms or Gardner ATTs.
The real plus with these alarms though is the bivvy light. When fully synced up, you can set it to come on as soon as the alarm sounds. – An excellent feature for those who don't like to sleep with their head torch on their head.
Overall, a feature-packed set of alarms at a really cheap price point.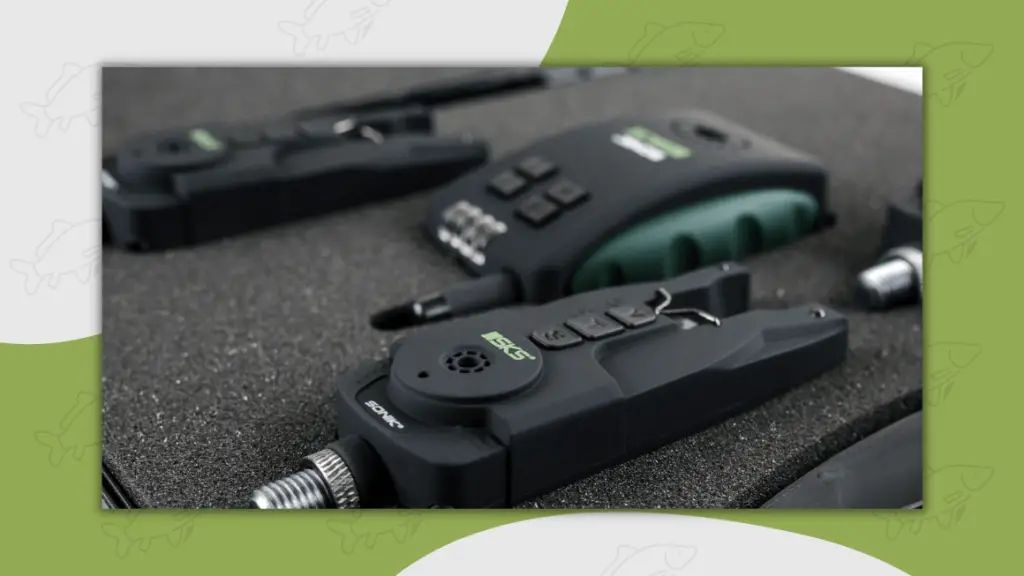 Saber S4 3 + 1 Bite Alarms & Receiver
Another company that's been quietly churning out cost-effective carp gear is Saber. To be honest, I'm a big fan of some of their gear, including the Saber Head Torch which featured recently on our tried and tested reviews.
The Saber S4 bite alarms represent as much value for money as the rest of their range.
At just over £50, they are one of the most affordable bite alarm and receiver sets on the market.
On the alarm heads themselves, you've got adjustable tone, volume and a differential back drop LED. Yes you don't have the added sensitivity feature of other alarms on this guide, but for close to £50, the Saber Bite Alarms are ideal if you're on a budget.
In the presentation set, you get three alarm heads and receiver. The receiver itself covers four channels, so it will still work if you want to program in an extra alarm head whilst fishing with four rods.
Additionally, Saber have integrated a vibrate feature on the receiver for those secret squirrels who like to keep the noise down!
Similar to the Sonik alarms, the S4's are quite sleek and look decent as part of your carp setup. Another nice little feature is the removable snag ears too, meaning you don't need to purchase any additional ones for fishing close to snags or weed.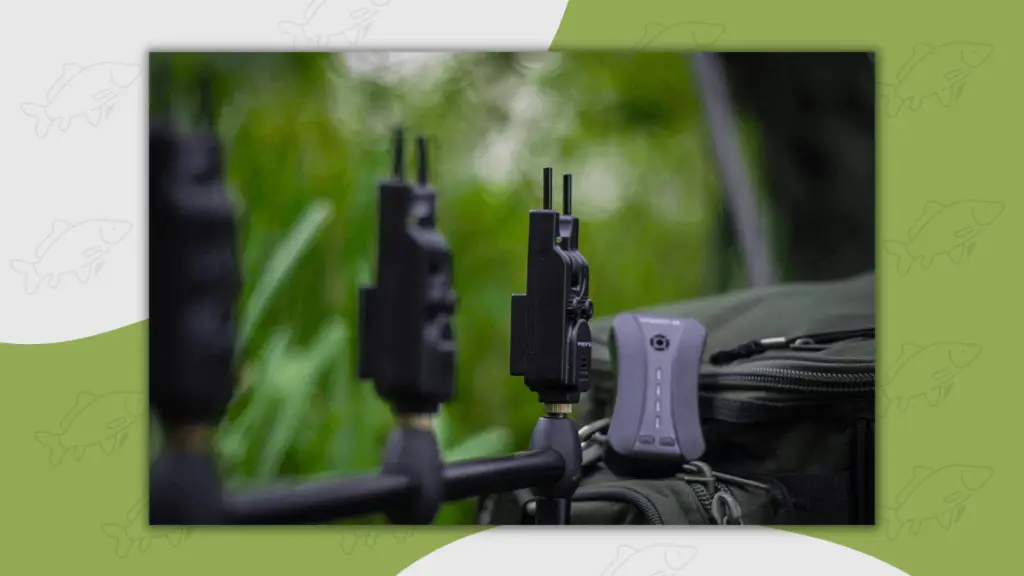 New Direction S9
ND Tackle turned plenty of heads when they launched they S9 Bite Alarms & Receiver a few years ago. Designed specifically for the tech geeks amongst us, the S9 alarms feature a host of configurations and optional extras.
To begin with, you've got all of the controls you would expect available to you: tone, sensitivity and volume. (nothing new there!).
That's coupled with a nifty mute features which gives you 30 seconds of muted time to adjust your bite alarm bobbins without annoying other anglers
However, the real plus is how all of that is controlled. With the smart receiver and dedicated smartphone app, you can control each alarm head from the comfort of your bivvy. Yes, that means no going out to adjust your sensitivity in a storm!
Looking at the alarm heads themselves, you wouldn't think they pack so many features. That happens to be one of the major benefits of controlling the heads via the receiver; there's no need for bulky buttons on controls.
Much like the Gardner ATTs alarms, the S9s are incredibly small, making them ideal for anyone who likes to travel light without compromising on features.
Talking of features, there's much more to come from these little alarms. New Direction Tackle have launched a host of accessories that sync up with the alarms, including:
Smart bang that goes around your wrist and vibrates in sync with the alarms
Bivvy light that comes on when your alarms sound
Head torch that can turn on when your alarms make a noise
In conclusion, a feature-packed set of alarms that definitely represent good value for money.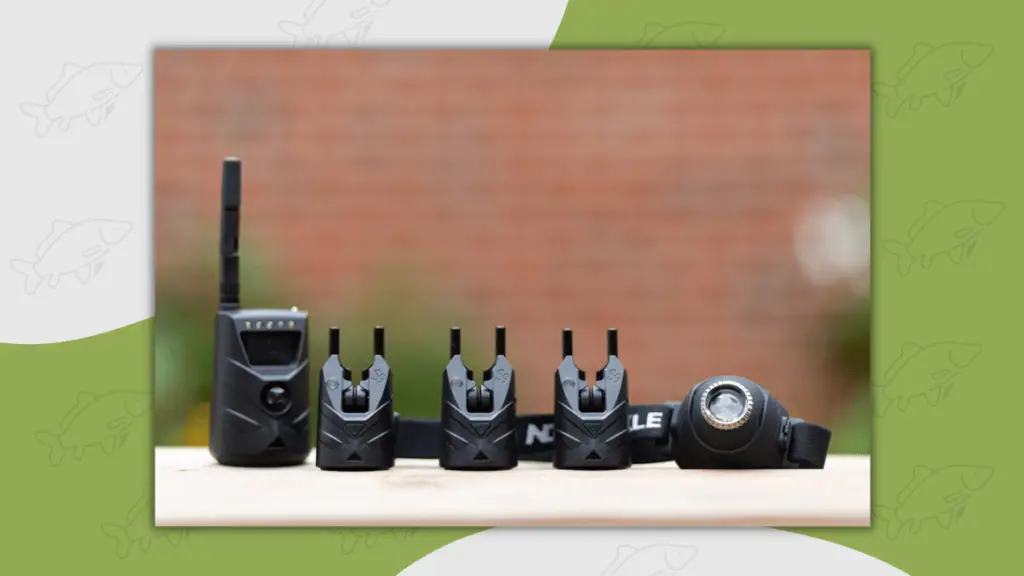 JRC Radar DR Bite Alarms & Receiver
There really is so much choice for bite alarms under £100 these days and JRC have added their hat into the mix too.
With JRC's 30 years of experience manufacturing carp gear, you can bet that these little alarms will pack a punch despite their budget price tag.
Like the other bite alarms in this guide, the DR's benefit from all of the standard features including tone, sensitivity and volume.
You'd be mistaken for thinking the build quality wouldn't be there with bite alarms of this price, but you'd be wrong. JRC have used a high-impact ABS casing on these alarms to give them a really solid and compact feel. – Ideal if you're someone who bashes your gear around a bit.
On the alarm heads themselves you have a single LED which is placed high up, making it easy to see from any angle. Not a game changing feature but it's a must-have on any set of bite alarms. The receiver has four corresponding LEDs too, along with it's own tone and volume control.
Like most alarms in this price range, the Radar DR's are battery powered. Operating on 9V batteries and AAA's, they're fairly cost effective to maintain and easy enough to replace.
Overall, a well-priced set of bite alarms and receiver which should definitely be part of your options.
Frequently Asked Questions
How should you look after bite alarms?
Caring for your bite alarms is important to make sure that they stand the test of time and don't fail on a session. Trust me, there's nothing worse than an alarm failing mid session!
It happened to me on a recent trip to Norton Disney, and I had to improvise by having two lines going through one alarm: 
The one thing that will ruin your budget alarms is water. Packing them up wet is a massive no-no. Water ingress will get inside over time and rust/corrode internal parts.
At the end of a session, we advise drying them with a towel before putting them in their cases. You can then remove them at home and let them dry out naturally indoors.
Do you really need a receiver?
If you're just fishing day sessions, then I would say you can get away without using a receiver. 
That in itself may save you some money. 
However, if you are looking to night fish, then I would recommend using a receiver. If not only for your ability to wake up, but also to stop annoying other anglers.
There's nothing worse than when someone has their three alarms on full blast for the whole lake to hear!
What to look forward to
ND Tackle have just announced the launch of some new bite alarms that will most likely fit within the budget bracket. The New Direction BAE Alarms will be packed with all of ND's standard features. But most importantly for be tackle tarts amongst us, they will have an old school retro look. We'll be reviewing them as soon as they come out.
Another brand that produces cost-effective tackle is Skills Tackle. These guys have just announced on Facebook that they'll be launching their new Re-Buzz 3+1 bite alarm set. We've recently reviewed the Skills Tackle Camo Chair and we were really impressed with the quality of that. Time will tell whether the alarms provide similar value for money. 
About the writer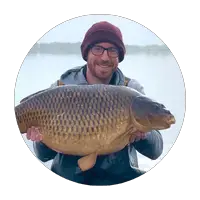 Rob W
I'm Rob, Carp Squad's main contributor. I've been carp fishing on and off for 15 years, but the bug is well and truly back at the moment. Hopefully the articles I write on here help you put more carp on the bank.