With day ticket venues becoming increasingly busy, it's no surprise to see anglers seeking out some good canal carp fishing in the UK.
We're blessed to have such extensive waterways, with over 2000 miles of fishable canals in the UK. 
But there in lies the challenge. That's a hell of a lot of water to tackle, and canals are not known for having the highest stock of carp.
So how do you go about finding the carp in your local stretch? And more importantly how do you tackle these intricate waterways?
In this article we'll be covering these points, plus sharing some tips that will hopefully help you bag your first canal carp!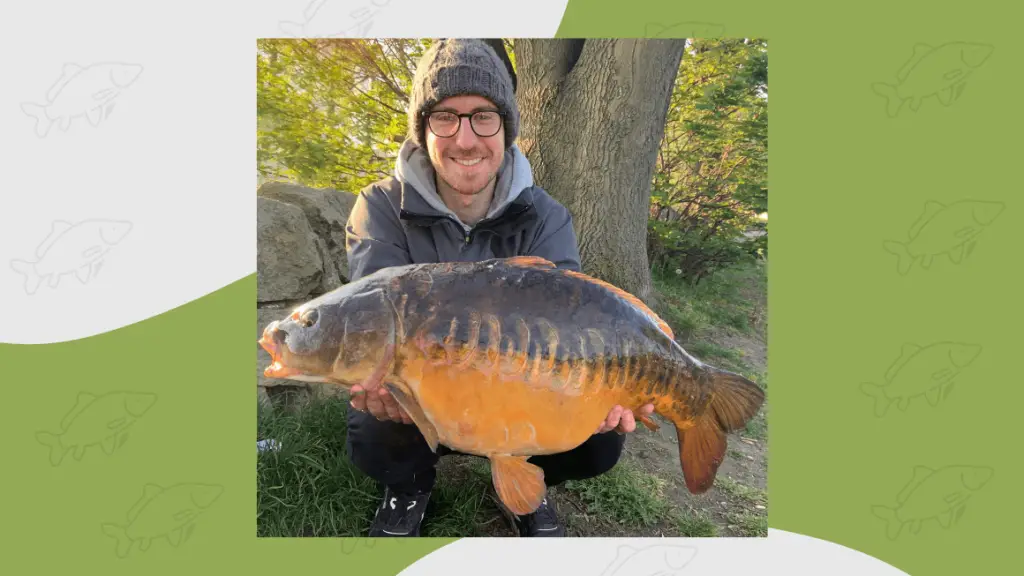 Locating Canal Carp
Locating carp is undoubtedly one of the most import aspects of our sport.
Put simply, you can't catch what's not in from you. That's an old saying I read when I was a kid and it still drives me to find carp before setting up camp in a swim.
It can be a mammoth task locating carp on a canal. They're expansive waterways, often with miles of water in between locks. It's probably the one thing that puts many anglers off canal fishing.
But like other carp lakes in the UK, carp gravitate to areas that offer security, food and warmth!
Target boats, open areas and canal marinas
If your local canal has a marina or lines of boats that stay there for prolonged periods, you can bet the carp will be close by.
Canal boats offer protection for the carp, much like overhanging bushes and snags on traditional carp lakes.
The boats pump out serious heat, often having log burners running all year round.
But not only that, boaters themselves will often throw food scraps over the edge for birdlife and fish to eat. – A free source of food for them silt pigs that we call carp!
Walk more than you fish
A good rule of thumb for canal carp fishing it to spend more time looking than fishing.
What you absolutely do not want to do is just set up in the easiest place next to the car park. The chances are that will be a wasted trip.
Walk the towpath without your gear and do your best to locate the carp. All you need is one sighting which can reveal a certain area that they like to hold up in.
If you're not much of a walker, you can always bike it. Most towpaths are ideal for mountain biking. I've ridden the full Liverpool to Leeds canal towpath over two days, spotting multiple areas that held up carp. – They're noted down and will be being fished at some point!
Out of everyone I know who fishes canals, those who catch the most are spending more time walking. They'll then nip back to the car and grab a rod when they've found a fish or two!
Check out your canal on Google Maps
If there's one thing all canals have in common, it's that they're long! If you don't have the time to be traipsing up and down the town path, just head over onto Google Maps.
A quick scan of your stretch will enable you to pinpoint likely looking areas to take a look at.
Ideally, you want to be looking at areas that really stand out; marinas, wide turning points, reed-lined banks. With a birds eye view using Google Maps, these are quite easy to spot and you can hatch a plan from there.
Canal Carping Tactics
The real beauty of canal carping is that when you do find the carp, they are relatively easy to catch.
They're nowhere near as pressured as day ticket carp lakes, so simple carp rigs are the order of the day.
But you should recognise that it's not often set up and camp style fishing.
Canal carping is as its best when you're travelling light, finding and feeding the carp before setting your traps.
This style of fishing works well when you're short of time too. You can have a 6 or 9 foot setup in the boot of the car ready for an impromptu couple of hours on the canal.
My best captures have been while fishing for only 3 hours from 5am to 8am. Chod rigs fished over spots that I'd baited little and often on my dog walks.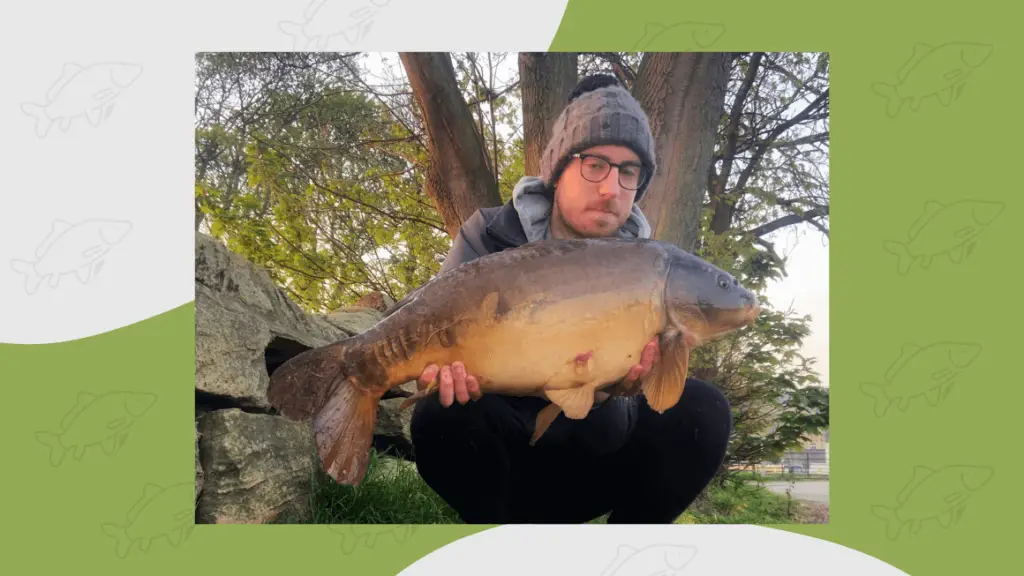 Rigs for Canal Carp Fishing
Those who read my content know that I'm a big fan of simple carp rigs.
You don't need anything complicated for fishing on canals. Use rigs that you have confidence in, baring in mind that you don't really know exactly what you'll be fishing over.
Personally, I favour the chod rig for canals. Coupled with super-buoyant pop ups, you know the chod rig will be presented well, whether you're landing in weed, deep silt or on an old car tyre that's been thrown in!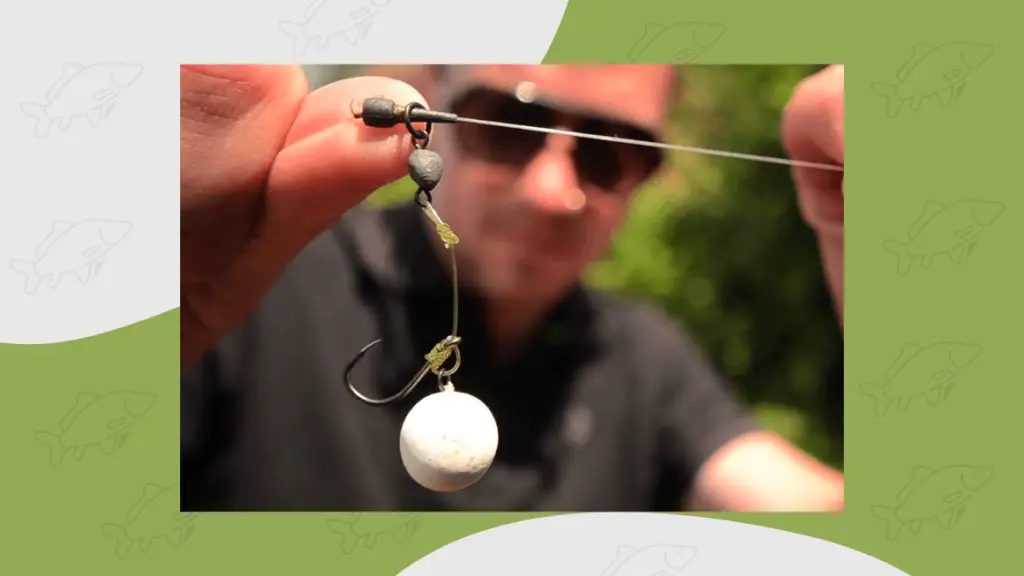 Canals can be rife with snags and sharp objects, so on that note I would recommend beefing up your gear.
15lb minimum mainline, strong hooks and long abrasion resistant leaders should be the order of the day. 
Canals do offer great close-quarter fishing, so there may be times when you can get away with free-lining. In the summer months it's always worth having a couple of Nash bread bombs in your tackle box. 
Recommended tackle for canal carp fishing
If you are looking at fishing your local canal for carp, here are just a few things that I recommend you add to your kit: 
Bait for Canal Carping
Canal carp don't see a lot of bait, other than plenty of bread thrown in for the ducks. 
It's not like pressured day tickets where carp can shy away from large beds of boilie and pellet.
Canal carp really can be scavengers, hoovering up whatever you put in front of them. 
There's no need to spend £100s on boilies for your canal carping. You can get away with using cheap carp baits like pigeon conditioner or vitalin. – Finer particle baits that will help you keep the carp in your chosen spots for prolonged periods of time.
In terms of hookbaits, white is always my go-to. The thinking being that it mimics bread which is thrown in the canal on a daily basis. 
Like I said, I'm always a fan of pop ups on chod rigs for my canal fishing. Luckily there are no bream in my local stretch though. However, if your stretch is rife with bream, you may want to deter them with larger snowman presentations. 
My Top Tips for Canal Carp Fishing
So hopefully I've given you some some insight into the wonderful world of canal carp fishing. 
Now I could go in forever here, but the truth is, canal carp fishing is all about figuring out your local stretch. Understanding what works and where the carp can be caught from.
Nonetheless, I want to share my top tips that have ensured success of my local stretch, the Leeds and Liverpool Canal.
Travel light
I cannot stress any more the importance of travelling light when canal carp fishing. Due to the nature of canals, you do have to move a lot to find the fish.
The task of finding them just becomes a million times harder when you're hunkered down with loads of gear. Even carp barrows can be a bit of a pain to push on uneven towpaths.
Personally, I like to minimise my kit right down, fishing short windows during bite time early in the morning.
When you put your mind to it, it's amazing just how little you can carry for a session. It's actually quite refreshing as you can pack up in 2 minutes and throw the stuff in the back of the car with ease.
This is what I'll typically take with me for a short canal session:
Saber Rucksack with scales, a small tackle bag, bait, food/water and a flask.
Nash 9 foot rod holdall, carrying 2 Nash Dwarfs, Shimano Baitrunners and a Dwarf landing net.
All in all, a super lightweight set up that enables me to stay on my toes!
Pre-bait before fishing the canal
Pre-baiting is one of the best things you can do on the canal.
Once you've found the carp, you key is to keep them in the area for a prolonged period. At least enough for you to squeeze in a few sessions.
In my experience, canal carp will typically linger around an area if they are getting a free meal.
And that's exactly what you want, otherwise carp can swim long stretches in a matter of days, at which point you need to find them again.
Trickling small amounts of bait in little and often if the key. On my canal missions I try to put a bit of bait in every other night whilst I'm walking the dog.
This will typically be some particle/pellets or small items that are likely to keep fish grubbing around in the area longer than if they were just sucking up boilies.
Buy a kayak and row your local stretch 
I bet you didn't expect to thinking about kayaks when reading a blog about canal carp. To be honest, I didn't realise a kayak would be so useful in my search for canal carp until I got one a few years ago.
Initially used just as a bit of exercise down my local stretch, it wasn't until I was in the kayak that I realised how good it was understanding my local canal even more.
In a full morning, I am able to travel my full 5 mile stretch, searching out fish and trickling bait in spots in advance of fishing.
Obviously, if your local stretch is of the urban kind, with more shopping trolleys than carp, kayaking won't be the most pleasurable experience.
But if you're blessed with a picturesque area like mine in and around Rodley (Leeds), Kayaking is a great thing to do.
Invest in a baiting pole
Getting my hands on a baiting pole was one of the best things I ever did for my canal carping.
There is only so many times that you can get told off for clattering boats with leads.
Not only that, but since finding out that some of these boats can cost upwards of £150,000, the last thing I wanted to do was be scratching someones pride and joy every other cast!
The Parker Baiter allows me to stealthily position a rig and a handful of bait right where it needs to be. No recasts, no getting tangled on boat ropes. Precision every time.
Best canals for carp fishing in the UK
It's very rare that you'll find detailed information about certain stretches of canal that hold carp. Quite often those who have reaped the rewards have put in months of effort.
The beauty of canal carping is just that; putting the pieces of the puzzle together and finally catching a few yourself. It's so much more rewarding than just turning up at a packed carp lake and catching from the 'going' swim.
That being said, I did want to highlight some of the canals in the UK that I know are worth looking into for catching canal carp.
Leeds and Liverpool Canal
My home stretch of canal. Having grown up in Liverpool and now settled in Leeds, I know both ends of this canal pretty well.
Carp are present at either end, but they're not in large numbers. Both the Liverpool end and Leeds end have stretches that go on for miles without locks, so being mobile is the most important.
In April 2023 I cycled the whole stretch, and while lots of areas looked carpy, they were pretty devoid of fish. My advice on targeting this canal would be to look at the areas closest to North Liverpool and the areas where Bradford crosses in to Leeds.
Get your location right and there are some great carp to be caught, like the two I have published on this article.
Bude Canal
It's not often you talk about great carp fishing in Devon and Cornwall, never mind good canal fishing.
I first stumbled across this canal on social media, after seeing a group of young lads regularly posting catch shots.
It has since gained popularity, with the likes of Alan Blair visiting the stretch and catching himself a few nice canal carp. It's not the longest stretch either, so I'm sure you would be able to quickly pinpoint the most likely-looking areas.
Grand Union Canal
When I was a youngster the Grand Union canal was always in Carp Talk, with people catching large carp on a regular basis.
I'm not sure of the stock within the canal to this date but with 200 odd miles to go at, there must be some still hanging around!
About the writer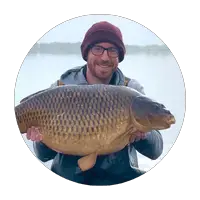 Rob W
I'm Rob, Carp Squad's main contributor. I've been carp fishing on and off for 15 years, but the bug is well and truly back at the moment. Hopefully the articles I write on here help you put more carp on the bank.