Next up on our tried and tested reviews is the RidgeMonkey Multi Lite Plus. When RidgeMonkey brought out the multi lite, I was instantly intrigued. The multi lite presents itself as a versatile lite, offering a multitude of applications that fit in well with my desire to keep my gear to a minimum.
After a full year of use, I'm now in a great position to provide my thoughts on RidgeMonkey's latest addition to their range of lights and fishing head torches.
The RidgeMonkey Multi Lite Plus is a versatile lite, designed for use in a a number of fishing situations such as a bivvy lite, carp barrow spotlight or camera light.
Use the links below to jump to each section of this review…
Why you should trust us
I've been using the RidgeMonkey Multi Lite for over a year as my main bivvy light (plus more). I have no affiliation to RidgeMonkey in any way so the views here are completely my own to help you make a better purchasing decision. I don't particularly look after my gear so anything I do review has been through it's fair share of abuse, which I think is always a good thing with reviews like this.
If you're not aware of our tried and tested reviews on Carp Squad, they are exactly what they say they are; no sales pitch, no sponsorship, no BS. Just gear that we've put through their paces over sufficient periods of time. That's what allows us to put together guides like this RidgeMonkey Multi Lite Plus Review.
Versatility – Multi Lite
Rating: 5/5
The clue is in the name, this light by RidgeMonkey was designed with versatility in mind. It ticks this box perfectly in my opinion.
For me, this was the key reason for buying this light. I wanted something that could be my main bivvy light, act as a long distance light when attached to a bankstick, and also double up for lighting up catch shots.
Whilst I'm fully on board with the advances in carp fishing technology, I still like to keep my gear to a minimum. The RidgeMonkey bivvy light helps me with that. The thought of carrying three lights to serve the purposes above (and more) just doesn't fit well with me. Not to mention being able to fit in my smaller Saber rucksack too!
The versatility of this light comes via it's lighting options. With both a spotlight and 360 degree light around the full device, it can be used in various scenarios. Here's how I use it:
RidgeMonkey Multi Lite as my main bivvy light
I have chosen not to purchase a purpose built bivvy light and just use the multi lite for this purpose instead. Whilst it may not be as bright as traditional tube style bivvy lights such as the RidgeMonkey Bivvy Lite Pro, it is more than enough for my needs.
Without wanting to go into too much detail regarding the lighting (we'll cover that later), it provides just enough light for my Trakker Tempest 100 Brolly.
The green and red lighting options are also great for adding a bit of mood lighting in the winter months. – Just be careful not to use the red light on public park lakes as you might just attract some strangers!
One thing worth mentioning here is the lites's ability to attach to your bivvy. You get a standard magnet fixture for use on the outside of your bivvy, or a hooking ring to hang the light from.
For lighting up features
One of the lakes I fish is full of buoys from the boating club. Being able to light these up ahead of a cast has been invaluable to me.
I was previously doing this with my head torch on, but it just wasn't working for two reasons:
You have to keep your head very still, which is tough when you're trying to light up a very small buoy or gap in the overhanging trees.
Most head torches just aren't bright enough at any reasonable distance.
The major benefit of the multi lite is that is comes with a bank stick attachment. Use this alongside the spotlight mode and you can light up features with ease, hands-free.
I just leave the bank stick in place at the front of the swim and twist the light on whenever I'm lining up a cast. It has helped improve my accuracy massively when fishing to features in the dark. It's probably saved me a rig or two which might have landed in the bushes too!
For catch shots
This is another plus for the Multi Lite's bankstick attachment. You can quickly and easily set it up to add some extra light to your catch shots too.
You can see that this was clearly at the forefront of RidgeMonkey's mind during product development. For the front spotlight, you also get a small cap which can be added when you're using the multi lite for photography purposes.
What this does is turn the light from a full beam distance spotlight, to a diffused beam. As a result, you end up with just the right amount of light for your catch shots.
This has clearly been a mainstay amongst RidgeMonkey Multi Lite users, as the team have released an extra accessory recently; a camera hot shoe adapter.
If you're a user of a camera with a hot shoe attachment, you can simply mount the multi lite and benefit from additional lighting from on top of your camera.
Durability & Size
Rating: 5/5
The RidgeMonkey multi lite really does pack a punch. When I first picked it up, I was surprised just how many features have been included in such a small unit.
I think keeping it small has been a great outcome for RidgeMonkey. Any larger and it would defeat the object of it being a nimble light for multiple uses. It's size lends it to various uses, such as strapping it to the front of your barrow when moving swims in the dark. In terms of dimensions, it measure at 125mm x 45mm x 45mm.
As you expect from RidgeMonkey gear, it seems to be made from a high quality too. It's certainly on par with the quality of their range of head torches for fishing. Aside from the lighting areas, the majority of the multi lite features a rubberised finish. I've dropped it loads of times and it's as solid as a rock.
It's IP64 dust and water resistant, so you needn't worry if you're photographing your fish in the rain. That being said, you might not want to keep it out all night.
My only slight niggle with the multi lite is the size of the magnet fitting for your bivvy. It can be quite easy to knock it off the bivvy when you bang your head on it. Believe me, this happens more often that not due to the multi lite's shape.
Other than that, I can imagine the small spotlight diffuser cap will break before anything else, as its the only part that is a harder type of plastic.
Battery Capacity
Rating: 5/5
Given the sheer number lighting features within the multi lite, I was sure that it would be the battery capacity that lets it down. How wrong I was!
I've hardly had to charge the multi lite since I've had it (yes it is rechargeable). I've done multiple night sessions in a row, using it in the many scenarios mentioned above, and I've not had to recharge.
According to RidgeMonkey, you get 4-150 hours battery life when using the floodlight settings. On the other hand, if you switch over to spotlight, you can expect 3 hours of battery life.
In terms of recharging the multi lite, it is simply done via micro USB, like the majority of electronic fishing products these days.
Just below the main on/off button there is a USB input hidden underneath a waterproof cover. When charging there will be a red light evident.
Overall I am satisfied with the capacity of the battery, particularly as I used to have a Fox Halo bivvy light which got through 4 AA batteries per night!
Recharge time
Rating: 4/5
As we have already touched upon, the multi lite is fully rechargeable. You can expect to wait around 3-3.5 hours to regain full charge.
Lighting Capabilities on the RidgeMonkey Multi Lite
The versatility that we have touched on is primarily down to how many light settings you have available on the RidgeMonkey Multi Lite.
Having the spotlight and 360 flood light really is a game changer, and something that RidgeMonkey have patented I believe. On the floodlight, you get 10-100 lumens depending on what setting you have.
This is covered by different colour settings; standard white, green and red. All of these settings have dim, medium and maximum light capabilities to you can tailor the light to however bright you want it.
Whilst the white is enough to light up your bivvy, I do find the green and reds lacking in power slightly. Don't expect to light the full bivvy up red like you can with RidgeMonkey's other bivvy lights.
Coming to the spotlight on the front, you get 145 lumens there. I was quite surprised by how powerful this is. I think it's due to it being quite a condensed beam, rather than a wide beam. As I said, it's more than enough to light up buoys and gaps in bushes.
Push button control…
Another nice feature is the single push button control. You would think that there would be more buttons with the various lighting capabilities, but it actually works very well with just one.
Turn the multi light on by holding down the on button and it will remember your previous settings. Continue to press the control button and it will cycle through the rest of the settings including white, green and red.
Simple, but it works for me.
RidgeMonkey Multi Lite Photos
Pros & Cons
Pros
Compact
Multiple light settings
Comes with bank stick adapter
Multiple attachment points including magnet and hook
Single button control
Hard rubberised finish
Hot shoe attachment available
Fits to the RidgeMonkey multi clamp
Cons
Red & green settings aren't as bright as they could be
Where to use your multi lite
Below are a few example of where you can use your multi lite:
As a standard bivvy light
To add more light to your catch shots
As a spotlight when casting to features (far margins, islands, bushes etc.)
Strap it to the front of your carp barrow
Use it as central lantern when camping with the family
As a general hand torch when lapping the lake
Conclusion
The multi lite has been designed to be a versatile light for various fishing scenarios. There areN'T many lights on the market as adaptable as this one.
For me, it has been a great addition to my kit. It is not the cheapest torch on the market, but when yoU get your hands on one you will realise how well made it is and how much you'll begin to rely on it. Personally, a great purchase for me and something that I'll get plenty of use out of in the coming years.
Where to buy the multi lite
eBay
Amazon
About the writer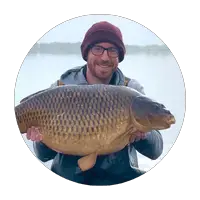 Rob W
I'm Rob, Carp Squad's main contributor. I've been carp fishing on and off for 15 years, but the bug is well and truly back at the moment. Hopefully the articles I write on here help you put more carp on the bank.