A head torch is a must have piece of kit for fishing in the hours of darkness. If you're looking for something that'll help you tie rigs, cast in the dark and successfully land fish, you've come to the right place. Let's take a look at the best head torch for fishing overnight.
There's no doubt about it, a head torch can make or break your session. There's nothing worse than when yours breaks and you find yourself navigating the banks with your iPhone torch!
Luckily, the quality of fishing head torches has improved a lot in the 15 years that I've been angling. But like all things with a carp brand attached, the prices have increased too.
Which begs the question; are they worth the money and do you really need to spend £50+ on a head torch?
In this article we'll take a look at all of the best fishing head torches on the market. We'll compare them against each other, highlight their pros and cons and hopefully help you make an informed decision on which one is right for you.
In a hurry?
If you don't have much time use the links below to quickly find the best carp fishing head torch for you on eBay. You can be assured that we only highlight the best products…
Should you go for a fishing branded head torch or camping brand?
This is a common question on the Facebook fishing groups. And there's no doubt about it, anything with a carp brand attached to it will most likely cost you more money.
In many circumstances, head torches sold by tackle brands are simply rebranded versions of head torches that you can pick up for less from camping and outdoor shops.
It's important to recognise that head torches are all about reliability. There are brands in the outdoor space that specialise in creating head torches for far more serious activities than fishing. (Like mining or caving). They're often built better.
For that reason, you'll see Petzl head torches featured heavily throughout this guide.
That being said, tackle brands are adding features to their torches that make them particularly useful for angling situations.
On/off sensors and the dual orientation are just two features which might want to make us invest in carp branded head torches such as the RidgeMonkey VRH300 for example.
Like any gear choices, it's all about what you value most in your head torch.
What to Look for in a Carp Fishing Head Torch
It's fair to say that carp fishing head torches have changed dramatically in recent years! Choosing the best head torch for fishing today is certainly more confusing that it was in the 1990s. Technology has improved and as such, we are all looking for something a little bit extra now.
Here are the key things you should look out for when choosing your next head torch for fishing:
Rechargeable Battery
With the majority of anglers now opting to take a bivvy power pack to charge their electronics on the bank, it's no surprise to see the majority of head torches featuring a rechargeable battery. Most of the time they feature an internal battery that can be quickly and easily charged via a USB cable.
Alternatively, like some of the torches on this list, they are powered by traditional batteries. In our opinion, these are only worth it if you are going fishing a couple of times per year. Any more than that and it makes financial sense to invest in a rechargeable head torch so that you're not constantly replacing batteries every month.
Nearly all of the head torches featured in this guide are rechargeable, but some require that you purchase an additional rechargeable battery pack. These are the ones that are rechargeable as standard:
Saber Sensorbeam
Ridgemonkey VRH300
Ridgemonkey VRH150
Trakker Nitelife
Powapacs Ultralite
Different Light Modes
Given how much we actually do when out on the bank overnight, it's handy if you have the ability to choose different light modes on your fishing headtorch. For example, you'll need a fair bit of brightness when you're landing and unhooking fish.
On the other hand, when it comes to tying rigs, or making a brew, you might want more of a focussed beam to help you see what you're doing. Choosing a head torch which allows you to cycle through various options depending on the situation is always helpful. – This is one of the main reasons we recommend the Saber Sensorbeam head torch so much, as it packs so many useful features at a good price point.
Multi Coloured Head Torch
It's always good to be stealthy when out on the bank, and when it comes to using fishing head lights, this is achieved by choosing one with multi coloured options (usually green or red).
These are typically not as bright as the standard white beam, but are more than enough for sorting out bits and bobs in the bivvy or making a brew. They are also really good for preserving your night vision if you want to stay up and watch over the water in the dark. Most of the head torches on this list feature some kind of multi-colour option, although if it's the absolute key feature that you're looking for, then we would recommend the Powapacs Ultralite.
Size & Weight
If you're going to have something on your head for long periods of time, it needs to be comfortable.
Unfortunately, most of the weight in a head torch is from the battery, which typically needs to be on the large side for carp fishing.
As a result. you may find that some head torches like the RidgeMonkey bear a little too much weight. They're great for how long they last, but they are large and protrude from your forehead quite a bit.
If you're looking for something lightweight, the Sunblesa Head Torch is the smallest and most comfortable we've came across. At just 46 grams, it weighs next to nothing and you hardly know that it's on your head.
How we picked
Real + Group Reviews
We've combined real experience plus group reviews from Facebook and leading eCommerce stores to determine what products to feature on this guide.
Variety
Everyone looks for different features in their head torch. Therefore we tried to provide some variance amongst the products we've looked at.
No Commission Focus
Whilst we do earn from some links clicked through this site, we have not been biased towards a single product because of that. This is unlike other guides that only feature Amazon listed products.
Best for Budget: Saber Sensorbeam
Saber have been releasing cost-effective, reliable fishing gear for a few years now and the Sensorbeam head torch is no different.
Due to the sheer number of features you get for under £20 here, we had to include it at the top of our list.
Starting out with the lighting itself, it's 300 lumens. The main beam can be registered at 85m and stacks up against some of the leading head torches on the market.
On the Saber head torch, you get a four different settings; white high, white low, white flashing and green. The white settings are quite self explanatory, and the green setting is good if you need only a small amount of light. It also helps you maintain your night vision, whereas white tends to blind you!
The red light is just about enough for tying rigs, sticking the kettle on or rustling up some food. It's also handy if you're fishing close in and don't want to scare fish with a white light beaming across the lake!
The best part about it…
Now you're probably thinking why is it called the SENSORbeam? That's because Saber have included a nifty little feature that means you won't be fumbling around for your head torch in the night again!
On the front of the headtorch is an infrared motion sensor. One quick swipe of your hand anywhere near it and you'll switch the Saber Sensorbeam on. It's a nice little feature if you don't like sleeping with your head torch on. Just stick it on your bivvy table with the rest of your nick-nacks and move your hand towards it when you get a take.
Additionally, we wanted to include it on this best head torch for fishing list is because it's rechargeable. Many of the lower priced head torches aren't so this is a big bonus for us. It takes around 3 hours to fully charge it via USB.
Overall, this is a head torch packed full of features at a very reasonable price. You won't be disappointed.
MORE READING: Saber Head Torch Review after 3 years of use.
Peztl Tactikka RGB 350L
It wouldn't be a best head torch comparison without a Petzl on the list would it? Petzl are well renowned for their quality products which have stood the test of time for years.
In fact, many of the emergency services and rescue personnel use them. If a Petzl is good enough as their main source of light in emergency situations, then it's fair to say it's going to be good enough for a night on the bank!
There are plenty to choose from, but for us, the best Petzl head torch for carp fishing is the Tactikka RGB 350L.
At max 350 lumens, you're looking at an extremely bright head torch here, ideal for lighting up the far margins on a midnight cast. With a simple one button operation, you can cycle through the various light modes, which also includes red, green and blue. These will help you maintain your night vision, and ensure stealth, if you're out and about poaching! 🙊
For such a feature-packed head torch, it is relatively compact too at only 85G , which is always a bonus.
Battery powered & rechargeable…
The fact that it can be powered via batteries and a rechargeable battery pack is always a real advantage too. That way if you don't have enough juice in your power pack to recharge it, you can always stick in 3 X AAA batteries instead. It is worth noting though that out of the box it does not include Petzl's CORE rechargeable pack, so you'll have to purchase that separately.
As you would expect from a Petzl, you do get some weather-resistance with an IPX4 rating. This means it will be fine it all weathers, but not so good if submerged in the lake. Try and keep it on your head if possible!
The Petzl Tactikka RGB comes in a few differing colours too; black, desert and camo for the tackle tarts amongst us!
Overall, this is an excellent head torch packed full of features that will last for years.
Our Top Pick: RidgeMonkey Head Torch VRH300
Ridgemonkey head torches have gained massive acclaim since their launch a few years ago. They've stood the test of time, and once again Ridgemonkey has delivered an excellent product for carp anglers.
This particular version is 200 lumens, offering excellent lighting capabilities for your time on the bank. It comes in at the highest priced head torch on this list, but the features more than make up for that, and this one's specifically made for carp anglers, by carp anglers.
Like most of Ridgemonkey's gear, it is made of a very solid construction, so you'll have no problems if you drop it on the floor. (The floor might come off worse!). There is a downside to this though and that's that it's slightly on the heavier side in comparison to the other head torches on this list.
A fair amount of the weight could come down to the battery, which in this case is a 2000mah lithium polymer battery which can last for up to 90 hours on a full charge. It's rechargeable via USB, so no problem running out of battery if you still have juice left in your bivvy power pack. A nice little feature is the four blue LED lights on the front which give you an indication of how much charge is left.
FIVE light settings…
Back to the light itself, as we mentioned is comes in two colours; white and green. On the white light, you have three settings; high, medium, low. Working through these settings can take you from narrow focussed beam to the highest beam at 200 lumens, more than enough to light up your swim. (and everyone else's if you don't keep your head down! 😬)
On the green light you have two settings; medium and low. These are more than enough to give you some illumination without losing your night vision as you would with the white light. Apparently the human eye is more receptive to green light, who knew!?
Credit to Ridgemonkey they have also thought of carp anglers dashing out of their bivvy when creating this fishing head torch. It's actually got a clever dual-orientation design, which means there is no upside down. No matter which way you put it on whilst you're running out to the rods – you can't go wrong!
Probably one of the main sticking points when it comes to purchasing this head torch is the lack of case. It has to be purchased separately and it really is needed if you want to stop the head torch from switching on in your bag. (the buttons are quite soft to the touch.) Ridgemonkey do a Gorilla Case specifically for this head torch.
Overall, the Ridgemonkey head torch is rock solid and will certainly stand up to many years of use on the bank.
Ridgemonkey VRH150 Head Torch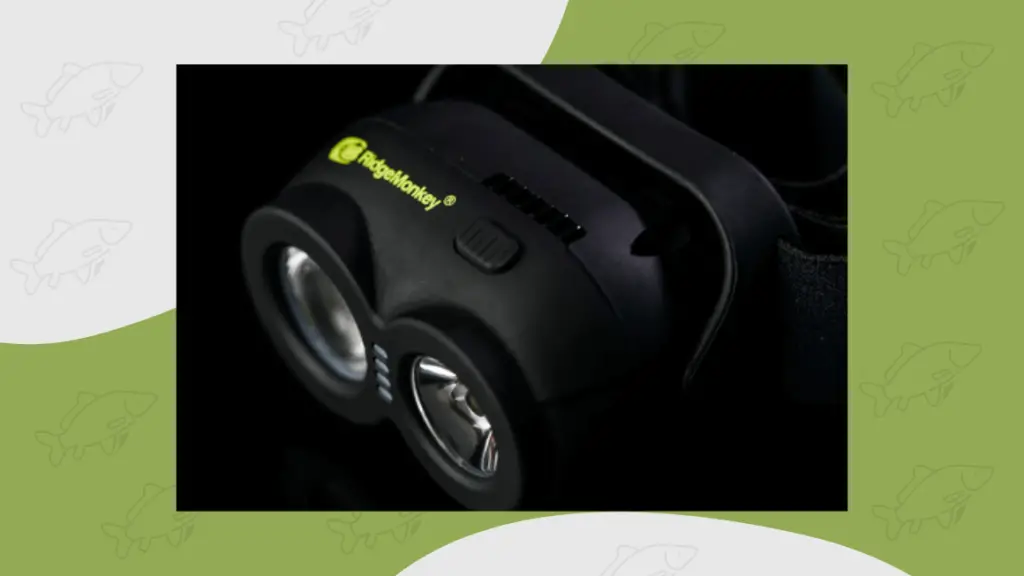 The VRH150 is the baby brother of Ridgemonkey's VRH300 that we covered above. You get pretty much the same features but in a toned down version.
For starters, the lighting output is different, with the VRH150 offering dual colour, variable brightness from 30-160 lumens. It's a little less than the VRH300, but well more than enough for a night on the bank.
In fact, that's still more than many of the other's that have made in on to this head torch comparison.
It's made of a sturdy construction as you would expect from Ridgemonkey. It's a completely sealed design, with no access to the battery or internal components. This is not a bad thing though, as it clearly helps to increase it's water resistance, which in this case is rated at IP64.
In the light itself you get five beam options to suit all situations: low white/green, medium white/green and high white.
Obviously battery times will vary depending on which settings you use, but you can expect to up to around 80 hours use before you need to recharge.
Recharging is done via USB port on the side, simply plug it in to your batter pack and away you go.
Dual orientation design…
Ridgemonkey have included their dual orientation design on the VRH150, so that it will be the 'right way up' no matter which way you put it on as you run out of the bivvy in the dark.
As with all Ridgemonkey products, the slight downside is that you have to purchase a case separately. In our opinion these should be included, especially with how easy this head torch is to turn on in your bag.
Overall though, a solid head torch from Ridgemonkey that will last you years.
Nash Powerbanx Moonshine
When it comes to looking for the brightest head torch, the new Nash Powerbanx Moonshine wins hands down.
This impressive torch boasts a massive 760 lumens. That's enough to light up the far margins and more.
In fact, that's what this head torch was designed for. It's all about making it easy to find carp when turning up to a venue after hours.
With a mega powerful beam, you're able to illuminate the lakebed down to several metres, helping you locate carp and place rigs.
Now obviously this comes with a negative; it's a bulky piece of kit. Nash don't recommend using this as your everyday head torch. For starters, it's heavy and requires a large battery pack that is not the comfiest when worn for prolonged periods of time.
Secondly, it's so bright that you're bound to annoy other anglers if using the Moonshine for landing fish and wrapping up in the dark.
Instead, we recommend using this for times when you really need something super bright, then swapping it out for a lightweight torch for the rest of your session.
Lightweight Option: Sunblesa Head Torch
If you're looking for a lightweight head torch, you'll do well to beat the Sunblesa.
At just 46 grams, it's the lightest carp fishing head torch we've found.
As a result, it also stakes the claim as the comfiest. With a super-flat profile, you hardly know that this head torch is on your head.
Now, the lack of weight doesn't mean lack of features either.
This head torch features a ridiculously powerful 365 lumen main beam, backed up by a 170 lumen mid beam and a more subtle low beam.
Add to that 4 green and red settings and you have everything you need from a carping head torch.
The catch? Battery life. Using this head torch on the main beam will see it drain in just two hours.
This is drastically improved by using the 170 lumen mid beam, which in our experience is more than enough for everyday fishing tasks.
Either way, it had to make our list. If you want a lightweight, sub-£25 head torch that's feature packed, look no further.
Trakker Nitelife Head Lamp
The Nitelife head torch is another which has been specifically designed for carp angling by our friends at Trakker. Featuring up to 580 lumens, this really does deserve the award for brightest head torch on this list!
Not only is it bright though, it's also variable focus, so you can easily adjust the depth of the beam from wide the ultra focussed by twisting the lens cap.
In addition to that, you've got a total of 5 brightness settings split across white and red, so more than enough to satisfy your lighting needs:
White LED (HIGH, MED & LOW)
Red LED (ON & 2Hz FLASHING)
Within the torch itself, you've got a 3.7V 800Mah Li-polymer battery, which gives you more than enough juice to last a few days without recharging. When it comes to recharging, simply plug it in to your bivvy power pack via USB and it will take about 2.5 hours to recharge.
Battery powered & rechargeable…
Most head torches have something different about them and for Trakker that's its ability to be charged via USB or use standard AAA batteries (X3). You might be thinking this is pointless but it's actually really handy for them longer sessions, when you might want to conserve the power in your power pack for other things like your phone.
Overall, another solid head torch made specifically for Carp Fishing.
Powapacs Ultralite Head Torch
Powapacs specialise in battery charged outdoor products like lights and power packs (obviously!), so you should expect nothing more than a quality head torch from these guys.
This is a mid-priced head torch, packed full of features that won't leave you feeling short-changed.
Starting with the light itself, it's a maximum 450 lumens, so more than enough for all of your lighting needs. Like most of the torches reviewed here, it has a few brightness settings across White, Reg & Green colours.
All of the lighting is adjusted with the dual button on the top. You're probably thinking why is it a dual button? Well there's another nifty feature that you might wonder how you've lived without!
Press the top button on the left hand side and you activate the infrared motion sensor. When this is on, you can turn the head torch on/off using a quick swipe of your hand.
It's a great feature if you're not a fan of sleeping with your head torch on. Simply place it on your bivvy table with the motion sensor on and move your hand towards it when you get a take.
Ultralite at 60g
As the name would suggest, this is an ultra lightweight head torch. – Great if you don't like the bulky ones bouncing around on your head. To be honest, we were quite shocked as to how they've packed so many features into such a small and lightweight design.
The weight is definitely a bonus if you like using your head torch for other activities, such as running or going on long treks in the dark.
In terms of the battery, it's rechargeable via USB, so handy if you also have a PowaPacs Atom or other similar power pack for carp fishing. With the 3.7V 1200mAh polymer Lithium Battery, you'll get around 2.5 hours of charge using the brightest setting.
In summary, a worthy addition to this head torch comparison list. You won't go wrong with the PowaPacs Atom if you're looking for the best head torch for night fishing!
Fox Halo 300 Multi-colour
Fox's Halo range of lights have been a mainstay for carp anglers for many years, so it was worth including their Halo 300 head torch on this list.
We'll cut to the chase straight away though, if you're looking for something rechargeable, then this head torch is not for you. You would be better looking at the PowaPacs Ultralite which packs the same features and is rechargeable via USB.
Despite its lack of being rechargeable, there are some decent features to this fox head torch worth noting.
The first is it's array of colours, offering you white, red and green light. Perfect if you want to keep the mozzies away or if you need something a little more stealthy for the poachers amongst us! 🙊
On the white light itself, you have four settings which will take you from enough light to see your rigs landing, to a lower light which will be enough for making a brew in the bivvy. The four white settings come in at 350 lumens, 250 lumens, 140 lumens and 90 lumens.
There's a simple two button operation on the top, ideal for the less techy anglers. One works to change the colour of the light, and the other is a simple on/off.
It takes 3 X AAA batteries and weighs in at 68g, so it's also one of the lightest head torches on this list.
Overall, it's ok if you're only out for a few sessions per year and don't mind switching batteries. For those who are out more often and have the convenience of a carp power pack at hand, then we would recommend you look at the rechargeable options such as:
Energizer Head Torch
When you think of Energizer, you don't think of head torches. To be honest, until I was looking for a new head torch I didn't know they exist. A quick look on the Carp Facebook groups and people were raving about these little head torches that cost well under twenty quid.
These little head torches pack a punch, with more than enough features to feel like you're getting your money's worth.
Let's start with the light itself, it's a 315-lumen LED beam which can reach as far as 80m in it's highest settings. It's hard to expect more out of a head torch, but that should give you enough light for casting over to far margins, overhanging trees etc. under the cover of darkness.
As with many of the torches on this list, you get an array of light settings; red, high, low, spot high, spot low, wide high and wide low. These are changed by pressing the right button on the top of the head torch.
You'll notice that there are two buttons on the top. The left side adjusts the width of the beam, something you wouldn't have expected from a torch in this price range.
Like some of the more expensive carp fishing head torches on this list, the Energizer fishing head torch also includes 'Advanced Memory Recall'. Essentially, this means that the headtorch will remember your previous setting when you turn it off. – Handy when you don't want to cycle through all of the settings every time!
Overall, if you're on a budget, don't go fishing too often and aren't too bothered about buying batteries every now and then when you need to, then you can't go wrong with the Energizer head torch.
NGT XPR Fishing Light
NGT have been around in the budget carp gear world for a few years now and to be fair to them, their gear might not be the flashiest in the world, but it certainly stands up to the job.
Coming it at just over a tenner, you can't go wrong with this NGT head torch. We're massively impressed that you can get a rechargeable head torch for this price to be honest, and all of the reviews we see back up the quality of this little torch.
With its rechargeable battery, you can expect this head torch to last you up to 12 hours in the brightest white setting, and up to 96 hours in the red and green night options. – more than enough for a weekend session and it can be recharged easily with your bivvy power pack.
At 140 lumens, it might not be the brightest head torch on this list, but it is more than enough to be used as your main fishing head torch. Although don't expect it to be lighting up the far bank in the dark!
As we have previously mentioned, the head torch comes with three light colours: standard white, night green and night red. The standard white can be adjusted to low, medium or high depending on how much light you need. You can also tilt the head of the torch up to 90 degrees to give you a better angle for making rigs or a night time brew if you've managed to catch one!
Overall, I think it is a great addition to this list and fits with NGT's brand values very well; delivering usable carp products without the additional carp tax!
Carp Head Torch FAQs
How many lumens for night fishing?
How many lumens you need for night fishing all depends on what you're looking to do with your head torch. Anything from 120-200 lumens is more than sufficient for the majority of night fishing tasks, such as landing a fish, cooking a meal or even setting up your carp gear after dark. Here are a few head torches in that category:
If you're looking for something for a bit with more range, maybe to light up for the far margin or for walking through thick undergrowth at night, then head torches over 300 lumens would be more suitable. These include: