Every now and then it makes sense to ditch the fresh bait and grab a bag of shelf life, but which ones do you choose? In this guide, we'll be taking a look at the best shelf life boilies you can try this year.
When choosing boilies for fishing, there's always a strong argument that fresh is best. Having highly digestible, fresh boilies free of preservatives should in theory catch more carp.
But times have changed, ingredients have improved and even some of the best carp anglers are now favouring shelf life boilies.
Not only that, but there are just times when shelf life baits are more convenient. That could be long trips abroad or simply just having stock in the back of the van. They are just so much easier to store at home or whilst fishing.
But which are the best shelf life boilies you should be using?
Let's take a look.
Sticky Baits The Krill Shelf Life
Top Pick
Sticky Baits The Krill range has been arguably the most popular boilie flavour of the last 10 years.
Accountable for some of the largest carp and used exclusively by some of the bets big carp anglers in the business.
But there was always one thing letting it down; it wasn't available in shelf life.
That was until about 6 months ago when Sticky dropped the bombshell that they had been working on perfecting a shelf life that was as close to their freezer baits as possible.
Flavour wise, as the name suggests, Krill is the predominant ingredient. A strong, fishy base that's common with most of the 'big carp' baits that have stood the test of time.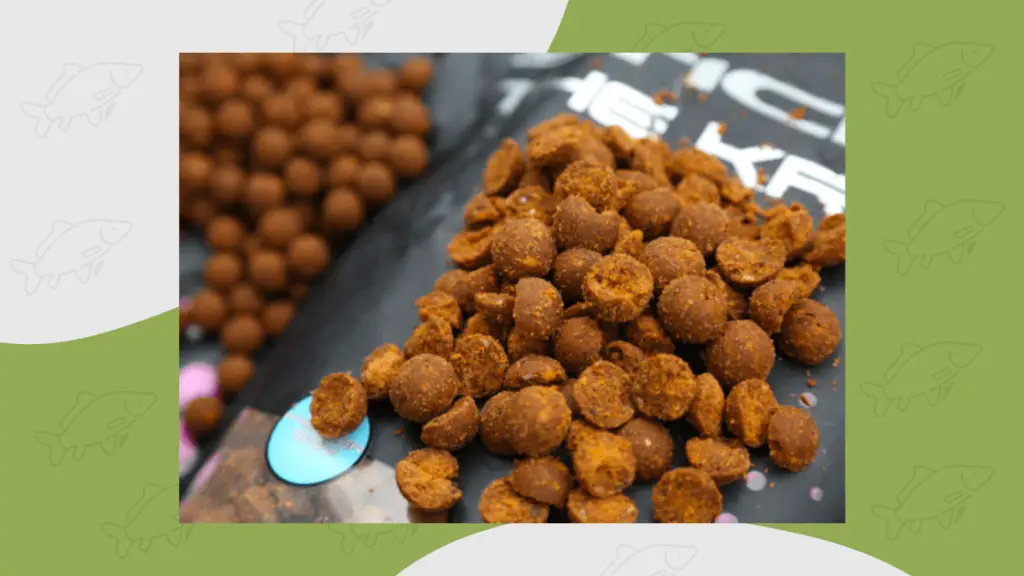 We're seeing Krill pop up everywhere in the bait game right now. It's relied on by many marine animals as a primary food source and nutrition. As a result, what you get is a bait which is great for introducing over long periods of time. Fish simply know it's good for them.
And if Krill wasn't enough, Sticky have also included pre-digested fishmeals in the base of this bait. This does make it more impactful throughout the warmer months, but it isn't to say that you can't prolong it's use throughout winter too.
DNA SLK Shelf Life Boilies
DNA Baits shot to prominence a few years ago with the launch of their bulk buy deals. Representing excellent value for money, DNA know how to produce a top quality bait too.
Their SLK is the flagship in their shelf life range. A dark brown food bait that's packed full of attractants including shrimp, liver and krill.
It's base ingredient is a classic too. Being made from a high-quality fishmeal, it's a bait that ensures a carp will get all the nutrients it needs.
Out of all of the DNA range, this is probably the one bait that anglers stick to for campaign fishing. That's not to say that it doesn't work as a fast action bait though. Simon Crow is known to use these straight out of the bag to devastating effect.
Being a fishmeal boilie, it's probably best used throughout the warmer months.
But that's not a problem, DNA have plenty of other flavours in their range which are more suited as winter boilies.
SLK is an excellent addition to this list, and it's cost-effective when purchased in bulk too.
Mainline Diamond Whites
Mainline High Impact Boilies
Mainlines range of high-attract shelf life boilies. I've had plenty of success on these throughout Spring.
Pros:
High attract range of flavours

White, so ideal for venues where birdlife are fed a lot with bread

Re-sealable bags
View Price
Mainline are a trusted carp bait company, so it's no surprise to see their shelf life boilies on this list.
One that I've used personally to great effect is their Diamond White range.
This is a vibrant, high-leakage bait designed specifically for instant attraction. When you open the bag, you are hit with a strong, fruity aroma which lingers for some time.
It's this level of flavour profile which makes them part of Mainlines High Impact Range. You can't purchase these baits fresh, they are made specifically as a shelf life boilie.
It's probably not the sort of bait you would use for longer campaign fishing, but for quick bites there is little to match the Diamond Whites.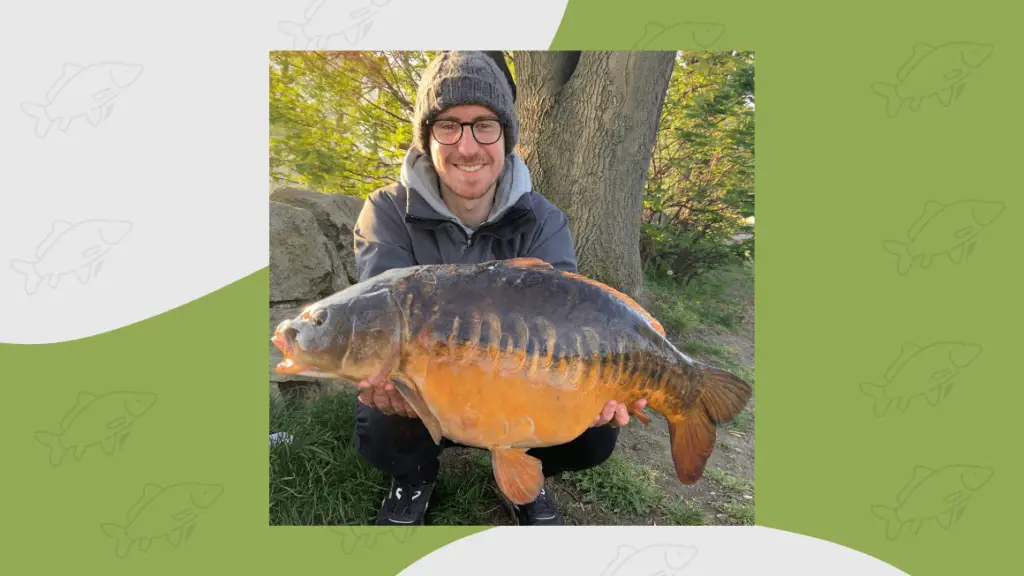 With the obvious white colour, it's a bait I've used to great effect on my local canal. I always prefer a white bait that is likely to mimic bread dropped in by the duck feeders.
Sticky Baits Bloodworm
Natural Based
Sticky Baits Bloodworm Boilies
Sticky Baits original boilie flavour, as good to this day as it ever was.
Pros:
Made with real bloodworm

Ideal for fishing venues full of natural food

Made from high-quality fishmeals
View Price
When you talk about Sticky Baits, most think about their Krill or Manilla ranges.
But it was actually their Bloodworm range that took the company to significant heights in the mid 2000's.
It's a range that hasn't changed much in that time, still dominating waters for those choose to use it. I've personally come across many anglers catching significant amounts of carp on the shelf life version of this too.
Being flavoured with blood plasma, there is that obvious benefit to using this bait. It's packed full of natural attraction. Even more so when combined with Sticky's Real Bloodworm Liquid.
With it's deep red colour and fishmeal base, you may be fooled into thinking that this is just a bait for the warmer months. In fact, this bait can be used all year round due to the inclusion of milk proteins and robin red.
Like all Sticky Baits, the range is extensive. You can purchase paste, pop ups, wafters, hard hookers and liquids under the Bloodworm sub-brand.
Dynamite Baits The Source
Dynamite Baits The Source
Made famous by Terry Hearn in the early 2000's, The Source is a classic big fish shelf life bait.
Pros:
Dynamite's best selling boilie of all time, pioneered by Terry Hearn

A classic, deep red fishmeal bait
View Price
Anyone that's been on the carp scene for a few years will remember this one.
The Source is Dynamite Baits top selling bait of all time. Made famous by Terry Hearn who was fundamental in it's creation.
Terry himself has caught thousands of carp on this best, so you can rest assured that it's one of the best shelf life boilies.
With a robin red base, it's got a classic carp bait profile and colour. – Synonymous with some of the best carp baits of the past.
The actual flavour of this bait is a bit of a mystery. There is a spicy kick that hits you as soon as you open the bag. However, Dynamite seem to be keeping things close to their change when it comes to announcing the full flavour package.
What we particularly like about The Source is how expansive the range is. You can purchase these as fresh freezer baits or shelf life. Perfect if you like to switch things up through the season or just keep extra shelf life baits in the back of your car.
And if you're looking at moving to shelf life baits for the first time, you can check out our recent article to find out more about how long shelf life boilies last.
Nash Citruz
Best For Quick Bites
Nash Bait Citruz Boilies
Nash's legendary Citruz range. If there's a boilie that can buy a bite in any conditions, it's these!
Pros:
Super high attract boilies

Bright pink so perfect for winter fishing and trying to nick quick bites
View Price
For those who want instant action, you can't look much further than Nash Citruz.
This range was made for the angler with who needs to catch carp on limited time. It's the range that Alan Blair and co. put to devastating affect on their short urban roving sessions.
As a bait it's primary aim is instant attraction, and it achieves that in spades!
In terms of visibility, you can't miss the Citruz, which comes available in vibrant white or pink. Both colours seem to get instant bites and they work particularly well in the winter months.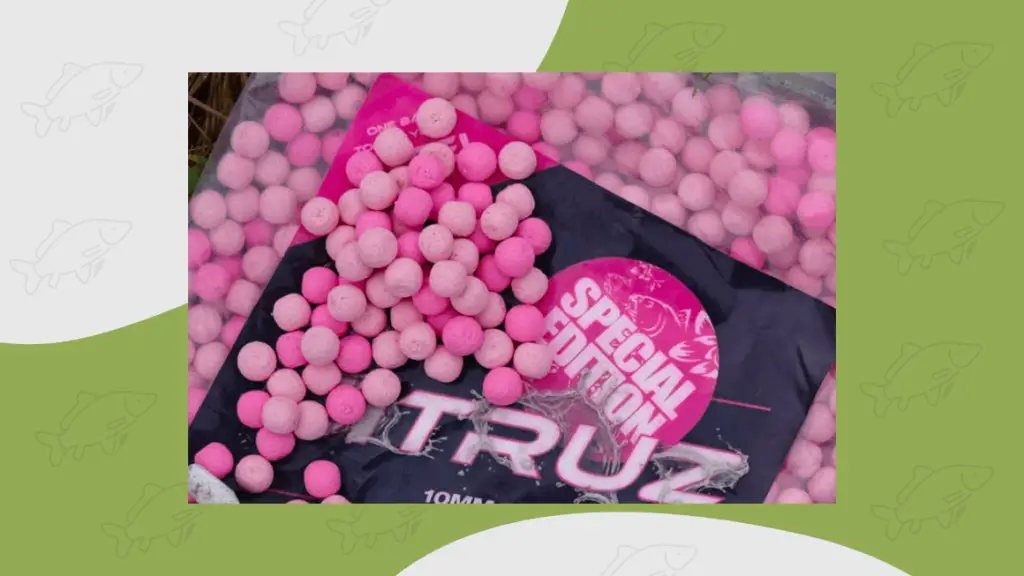 It's not all just instant attraction though. Citruz comes from a Nash Bait factory responsible for creating some of the best big carp baits of all time.
The base mix of this boilie is synonymous with a bait that can be used all year round. It's primary base is cereal and milk proteins. Highly digestible, it's a bait that is great at getting quick bites but can also be fed heavily too.
When all else is failing on your water, grab yourself a bag of Citruz shelf life boilies.
Nash Scopex Squid Cultured
Nash Scopex Squid Boilies
Nash's original boilie range is back and better than ever.
Pros:
Unique Scopex Squid flavour

A full range of hookbaits, liquids and attractants available in addition to the shelf life boilies
View Price
The shelf life boilie market was quite stale until Nash evolved the typical boilie into a 'cultured' hookbait.
Cultured hookbaits are essentially typical shelf life boilies wrapped in a unique outer layer that breaks down quickly.
What this does is release extra attractants into your swim, tempting carp to single out your hookbait. From testing, that's exactly what these Scopex Squid hookbaits tend to do!
One thing to note here is that these are just hookbaits and you only get 10 per pack. They are not to be used as free offerings, unless you want to remortgage your house that is!
For baiting up, you're best using the rest of the scopex squid range including their traditional boilies, flaked crumb and liquids.
Now, what about the flavour profile?
Scopex is simply one of the most successful carp bait flavours of all time. Originally invented by the legendary Rod Hutchinson, it's been a been a fundamental ingredient in many baits over the years.
Nash took it once step further by adding a fishy profile to this bait which makes it ideal as a quick attractor but also something that can be used for pre baiting campaigns.
About the writer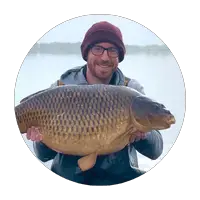 Rob W
I'm Rob, Carp Squad's main contributor. I've been carp fishing on and off for 15 years, but the bug is well and truly back at the moment. Hopefully the articles I write on here help you put more carp on the bank.