Is there anything better at catching carp than a strong smelling fishmeal boilie? We think not! It's time to restock your bait bag as we check out the best fishmeal boilies that you should try in 2023.
When it comes to boilie fishing, you've typically got two options. You can either choose boilies that smell nice to us humans, or choose fishy baits that are likely to get you in trouble with the Mrs. if she finds them in the freezer.
Coincidently, it's the latter that is well known for catching big carp.
And most of the dark, fishy scented baits on the market are actually derived from base mixes made from fishmeal.
But what are the best fishmeal boilies on the market right now?
Let's take a look.
6. ACP Baits Pacific Plum
ACP Baits might be one of the newest carp bait companies but their baits just had to make this list of best fishmeal boilies.
In such a short time frame, their boilies have gained a large following, primarily due to their ability to bank lots of carp.
Not only that, but they are represented by big fish angler Jim Shelley, who also has a hand in creating the baits alongside ACP.
Pacific Plum is their main fishmeal bait, and the one that Jim is regularly hauling on over on YouTube.
It's a classic carp bait, made up of three different high-quality fishmeals. A flavour package of crab, krill and plum give this bait a fishy scent with a hint of fruit.
Unlike most fishmeal baits on the market, this one is slightly lighter in colour too. Pacific Plum is a bright red so it's likely that it will stand out on most lakebeds.
At around £40 for a 5kg bag, it's not the cheapest bait you can buy. That being said it shows a solid track record in it's relatively short time on the market.
Give this one a try if you want to be using something different to most people on your lake.
5. CC Moore Pacific Tuna
In complete contrast to ACP Baits is CC Moore, who've been in the bait game for decades.
Interestingly though, their range of baits has stayed the same for a very long time. That's probably testament to their success we expect.
Pacific Tuna is the main fishmeal in their range, and their most popular bait after The Live System.
It's not an out-and-out fishmeal by any means. Looking at the base mix, it also comprises of soluble milk and vegetable proteins too.
What this concoction does is make the bait suitable for all year round use, where some fishmeal boilies tend to lose their edge. That's exactly why no fishmeal baits made our recent list of best winter boilies.
Pacific Tuna can be used right through the winter, making it an attractive bait for anglers who are putting in lots of bait over a campaign.
Flavour wise, it's got a salty, fishy taste as you would expect from a tuna flavour package. Enough to tempt any passing carp!
4. Munch Baits Bio Marine
If you're looking for a fishmeal boilie that's a little more cost effective, it's worth checking out Munch Baits.
Instead of just going direct to consumer, Munch have taken the retail route. As such, you can often grab large bags of their baits for knockdown prices at places like Fishing Republic.
Bio Marine is their main fishmeal-based boilie. It's a dark brown bait that's made up of a whole host of base mix ingredients that make it one of the fishiest fishmeals around!
Despite having all the hallmarks of a classic fishmeal though, Munch claim that these can be used as winter boilies too. Something to do with some extra secret ingredients they've added to make it more soluble in the colder water.
Whatever it is, it seems to work. Bio Marine has a great following from when the company was originally launched in 2011.
Deals aside, what we also like about Munch is their extensive range of liquid attractants and boosters.
To get the best from Bio Marine, it's recommended to coat it in a layer of stick mix and a glug of the matching liquid food.
3. Baitworks Atlantic Heat
When you talk about high-quality carp boilies, it's hard not to include Baitworks into the mix.
Their Atlantic heat is talked about as one of the most successful fishmeal boilies. And it has the results to back it up too.
Created way back in 2005, Atlantic Heat is a blend of the marine fishmeals that make this bait seaked out by carp as a nutritious food source.
But carp are not the only creatures that seek out Atlantic Heat. This bait was specifically designed to attract all matter of aquatic life, further extending it's attraction.
Drop some of this in the margins and you'll soon see it encapsulated by snails, caddis and bloodworms. – A sure sign that this bait has no nasties in it.
Whilst Baitworks might not be the cheapest around, they have some decent starter deals.
Check out their Atlantic Heat 1kg Starter Deal for £25 if you want to try it without spending 100s.
2. Nash Scopex Squid
Nash Scopex Squid is one of the most popular baits of all time, which seen it recently listed on our guide to the best shelf life boilies.
But what makes it so special?
That would be the Scopex flavouring that was invented many moons ago by the legendary Rod Hutchinson.
Nash soon got wind of it and developed Scopex Squid, and the rest is history as they say.
Constructed from a base mix of LT90 fishmeal, blended fishmeal and nectarblend, Scopex Squid is equally as good at getting quick bites as it is as a campaign fishing bait.
Speaking of campaign fishing, it's been known to work well on pressured waters. Jim Shelly is well known for using this bait to catch the iconic Black Mirror.
And prior to moving to Mainline Baits, Daryl Peck caught the majority of the Yateley Car Park Lake's original stock on this bait. Put simply, the results speak for themselves.
Give it a go and we're sure you will not be disspointed.
1. Sticky Baits The Krill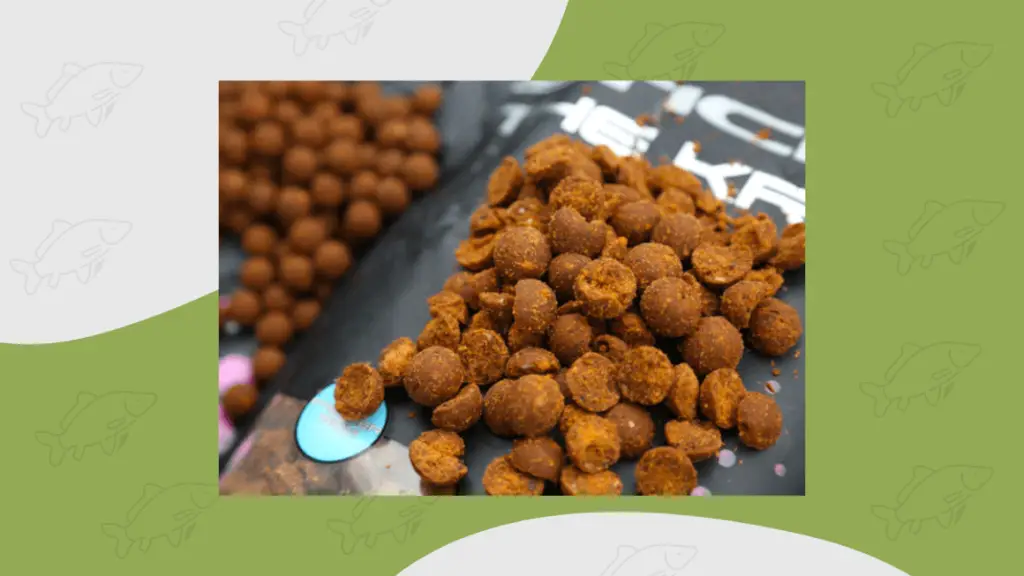 Need we say any more about this bait? Since it's inception, The Krill has gone on to be arguable the most popular fishmeal boilie of all time.
It's been responsible for the downfall of some of the UK's largest carp. Plus it's used exclusively by some of the most successful anglers in the UK.
But what about the ingredients? Well that's where things are a little vague.
Sticky rarely divulge their ingredients. But what we can tell you is that over 25 ingredients make up The Krill range.
An obvious inclusion is fishmeal, along with Krill, an ingredient regarded by the agriculture industry as a major attractant for fish.
Ingredients aside, how does the rest of the range stack up?
Well let's just say Sticky have covered all bases here. In the rest of the range you can find dips, powder mixes, pastes, pellets and even floaters!
Not only that, but you can now purchase The Krill in an 'Active' version. This is a traditional boilie with a softer outer shell that breaks down quicker to release even more attractants into the water.
If you're looking for the best of the best when it comes to fishmeal boilies, give The Krill a go.
About the writer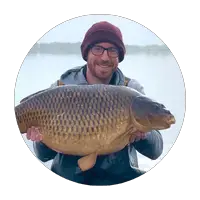 Rob W
I'm Rob, Carp Squad's main contributor. I've been carp fishing on and off for 15 years, but the bug is well and truly back at the moment. Hopefully the articles I write on here help you put more carp on the bank.