It's time to clear out the freezer and stock up on some fresh bait as we check out the best winter boilies!
Boilies are undoubtedly one of the best all year round carp baits. They are known to carp as a highly digestible, protein packed food source that can keep them going through the winter months.
Having them in your mix as either hookbaits or free offerings is a must if you want success this winter. However, it's not as simple as just picking a boilie flavour from your favourite carp bait company.
They are all made from different ingredients, some of which perform better in cold water conditions. Seriously, just look at how successful Sticky Baits Manilla is throughout the winter months. It's been proven to be more successful than their other ranges, which goes to show why it's so important to choose the right winter boilies.
If you are looking to stock up on some new bait for the winter months, you're definitely going to want to check out this list.
Which boilies are the best for the winter months though?
Let's check out the best winter boilies for 2022!
7. DNA The Switch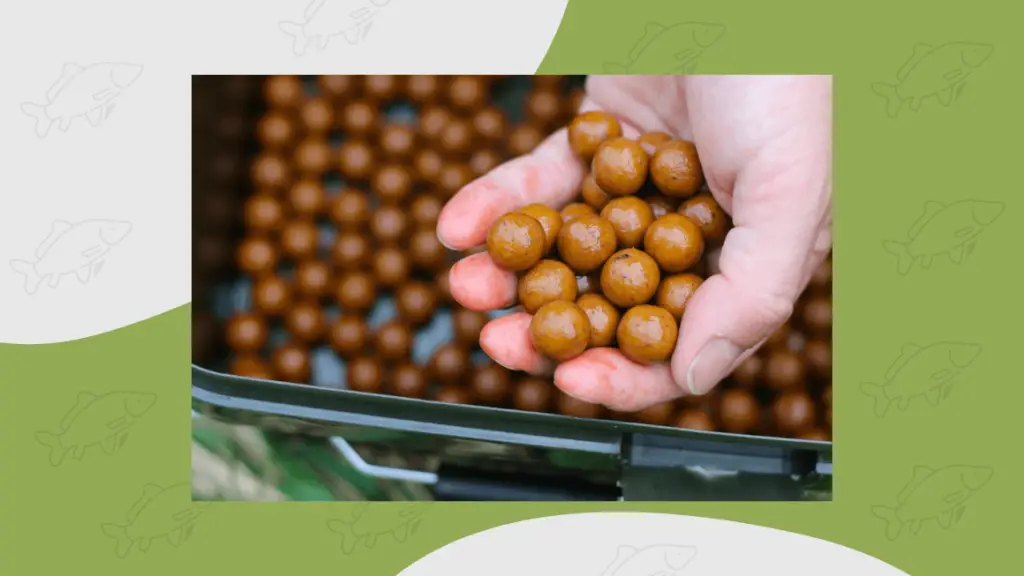 DNA's dominance in the world of carp boilies has gathered pace in recent years. Whilst other boilie brands continue to skyrocket in price, DNA remain consistent with their cost-effective offers.
Their range continues to grow too, with The Switch being their bait best used for cold water conditions.
Like most winter carp boilies, there is the obvious omission of fishmeal from this bait. In fact, it's made from a high percentage of readily-available food proteins including whey protein and pea protein isolate.
It was tested for nearly 5 years before general release, and results showed this very well accepted by carp as a winter food source.
Nutritional aspects aside, what about the flavour? In true DNA style they haven't just got for any old flavour package. The team have worked to create a liquid flavour packed full of powerful feeding triggers including Capsaicin and 'Active' Peptides.
The result gives a meaty, yeasty aroma which is not common of other carp baits that are also not of the fishmeal variety.
Let's take a look at the other types of carp boilies that we'd recommend trying through the winter months!
6. Munch Baits Citrus Nut
A rising star in the world of carp baits, Munch Baits Citrus Nut is gaining popularity at the moment.
Partly, that's because they are more affordable than established brands, and they're easily accessible from tackle shops such as Angling Direct and Fishing Republic.
Don't be fooled into thinking the Citrus Nut is any worse in quality than the other winter boilies on this list. It's been specifically designed with high-protein ingredients, typical of any great cold water boilie.
The Munch Baits team have worked hard on the flavour profile too. Their main aim was always to produce a bait that can act as a long-term feed but also as an instant attractant.
This led Munch to experiment with Bichu Oil and powerful citruz flavours capable of attracting any passing carp. Judging by the results, they seem to have landed on the right combination.
Nutrition and flavour aside, what the Carp Squad team love most about munch is their availability. There's no need to wait weeks for an order to be delivered. Citrus Nut can be found at all Angling Direct Stores and even your local Fishing Republic inside Go Outdoors.
5. Mainline Cell
Known as one of the most successful boilies of all time, Mainline Cell is just as good in winter as it is during the rest of the year.
Thought they're expensive, Mainline Cell has the results to back it up which should ease your financial concerns. That being said, at around £12 per KG, they're not ideal if you're on a budget, and for that reason they didn't make our recent list of cheap carp baits.
The funny thing about Mainline Cell is how little information there is regarding ingredients. According to Mainline, this is not a nut protein or bird seed based bait like most winter carp boilies.
The base for Cell is actually kept under wraps. All that Mainline disclose is that it's created from a unique form of protein. Apparently something that we are yet to see used in the carp bait industry.
One things for sure, whatever it is, carp seem to love it. Cell has dominated waters up and down the country.
Since it's inception nearly ten years ago, it's been responsible for landing some of the UK's largest carp, and it regularly used by Team Korda on their Thinking Tackle Series.
A true classic carp boilie that you should definitely try if money is no object!
4. Baitworks Creamino
When you talk about brands that really understand their ingredients, you can't look further than Baitworks.
These guys thoroughly test their baits before launch, and that was no different for their winter bait; CreAmino.
It's a classic winter bait, combining a whole host of soluble proteins that are highly digestible and break down in even the coldest of waters.
As the name suggests, it's got a really creamy flavour to it. Baitworks don't specifically highlight the flavour package used, but our testing shows that it has the ability to provide fast action on a session.
Despite being a direct to consumer brand, Baitworks isn't the cheapest though. You can look to spend around £10.50 per kilo of boilies if you purchase them online. Much more expensive than the likes of Munch Baits but still less than Mainline and Sticky.
That being said, it's worth mentioning that this can be discounted by 10% on every order if you're a Cypography member.
CreAmino is a well-tested bait that's stood the test of time now. Give it a go if you're looking for a consistent bait for the winter months.
3. CC Moore Live System
If you've read any of our other bait guides, you'll know that we're big fans of CC Moore.
These guys have one of the most extensive carp bait ranges on the market. For that reason, they make this list and many more on Carp Squad.
When it comes to winter boilies, their primary product is the Live System. This bait has all the hallmarks of a winter boilie.
It's a milk protein and birdseed base which is so familiar with the best winter boilies of the past. In fact, this is the most established bait on this list.
Originally launched in 2002, it has been responsible for banking some of the UK's largest carp. The best thing about it? The ingredients haven't changed since day one.
It's still based on the same low oil mix that makes Live System highly soluble in cold water. As such, carp find this bait easy to digest. It's creamy, vanilla aroma and essential amino acids make sure that this bait is just as good for quick bites as it is for a pre baiting campaign.
Price wise, it's not cheap. But what can you expect from an established bait with a quality track record. Give it a try and let us know how you get on.
2. Nash Citruz Pink Pastel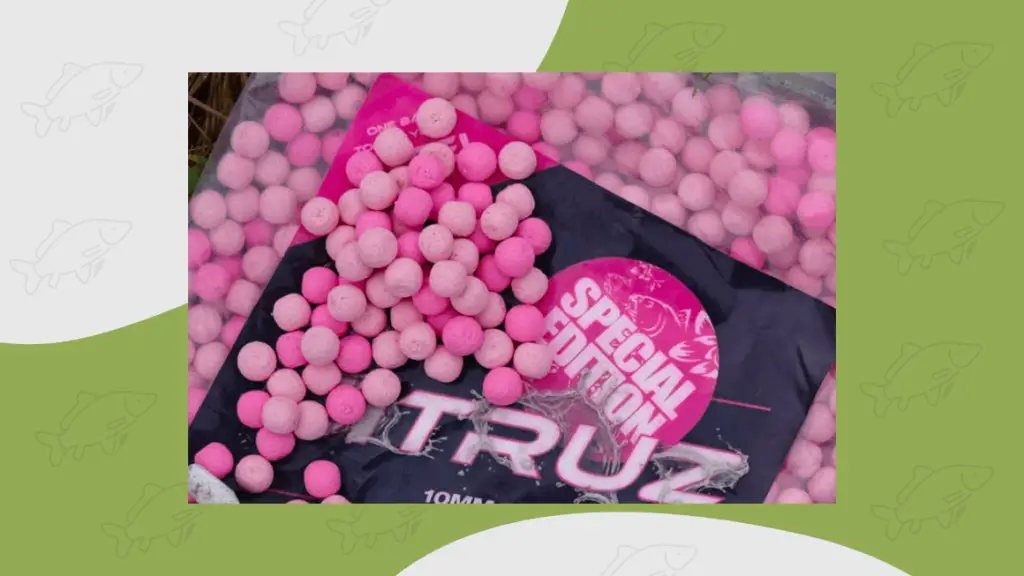 When you talk about winter boilies with instant attraction, you can't look any further than Nash Citruz.
Since Citruz hit the market a few years ago, they've become renowned as a winter bait that can get a bite anywhere.
You only have to watch Alan Blair on his short sessions to see how effective Citruz is. He uses it to great effect to tempt a bite in even the most unlikely scenarios.
Available in white and vibrant pink, Citruz has as much a visual attraction as it does in taste and smell. One things for sure, you really can't miss it on the tackle shop shelves.
Not only that, but the carp can't miss them too. Maybe it's the vibrant bait colour combined with clearer water that make this bait such a winter classic?
Now you could be mistaken for thinking that the colours overshadow their nutritional value too. But that couldn't be further from the truth.
You only have to look back at Nash's illustrious history as a bait brand see that they can indeed create a boilie that carp love.
Whilst Citruz doesn't get the same year-round recognition that Scopex Squid does, it's got to be in your bait bag if you're a short session winter angler!
1. Sticky Baits Manilla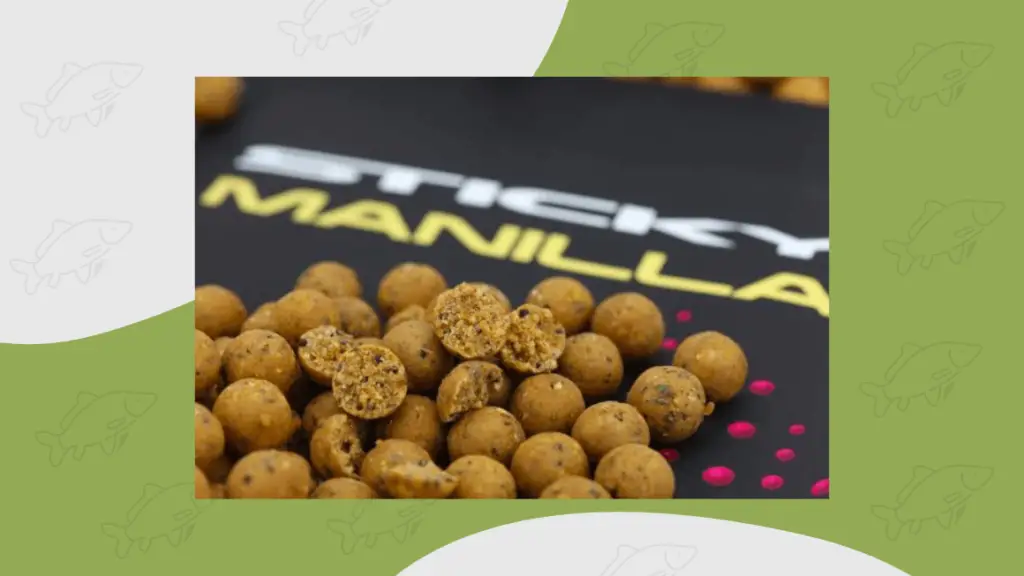 With Sticky Baits being one of the largest, most well-respected carp brands in the UK, it's no surprise to see us recommend Manilla as the top boilie on this list.
But why does this winter bait occupy the top of this list?
Simple: It's accountable for some of the most impressive captures from some of the UK's hardest waters.
Top anglers such as Scott Lloyd and Myles Gibson put their trust in this bait through the colder months. In many ways, there's almost an assurance of reliability when it comes to using Sticky Baits Manilla in the winter.
It's past successes remove any guesswork from your own angling. You simply know that it's proven as a winter bait.
Ingredient wise, of course Sticky do now divulge exactly what's in the bait. What we can tell you though is that it's a milk protein and birdfood base which is synonymous with successful winter baits.
It's closest competitor is probably CC Moore Live System, being a birdseed base with a creamy aroma. The smell of Manilla is enough to keep you sniffing a tub of pop ups for days.
It's also worth mentioning how extensive the range is. Manilla covers a whole host of products from freezer and shelf life boilies through to high-vis pop ups and hard hookers.
About the writer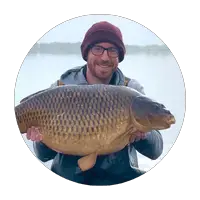 Rob W
I'm Rob, Carp Squad's main contributor. I've been carp fishing on and off for 15 years, but the bug is well and truly back at the moment. Hopefully the articles I write on here help you put more carp on the bank.