Ladywood Lakes is well-known amongst the Yorkshire carp fishing community, but fast gaining a reputation for being one of the best day ticket carp lakes in the UK.
A complex of two lakes, Ladywood offers excellent fishing for carp anglers who are both looking for a challenge or a bend in the rod.
The big lake, at 10 acres in size, offers anglers the chance of over 70 different 30's and 5 40's up to around 46lb. That itself is an impressive stock for anywhere in the UK, never mind Yorkshire.
If Ladywood is on your hit list, stick around as I share my experience from fishing the big lake. I'll be sharing hints, tips and tactics to help you get more from your session.
Tickets: Day tickets
How to book: Direct phone booking line (See the Ladywood Lakes Fishery Group on Facebook)
Ladywood Lakes Fishing Prices: 24hr £30, 48hr £56, 72hr £84, 96hr £112, 5 nights £140, 6 nights £165, 7 nights £190
Best bait: MAD Baits Wicked Whites
Carp size: Up to 46lb
How busy: Busy, pre-booking required
On-site facilities: No facilities
Address: Sands Ln, Ladywood Lakes, Mirfield WF14 8HH
My experience fishing Ladywood Lakes (Big Lake)
I fished Ladywood in March 2023 for the first time.
Having fished around Yorkshire for the past 5 years, Ladywood has been high on my hit list.
However, those who read my content know how sporadic my fishing is, often needing to fit a session in here and there. Ladywood's pre-booking approach never really fitted around my schedule, until it came to sorting a social well ahead of time with my old mate Matty.
Ahead of the session, I had already joined the Ladywood Lakes Facebook Group, so felt well armed with enough information to approach the trip.
As a duo, we settled on double peg 16. My thinking was that whatever the weather it gave us both plenty of water – Deep areas out in front and shallow margins to have a go at. I'm a big fan of this approach when targeting a new water.
Arriving at a full lake which hadn't produced many carp for a while, we opted to go against the grain.
Six adjustable zig rigs were dispatched to the central bowl of the lake, working different depths with the 20ft of water in front of us.
Cut a long story short, I lost one and Matty landed a lovely 28lb mirror, the only carp to come out that night.
Recommended tackle for Ladywood Lakes
Description:

For presenting a bait in the upper layers.

Description:

PVA bags to showing fish is a successful method.

Description:

All leaders are banned at Ladywood.
A Great Tactic!
Description:
For presenting a bait in the upper layers.
Description:
PVA bags to showing fish is a successful method.
Description:
All leaders are banned at Ladywood.
Ladywood Big Lake
The big lake is the main lake on the Ladywood Complex. At 10 acres in size, it's a decent size of water, full of features to fish to including channels, gullies and weed beds.
There is an excellent stock of carp in this lake, and it is often considered as the best water in the north to catch a 30lb carp.
Gus, the fishery bailiff, keeps regular tabs on his stock of carp which go back to their original stocking in 2010/11. Since then, a record 72 different 30lb+ carp have been recorded (as of Spring 2023).
The lake itself is an ex-gravel pit, set centrally within the town of Mirfield. Like most old gravel pits, it's still a little rough around the edges, further added to by floods of previous years.
What I like about the big lake is the variety of features and depths, synonymous with most gravel pits. The big lake has depths going down to 22ft, with loads of gullies and bars to explore.
This makes for interesting fishing, as every swim has some sort of feature that fish will home in on.
As a result, fish come out from all over the lake, unlike some fisheries I've been to where there are clearly 'hot' swims where the fish congregate.
The big lake is a challenging water but once you crack the code, there are plenty of excellent carp to be caught.
Book well in advance
As you would suspect with the stock levels of Ladywood Big Lake, anglers are lining up to fish this place.
Gus runs a very strict booking system, taking calls on the booking line at only certain times of the week.
Without wanting to provide wrong information here, I suggest you head straight to the Facebook Group where Gus regularly announces that he's taking bookings.
It's very rare that there is availability within a weeks notice throughout the warmer months, so prepare to be disappointed!
That's one of the reasons why I've not fished Ladywood much. I just don't have that clarity of my diary due to work commitments.
Don't ignore the margins
The margins drop off seriously fast on Ladywood, so you shouldn't overlook them.
Not only that, but the team running the place have worked hard to plant good, solid trees around the edge of the lake, including Willows, Alder, Oaks and Birch.
These provide cover for the carp, encouraging them into the edge.
At a time when most carp anglers turn up and instantly start spodding to the centre of a lake, it pays to be a bit different.
Peg 16 which I fished is known to produce fish from the edge, with an excellent spot to the right hand side.
My advice would be to stick one in the edge at least, and keep your eyes out at either side of your swim. The raised track provides a great vantage point to spot fish cruising.
Try zigs!
I'm a big fan of zigs on waters that are as deep as Ladywood.
In 22 foot of water, it's just too much of a gamble to have all three rods on the deck.
Carp spend a lot of their time in mid water, and you can often pick up a bite on zigs when others around you are failing.
Admittedly, I think I did read on the Facebook Group that the success of zigs has wained on the big lake in recent years. Whether that's due to the fish growing and wising up to them, or just less anglers using them, who knows.
Either way, they're certainly not a small fish tactic.
If others around you are struggling on the bottom, switch it up. It worked for us on our trip!
Fish PVA bags to showing fish
The carp do like to show themselves at Ladywood, so keep an eye out as much as you can.
Casting to showing fish is known to produce, but go easy on the bait and fish for a bite at a time.
From what I've heard, a lot of people make the classic mistake of over-baiting when turning up at Ladywood. – Going into autopilot and spombing out kilos to fish over should be done with caution.
Quite often there are bites to be had by just fishing solid bags or small stringers to showing fish.
Unless you know the fish are having it, there's no need to fill the place in on an overnighter.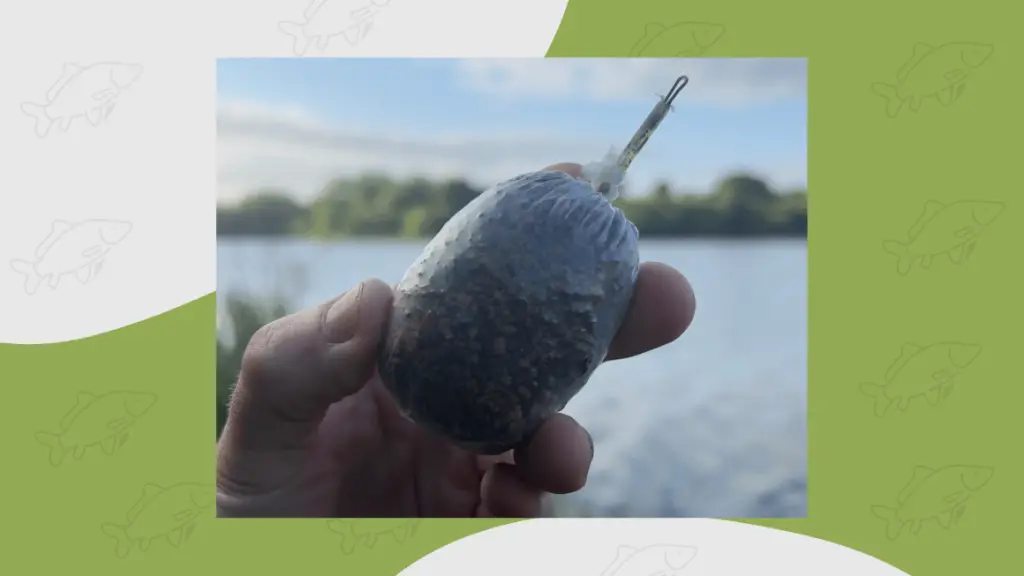 Rigs for Ladywood Lakes
Anyone who reads my content on Carp Squad knows that I'm a big believer in keeping things simple.
That's not different when fishing somewhere like Ladywood Lakes.
Solid bags and simple lead clip systems are the order of the day. I'll usually opt for solid bags when casting to showing fish.
You've got that aded attraction of the pellet and being able to add liquid attractants in there to bring carp down from the upper layers.
Some of the highlighted rules include no braided mainline and micro barbed hooks only on the big lake. There's also a ban on leadcore or leaders of any kind. It's quite a rare rule but one that I completely get.
If you're heading to Ladywood, be prepared to fish without leaders. I opted for tubing on the typicaly bottom bait rigs or stems on my solid PVA Bags.
Bait for Ladywood Lakes
My advice on Ladywood is to stick to a boilie and pellet approach.
These fish have been reared on pellets from a young age, being fed over two tonnes per year!
It's what they love and it makes sense to stick to what they see most of.
Ladywood can see the pellet directly to you, at a reasonable cost of £15 for a 5KG bag. Just let them know what you need whilst booking or ahead of turning up.
Like most day ticket venues, Ladywood see's a lot of different brands of bait. Sticky Baits and DNA Baits are both proven catchers, as shown regularly on YouTube by the likes of Simon Crow.
However, on lakes like this there is always one standout bait. For Ladywood, that's MAD Baits Wicked Whites.
You only have to join the Facebook Group to see just how many catches there are on this bait. And as you would expect, it's also sold by the guys at Ladywood for £10 per kilo.
Ladywood Lakes FAQ
Can you drive to the swims?
Yes, you can drive to all swims on the lake. The majority of swims let you park right behind them, with the exception of only a few. Even then, it's just a short walk to your peg. Barrows are not really required when fishing Ladywood.
Is there a shop near Ladywood Lakes?
The closest shops is Nisa Local/BP Garage which is at 890 Huddersfield Rd, Dewsbury, Mirfield WF14 9HS. It's within 2 minutes of the fishery gates.
What's the Ladywood Lake Record?
The Ladywood Lake Record is a common carp called Kamara which weighed 46lb 10oz.
Where is the best place for food nearby?
I can fully recommend Cafe53 for a good breakfast or sandwich. I stopped here on my way to the lake and grabbed a full english.
About the writer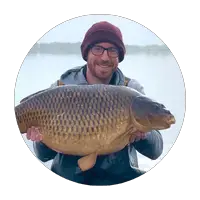 Rob W
I'm Rob, Carp Squad's main contributor. I've been carp fishing on and off for 15 years, but the bug is well and truly back at the moment. Hopefully the articles I write on here help you put more carp on the bank.