Looking to stock up on your choice of buoyant hookbaits? It's time to check out the 10 best pop up boilies on the market.
Pop up boilies have become a major part in many carp anglers tactics in recent years. With the growing popularity of the spinner rig and ronnie rig, carp pop ups are now much more widely used in comparison to wafters and bottom baits.
And as we head into the winter months, fishing with pop ups really does become a good tactic. Having a good selection of colours and flavours is vital for them cold days casting singles to showing fish.
Sticky Baits Mulbz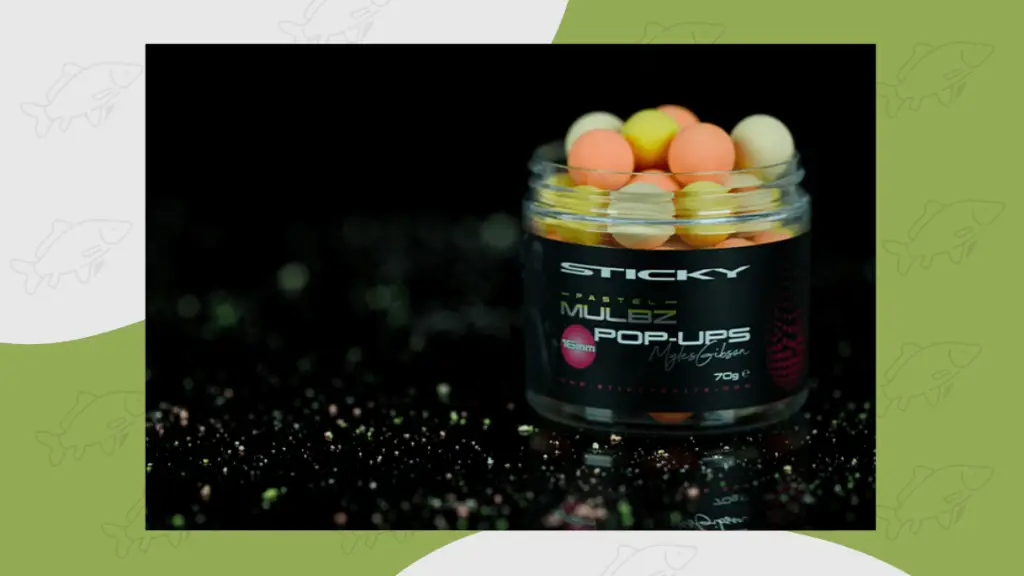 Sticky Baits Mulbz have been around for years now and accounted for some of the UK's largest carp.
Pioneered by carp catching machine Myles Gibson, Mulbz are a classic fruity flavour combination which gives off plenty of attractants. You know they are good hook baits when an angler like Myles puts their name to them.
What we like about Mulbz is the variance you get in a tub. Three separate colours combined in one tub gives you plenty of options without having to carry around multiple pots of pop ups.
Not only that, but they're available in bright fluoro or wash out colours depending on your preference.
Pair them with the Mulbz bait spray for the ultimate single hookbait to entice carp all year round.
Secret Squirrel Hookbaits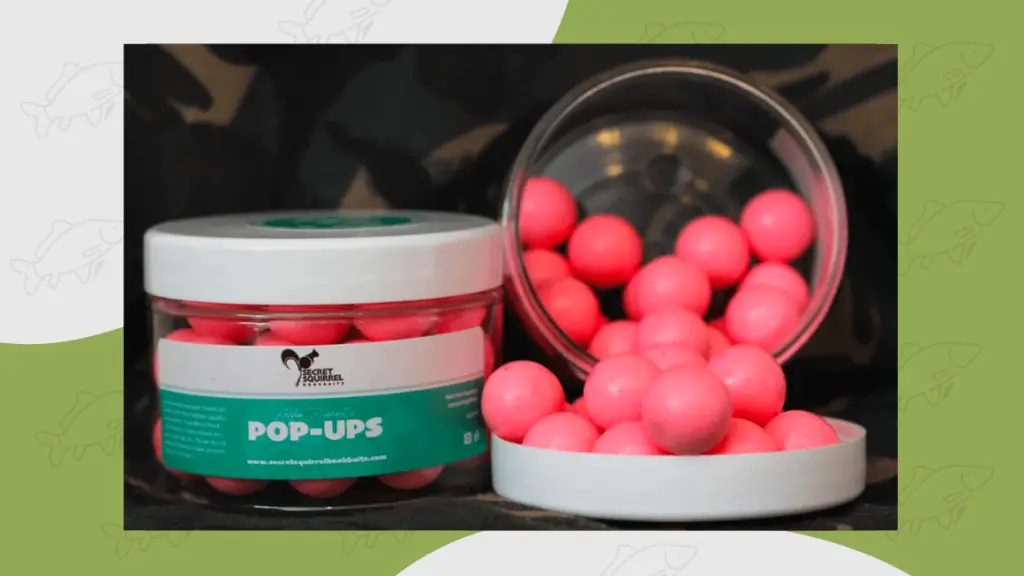 When a company only produces pop ups and nothing else, you know that they are going to be some of the best pop up boilies on the market.
Urban angler Alfie Russell launched Secret Squirrel Hookbaits around a year ago, giving people the chance to purchase some of his exclusive flavours that he has been cooking up for years.
Billingsgate and Candyberry are the two main flavours in the range.
These have accounted for many of Alfie's success on the urban waterways of London.
Grab yourself a tub of each and give them a go.
Mainline Baits Hi-Visual Tutti Frutti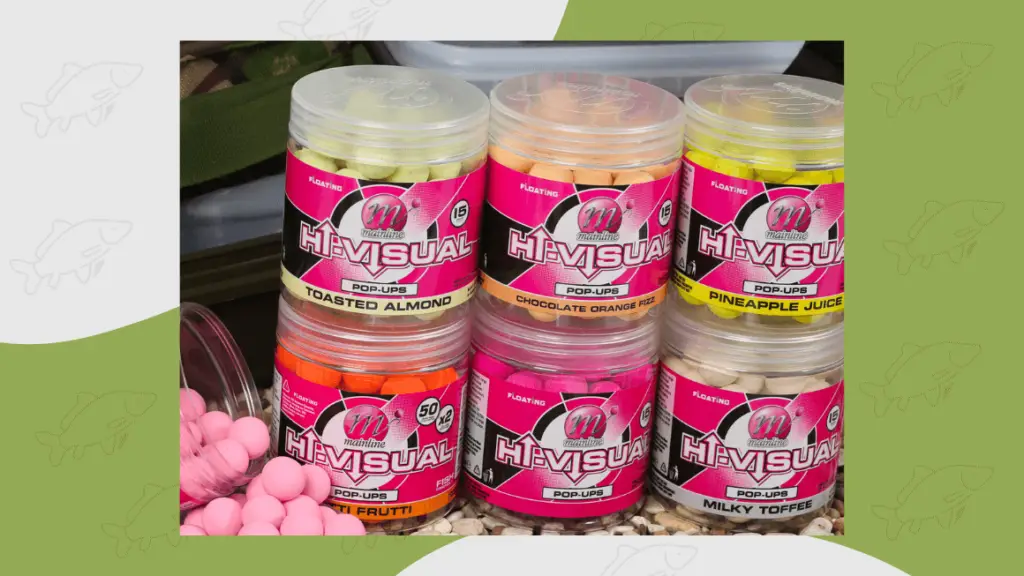 Tutti Frutti was a classic flavour throughout the late 90s and early 00s.
The fact that they are still on sale today by Mainline Baits says it all.
The bright orange fluoro colour is a favourite of many, making these ideal for winter fishing or single hookbait fishing.
They've accounted for large carp both in the UK and abroad.
Over the years, Mainline have expanded the range to include a host of new flavours and colours too, including pinks, whites and yellows.
Open a tub if these and you'll be sniffing them for the rest of your session!
These legendary carp catchers from Mainline, one of the best carp bait companies, are well worth having in your bait bag.
Nash Citruz Pop Ups
The Nash Citruz range has gained many followers in recent years, particularly due to it's success as a winter carp fishing bait.
Based on a highly digestible cereal and milk protein mix, the Citruz range is ideal for them sub-zero temperatures.
In fact, this is the range of baits which prolific urban angler Alan Blair uses for the majority of his fishing. The washed out pink and white colourways of the Citruz range have further enhanced it's carp catching ability on public rivers, canals and park lakes.
The white in particular is always a winner of urban venues. Perhaps it's due to it's likeliness in colour to bread which is often dropped in the edge by passers by? Who knows.
But what we do know is that the Citruz range is one of the best range of baits on the market.
Dynamite Baits Two Tone Fluros
Can't decide what fluro colour of pop ups to go for? Don't worry. Dynamite Baits have you covered.
Dynamite began developing two tone fluros when they noticed anglers regularly hair rigging two halved pop ups together for colour variance.
Some may argue that they are made to catch the angler more than the carp, and maybe so.
However, after years on the market they have remained a successful hookbait, particularly amongst European Anglers.
If you're looking for hookbaits that stand out a little, you might want to get a few tubs of these.
Mainline Cork Dust Pop Ups
Every now and then you want to be able to match your pop ups with your free offerings.
This range of pop ups from Mainline enables you to do that if you are using one of their ever popular bait ranges.
They are made from the exact same high-quality base mix ingredients as their freezer baits including the Cell, Essential Cell and The Link.
Not only that, but they are made with cork dust too. What this does is ensure a super-buoyant pop up that can hold up heavy rigs such as the stiff hinged rig, chod rig or ronnie rig.
The cork dust also makes them less likely to lose buoyancy when soaking in additional flavours, which is a big plus.
Soaking hem in some Mainline Smart Cream is a great way to give them an extra boost of attraction.
CC Moore Northern Specials
Every now and then a range of hookbaits hits the market and gets cult status due to repeatedly catching some of the biggest carp in the land.
The CC Moore Northern Specials is one of them range of hookbaits.
With a sweet, citrus aroma and high leakage, these pop ups are excellent to use all year round.
What's most interesting about these pop ups though is how they are made. Unlike other pop ups which are simply boiled, CC Moore steam their Northern Specials.
They say that this further locks in the flavour and minimises flavour loss which can occur during boiling at a high temperature. Whether it's just a marketing ploy, who knows!
You can't doubt their carp-catching ability though. And with the range expanding even further to cover multiple colours, it's worth having a few in your bait bag.
CC Moore NS1 Minis
If you're a fan of the snowman presentation, then you'll need to have a tub of these NS1 Minis from CC Moore.
They are 8mm versions of the Northern Specials range, specifically made for those who want a double boilie presentation. After trying them myself, I found that they are great for balancing out both 14mm and 16mm bottom baits, depending on the size of the hook that you choose.
It's great that you don't have to spend time trimming down larger pop ups and testing them in a bucket before each cast.
In a single tub you get 8 mixed colours, giving you plenty of choice to try various snowman presentations across your rods, without needing to carry loads of hookbaits.
Flavour wise, they are based on the same high-attract fruity flavour of the original Northern Specials.
To boost the pop ups even further, each tub comes with it's own sachet of flavour booster. Adding this to your tub of NS1's and letting it soak in for a few days is known to massively increase their flavour leakage.
If you're a snowman fan, definitely grab yourself a tub of these.
Stick Baits Pineapple & N-Butyric
Pineapple N-Butyric is a classic carp flavour which is a must have in your bait bag.
If there's one colour and flavour that can tempt a bite, even in the depths of winter, it's this one.
Carp pop ups have evolved in flavour in recent years, so it's good to see Sticky Baits bring this all time classic back. A simple flavour and colour which has stood the test of time and will continue to catch carp for years to come.
A must have in your bait bag, particularly for the winter months!
Conclusion
And there you have it, an overview of the best pop up boilies on the market. Grab a few pots and let us know how you get on!
About the writer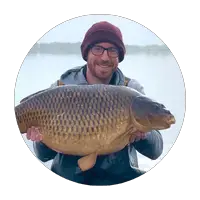 Rob W
I'm Rob, Carp Squad's main contributor. I've been carp fishing on and off for 15 years, but the bug is well and truly back at the moment. Hopefully the articles I write on here help you put more carp on the bank.