Size doesn't matter so much with carp rods anymore. If you're looking for a set of 10ft rods that are nimbler and easier to transport, without limiting your casting range, you've come to the right place. Let's check out the best 10ft carp rods for 2023.
16 years ago when I started carp fishing, shorter rods were suitable only for stalking and floater fishing. They weren't beefed up enough for your day-to-day angling, and casting at range was a definite no-no.
But times have changed.
Advances in rod building technology and retractable butt sections has seen a wave of 10ft rods hitting the market. And you can definitely achieve some decent long range casts with the higher test curve versions such as the Nash Scopes.
In this article we'll compare the best 10ft carp rods currently on the market. We'll cover the main advantages of using each, and highlight a variety of rods that you can use depending on your requirements and budget.
Let's get started. If you don't want to run through the entire article, here are our top three for you to check out:
Should you get 10ft carp rods over traditional 12ft rods?
This is a common question for those looking at new carp rods. And the answer varies depending on how you'll be using your rods.
If you're just fishing small waters or up to around 80 yards, 10ft carp rods will be ideal. They're lighter, feel better for playing fish and easier to transport too.
But where they do fall down is when it comes to distance casting.
Typically, the longer the rod, the more carbon there is to compress and fully launch your lead.
This is why you'll see extreme casters like Terry Edmonds opting for 13ft rods for their long range work.
On the flip side, 10ft carp rods have a distinct advantage with their smaller length.
They're much more nimble, making them perfect for tight swims or on canal towpaths. Some 10ft carp rods such as the Nash Scopes are retractable too, packing down to as little as 50 inches. Ideal if you're fitting your gear into a Vauxhall Corsa like me!
What to look for in your next 10ft carp rods
Test curve
Most carp rods come with test curves ranging from 2.5lb to 3.5lb test curve. In the case of 10ft carp rods, this can vary though, as originally they were designed for closer range work where casting large leads isn't a necessity.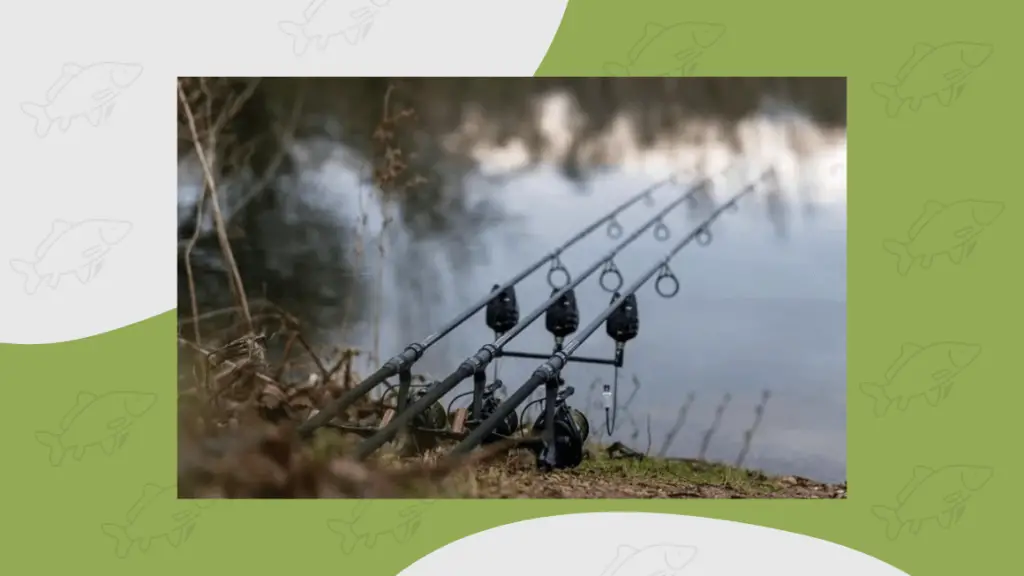 If you don't want to be hindered at range by your 10ft carp rods, just make sure that you choose a rod that has a decent test curve and backbone for casting. The Nash Scopes are a good choice which have been tested for casting at range.
Handle style
This is more of a visual element but you might want to consider difference handle styles when choosing your next rods.
If you're an old school angler, the full cork handle is definitely the way to go. A number of ranges include this handle type, with the Wychwood Extricator having most options with cork.
On the other hand, you might want to choose full duplon on shrink wrap if you're looking for something a little more discreet.
Perhaps you'll be using your rods on the towpath or fishing waters you shouldn't be. In this case you definitely don't want cork handles sticking out like a sore thumb.
Transport size
Transport size is a key reason why anglers downsize from their 12ft carp rods. The shorter the rod, the smaller they are to pack up.
But you should definitely take into account whether you want (or need) them as a retractable rod or not. There's a major difference in transport size between the two.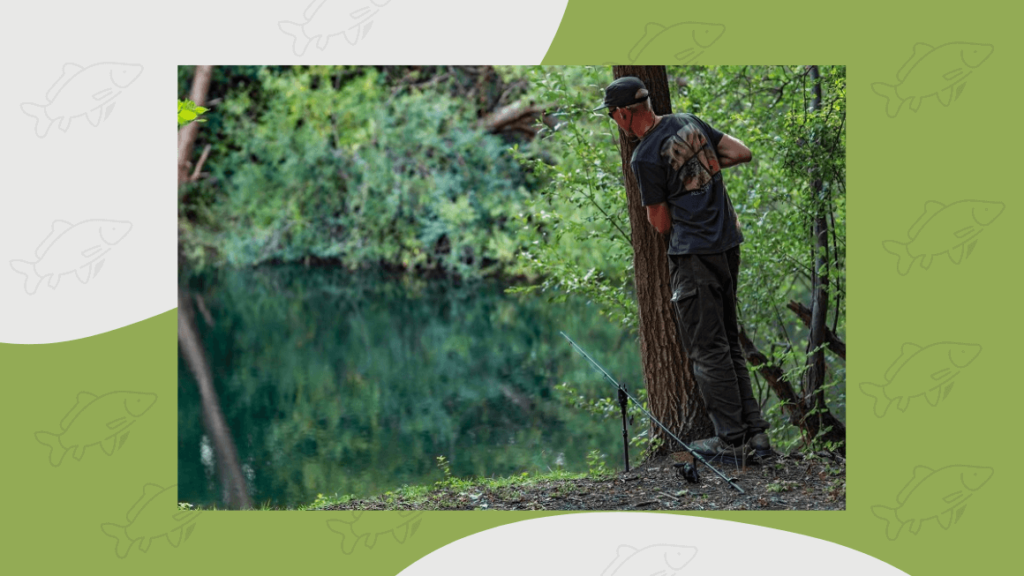 If you look at the Nash Scopes or Sonik Xtractors for example. Being retractable, they pack down to around 50 inches. This is small enough to strap to a bike or sit width ways in a car boot.
On the other hand, if you just go for a standard 10ft, two section rod, you can expect a transport size of 5 foot. This is not much smaller than the 12ft rods and will still see your rods poking through the centre console in your car.
The two piece rods do feel a bit more 'solid' than the retractables though. And if you choose to go for this style we would recommend the Shimano TX2 10ft.
How we picked
Real + Group Reviews
We've combined real experience plus group reviews from Facebook and leading eCommerce stores to determine what products to feature on this guide.
Variety
Everyone is looking for different things out of their carp rods. Therefore we tried to provide some variance amongst the products we've looked at.
No Commission Focus
Whilst we do earn from some links clicked through this site, we have not been biased towards a single product because of that. This is unlike other guides that only feature Amazon listed products.
Our Pick: Nash Scope 10ft
Our pick
Nash Scope 10ft
Often copied but rarely beaten, the Scope range was the pioneer of short, reatractable rods in carp fishing.
Pros:
Retractable butt section

Fuji and anti-frap tip guides

Integrated line clip

Minimal styling
View Price
The Nash Scope is the original retractable, sub-12ft carp rod and still remains one of the best 10ft carp rods for us.
It's been interesting to see this range grow over the years. Alan Blair and co. originally marketed them as a small water, urban fishing style rod.
But they are far from just that these days.
It's just as common to see them used on larger lakes as it is when carp fishing on canals or rivers. Anglers have become accustomed to the smaller pack down sizes of the Scopes now.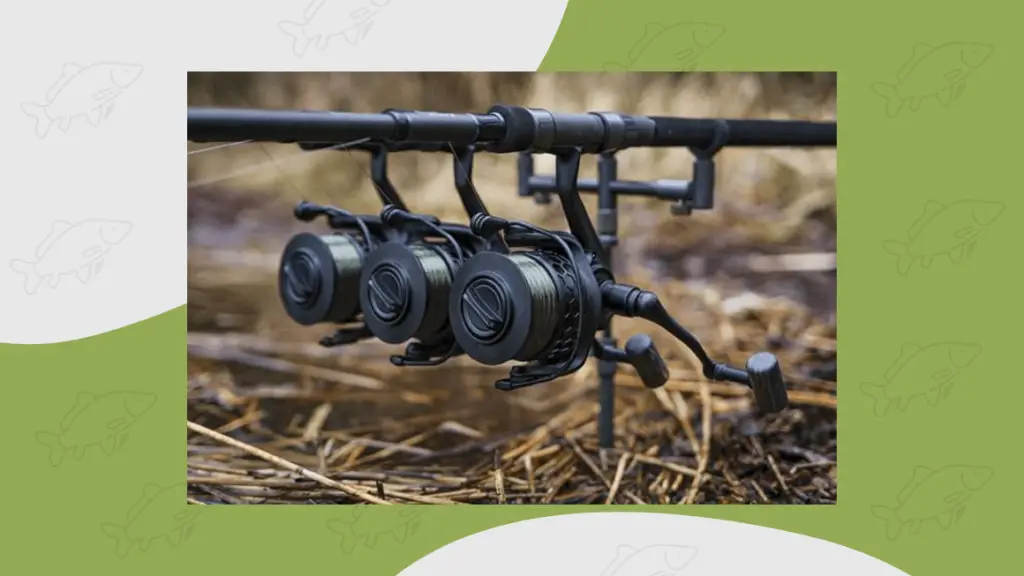 These pack down to an incredible 50 inches. It's nothing when you compare them to a two piece 12ft carp rod. They're nimble enough to strap to a bike and small enough to go in the boot of a car without putting the back seats down. – A major plus for us.
We've already discussed test curves, but it's worth mentioning that this range has been beefed up a little bit too. It now starts at a minimum 3lb test curve, all the way up to a 3.5lb which gives enough backbone for launching solid bags.
Whilst they are not considered out and out casting tools, they can certainly hit the distance with the right technique. The lads over on the fishing bloggers Youtube channel demonstrated that perfectly with a cast of 36 wraps using Nash Scopes.
For the tackle tarts out there, they look the part too. Scopes feature discrete black branding throughout and are available shrink wrapped, full duplon or cork handle depending on your preference.
If you want the best of the best when it comes to 10ft carp fishing rods, check out the Scopes.
Runner Up: ESP Quickdraw
ESP Onyx Quickdraw Carp Rods
ESP were late to the party when it comes to shorter rods, but the Quickdraw range definitely hits the mark. Used widely by Terry Hearn and Alfie Russell in their pursuit of big carp!
Pros:
Sleek, ESP minimal looks

Full duplon handle

Retractable butt section
Cons:
Not the best for range casting
View Price
ESP were late to the party when it came to launching a carp rod shorter than 12 foot.
Rods are not the staple of their range for sure. But they have been branching into small water/stalking kit for a while now, with Alfie Russell showcasing the range.
We knew it was only a matter of time before they launched a rod, and low and behold the Onyx Quickdraw hit the market.
Taking into account functionality, looks and price, these had to make it as our runner up to the Nash Scopes.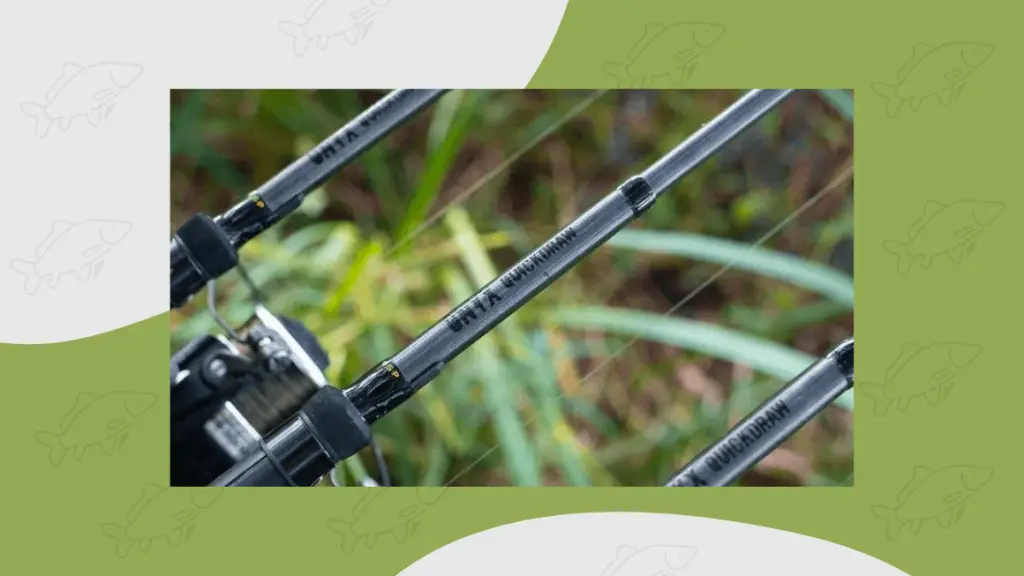 They just have a real quality feel to them which should command a price twice as much as their RRP. (We'll reveal the price later, don't you worry!)
Clearly the main aim for these rods has been keeping them lightweight. Everything in the Quickdraw range is geared towards the needs of the mobile angler.
The high modulus carbon construction used on these rods achieves that, ensuring that you can roam the banks all daily with this in hand. What you'll find is a rod that's well balanced with smaller big pits such as the Daiwa Emblem Blacks or Daiwa Whiskers. Anything bigger than that and things might start to feel a little off-balance.
Like most things in the ESP range, it has that old school look too. In fact, they don't look too dissimilar to the Terry Hearn Signature range that many anglers still swear by to this day.
But the best thing of all? The price.
These rods come in at just £82.99 each. A whopping £70 less than the Scopes.
That's a hell of a lot of rod for your money and the reason this is our runner up.
Budget Pick: Sonik Xtractor
Budget Pick
Sonik Xtractor Rods
Sonik's well-reviewed Xtractor rods are ideal for those on a budget. In my opinion they offer exceptional value for money, out-performing Nash Dwarfs in the same price bracket.
Pros:
Exceptional value for money

Solid DPS reel seat

Integrated line clip
Cons:
Not ideal for long range casting
View Price
If you thought £82.99 was value for money, then you're in for a surprise here.
Our budget pick for this guide is the Sonik Xtractor.
The Sonik Xtractors were originally launched to rival the Nash Dwarfs, and it's fair to say they've lived up to that task.
A regular debate on the forums, the Xtractor always comes out on top in a comparison with the Dwarfs.
Having checked them out, they are a seriously good small water carp rod, retailing at just £45 each.
Insane value but in my opinion they are better suited to smaller, more intimate venues. Now that isn't to say that they can't be used on larger lakes, they certainly can, but you will be limited.
Distance casting is just not what they were designed for. So if you're likely to be venturing on to large, windswept pits, you'll have to dig a little deeper and go for beefier 10ft rods like the Scopes.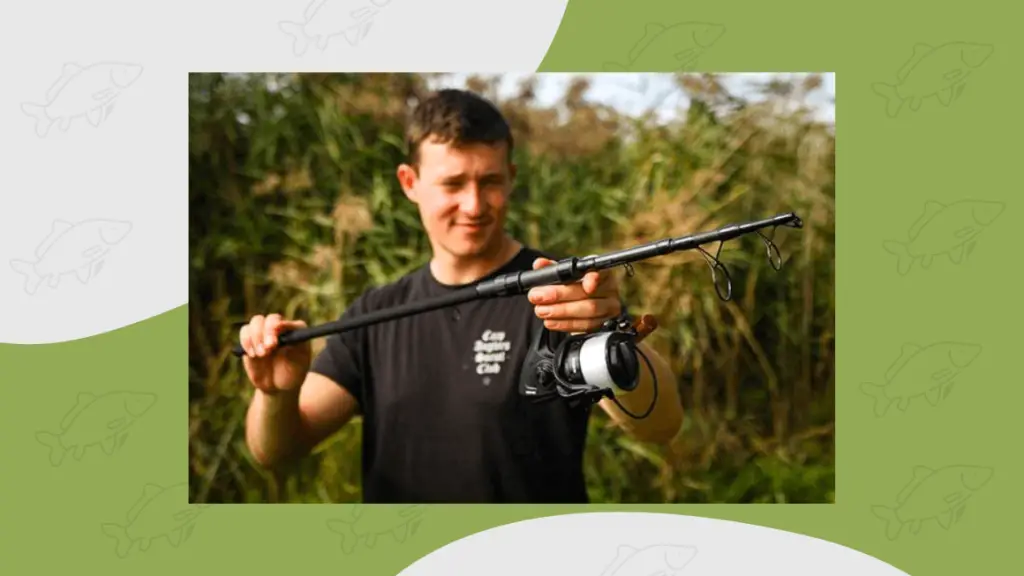 Yes there's a 3.25lb test curve in the Xtractor range, but most sub-£50 rods are just not comfortable at casting at range. Not saying they can't, but it just isn't comfortable and will require an even better more refined technique.
On a positive note though, I've heard nothing but good things about the Xtractors when used in the right scenario. An ideal rod to choose if your 10ft rods are just small water or opportunist rods for the back of the car.
Wychwood Extricator Plus
Wychwood Extricator Plus 10ft
Wychwood's gear has improved massively over the years and their 10ft range of Extricators are at the forefront of that. These are a two piece, non-retractable version, so feel a little more solid in your hands than Scopes or Quickdraws.
Pros:
Solid guides that won't smash like typical ceramic ones
View Price
Wychwood have been making moves in the carp rod game for some time now.
There original Extricators went down well, but it's the Extricator Plus that we want to cover in this guide.
These have seen a big upgrade, taking them from a sub-£60 rod to one of over £130.
But what's changed?
A 40T carbon blank has been added for starters, something only the Scope's can rival in this guide. What this gives you is a 10ft rod that you can really feel confident in when hitting the distance.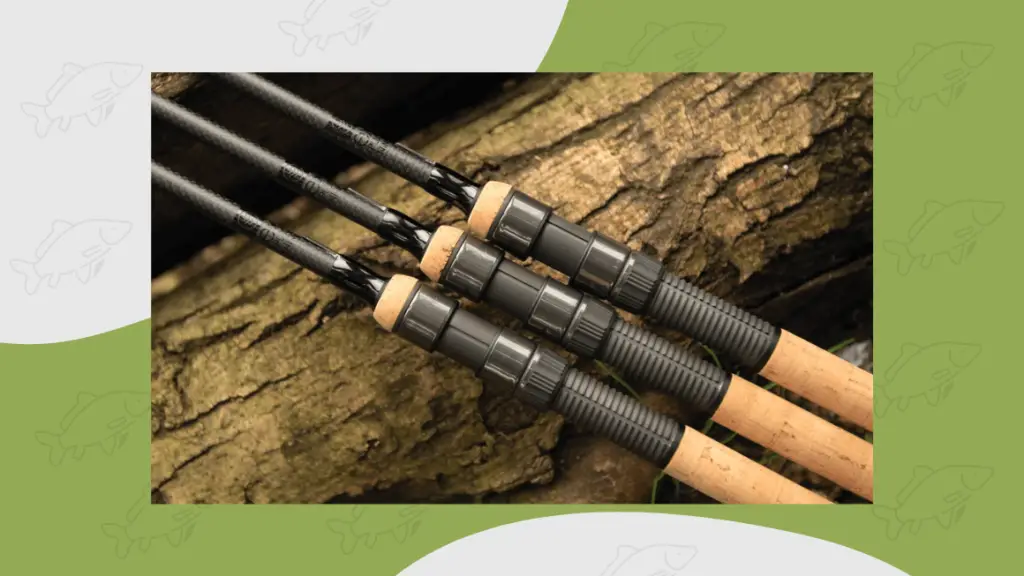 Wychwood have clearly got the memo that 10ft rods shouldn't just be for small water work.
One thing that does astound me about these rods is the lack of test curve. It's just not stated anywhere! However, Wychwood do state that they are more than comfortable hitting 100 yards plus.
Having had them in my hands too, they are not flimsy in any way so there's definitely some backbone there for whacking heavy leads and solid bags too.
Other upgrades include a longer butt section, three legged guides and a lack of ceramic guides. That's a massive plus in our book as there is nothing worse than ceramic guides getting knocked and damaged.
Overall Wychwood have put together a solid rod that can be used in 99% of fishing situations.
If you're looking for an everyday 10ft rod and have top dollar to spend, give these a shot.
Shimano TX2 10ft
Shimano TX2
Shimano's TX2 range is very well known to offer exceptional value for money. In the sub-£100 bracket, this rod is rarely beaten. Whilst most know the TX2 from their 12ft or 13ft rods, there is a smaller 10ft rod in the range which offers all the benefits but in a smaller size.
Pros:
All the benefits of the full length TX2 but in a shorter version

Understated graphics

Integrated line clip

Full shrink butt grip
Cons:
Not retractable

Ceramic rings
View Price
If you've read our other guides, you'll know that we are big fans of the Shimano rod range.
They just ooze quality, right from the lower end of the range up to the TX7s.
When it comes to 10ft rods though, you needn't look further than the TX2 Range, which we recently reviewed on the blog.
Like the ESP Quickdraws, they have that feel of a rod that should be twice the price. Sleek, lightweight and subtle finishes around the reel seat just make these rods pop.
The addition of an integrated line clip is a nice feature too. Something that is still missing from most sub-£100 rods on the market.
Obviously, there is a big difference in these rods versus the Scopes of Xtricators that we've covered. The TX2's do not have the retractable butt section like you can find on a lot of 10ft carp rods.
Where I do feel like this helps though is with casting ability. As good as retractable rods are, they do feel slightly less stable on a big chuck in comparison to traditional 2 section rods.
With the TX2's, there is the obvious downside of not having a 50inch pack down size though.
But if transport size is not what you're looking for, these should definitely be a consideration. I've personally used the 12ft 3.25lb TX2s for around 3 years and found no need to upgrade to anything else.
Nash Dwarf
Nash Dwarf 10ft
Pros:
A more cost-effective alternative to Nash Scopes

Sleek design

Retractable butt section
Cons:
Not ideal for distance casting

There has been reports of first generation Dwarfs snapping at the tip
View Price
If you're a fan of Nash gear but can't fork out for the Scope rods, it might be worth checking out the Dwarfs.
These are effectively a toned down version. Offering the same benefits of being retractable and lightweight, they come in at a much cheaper price bracket around £40-£60 each.
Now it's worth noting that the Dwarfs have been through multiple upgrades now.
The originals had a history of breaking on heavier casts. I'm sure if you've done your research on the Facebook carp groups, you'll have seen many anglers raging about this. This is the primary reason why we are rating the Xtricators above them.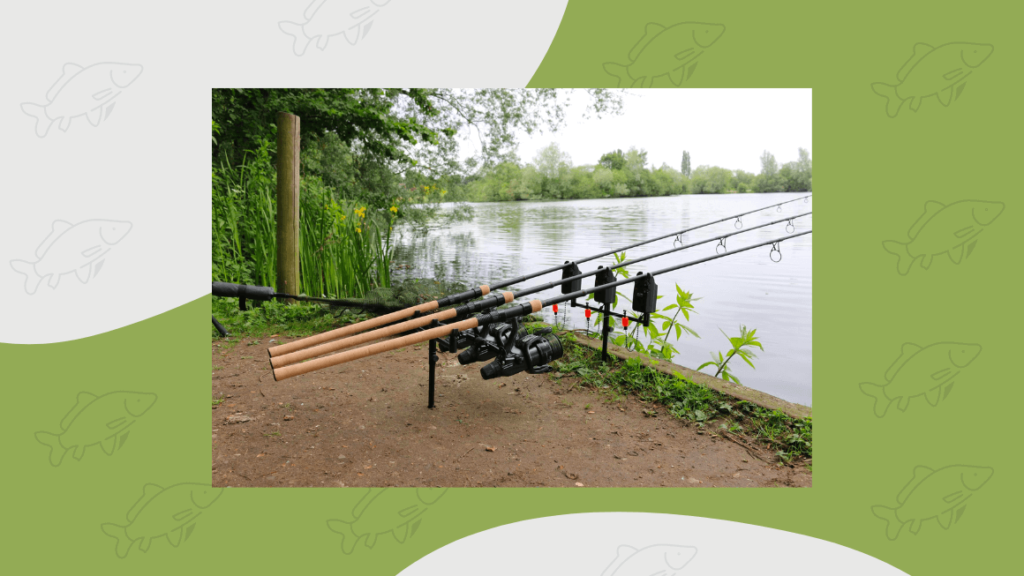 But having used the Dwarf ES variation (the cheapest) myself for over three years, I've never came across any issues.
Like the Xtricators, these are just not meant for long range casting so pushing them to their limits with heavy leads and solid bags won't feel good!
On the other hand, if you're just fishing small waters or stalking in the edge, I can't recommend the Dwarfs enough.
I mainly use mine for opportunist fishing in the summer. In the back of the car I'll always have two Dwarfs made up and ready to go. And they've caught me many a carp this way!
As a budget carp rod, you can't complain really!
Frequently Asked Questions 
How far can you cast with a 10ft carp rod?
It's a good question, and to be honest, most of it depends on your own casting technique. 
Of course, the rod plays a part. I've personally seen guys last up to 120 yards which Nash Scope Rods in the higher tester curve.
Obviously, this would be massively increased with the use of 12 foot or even 13 food rods. 
Do I need different reels to use with 10ft carp rods? 
Pairing a rod with a reel is all about balance. The reel shouldn't feel so heavy that it doesn't feel like you're holding the rod. 
At the same time, it shouldn't be so light that the rod feels heavy in the tip.
Depending on what reels you've got, you may need to purchase a new set. Luckily, most brands are now releasing smaller versions of their reels to accompany shorter rods. 
About the writer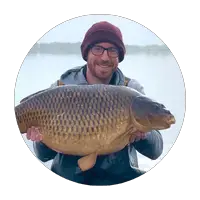 Rob W
I'm Rob, Carp Squad's main contributor. I've been carp fishing on and off for 15 years, but the bug is well and truly back at the moment. Hopefully the articles I write on here help you put more carp on the bank.