Carp rods don't have to cost the earth. If you're looking to find a set of rods that will leave some extra change in your pocket, you've come to the right place. Let's check out the best budget carp rods for 2023.
Carp rods have come a long way in recent years. In the past there was a huge gap in quality between a budget rod and a high-end rod. You could really struggle to cast budget carp rod at range for example. (Without it feeling like it would shatter!)
But with advancements in rod building technology, it seems the gap has closed. Some of the cheap carp rods on the market right now perform surprisingly well.
So much so that tackle brands are re-entering the budget carp rod market, challenging for our hard earned cash.
But what are the best budget carp rods for 2023?
Let's take a look
8. Wychwood Riot Budget Carp Rods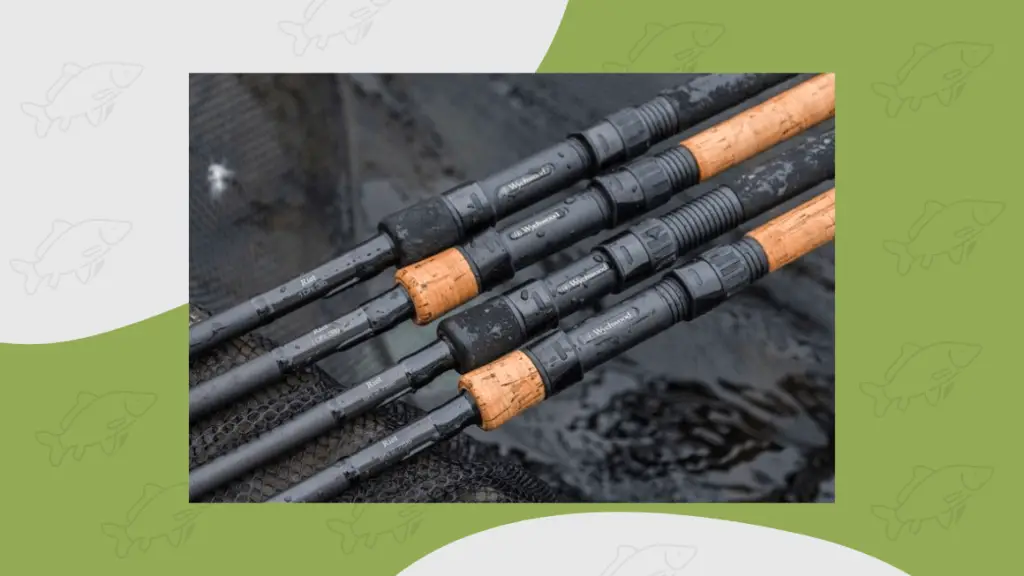 Wychood have really stepped up their game with their carp gear in recent years. Whilst they have launched higher end rods to some success, their budget gear still remains incredibly popular.
The Riot rods are the foundation of their cost-effective set ups that are ideal for newcomers to the sport or those on a budget.
This is a comprehensive range of rods covering 9ft, 10ft and traditional 12ft models. There really is something for everyone in this range, whether you're fishing small waters or trying your luck fishing at range.
They've got a fairly decent backbone for casting too. Having tested plenty of budget carp rods, it's still common for some of them to have a flimsy feel. That isn't the case with the Riots.
They're probably around £20 more expensive than their predecessors (The Wychwood Rogue) but you can really feel that upgrade in the blank of these rods.
Whilst they may not be the best for big solid PVA bag work, the 3.25lb test curve models should see you throwing a lead over 100 yards quite comfortably.
Another nice extra touch is the choice of cork or full duplon handles too. People won't know that these are a budget carp rod that's for sure!
7. Advanta Discovery CSV V2 Rods.
If brand is of no value to you, then you might want to consider the Advanta Discovery CSV V2 Rods.
Advanta is Angling Direct's own brand, and they've put a focus on providing decent gear at the lowest possible prices.
As it stands, they're probably the cheapest rods on this list, coming in at around £55 each. But what we really like is the regular offers that Angling Direct run on these rods.
Head in store or check the website and you can regularly pick them up in a 3 for 2 deal. £110 for three card rods, you can't really complain!
In terms of design, they're pretty basic really. There's a slim glossy blank with minimal Advanta branding towards the reel seat.
The cost saving probably comes in the handle itself, which is a split shrink wrap handle, synonymous with carp rods in the early 2000s. Either way, they cast well and the reel seat is large enough to accommodate all big modern pit reels.
Grab a set of these budget carp rods from Advanta and give them a try.
6. Avid Exodus Pro Carp Rods
The original Avid Exodus rods went down a storm a few years ago so it's only right that we include their updated 'Pro' version on this guide.
Avid's range of rods have surprised many, becoming well known for reliability and being used by some of the UK's most popular anglers.
The Exodus rods are the cheapest in the range, coming in at around £45 per rod. At first glance they might not look like the most attractive rods. They're quite beefy and have an old school split shrink wrap handle.
But underneath what you do have it a solid rod that will last you many years. The Exodus are built on a solid 3K weave carbon blank.
With that you've got enough in the tank to put a rig at range and they're soft enough to play carp under the rod tip.
We like how much choice you've got in the range too. In addition to the traditional 12ft versions, there are three 10ft variations. The 10ft 3lb version is particularly good for smaller water work or stalking in dense undergrowth.
5. Fox EOS Carp Rods
Fox's Warrior rods were the budget rod of the decade in the 2000's, and these EOS rods have been designed to replace them.
These are the cheapest rods that Fox have ever produced, specifically designed for new carp anglers.
That doesn't mean that they're poor quality and flimsy though. You're getting Fox quality at a ridiculously low price with these rods.
They're made from a solid carbon construction that gives them a balanced feel when paired with most big pit reels or smaller baitrunners.
The only real downside that we see with these rods is the 40mm butt ring. It pretty much eliminates them for any sort of distance casting.
Then again, you've got to be expecting to pay more for a rod that can cast to the horizon.
Overall, these are decent rods if you are a newcomer to the sport and will be fishing smaller venues.
4. Shimano TX1
Shimano may be more well-known for reels than rods, but you wouldn't expect that when you see the TX1 rods.
Like the rest of the Shimano rod range, these look like a rod that should definitely command a higher price.
I've had first hand experience using these rods, and I can tell you that they out-perform others in the same price bracket.
Built around a carbon XT40 blank, these have a strong enough backbone to hit the distance if you want to.
But at the same time, they still remain enough give in the rod tip. This is equally important in my opinion, especially if you are new to carp fishing.
With a rod in this range you don't often see the higher test curves including. So what we do like is that Shimano have included not only a 12ft, but a 13ft 3.5lb test curve.
This is ideal for the out and out distance casters out there that want to try a budget rod for range fishing.
3. Sonik Vader X
Sonik literally took the entry level market by storm when they released the Vader X Rods.
But it wasn't the quality of the rods that stood out, it was the fact that you could buy a 'set up in a box'. Three rods, three reels and a landing net for around £260.
It's an offer yet to be beaten when looking for budget carp fishing rods and for that reason, they make this list.
Offer aside, the rods themselves are pretty decent. I knew many anglers who have used these rods since starting carp fishing and have found no reason to upgrade.
They have taken many of the features of popular Sonik rods of the past and incorporated them in the Vader X.
You got a DPS reel seat, triple legged guides and a slim, lightweight carbon blank. The casting action is pretty decent too. However, like any budget rod, you need to hone in on your casting technique to really hit the distance.
If budget is your main concern, these should definitely be your choice.
2. Shimano TX2
I'm going to add a wildcard to this list and that's the Shimano TX2.
They're not typically a budget rod, being around £30 more expensive than all of the other rods on this guide. They're probably considered to be in the mid-priced bracket, but hear me out.
If you can snag a set on offer or second hand, they are well worth it the extra budget,
We've already covered the TX1's but these just edge them slightly in terms of build quality and looks. You get a much stronger backbone on the TX2 which can really see you launch PVA bags to the horizon.
The added line clip and laser etched butt cap just give them a more quality feel.
I've personally had these rods for around 3 years and have no intentions to upgrade. That says it all really.
In the 3.25lb test curve, you have a rod that is perfect for most angling situations you are likely to face in the UK. And if you want something shorter you can opt for the 10ft versions which recently made out list of best 10ft carp rods.
You can read our full Shimano TX2 Review if you want more confidence in your choice.
1. Daiwa Black Widow
Whenever anyone asks about cheap carp rods on the Facebook Fishing Groups, Daiwa Black Widows always get a mention.
And rightly so. These rods have the feel of a rod twice the price.
Daiwa are known for their high-end ranges of rods, so it's good to see them venture into the lower price bracket.
Interestedly, features of higher end rods can be found on the Black Widows. Just take a look at the DPS reel seat and full shrink grip handle.
There's good choice in test curves too. Black Widows go from a softer 12ft 2.75lb test curve through to a 12ft 3.5lb test curve.
At the higher bracket, you can probably whack a solid PVA bag out. However, I wouldn't consider it an out and out casting tool.