Looking for a spod reel to accompany your spod rod and help you master your baiting game? Let's check out the best spod reel you should have in your armoury this year.
It's no doubt that a spod reel can drastically improve your spodding set up. With braid-friendly line clips and excellent cranking power, they're the workhorses of reels.
And they need to be.
Unlike fishing reels, which can often be lifeless for long periods of time (unfortunately!), spod reels are under constant use.
And if you're anything like me that's more bothered about getting the bait out than looking after my gear, spod reels can take a battering too!
Which begs the question…
How much should you be spending on a spod reel and what's the best one on the market right now?
Let's check them out.
In a hurry?
If you don't have much time use the links below to quickly find the best spod reel for you on eBay and Amazon. You can be assured that we only highlight tried and tested products…
Do you really need a dedicated spod reel?
It's a valid question, and quite simply the answer is no, depending on a few factors!
Yes, a standard big pit can work in partnership with your spod rod. In fact, my first spod reel was an old beachcaster big pit, but I think that was well before any brand launched a dedicated spod reel anyway.
And yes, it did the job perfectly by the way.
However, times have changed and if you're a regular spomber, it's likely that you'll benefit from something that's been designed for the job.
Spod reels on the market now are typically designed to withstand abuse. They're not as glamourous as some of the big pit fishing reels that sit comfortably on our rod pods.
Not only that, but they have excellent cranking power too. Meaning that you can retrieve your spomb faster without getting sore wrists!
What to look for in a spod reel
If you're going to invest in a spod reel just for baiting for carp, here are some things you'll want to consider.
Fast retrieve
Fast retrieval is the one thing that sets spod reels apart from typical big pit carp reels. This is all about how fast you can reel the spomb back in so you can get into a rhythm baiting up.
It might not seem important initially, but over the course of a session it makes a huge difference.
I know from experience it can get quite tiring cranking a spomb in from 100 yards, particularly if you're keeping the spot topped up regularly.
Most spomb reels are specifically geared to reel in more line per handle turn that typical carp reels. Look at the Avid XR Spod Reel for example. With a 5.7:1 gear ratio, it can reel in a whopping 138cm of line per handle turn.
Strong construction
Spod reels need to be able to stand up to abuse. They're often put on the floor, lent against trees or dipped in the lake when wetting your spod braid.
Not only that, but they can get caked in spod mix during a baiting session.
It's no surprise that the workhorse reels on the market make excellent spod reels. Just look at the Daiwa Emblem Spod Reel for example.
It's a design that's hardly changed in twenty years, and for good reason too. – They're bombproof!
Many people still swear by the original gold Diawa Emblems which are often used on spod setups.
Line clip
A dedicated spod reel will typically have one or more line clips on the spool. These are designed to help you hit the right distance and keep the bait going in on the same spot every time.
You'll notice that the newer designed reels have round line clips that are a lot easier to use.
In comparison, the older designs have sharp, plastic line clips which can be really tricky to put your braid under. If you're someone who struggles with the finer aspects of carp fishing (or if you've got sausage fingers) then you should definitely choose a newer designed reel.
Stay away from the Daiwa Emblems if a good line clip is a priority for you. That's unless you want to be sending them off to be upgraded at an additional cost.
How we picked these spod reels
Real + Group Reviews
We've combined real experience plus group reviews from Facebook and leading eCommerce stores to determine what products to feature on this guide.
Variety
People have different budgets for their spod reel. Therefore we tried to provide some variance amongst the products we've looked at.
No Commission Focus
Whilst we do earn from some links clicked through this site, we have not been biased towards a single product because of that. This is unlike other guides that only feature Amazon listed products.
Our Top Pick: Avid XR Spod & Marker Reel
The AVID XR Spod/Marker Reel takes our top pick for this guide.
Quite frankly the reviews for this reel are excellent.
It is most definitely one of the newer breeds of spomb reel, boasting all of the features we've talked about above, and more.
Perhaps the biggest selling point for this reel is it's fast retrieve. Despite not being the biggest reel on this guide, it can retrieve a whopping 138cm of line per handle turn.
That's exactly what you need if you're a consistent spomber.
AVID have also incorporated a rather large, oversized handle knob, but don't be put off by that. Whilst it may look out of place in a three rod set up, it works perfectly for a baiting up reel. You can get some serious cranking power going and rapidly improve the rhythm of your spombing.
Most importantly for us though, it feels well made too.
Admittedly it's not the lightest of reels at over 630g, but we don't think that's a problem. In fact, it will probably pair better with the majority of spod rods on the market which have a little extra weight to them too.
Saving the best until last though, we're most excited about the price. AVID aren't known for their budget gear so it's surprising to get all of these features in a reel less than £80.
That's not a bad price point at all.
Budget Option: Wychwood Dispatch Spod Reel
The quality of Wychwood's gear has come on leaps and bounds in recent years.
They've nailed their budget offerings, providing decent products that do the job and don't fall apart after one season. The Wychwood Dispatch Reel is right up their for me as an excellent budget product.
I've personally used this for three years alongside the Dispatch rod which featured highly on our guide to the best spod rods.
You can get the pair for around £100, along with braid which represents unbeatable value. Ideal if you're just getting into carp fishing as a beginner.
The reel itself has everything you would expect from a spomb reel. Braid friendly line clip, decent gear ratio and a solid handle that makes retrieving a spomb a breeze.
Anyone who reads my guides will know that I don't look after my gear either. This goes straight into a rod sleeve soaked and lives in the cellar in between trips.
In all honestly I was expecting it to have packed in by now, but three years on and we're going strong.
Admittedly it's probably not as smooth as it once was. It could do with re-greasing in all honesty, but that's the same with any reel.
My only other gripe is the drag, which takes a few too many turns to loosen. Not ideal if you eould be using this for market work too, which I do.
Overall though it's a good budget reel which only the Sonik Vader X RS reel can rival in this guide.
Shimano Ultegra XTD Spod Reel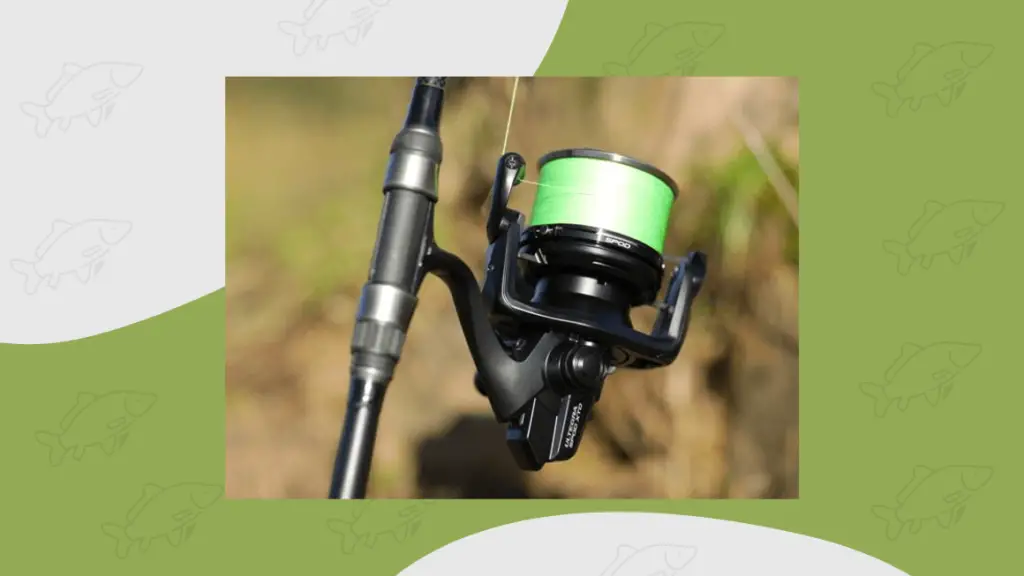 It wouldn't be a guide about reels without featuring Shimano would it?
Their flapship reel in this category is the Ultegra XTD, designed to accompany their growing range of Ultegra fishing reels.
At first glance you would probably mistaken it for a standard ultegra, but there are some key differences that make this ideal for spombing.
Firstly, you've got a larger handle, accompanied by an improved gear ratio. Like the AVID XR, you get over 1 metre of line retrieval per turn. – 126cm to be precise.
Pair that with the silky inner workings of a Shimano and this reel really is a joy to use.
Shimano have really thought about the angler with the design too, specifically around the spool.
It's the only reel on this guide that features three line clips. Some would say it's overkill but if you're someone who spombs a lot, it will definitely help being able to keep some longer spots clipped up.
You've also got a shallow spool on this reel, which is perfect for filling with braid.
If you've ever bought spod braid, you'll know how little you actually get on a spool. With most reels you'll have to add some sort of backing line or electrical tape to bulk out the spool. But not the Shimano Ultegra.
At this point you're probably wondering why it didn't make number one on this guide? Well historically Ultegras have had problems with line wrapping around the guard under the spool.
Many claim this isn't the case with the spod reel, and perhaps it's different with braid. However it's something to watch out for.
It also retails at around £30 more than the AVID XR.
Daiwa Emblem Spod Reel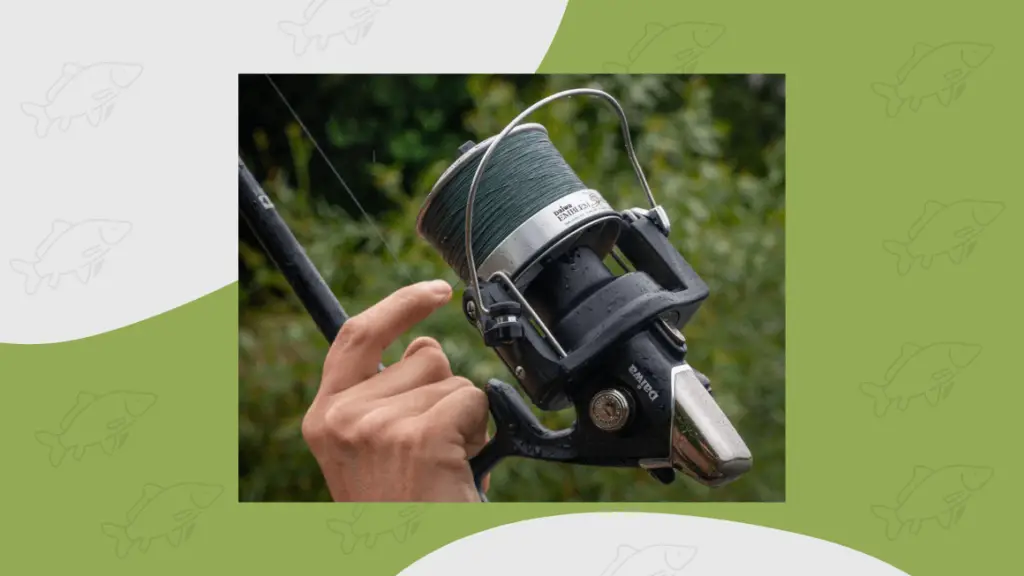 We mentioned the word workhorse earlier on, and if that's what you're looking for, Daiwa has you covered.
The Emblem spod reel has hardly changed for decades. It's the same shape and inner workings of successful emblems from days gone by.
In many ways it looks like Daiwa have gone down the route of 'if it's not broken, don't fix it!'.
As a result, you're not getting some of them finer details or added features we've mentioned on the AVID XR and Shimano Ultegra.
But that's not a bad thing.
The Emblem's got everything you need for a successful baiting up reel; fast, smooth retrieval and a big cranking handle being the two main areas to touch on.
Daiwa have even added in a second line clip on the spool, which you don't get with the Emblem fishing reels. Albeit they are the terrible plastic line clips. As we've already mentioned, they are a nightmare if you've got fat fingers or fishing in colder conditions.
With that in mind, it's worth factoring in another £15 to upgrade the line clips if you do go for these reels.
Without wanting to dwell too much on a negative as small as a line clip, I think it's important to note how solid these reels are.
There are guys on the forums who have been using these reels day-in-day-out for years.
And like most things in carp fishing, you get what you pay for. That's why the Emblem retails at around £165. If you're looking for a spodding reel that's hardwearing, go for the Emblem.
Sonik Vader X RS Spod Reel
Another one to add to the budget spod reel collection is the Sonik Vader X RS.
Sonik have made quite a name for themselves in the budget market over the last few years.
The Vader sub-brand being their budget offering which often makes an appearance on our best buying guides.
The X RS is probably the closest competitor to the Wychwood reel on this guide.
For all intents and purposes, they are both incredibly similar.
A tough graphite body with a decent internal gear ratio pulls in line at around 1.1m per handle turn. Slightly less than the Ultegra or Emblem but at a third of the price you can't really grumble.
You've got a single line clip on the spool which is slightly raised, making it really easy to hook your braid under.
All of this is offset by a traditional wooden handle, which in my opinion doesn't really match the modern looking graphite body. But each to their own!
Like the vader rods, there are some excellent reviews of this spod reel and for a fraction over £40, what's not to like?
About the writer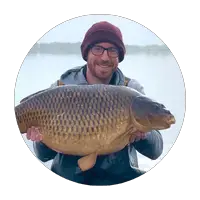 Rob W
I'm Rob, Carp Squad's main contributor. I've been carp fishing on and off for 15 years, but the bug is well and truly back at the moment. Hopefully the articles I write on here help you put more carp on the bank.