Last week Korda announced what we had been expecting for some time: The launch of the Korda Kaizen Carp Rods.
Now, if you're an avid watcher of Korda videos, you'll have had this sussed for a while.
Korda have given us subtle glances of a rod blank etched with Kaizen on many of their shoots, including the latest Underwater film which had rave reviews back in January.
As we all expected, our eyes did not deceive us. Korda announced the launch of the Kaizen carp rods last week, with a rather intriguing teaser video.
Coming in at a rather large price tag of £374.99 per rod, there has been the typical 'carp tax' boos on social channels. Not to mention plenty of anglers unsure of whether a brand that started it's life creating leads can rival the likes of Harrison and Free Spirit in the luxury carp rod bracket.
But like most Korda gear, we're confident that some serious thinking and testing has gone on behind the scenes. In fact, Korda state that these rods have been in testing for over four years.
Whether they will live up to the hype, only time will tell. Let's take a look at what you can expect when the first batches land in tackle shops.
What to expect from the Korda Kaizen Rods
A real distance-casting tool
When you look at Korda as a whole, they've clearly been working hard to take over the distance casting area of the market.
It started with the launch of Longchuck Mono early last year. They then signed legendary long cast guru Terry Edmonds, which kind of confirmed that there were some rods being made in the background.
And here we have it, the Kaizen Carp Rods.
With what we know, they are clearly made as a distance casting tool. They have all of the attributes; fast-tapered action, large strategically placed guides and light fixtures throughout.
Korda haven't beaten around the bush with the test curves either. They've completely disregarded any of the lower end test curves, going straight in at 3lb, 3.5lb and 4lb.
Ofcourse, there are length variations too, for those who really like that extra few inches or foot to hit the distance. The Kaizens are available in 12ft, 12ft 6in and 13ft.
Fast-tapered casting action
Part and parcel of a good distance casting rod is having a fast-tapered blank.
What this means is that the taper of the rod goes consistently from the butt section to the tip. As a result, you get a 'tippy' flexible action in the rod.
Why's this important though? Well it means that you can fully compress these rods to launch leads a long distance.
If you've ever tried Harrison or Free Spirit rods after using budget carp rods, you'll know exactly what I'm talking about. The fast recovering tip of these rods really does seem to punch the lead the extra distance, with less effort.
But the taper doesn't only help with distance casting though. It'll help with playing fish too.
Cheaper distance casting rods tend to feel like a broom handle, bending only slightly in the tip which increases the chance of hook pulls. That's clearly not the case with the Kaizens, and you can see that in the Underwater film and Spooners Vlogs.
Lightweight fittings
One way to improve the casting capabilities of a rod it to focus on making it as light as possible.
It's simply really. As soon as you remove some weight, the rod can cut through the air faster and therefore launch a lead further.
Being a true distance casting tool, this has been an area of focus for Korda.
It's evident with the choice of guides, or 'eyes' as we know them. Korda have fitted the Kaizens with the lightest Sea-Guide TDG Rings available.
They're the kind that only have two connecting points to the rods, so you best be sure to have good rod sleeves to look after them!
Despite making the guides lighter, Korda haven't compromised on size. As you would expect from a distance casting rod, the butt ring is 50mm. This moves down in size to a 16mm tip ring which has been designed to make it easier for leader knots to pass through.
Subtle, Korda-esque looks
Korda are known for their sleek products, and it's no difference with their first range of carp rods.
There was no way they were going to choose anything drastically different, or revert back to the old two-part abbreviated look.
The Kaizen rods have that old school, subtle look to them. If you had to compare the looks, we'd say they look similar to the Longbows that Danny Fairbrass made alongside Daiwa in previous years.
They're focussed around a full Japanese shrink wrap grip which for starters, just looks great. It does offer some functionality though, as this style of grip tends to work well even in wet weather conditions.
No cost has been spared on the finer details either. The etched steel butt cap has been made by expert steel-makers JAG Products. It completes a rod that will look at home on almost anyones set up.
Danny Fairbrass on the new Korda Rods
Danny and Team Korda have always been well-known for their use of Daiwa Carp Rods. However, they've branched out and created their own high-spec rods.
Here's what danny has to say about the new Korda rods:
"They are an absolute joy to use, such lightweight, but powerful, and with really light rings, so they move through the air so easily, and cast so perfectly straight. They also look absolutely gorgeous as well."

Danny Fairbrass, Korda Developments
Korda Kaizen Launch Video
Here is the rather exciting launch video for the Kaizen rods.
Korda Kaizen Carp Rod Features
Manufactured in the UK using super high tensile high-grade Japanese carbon
50mm butt guides with 18mm tip ring
Aluminium trim rings with JAG etched stainless butt cap
Fitted with a Fuji DPS reel seat
Built with Seaguide TDG lightweight stainless steel guides
Japanese shrink grip handle with flared butt
Fast tapered profile blank for higher compression strength
Low glare Matt paint finish
Where to order Korda Kaizen Rods
Like most of the high-end tackle on the market, Korda have launched the Kaizen rods ahead of their availability. All of the leading UK tackle retailers are taking pre-orders for the rods right now.
Due to the high-profile launch of this product, it is likely that there will be limited available and a bit of a scramble to get hold of a set.
If you're looking to get your hands on some, there are pre-orders available via Angling Direct
See the Korda Kaizen Rods in action at Norton Disney
One of the hardest parts of buying new carp rods is getting to try them first. It's just not possible in a tackle shop environment.
Luckily, Korda have a solution. If you like the look of the Kaizen rods, you can try them yourself during a two-day free event at Norton Disney.
Korda announced this week that they will be hosting the two-day event from Wednesday 15th March to Friday 17th March.
It will be hosted by Danny Fairbrass and Darrell Peck. They'll both be fishing and passing over the rods to those at the event so that you can play a carp on the new carp rods.
Of course, the event if free if you are leaving your rods at home. However, if you want to fish you can choose from any of the lakes on the complex.
Hodgetts Lake Norton Disney would be the one on my list if you're looking for a big hit of fish. However, Billy's Lake has been producing a lot of fish and Pettitt's looks to be waking up.
About the writer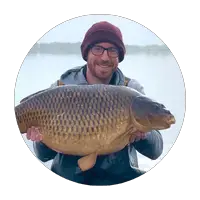 Rob W
I'm Rob, Carp Squad's main contributor. I've been carp fishing on and off for 15 years, but the bug is well and truly back at the moment. Hopefully the articles I write on here help you put more carp on the bank.