This week on our tried and tested reviews we're taking a look at the ESP Quickdraw mat. Those that know me know that I like to travel light, often fitting short day sessions in around busy work commitments.
Without wanting to compromise on carp care, I've always been bogged down by my Avid Carp Cradle that just doesn't fold down neatly. So, when I seen the launch of the Quickdraw; a mat that rolls up but also offers some side protection, I was sold.
But how has it fared in its first few months? And should you be adding it to your stalking/floater fishing kit like I have?
Padding & Protection
Rating: 4.5
One thing you often see with 'stalking' carp cradles is that they just don't offer the protection needed for big carp. 
I find it quite hypocritical really; brands preaching about carp care and then launching sub-par 'flat mats' that resemble nothing more than a piece of cardboard.
The Quickdraw is anything but that, and I wouldn't have purchased it if it was. I had been looking for a suitably padded stalking mat for some time, but the Nash Scope mat was the only viable solution. 
Even then, there's no side protection like you get with the Quickdraw. For a mat that rolls up small, I am very pleased with how padded the base is. – Just what I need when fishing park lakes and canals when it's often resting on the concrete.
The major plus is the sides which can be lifted in place with a drawcord. They're not fully padded, but more like an extension of the base material. This saves in bulk but gives you that added protection you need when a fish is on the mat.
I have nothing against flat mats, I just think cradles are much safer, especially when fishing alone which is what I do most of the time.
Material & Durability
Rating: 4/5
I don't want to be too hasty with this one, as admittedly I've only had the ESP Quickdraw Unhooking Mat for a few months. Nonetheless, it's seen around 50 carp, 16 of which were in one session on my local Yeadon Tarn park lake!
I can see that the material will last, especially on the base which is made from a really hard-wearing camo material. It's most similar to the material on ESP's range of luggage. 
Just what you need when laying it on towpaths and gravel swims. I think a lot of brands miss a trick with this, often going for subtle polyester materials that rip easily.
The top side of the cradle is made from a really smooth, fish-friendly and wipe clean material. It feels like it will stand the test of time to be honest, but out of everything I'm sure this is where most wear will occur. 
I'll come back and update this article in a few months after it's had plenty of days drying outside. That's when this smooth material often starts cracking and tearing! 
But for now, we're all good.
The drawcord works OK
Interestingly, I think it's the drawcord that lets this mat down slightly. The concept is there and it works well, but it could have been easily improved in my opinion.
The cord used is very thin, almost similar to that of a shoelace. Couple that with a very small plastic toggle and it just feels a bit inferior to the rest of the product.
Annoyingly the cord very easily slips through the toggle when wet which sort of defeats the object of this sides. Very quickly rectified with an overhand knot in the cord, but still, you shouldn't have to be doing it!
Clips & Buckles
Rating: 5/5
An integral part of this mat is the clips and buckles around the outside. These serve two purposes; to keep it in place when rolled, and to attack it to a rucksack.
They don't look to be made of a really high quality, heavy stitching used throughout which is good to see.
Cleverley, ESP have incorporated a second set of clips on the Quickdraw. When you get this mat out of the box, you may be wondering what these are for. Well they are actually to clip the mat to the ESP Quickdraw Rucksack.
In classic carp tackle style, they've tried to make it so you feel like you should buy the rucksack too. That's completely down to you, but not something I'll be going for.
The quickdraw unhooking mat will clip to a Saber or Thinking Anglers Rucksack too
I was pleased to see that the buckles on the mat actually line up perfectly to the ones on my Saber Rucksack, which is a massive win. In this case I am 99% certain that it will easily clip on to the Thinking Anglers Rucksack too. 
Please don't be fooled into thinking you need the full set of ESP Quickdraw gear, unless of course you love DPM camo!
Size of the ESP Quickdraw Mat
Personally, I opted for the standard size ESP Quickdraw Mat.
It's probably OK for anything up to mid-upper 30's. Anything bigger and you would probably want to go for the larger version to give you that extra ground coverage.
For the places I'm fishing in West Yorkshire, the standard size is more than sufficient. It's also worth taking into account the aim of the game when purchasing this mat; size and weight. 
I don't want something enormous that's going to weigh me down when walking long stretches of canal. It's all about finding that balance between size/weight without compromising on fish care.
Transportation
Rating: 5/5
Well, what more is there to say on this? It's a well-padded mat that rolls up as small as can be. Others on the market hardly compare in my opinion, as they don't have the sides that turn it into a cradle.
The ability to clip it to your rucksack is rarely neat, and it's well balanced too. I can imagine public transport with a stinking mat would be far from ideal. In that case it might have been better for ESP to include a waterproof case with buckles too.
Then again, if you're mad enough to be getting public transport with fishing gear, I'm not sure how much you would care about the smell you leave behind!
Other compact unhooking mats to consider
Following this review, you might be a sense that the ESP Quickdraw Unhooking Mat is not for you. Here are some situations when you might want to consider a different compact mat:
You like to carry your gear in your unhooking mat
You might be someone who likes to shove all sorted of gear in your folded out mat when you're stalking. That's fine and they are often great for carrying gear when you're mobile.
If that's the case, I would opt for something that's a little more solid on the sides to stop your gear sliding out. The Korda Basix Cradle is perfect in this scenario, as demonstrated by James Armstrong in his latest surface fishing masterclass video.
You're a scope fan
There are just some people out there who will not comprehend purchasing another brand's kit when it comes to lightweight/stalking gear. 
ESP have made moves in this area but they're still a long way behind Nash who have really pioneered in that travelling light/urban fishing scene. 
If you're a Scope fan and want to shell out £90+ for an unhooking mat, go for it!
Pros & Cons
Pros
Rolls up very smalls
Extra clips to attach to rucksack
Drainage holes
Hardwearing base
Cons
Drawcord could be thicker/stronger
A waterproof case might be a good idea
Conclusion – ESP Quickdraw Unhooking Mat Review
There aren't many compact unhooking mats on the market that don't compromise on fish care. The ESP Quickdraw is one of them. Any carp you put on this will be safe and sound, plus it doesn't leave you bogged down carrying bulky stuff.
A good investment from me and a mat which I'm sure I'll use for years to come!
Where to buy the ESP Quickdraw Mat
eBay
Amazon
About the writer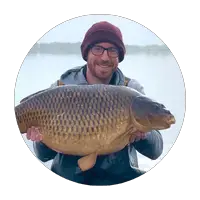 Rob W
I'm Rob, Carp Squad's main contributor. I've been carp fishing on and off for 15 years, but the bug is well and truly back at the moment. Hopefully the articles I write on here help you put more carp on the bank.