There's no getting around it, carp fishing in the winter months can be hard. However, armed with the right winter carp fishing essentials, it can still be as enjoyable as any other time of the year.
The banks are often quieter, and the fish are often in prime condition when they eventually grace your landing net.
When it comes to essentials, preparation in the winter is key. Turn up unprepared and you'll soon be in a sorry state wishing for your session to end. 
Here are some of the winter carp fishing essentials that you should consider packing as the dark nights draw in.
Trakker Big Snooze + Sleeping Bag
A quality sleeping bag will make all the difference to a good nights sleep on the bank.
One range that has been around for years is the Trakker Big Snooze. 
Re-invented in recent years, Trakker have further improved the Big Snooze with a highly breathable material which is warm and toasty without making you feel overwhelmingly hot. 
Trakker has also added a few variations in the range. The Big Snooze is now available in fleece or smooth lining, which a few different sizes to choose from if you're of a larger build too.  
Crash zips as standard, you'll have no issues jumping out of the Big Snooze when you get a belting take in the middle of the night. 
What's more, the Trakker Sleeping Bag fits securely to all of the best carp bedchairs on the markets due to elasticated hoods at either end and a central adjustable buckle.
MORE READING: Trakker Big Snooze Plus Review
Carp Squad comments, "The Trakker Big Snooze has been around for years and stood the test of time for many winters. It's good to see Trakker improve the product further, including better materials and the option of a smooth inner lining which helps keep it a little cooler. For anyone who likes to use a bedchair and sleeping bag over a newer style sleep system, the Big Snooze is worth a look."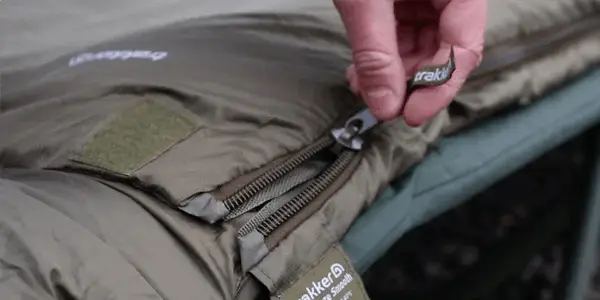 RidgeMonkey Bivvy Light Elite IR
When you're fishing throughout the winter, the hours of darkness can feel like they last forever!
A good bivvy light is imperative so that you can see what you're doing without draining your main head torch. 
When it comes to bivvy lights, the RidgeMonkey Bivvy Light Elite wins hands down. 
With 180 hours of continuous use from a single 4 hour charge, the RidgeMonkey Bivvy Light has enough in the tank to make your bivvy feel like a real home from home. Whether you need a bright white light for tying rigs or a more subtle red or green, you have all of the options available for you.
Another major plus for us is the infrared remote, so you don't even need to get out of your warm sleeping bag to turn it on or off!
On top of all that, the RidgeMonkey bivvy light is fully adjustable and comes supplied with a magnetic strip to attach it to your bivvy or van. Alternatively, you can screw the bivvy light to a bankstick and use it to provide extra lighting for your photography.
Carp Squad comments, "Even some of the more hardcore carp anglers are warming to the idea of bivvy lights these days! The technology in this area has improved massively over the years. For us a bivvy light is a must have. They not only provide light for the bivvy, they can help with catch photography or act as a secondary USB phone charger. The red and green lighting is also a nice touch on them long dark winter nights!"
RidgeMonkey Ecopower USB Heated Gas Canister Cover
If you've done a full winter with a gas stove, you'll be well aware of how hard it can be to keep the gas warm and firing on all cylinders.
We were originally going to include the Coleman multi-stove in this feature, which for us is the perfect alternative for gas during winter carp fishing sessions. However, due to the lack of Coleman availability as a result of Covid, we're left showing you the next best thing.
That's RidgeMonkey's latest invention; The Ecopower USB Heated Gas Canister Cover.
Ran by a USB powered battery pack, the Ecopower gently heats your gas canister, allowing optimum gas use during cold periods. It's the first of it's kind, and super helpful in allowing you to get every last drop out of your gas cannister.
It fits most leading brand gas canisters on the market, as long as it is 440-500 size butane / propane mixture. There is a zipped, waterproof base and thermal neoprene outer, as you get with all standard gas canister heaters.
Carp Squad comments, "For once, a new piece of carp fishing equipment that didn't get slated too much online. Put simply, I think most people have experienced gas poorly performing in the coldest weather, and this little gadget will help a lot. A must for your winter carp fishing setup!"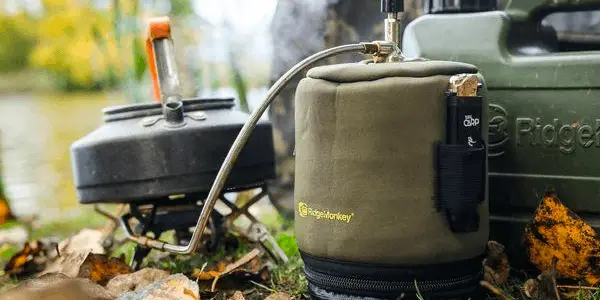 Sticky The Krill Pink Ones
Looking to tempt a last minute winter bite? There's nothing more tempting than a high-vis pop up.
A single pink one chucked to a shower fish in the winter has done us plenty of last minute bites. These little bad boys just had to make the list!
Made up with Stick Baits ever-faithful 'The Krill' base mix, these pop ups have accounted for some of the largest carp in the UK and abroad.
Whilst there are a few other colour variations in the range, for us Pink seems to win hands down.
Carp Squad comments, "It's always worth having some high-vis pop ups in your bag for the winter months! When a large baited area won't do the trick, sometimes something that stands out can just do the trick."
Fox Rapide PVA Bag System
The humble solid bag; another deadly winter tactic when used correctly. The only downside? Trying to knock up solid bags with cold, numb fingers!
It's tricky to say the least, but the guys at Fox have come to the rescue with a very innovative take on loading a solid PVA bag. Equipped with a unique loading tool, the Fox Rapide System eliminates the need for PVA tape to tie off the top of a solid bag.
The loader tool also provides ample room to fill the PVA bag with your rig and bait. In traditional solid bags, your fingers are often the first things to get in the way when trying to fill a bag and adjust the rig as it goes in. – It can be really tough if you have fingers like fat sausages! This cumbersome process is completely eradicated with the Rapide system, opening up solid bag fishing to those who may have thought it was 'too fiddly'.
Carp Squad comments, "The Fox Rapide system makes the whole process of tying a solid PVA bag a breeze and it's definitely something that we carry in the winter months. Solid bags are a deadly tactic when casting to showing fish in the winter."
VASS Fleece Lined Boots
If there's one thing that will make or break a good winter session on the bank, it's your footwear. When your feet get wet in the winter in really can make for uncomfortable fishing.
A proper pair of carp fishing boots are a must if you're to stay dry, warm and on form!
VASS are well-known in the carp fishing industry and their fleece lined boots sell out like hot cakes every year. With a fleece lined inner, the boots keep your feet warm and dry on even the coldest days.
On the outer of the boot is a waterproof shell which is essentially a half welly (up to the ankle). Fully waterproof, they offer enough protection to stand in shallow margins or walk through the deepest of puddles.
At the base, you have a very hard-wearing sole which will take years of abuse, no doubt about that!
However, what makes these boots really different is the velcro fastening strap. This allows you to quickly slip these on in the night if you're lucky enough to get an elusive winter take! This isn't really possible with most of the other boots on the market, as they're often a bit tighter with laces high up the ankle.
Carp Squad comments: "Our personal choice of boot for the Autumn/Winter. Couple with some merino wool socks, the Vass Fleece Lined Boots will be a great addition to your winter carp fishing setup.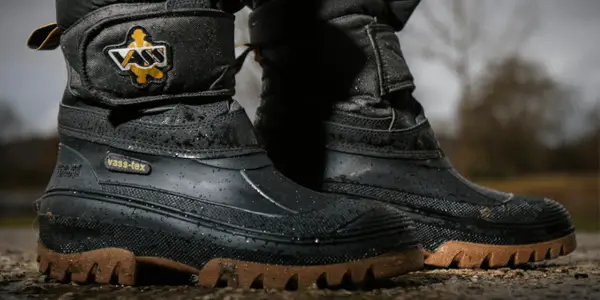 MORE READING: Winter carp fishing tips
---
About the writer