On the lookout for a new gas fishing stove so you can get the brews on whilst you're out on the bank? We've got you covered.
It might not seem it initially, but a fishing stove quickly becomes a vital part of our gear.
The one item that we reach for to warm us up on them cold days. Or even better; when your mate pops around to your swim to celebrate a personal best!
And unless you're Scott Lloyd and love a bucket lid takeaway, chances are your stove is key to your bank side grub too.
Which begs the question…
What's the best fishing stove on the market right now?
Let's check them out.
Should you go for a traditional stove or the newer infrared stoves?
Fox took the market by storm last year with the launch of their new infrared jet boil stove. 30% more efficient than traditional stoves they claimed. As you can imagine, every carp angler tea junkie was impressed!
It may seem new to us anglers, but this infrared technology has been around for some time on the outdoor scene. Much like our head torches, as an industry we tend to steal the latest innovations from the outdoor brands and stick carp tax on them.
The infrared stoves are an excellent addition to our options though, so credit to Fox for that.
Without the naked flame, these stoves head up incredible fast, boiling water in seconds. Technically, they don't offer anything else other than speed over a traditional stove.
The speed will save you gas over time, but then again you can expect to pay around £90 for this type of stove.
Is it worth it? That depends on how quickly you need you brew making I guess!
How we picked these fishing stoves
Real + Group Reviews
We've combined real experience plus group reviews from Facebook and leading eCommerce stores to determine what products to feature on this guide.
Variety
People have different budgets for their cooking equipment. Therefore we tried to provide some variance amongst the products we've looked at.
No Commission Focus
Whilst we do earn from some links clicked through this site, we have not been biased towards a single product because of that. This is unlike other guides that only feature Amazon listed products.
Our Top Pick: Bulin T4
Top Pick
Bulin T4 Stove
Not carp branded, but very much used amongst the carp fishing community. It's exactly the same as the Trakker stove but without the carp tax.
Pros:
Lightweight at 368g

Three sturdy fold out legs

Ignition clicker
View Price
Search the carp fishing groups for the best fishing stove and you will see endless replies about the Bulin T4.
No, it's not a carp fishing brand, but that's what's great about it. You get great quality without the carp tax.
The Bulin T4 is a carbon-copy of the ever-popular Trakker Armolife Stove. In fact, I would bet everything I own on these being produced in the same factory.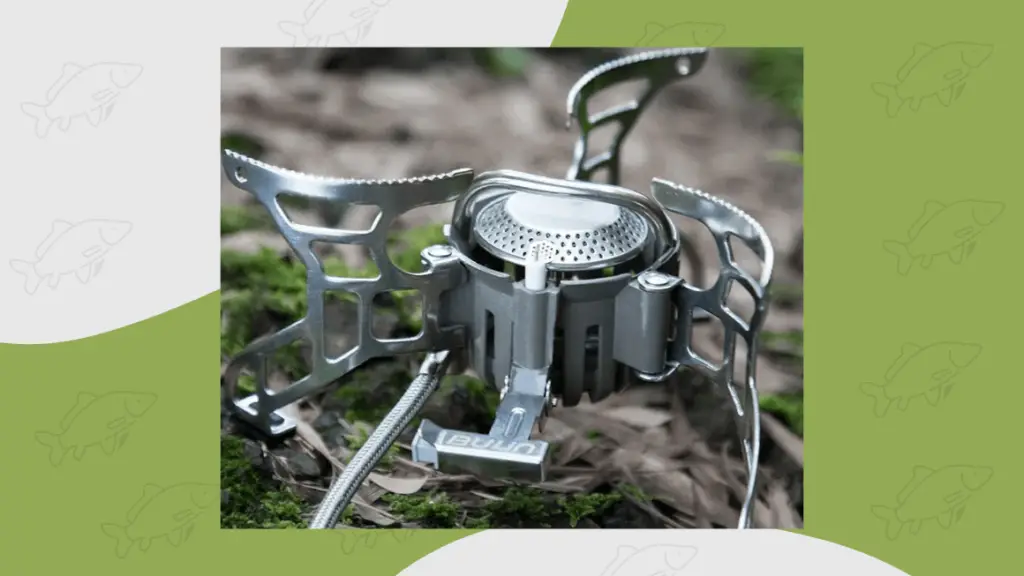 Obviously, wanting to save some money, I opted for the Bulin T4 myself when looking for the best fishing stove for my own use in 2019.
From a spec point of view, it's got everything you would expect to see; folding legs, a clicker to light the flame and a sturdy gas connector.
My main reason for opting for this type of stove was the rigidity. The Bulin T4 is super low, with three fold out legs that give you a solid base for even the biggest of frying pans. I use mine with the RidgeMonkey Steamer pan and it's perfect.
I was a little concerned about the weight and size of theis stove if I'm honest. However, looking back I'm sure this was more to do with upgrading from Fox's micro stove, rather than the Bulin T4 being a large piece of kit.
In fact, with the Bulin T4 weighing only 368g, it's tiny in comparison to the RidgeMonkey range.
Four years on and this stove is still performing for me in all weathers, and i think that says a lot.
RidgeMonkey QuadConnect
RidgeMonkey Quad Connect
Pros:
Double stove so ideal for cooking bigger meals

Four height-adjustable legs ensure a sturdy base
Cons:
By far the most expensive stove setup on the market
View Price
The RidgeMonkey was (and still is) a game-changer when it comes to carp fishing gas stoves.
No other brand has tried to rival it, and it's extremely rare to find stoves that you can join up and use from a single gas bottle.
For us anglers; thats a huge benefit. Gas bottles are big, cumbersome things that take up far too much room.
If you're somewhat of a Gordan Ramsey on the bank, the chances are you're going to want to have two gas hobs on the go at once.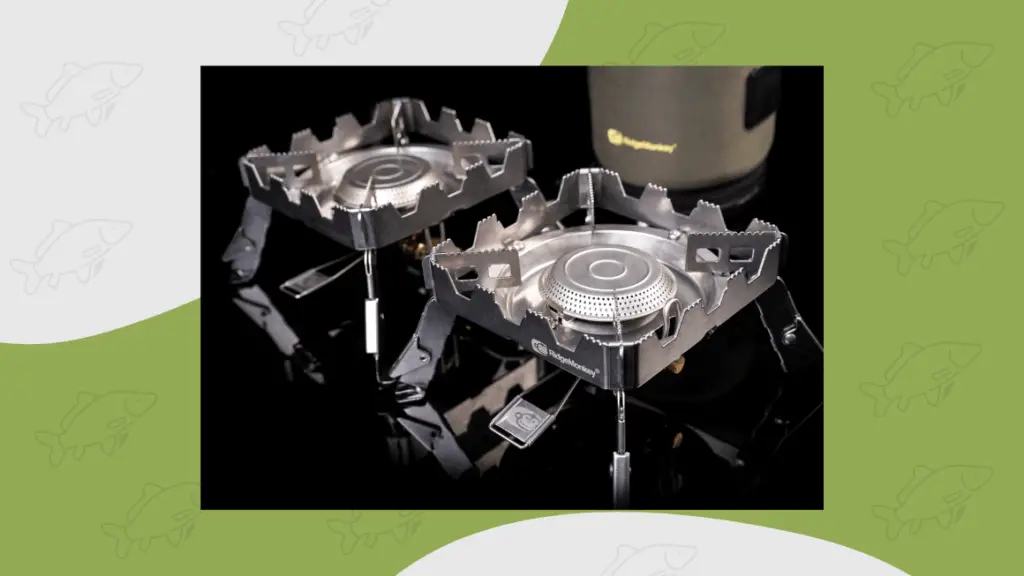 The QuadConnect removes the need for two gas bottles in that scenario, enabling you to simply connect them up using a linking connector.
Obviously, you're then buying two stoves so doubling the price of your cooking gear. RidgeMonkey are never the cheapest brand either so be prepared to pay for this level of bankside luxury.
There are a couple of other nifty features we like with the Quad Connect. Theres an inbuilt handle support to stop your frying pan from tipping over. – A very well thought out feature in our eyes.
You've also got four height adjustable legs to keep the whole set up straight on uneven ground.
Best for Speed: Fox Infrared Stove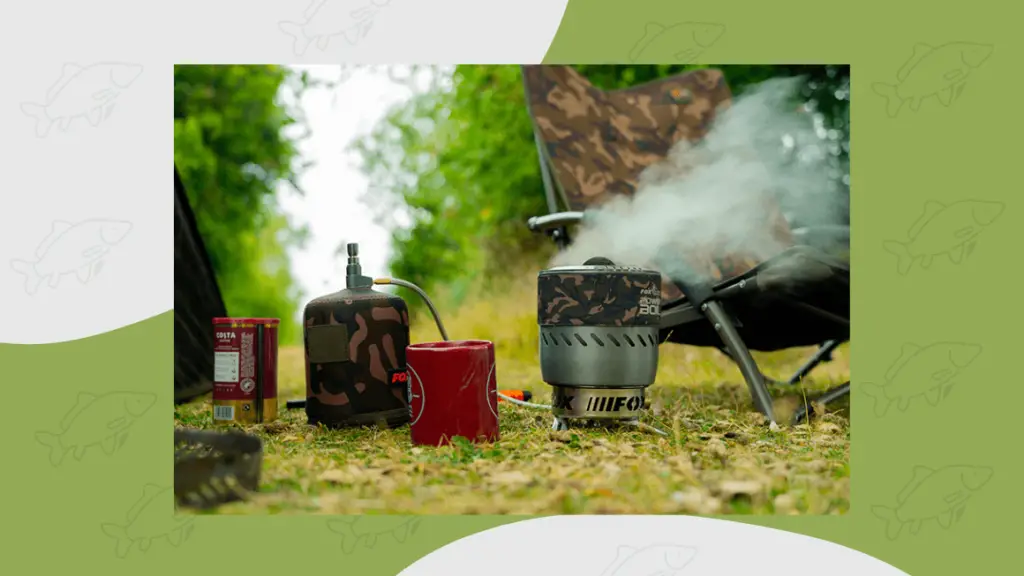 If speed is of the essence, you're simply not beating the Fox Infrared Stove.
By not using a traditional exposed flame, it's able to keep the heat well confined; therefore boiling/heating things up quicker.
I've seen the likes of Tom Maker on instagram boiling kettles of water in seconds with this thing!
Now, I'm not quite sure why you would need a brew that fast, but we are impressed with the potential gas savings this could bring.
The cost of the average bottle has shot up in recent years, so I see that as a major benefit for the Infrared Stove.
Now onto the negative; cost. Like any first to market, this stove is extremely expensive, coming in at around £90. And that's without the Jet Boil pot which fits conveniently on to it.
Have Fox got it right with that price bracket? I'm not too sure. I'm confident we'll see more cost-effective alternatives in the Autumn months when brands begin launching these types of products.
RidgeMonkey Fishing Grilla BBQ
Ridgemonkey Grilla BBQ/Hotplate
Not your traditional carp fishing stove but this really is the best piece of cooking kit you can buy for larger groups or socials. Perhaps only bettered by the Cobb!
Pros:
Can be used as a coal BBQ or gas powered hot plate

Detachable side table

Comes with a carry bag
Cons:
Not the cheapest (but it is RidgeMonkey!)
View Price
I always like to include a little wildcard pick in our best buying guides, and that goes to RidgeMonkey here.
Their Grilla BBQ is ideal for those who like to cook up a feast with friends on the bank. This beast of a grill doubles up as both a coal-based BBQ or a gas-based BBQ.
Simply remove the gas connector to use it with or without gas. As you can see, this is a mammoth piece of kit that even comes with it's own removable side-table.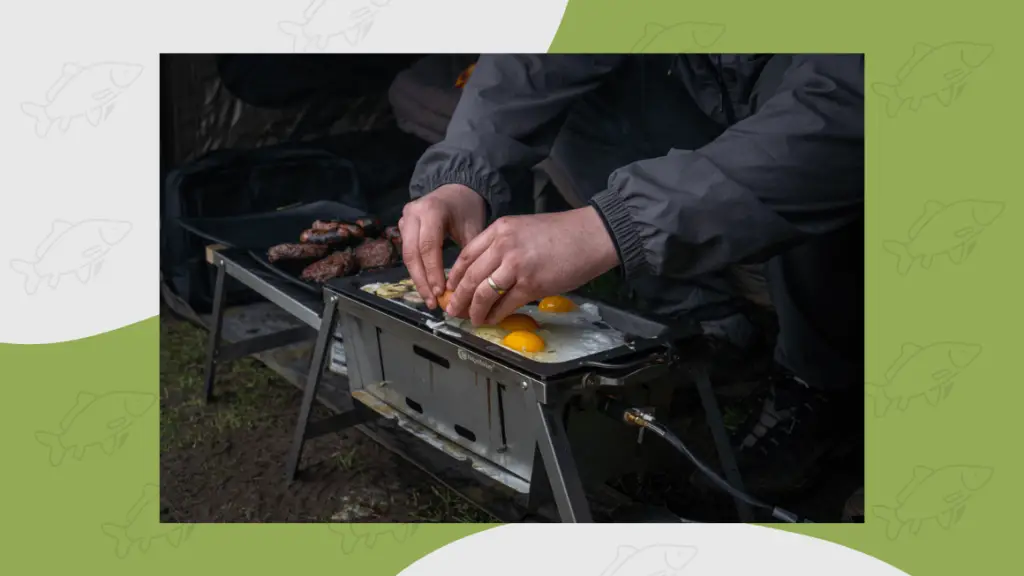 Typically this is overkill for the majority of sessions, particularly if you're someone who likes to move with the fish.
But for socials and cooking with friends, there is nothing else quite like it on the market. At a little over £150, I think that's very well priced for a RidgeMonkey product too.
Coleman Fishing Unleaded Stove
Coleman Fishing Unleaded Sportster II
Pros:
Petrol powered, therefore very economic to run

Fully adjustable flame

Can run on standard unleaded petrol
Cons:
Known to clog is not using Coleman's own clean fuel

Heavy duty so not the best for anglers who like to travel light
View Price
If you've fished through the depths of winter, you will have no doubt struggled with your gas freezing up.
Whilst there are gas canister covers to help solve this, there is only one solution; a petrol stove.
Most of the hardcore anglers love sharing pics of their Coleman stoves throughout the winter months. It's almost proof that you're hard enough to be fishing through the harshest conditions!
Whatever you think of them, they are brilliant in the colder weather. Petrol obviously doesn't freeze, and the Coleman works as well in the cold as it does in the heat.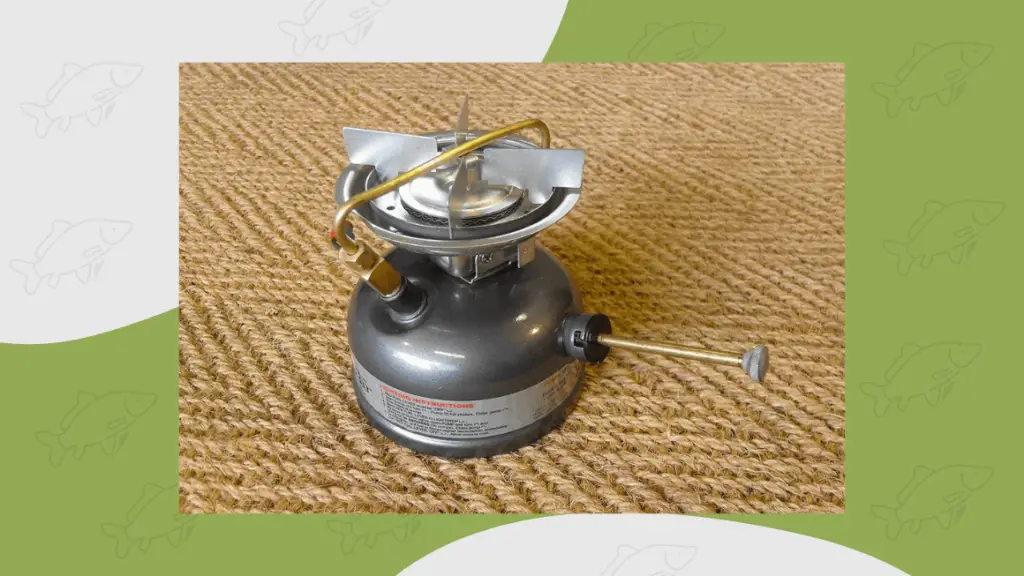 Being a Coleman product, they're as solid as a rock too. There's old-school anglers still using this exact model of stove for over twenty years.
Would we recommend using them for everyday cooking throughout the duration of the year? Probably not. They're quite bulky as they house the petrol in a single unit underneath the stove.
It's also worth taking into account that Coleman only recommend using their own fuel. Apparently it's cleaner and therefore prevents any build up in the fuel pipe. – Something to take into account if you go for a Coleman.
Advanta Magma 3000 Stove
Budget Pick
Advanta Magma 3000 Fishing Stove
Advanta's first foray into the world of cookware is the Magma 3000. For all intents and purposes, it does the job. It might not be as sturdy as the Bulin or RidgeMonkey but it costs a lot less.
Pros:
Fold away, compact design

Adjustable flame
Cons:
No ignition, so don't forget your lighter!
View Price
Advanta have made some great moves in to the carp fishing scene since their inception a few years ago.
Their sweet spot is simple, functional products that don't break the bank. That's exactly what the Magma 3000 Stove is.
Based around a three-leg structure, the Magma is fairly stable given it's small footprint. It's just what you need for boiling smaller carp kettles and the mini RidgeMonkey toasters.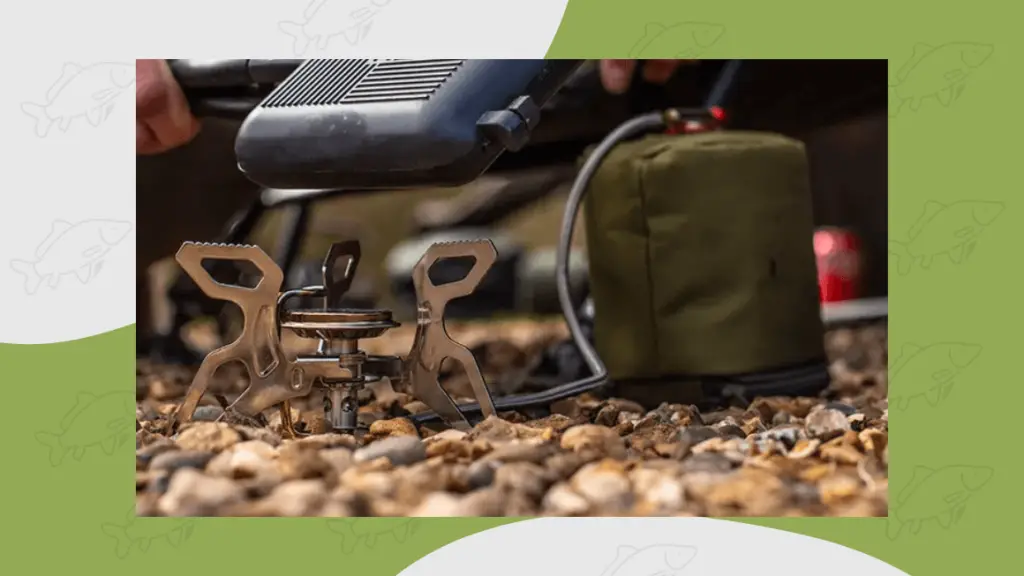 Design-wise, it's very similar to the Bulin T4, with a three leg design and external gas connector which houses the flame adjuster.
This style of stove is probably the most popular on the market these days.
Gone are the days of stoves which connect directly to the top of your gas canister. That's all you used to be able to get for around this price point. They were just unsafe and impractical for balancing the large toasters that we all tend to use.
If you're on a budget, it's hard to look past the Magma 3000 Stove. It's around £15 less than the Bulin T4 too.
Using a fishing stove for the first time?
If you're scouting out a fishing stove as a newbie, here are few other essentials that you might wnt to add to your list:
Description:

Minimise wind exposure and save yourself some gas! An absolute essential for the winter months.

Description:

Because these are much carpyer than taking the plates and cutlery out of your kitchen cupboard?!

Description:

One of my best purchases! The RidgeMonkey thermo mug keeps your brew so much warmer for longer.
A Must Have!
Description:
Minimise wind exposure and save yourself some gas! An absolute essential for the winter months.
Description:
Because these are much carpyer than taking the plates and cutlery out of your kitchen cupboard?!
Winter Warmer
Description:
One of my best purchases! The RidgeMonkey thermo mug keeps your brew so much warmer for longer.
An important message about fishing stoves
I think it's vital for me to note an important message here, particularly for those new to carp angling and cooking outdoors/in our bivvies:
You must not use your fishing stove inside your bivvy without adequate ventilation, such as a the door wide open. By cooking in a closed bivvy, you risk carbon monoxide poisoning which has unfortunately taken the lives of a number of anglers, most recently Steven Kitcher.
The same goes for the use of bivvy heaters. Please use them wisely.
About the writer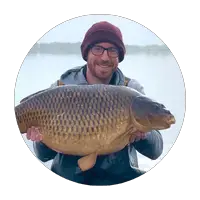 Rob W
I'm Rob, Carp Squad's main contributor. I've been carp fishing on and off for 15 years, but the bug is well and truly back at the moment. Hopefully the articles I write on here help you put more carp on the bank.