As we are heading towards the colder months, I wanted to take the time to put together my Vass Fleece Lined Boots Review.
Each year the Facebook groups are dominated by carp anglers asking for winter carp fishing boots, and these Vass Boots split opinions time and time again.
Vass are well known for their high-quality waterproof attire, with many carp anglers swearing by their range of carp fishing waders and waterproof jackets. A few years ago, they branched out into footwear too, launching these velco fleece lined boots as the answer to cold feet in the winter.
But are they as good as they look?
Personally, I've used the Vass Fleece Lined Boots for over two years, so it's fair to say that I can give you an honest opinion of these if they are on your shopping list.
Read on to find out what I think about the Vass Fishing Boots. Use menu below to jump to each section:
How Have The Vass Boots Held Up?
It's been a whole year since I wrote this Vass Boots review. As always, our opinions of products change over time so I thought I'd pop back here and give an update.
The Vass boots are still going strong and are used on my sessions during wet weather. The inner fleece lining has come away quite a lot now, which means I have to wear thick socks at all times with the boots.
The outer material on the other hand, is very well intact and there is still plenty of tread on the sole. Overall, still very pleased with these even if they didn't fulfil my initial requirement of a winter boot.
Why you should trust this Vass Fleece Lined Boots Review
I've been using the Vass Tex Fleece Lined Boots for two years now. I am not affiliated with Vass is any way, so you're getting an honest opinion with from an everyday carp angler.
If you've never come across out Tried & Tested reviews before, they are exactly what they say they are. Opinions of carp gear that have been put through their paces over sufficient periods of time. This is in comparison to the rest of carp angling media that seems to rave about gear after only one short session on the bank.
Hopefully this review can help you make the decision on whether the Vass Boots are the right fit for you.
Waterproofing
Rating: 5/5
Most people know Vass' credentials when it comes to rainware, so I thought that we would be best starting there.
The design of these boots makes them essentially half wellies, waterproof to halfway. The whole base, toe section and sides up to the ankle are covered in a hardwearing waterproof material which is similar to that on their wader boots.
As you would expect, they do indeed keep the rain out. I've used them in torrential downpours and trekking through muddle puddles on my everyday dog walks and they stand up to the job.
My only gripe is that perhaps the waterproofing could have gone higher than the ankle. It's quite easy to misjudge the margins when putting a fish back and water will get in above the ankle.
That being said, they're meant to be less restrictive alternative to wellies, so having more breathable area on the upper half does make them more comfortable to wear for year-round carping.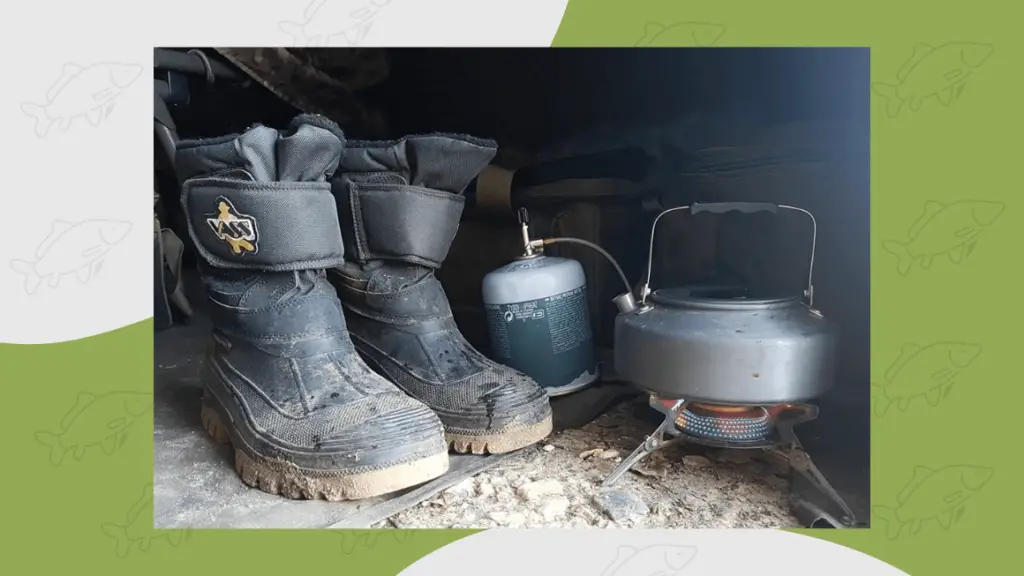 Comfort
Rating: 3/5
Comfort is a big priority for most carp anglers. The last thing you want is to be stuck on the bank for the weekend in an uncomfortable pair of footwear.
In this area, I've given the Vass Tex Boots a three out of five. As I've already mentioned, they are essentially glorified wellies designed to keep your feet dry. And they do just that.
But what they are not is extremely padded boots that are designed to provide pure comfort.
As the title suggests, they are fleece lined, which is nice. However after two years the fleece lining has started to come away on the inside of the heel. It doesn't affect the boot in anyway, they're still in perfect working order, I now just make sure I'm wearing thicker socks with them.
The base themselves is similar to what you would get in a welly. For that reason, I gave mine a little upgrade with some sheepskin inner soles from eBay. For four quid they just give you that extra bit of comfort on the base of your feet.
Overall though, the comfort is decent. I can happily wear these for a couple of days on the bank. They're quite lightweight for their size too.
Sizing of the Vass Fleece Lined Boots
Rating: 4/5
Sizing on the boots is OK, but only if you know to go one size up. These Vass Waterproof Boots do run small, so most people recommend going an extra size.
I'm a 9 and went for a 10. There's plenty of room inside and they're not restrictive on your feet in anyway, unlike some other laced boots.
They're generally quite wide on the base so there's plenty of room, even if you have wider feet. Personally I wear these with a thick set of Heat Holder Socks and they're spot on. I've even doubled up on socks and they are still a good fit.
Around the ankle, you have plenty of room too. The beauty of these boots is in the Velcro fastening at the top. This makes them adaptable for pretty much any ankle width. Plus there is the added benefit of being able to slip them on fast when you get a take!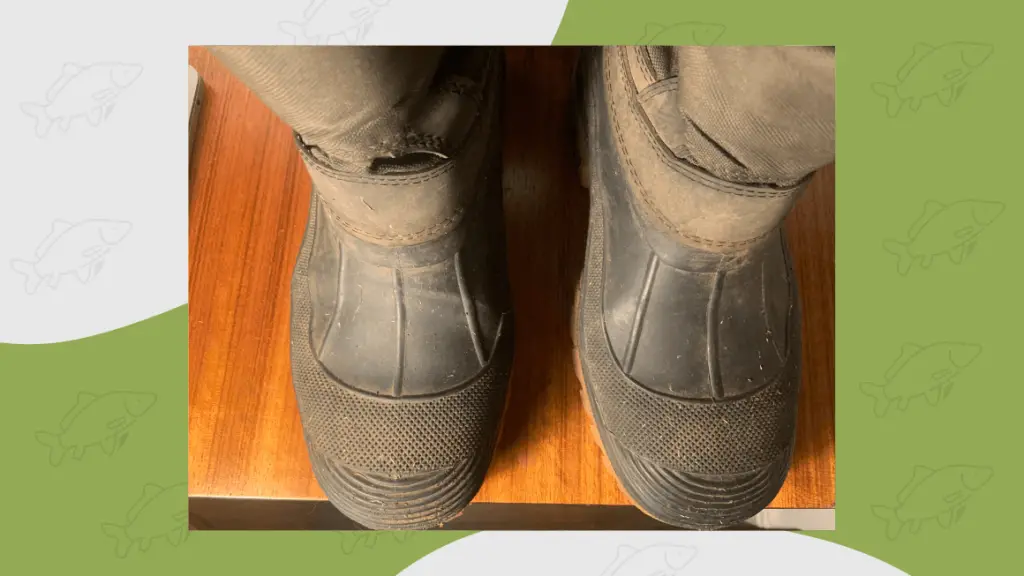 Warmth
Rating: 2/5
I'll cut to the chase, I do not recommend these as boots for the winter.
I believe there has been an element of poor communication in the marketing of these boots over the years. So many people consider these as an option for winter and they should be.
The term fleece-lined gives you the sense that these are going to be super-warm boots capable of keeping your feet warm in sub-zero temperatures. They are anything but that.
The fleece-lining simple makes them a little more comfortable and soft to the touch. There is no thermal insulation in these boots, therefore you will suffer from cold feet during the winter months.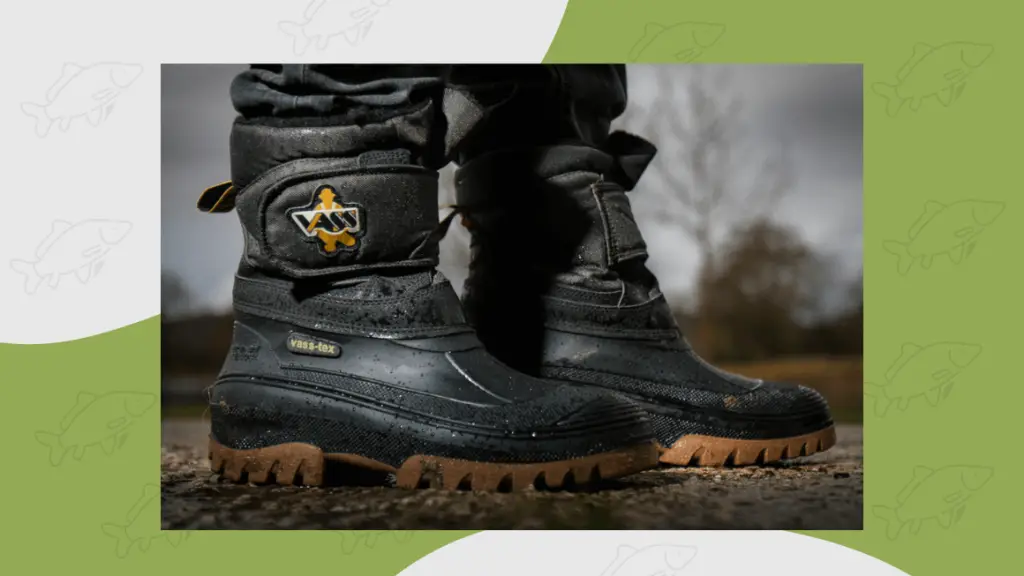 Are Vass Fleece Lined Boots good for winter?
I had seen numerous people recommend these as an all year round boot. However, after my first trip in them during a cold spell in January, I knew straight away that these were not going to keep my feet warm.
Naturally, it looks as if Vass have taken this on board and added the following to their website:
Note: This is a fleece lined multi season boot designed to be used in many fishing environments throughout the year. Therefore, it's NOT intended to be a thermal insulated, heavy & bulky low temperature boot.
I can fully confirm this statement. They should not be considered a winter boot or compared to boots like the Skee-Tex Field Boots, which are actually insulated.
For the rest of the year though, and particularly the wetter months, these boots are absolutely spot on.
Breathability
Rating: 3/5
I'm going in the middle with this one and giving them a three out of five. I think you will be fine if you don't have sweaty feet.
However, naturally I do and I often find them wet inside just from my feet. Like most waterproof products, unless there is some sort of breathable membrane, it's hard to get any air flowing through.
Once there is moisture within these boots, it tends to stay in so bear that in mind and always try to air them out at the end of a session, rather than storing them in an enclosed space.
Either way, they are definitely more breathable than a standard pair of wellies!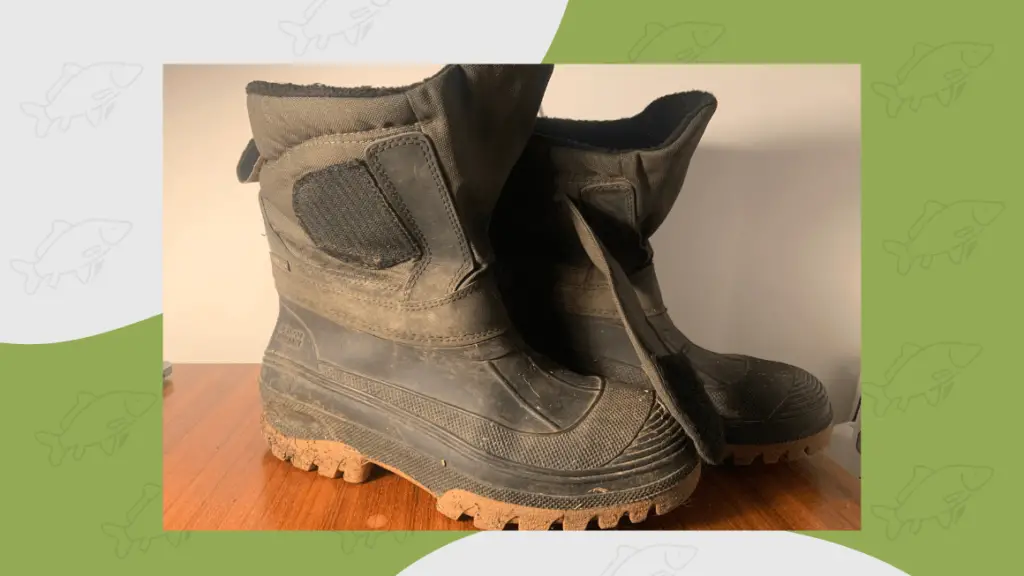 Durability
Rating: 5/5
Durability is where these boots really stand out. I have no doubt that I'll be able to get a good 5-6 seasons of use from these boots.
The tread is thick and extremely durable. Looking at mine after two years, there's minimal wear on the base. I wear them on most of my dog walks through the winter too so I would have expected them to wear a little more than they have.
The outer waterproof area is hard-wearing and shows no signs of wear since their purchase. I think it would take something pretty sharp to get through it.
On the upper section, the material is strong and the stitching has remained intact, despite ragging them on and off throughout the night!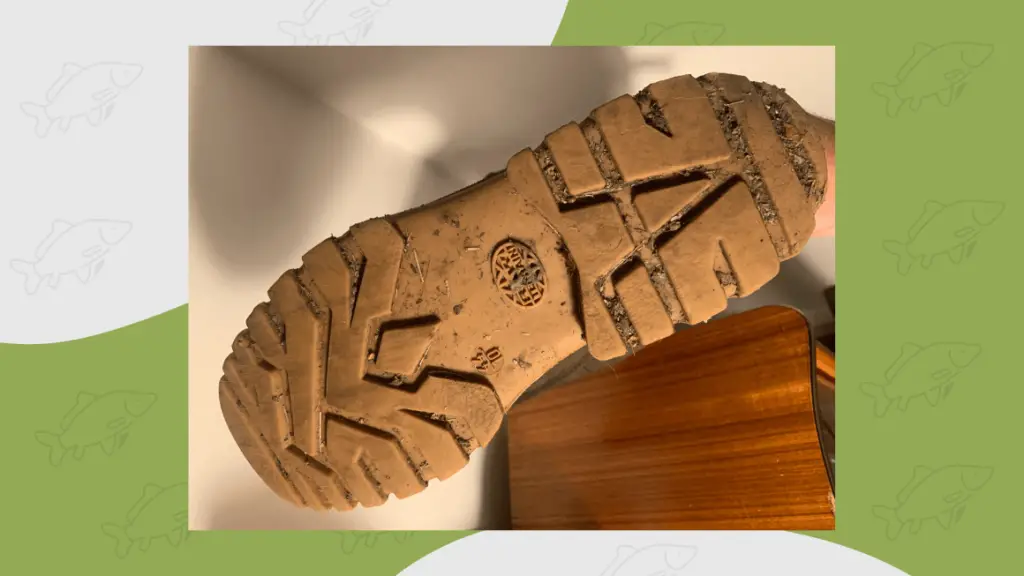 Pros & Cons
Pros
Velcro strap makes them easy to take on and off
Deep, hard-wearing tread on the base
Waterproof up until halfway
Fleece lining adds a little more comfort (but not warmth!)
Cons
Not insulated for winter use
Sizing runs small (go for one size bigger than your normal shoe size)
Not as breathable as they perhaps could be
Other Boots to Consider
These Vass fleece lined boots aren't for everyone. Here are some examples of when you might want to consider some alternatives:
You want a fully waterproof knee-boot
The Vass boots are waterproof to halfway, so they're not really ideal for standing in the margins etc. If you want something with more waterproof protection higher up the leg, consider a full height boot such as the Fortis Elements Boots.
You want a pair of boots for the winter too
These are not a winter boot. If you're looking for something that you can wear throughout the full year, consider the well-reviewed Skee-Tex Boots instead.
What I like about the Vass Boots
They are easy to get on and off due to the velcro strap
There is no laces or metal clasps that can get muddy and break
The tread on the base is solid and hard-wearing
Despite being hardwearing, they're relatively light too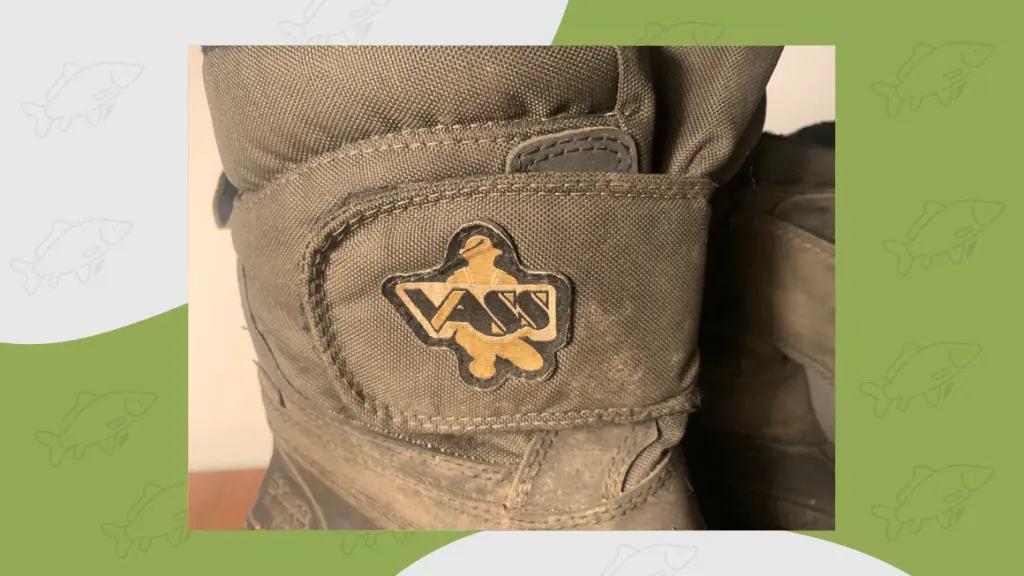 Conclusion – Vass Boots Review
In all honesty, I do think they are great boots if you intend to use them throughout the right seasons; spring, summer and autumn. Unlike a lot of gear these days, they are extremely well made so you will no doubt get your money's worth out of them too.
If you've come to this Vass Fleece Lined Boots Review expecting to read about how warm they are as a winter boot, then you will be disappointed. These boots do very little in terms of keeping your feet warm. They are excellent as waterproof, comfortable general carp fishing boots for the majority of the year. Just bear in mind that you'll probably have to purchase a proper set of thermal boots for when the weather get's really cold.
Where to buy the Vass Fleece Lined Boots
Vass Fleece Lined Boots
Vass Fleece lined boots are a popular choice for anglers as we head into the colder months.
Pros:
Fully waterproof up to the ankle

Quick release velcro strap

Fleece lined
Cons:
Not ideal for the depths of winter

Not the most breathable, so always pair with woolen socks
View Price
About the writer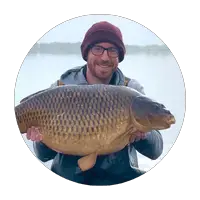 Rob W
I'm Rob, Carp Squad's main contributor. I've been carp fishing on and off for 15 years, but the bug is well and truly back at the moment. Hopefully the articles I write on here help you put more carp on the bank.