Spombing or spodding is a super accurate baiting method, but you need the right rod for the job. If you're looking for your first or next spod rod, you've come to the right place. Let's check out the best spod rod you can buy in 2023.
Where have the years gone? I remember my first so-called spod rod 16 years ago when I was a teenager.
It was an old beachcaster set up that I used to launch out my original Korda Skyliner Spod. It looked ridiculous but sure enough it got the bait out there, which is all I cared about.
Luckily, times have changed, and we now have tools better equipped for the job.
If you're looking for a new spod rod, there are loads to choose from, including some excellent budget options. Which begs the question; do you really need to spend hundreds on a spod rod? And can you save even more money by using it as your marker rod too?
In this article, we'll answer these questions, plus compare the most popular spod rods currently available. We'll cover the main pros and cons of each, highlighting a variety of rods to suit different requirements and budgets.
Let's get started!
In a hurry?
If you don't have much time use the links below to quickly find the best spod rod for you on eBay and Amazon. You can be assured that we only highlight tried and tested products…
Should you buy a combined spod/marker rod or one of each?
10 years ago the most common answer was to have one of each. Head to a day ticket lake and most people would be spombing to a marker float.
But this is not so common these days.
It seems anglers are looking to lighten their kit, and minimise any un-needed disturbance in the swim.
Not only that, but the popularity of 'wrapping up' has enabled us to hit the right distance without the visual aid of a marker. As a result, the art of finding a spot and spombing no longer need to be a combined effort. They can be done simultaneously, meaning one less rod in the equation.
What to look for in a spod rod
I'm sure if you've been to the tackle shop, you'll notice a plethora of spod rods available.
They all tend to have one thing in common, and that's a high test curve. However, there are some smaller differences to look at which may determine which rod is right for you.
A strong backbone/high test curve
It goes without saying, spombs and spods are heavy when full. It's vital that you choose a rod with a strong backbone. Something that's capable of launching a spomb into the distance if you need it to.
Luckily, most spod rods are designed for this exact purpose, with test curves of around 4.5lb.
However, you may come across some lighter spod rods on the market which aren't really made for larger spombs. You'll get away with using mini spombs or Gardner pocket rockets with these, but they are not heavy distance baiting tools.
Length
Some spod rods on the market are specifically designed for those who prefer shorter rods.
You can now get spod rods in both 10ft and 9ft variations. The obvious upside is transportability, as most of them have retractable butt sections. They're excellent for smaller water work.
Where they tend to have a limit though if for larger waters. The lack of length on the tip doesn't help with recovery speed and you'll have to nail your technique for the longer casts.
Marker rod
Do you need a spod rod that will work as your marker rod too? If this is the case you may want to look for one that has depth measurements on the blank.
It's also common to find them being a little softer on the tip, capable of transmitting any lead movement up the blank for feature finding.
Whilst this should be thought about ahead of purchasing a spod rod, it's shouldn't be a vital deciding factor. Most spod rods will work perfectly as marker rods too, as long as you use braid as your reel line that is.
I tend to use my Wychwood Dispatch Spod Rod for marker work and find it works equally as good as any dedicated marker rod I've had my hands on.
How we picked these spod rods
Real + Group Reviews
We've combined real experience plus group reviews from Facebook and leading eCommerce stores to determine what products to feature on this guide.
Variety
People are looking for different features from their spod rods. Therefore we tried to provide some variance amongst the products we've looked at.
No Commission Focus
Whilst we do earn from some links clicked through this site, we have not been biased towards a single product because of that. This is unlike other guides that only feature Amazon listed products.
Our Pick: Fox Horizon X3 Spod Marker Rod
The Fox Horizon range has been at the forefront of long-range casting for many years now.
And whilst the X4 is their flagship model, it's the X3 spod rod that makes our top pick for this guide.
Why?
Because it really packs a punch, and at a competitive price of £115 too.
Like most of the Horizon range, this spod rod has been specifically designed for launching heavy spombs a long way.
For starters, you've got a high-modulus carbon blank which has a decent tip recovery speed. Just what you need for long-range work.
Add to that a 5.5lb test curve and you've got enough backbone for continuous baiting and topping up of your spots.
As the name suggests, this is a combined spod and marker rod. With that you get the obvious depth markers on the blank too which make plumbing a breeze.
There is ample softness in the tip to assist with feeling the lead back, but I've never had this as a major requirement anyway as long as you've got spod braid on your spod reel.
Probably the only downside to this rod is the split shrink wrap handle. A full duplon or shrink wrap would perhaps be a bit more comfortable and stop your elboc slipping off the carbon during big baiting/leading sessions.
It's not a game changer but it is one of the reasons many opt for full duplon or shrink handles on their carp rods. (as well as them looking extra carpy).
Overall though, its one hell of a rod for the money, and well worthy of the top pick for this guide.
Budget Pick: Wychwood Dispatch S1
Wychwood have gained a bit of a name for themselves with cost-effective rods that should probably cost twice as much.
It's no different with their Dispatch Spod Rod which I've been putting to use as a spod and marker rod for over 3 years.
Quite simply this rod offers insane value for money. Even more so when you consider that you can purchase it along with the Dispatch reel (loaded with braid) for just £119.
That's exactly what I did when I was looking for a carp fishing setup to get me back into fishing.
The fact that I've not upgraded it yet speaks volumes.
I've done some serious baiting with this, launching spombs well over 120 yards.
Whilst it's not designed as an out-and-out distance tool, it's never failed to live up to the job. It's worth noting that my casting technique it pretty decent though, so someone with less experience may not get as much out of this cheap blank.
Speaking of the blank, it does feel fairly solid and gives you the confidence to go long range, which is a positive. There's nothing worse than filling a spomb and using a rod that feel like it will blow up. Luckily it doesn't have that flimsy feel that many budget carp rods tend to have either.
Where it does tend to feel a bit flimsy though is in the tip, but this is to be expected, especially when loaded up with the larger version of the spomb.
As a plus point this has helped though is when using it as a marker rod. Any vibrations can be really felt throughout the rod tip and it's led to me not even looking for an additional marker rod.
Looks wise, it blends in with the rest of the Wychwood range. Understated branding, full shrink and a stainless butt cap give it a nice finish.
Definitely the best budget spod rod in our eyes!
Retractable: Sonik Xtractor Recon Spod Rod
If you're a user of shorter rods, it's likely that you'll want a retractable spod rod to go alongside them.
The Sonik Xtractor has been leading that category for a while now, alongside the Nash Scope range.
And whilst retractable carp rods have been around a while, there was definitely a gap for a retractable spod rod.
I think more anglers are using retractable rods as their everyday rods now, rather than just for roaming the banks and travelling light.
With the Xtractor, what you've got here is an incredibly powerful spod rod that's capable of packing down to just 127cm in the 10ft version.
At 4.5lb test curve, it's got more than enough backbone to launch a full sized spod too.
What you're probably not going to get though is something that can easily hit 100 yards+. Being retractable and less than 12 foot massively affects any range you'll be able to hit.
Not saying it's impossible, but it will require great technique and the right conditions to really hit the distance.
But in all honesty, that's not what this rod was designed for. It was designed as a transportable spod rod to work alongside a lighter set up when roaming or fishing smaller waters.
For that purpose it fits the bill perfectly. And at less that £60, what more do you need?
Greys Prodigy Distance Spod Rod
It would be rude to create a guide about rods without featuring something out of the Greys range.
Greys have been at the forefront of rod-making for decades, gaining an army of followers for their carp rods.
The Prodigy range has stood the test of time for them, with Greys recently announcing a new and improved range for 2023.
But it's the GT4 Spod Rod that we're featuring today.
For starters, it's got a 36T carbon blank which only the Fox Horizon X3 on this guide can rival.
What this gives you is a very high-quality blank that's progressive and able to launch heavy spods at range.
And at a price over £200 you would expect it to be able to hit the distance too! That's something worth mentioning with this rod, it's at the higher end of the price bracket.
That's to be expected with Greys to be honest. Whilst the actual performance will see minimal difference over the Horizon X3, it's the finer details where the Greys rod steps up.
You've got a sleak matte black finish on this rod, along with a laser-etched butt cap and a really nice shrink-wrapped handle.
If money is no object, definitely take a look at the Greys Prodigy.
Shimano TX-A Spod Rod
If you're a reader of our blogs, you'll know that we are big fans of the Shimano range of rods.
Much like the Wychwood rods, they have a feel of rods that should cost twice the price.
So whilst you may be paying less than £100 for the TX-A spod rod, it will typically perform like a rod close to the £150 price bracket. That's certainly what we found when reviewing the Shimano TX2 Carp Rods anyway.
In terms of features, there is little outstanding about the TX-A to be honest.
But that's what makes it so good in many ways.
It just delivers as a great all round spod rod for less than £100.
With a solid carbon blank, there's enough in the tank to hit the distance if you need it to. It might not be an out-and-out distance spod rod like the Greys Prodigy, but with good technique you will not be limited by this rod.
My only gripe it the single legged guides. Whilst these save some weight for casting, they are a little bit easier to bend and break. If you're someone like me who doesn't really look after their gear, you might be better going for the Wychwood Dispatch which is a bit more robust.
On the flip side, you might be more interested in rod cosmetics. In this instance, the TX-A beats the Dispatch hands down. A slimmer blank and more understated graphics just give it a more luxury feel.
This should definitely be a contender if you've got a budget of less than £100.
About the writer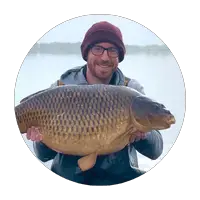 Rob W
I'm Rob, Carp Squad's main contributor. I've been carp fishing on and off for 15 years, but the bug is well and truly back at the moment. Hopefully the articles I write on here help you put more carp on the bank.