It might not seem it, but choosing the best carp fishing line can be one of the most important choices you make.

There are lots on the market, thicker lines, multiple colour, long distance casting lines. And of course, you need to make the choice between monofilament, braid or fluorocarbon.
It can be a minefield to say the least.
Add in the fact that the tackle companies have hiked up their prices of line in recent years, it can cost a small fortune to spool up your three rods.
With that in mind, choosing a line is becoming a more important decision. The last thing you want is to be stripping off £80 worth of line because you can't get on with it.
In this guide we'll be helping you out. We'll be covering the best carp lines based on independent research and group reviews, highlighting the pros and cons of each.
Hopefully at the end of this article, you'll have a better understanding of what type of carp line is right for you.
Description:

A tried and trusted line that's been around for decades. Superb value for money too!

Description:

A super high-strength monofilament that's the choice of many carp anglers in the UK.

Description:

Korda's newly launched tapered mainline, ideal for distance casting.
Top Pick
Description:
A tried and trusted line that's been around for decades. Superb value for money too!
Runner Up
Description:
A super high-strength monofilament that's the choice of many carp anglers in the UK.
Best For Distance Casting
Description:
Korda's newly launched tapered mainline, ideal for distance casting.
Should you choose monofilament, fluorocarbon or braid?
This is probably the most common question asked when choosing a carp line. There are specific reasons why you would choose one over the other, which we'll cover below. 
Take note, you dont' want to get this wrong or you'll risk wasting a fair bit of money and time.
Monofilament
When most talk about carp fishing line, they mean monofilament. It makes up a large percentage of the line that carp anglers currently use. 
Made from a single piece of nylon, it has most of the qualities you need for carp fishing; strong, knots well and casts fairly consistently in relation to its breaking strain.
Being a nylon material, monofilament has an element of stretch to it too. This makes it ideal for playing carp under the rod tips. All in all, for 99% of carp fishing situations, monofilament (or mono) will suffice. 
In my own angling, I'm a big fan of Daiwa Sensor Mono. It has all the qualities listed above and costs less than £10 for a bulk spool.
Fishing to snags and distance casting are two scenarios when you may want to consider an alternative to monofilament. In these scenarios, braid is much more efficient as there is less stretch, putting you in tighter contact with the rig/fish.
Fluorocarbon
Fluorocarbon is a type of carp line that's been growing in popularity in recent years. As a material, it's super thick and heavy, making ideal for those who stress about line lay and keeping everything pinned to the lakebed.
However, that's only one benefit. The main reason anglers use fluorocarbon is due to its low visibility. It's virtually invisible to the naked eye, and therefore great when fishing for wary carp in shallow, clear water. 
These benefits do come at a price though. Being thick and wire-like, fluorocarbon is not great for distance casting. 
It also requires a lot more upkeep than standard monofilament. Debris and weed collect on fluorocarbon, staining it over time. As you can imagine, this is not ideal for a line that's major benefit is it's invisibility.
Regular cleaning with a sponge is advised. But if this is too much maintenance for you, I would recommend sticking with mono.
Braid
Braid is another option as a mainline for carp fishing. Unlike mono or fluorocarbon, braid is made from multiple strands of material, weaved together.
As a result, you have a mainline that is incredibly strong, yet low in diameter. It's also incredibly abrasion resistant.
Whilst braid is typically used as a hook link material, it's use as a mainline is growing in popularity. Brands like Thinking Anglers and Korda have both released specific braided mainlines in recent years.
Anglers like Elliot Gray are big fans of braid, and he is often seen telling it's benefits as a stronger, more effective alternative to mono.
Whilst it may not be for everyone, braid does excel in a number of areas. Due to its low diameter, it's by far the best type of mainline for distance casting. 
Not only that, but it's zero stretch and high abrasion resistance mean that it's very well suited to fishing in and around snags. Thinking Anglers Braid is probably the best when it comes to snag fishing.
While it may not be ideal for the majority of your angling, I would say it's worth having your spare spools filled with braid just in case they need arises.
What to consider when choosing the best carp fishing line
If you're looking for a new mainline, here are some things that you'll want to look out for.
Breaking Strain
First and foremost, you'll want to consider what breaking strain mainline you need for carp fishing. 
Typically, 12-15lb is usually enough for most carp fishing scenarios. Obviously, the higher the breaking strain, the more thickness in the line, which is good for abrasion resistance.
You'll also find that carp lakes in the UK area beginning to be quite strict on breaking strains, with most opting for 15lb and above for carp safety reasons.
Colour of your carp line
Colour is a personal preference but should definitely be part of your considerations for your next mainline.
What you'll find is that most are either clear or have darkened colour that blend into the lakebed, such as browns and greens. Some brands even have both colours, so the choice really if down to you.
The one key thing to remember is that you want it as invisible as possible. At least that was the case until Wychwood launched their Purple DPF line. Vibrant to the naked eye but transparent under water. At least that's what they say!
For my own sanity I prefer to stick to the darker coloured lines, and that's why my choice is Daiwa Sensor.
Diameter
Closely linked to breaking strain, you should also consider what diameter your line needs to be. 
Truth be told, there isn't much it in when you compare the leading lines side by side. Expect to find most 15lb lines in the 0.32mm – 0.38mm bracket. 
This is typically what most venues are looking for as part of their rules.
Where diameter really does become a consideration is extreme range casting. If you're looking to hit the horizon, you're going to want as thin a line as possible. That's why most distance anglers opt for braided mainlines where they can.
Abrasion Resistance
If you're likely to be fishing in and around snags, you'll need a line with good abrasion resistance.
Braid, whilst it can be crude, is probably your best bet if you can get away with it. 
Failing that, fluorocarbon has excellent abrasion resistance. Just be mindful of the added upkeep involved with fluorocarbon and keep an eye on any parts that may be scratched or frayed. 
If you want to use monofilament, opting for 15lb or above in breaking strain is probably your best bet. Just be sure to check in on it's diameter using the Tackle Box Line Tests. 
This ingenious testing approach by the Kent-based tackle shop usually highlights whether manufacturers are sticking to their stated diameters and breaking strains.
Bulk Spool Size
Like most things in carp fishing, line has increased considerably in recent years. But while the prices have increased, the spools have often decreased in size.
Some of the so called 'higher-quality' lines retail at over £20 for a small spool that will only fill one big pit reel. 
That's a hell of a lot of money to be spending on line over the course of the season. 
My recommendation? If you're on a budget, opt for a brand that sells bulk spools of around 1000m. With a little bit of old line or tape backing on your reels, this should be enough to fill all three of your spools.
How we picked these carp lines
Real + Group Reviews
We've combined real experience plus group reviews from Facebook and leading eCommerce stores to determine what products to feature on this guide.
Variety
What people line from a carp line varies from angler to angler. Therefore we tried to provide some variance amongst the products we've looked at.
No Commission Focus
Whilst we do earn from some links clicked through this site, we have not been biased towards a single product because of that. This is unlike other guides that only feature Amazon listed products.
Top Pick: Daiwa Sensor Brown
Daiwa Sensor Monofilament
A tried and trusted line that's been around for decades. Superb value for money too!
Pros:
Excellent value for money

Brown colour

Breaks at a higher strain than it's rated
Cons:
Not the most supple mono on the market
View Price
Readers of this blog will know that I'm a big fan of Daiwa Sensor.
For the old school anglers out there, we grew up using this line in its multiple colours; clear and brown. 
As a monofilament, it ticks all the boxes for me. It's strong, knots well and casts OK. Yes there are better casting lines out there, but Sensor will work for 99% of your fishing.
I personally use the 15lb breaking strain, but also have spare spools in 12lb for fishing the canals and smaller waters.
I've never been one to chop and change lines. I've certainly never tried the high visibility lines that Fox and Wychwood have brought to market. While they may work for some, I'd rather stick to something more dull in colour. 
Sensor's brown colour is as close to that of a lakebed that you'll find. Perhaps AVID Outline is better camouflaged as a monofilament, but there's not much between the two.
Daiwa Sensor just does the job for me. But best of all? It costs less than £10 for a bulk spool. That's a steal in this age of carp tax!
Runner Up: Gardner GT HD
Runner Up
Gardner GT-HD Monofilament
A super high-strength monofilament that's the choice of many carp anglers in the UK.
Pros:
High strength and abrasion resistance

Subtle green colouring
Cons:
Not the best for distance casting
View Price
Looking at the many questions in the Facebook groups about the best carp line, Gardner GT HD is never far from the top.
Gardner might not be the flashiest of carp brands, but they've stood the test of time with quality products. Many of which were delivered under the stewardship of Lewis Reed before he moved to Thinking Anglers.
GT HD is probably the most hardcore line on this guide. As the name suggests, it's high-definition, made from a unique copolymer material.
This gives the line high abrasion resistance, with a crisp feel to it. 
Admittedly, it's strength comes at a price. It's not the thinnest line and is therefore not ideal for distance casting.
However, if you're looking for something to fish snaggier venues that lines to the lakebed like a brick, give GT HD a go.
Braided Option: Thinking Anglers SBX Braided Mainline
For the braid lovers out there, we'd recommend taking a look at the Thinking Anglers SBX Braid.
TA rarely release poor products. Their range is extensively tested before launch by anglers such as Scott Lloyd, Myles Gibson and co.
They entered the braid market a couple of years ago, as it's use grew in popularity amongst distance anglers.
SBX is a high-performance braid, which Thinking Anglers claim has been designed to tackle some of the most testing venues. 
Unlike some cheaper braids, in particular spod braids, it has a round profile, rather than flat. Any braid users will know about the dreaded wind knots. These can't be helped sometimes but I feel like the process of untying a knot is a little easier with rounded braid like SBX.
Another plus for SBX is its capability to sink. You really need this when using braid as a mainline, but it's not always common.
Sinking fibres used in braids are heavier and therefore more expensive. Bear in mind that this is reflected in the price of SBX. 
As a mainline it's by the most expensive on this guide, coming in at 84.99 for a 600m spool.
Fox Excocet Carp Fishing Line
Another line that's raved about amongst anglers is Fox Excocet.
I've tried it myself when borrowing a friends setup and was really impressed.
It's super thin in diameter in relation to its breaking strain, with the 16lb version coming in at just 0.33mm. To put it into context, that's thinner than Daiwa Sensors 15lb breaking strain version.
While this may not sound much, it's a big plus for distance casting when you need all the percentages stacking in your favour. 
And it's distance casting that Excocet is mainly marketed for. Watch any of Tom Makers older videos and you can see him easily hitting range using Excocet. – Before he started raving about the high-vis orange version.
In terms of visibility, you'll have no problem fishing clearer waters with this line. Excocet comes in a dark brown colour which is virtually invisible on the lakebed.
Nash Bullet Mono 
Nash Bullet Mono
Nash's one and only mono mainline. A firm favourite for many carp anglers over the years.
Pros:
Low stretch and fast-sinking

Good for distance casting
View Price
Since it was introduced many years ago, Nash Bullet has remained one of the most well-liked carp fishing lines. 
Funny enough, Nash didn't create Bullet deliberately to be a long-distance line. Bullet was designed to be an all-purpose carp line for various angling scenarios. 
Through time, it became clear that Bullet has a small diameter compared to other lines with the same breaking strain. You're looking at around 0.33mm diameter at 12lb breaking strain. 
While this may not sound a lot, official tests by The Tackle Box state that Nash Bullet breaks at a higher rate than stated. The 12lb version actually breaks at 13.5lb, so you've got some more strength in the tank if needed!
It's also important to note that Nash Bullet is available in green and brown. Both are subtle colours that, when submerged, are essentially invisible, making it suitable for most angling situations.
Best for Distance: Korda Long Chuck Tapered
Best For Distance Casting
Korda LongChuck Distance Mono
Korda's newly launched tapered mainline, ideal for distance casting.
Pros:
Tapered leader included

Ideal for use on waters with a shockleader ban

Low stretch
Cons:
Expensive if used across all three rods
View Price
When it comes to the best distance casting mainlines, Korda has a new entry on to the list.
As the name suggests, Long Chuck was designed specifically for those who need to hit the horizon on large lakes. If you've read our recent guides, you'll know that this came out on top of our recent tests for the best distance carp fishing line. 
Where this differs from a traditional carp line is that is has two tapered sections at either end of the spool.
This is essentially where the line gets thicker, giving you more strength to go for a powerful cast.
It's essentially a shock leader, without the need for braid or tying a complicated double uni knot. As Long Chuck is one piece of monofilament material throughout, it's the best line to use if you need to fish at range on venues where shockleaders are banned.
Another major plus is how thin in diameter this line is across the central section. In the 12lb version, it's only 0.30mm. That's a drastic diameter difference vs. even Fox Excocet, which excels at distance casting.
With the thin diameter, what you obviously get is a poorer abrasion resistance with this line. We wouldn't recommend using it where harsh snags are present.
Cost-wise, don't expect it to be cheap either. Korda, along with RidgeMonkey, have cornered the market early with this product and are pricing it at a premium.
Korda Carp Line
Korda Carp Mono
Korda's budget monofilament, brought out to rival Daiwa Sensor!
Pros:
Ideal for those on a budget

Both tough and reliable
Cons:
Not ideal for distance casting

Not as supple as other lines
View Price
Korda aren't known for releasing budget products, but it seems Danny Fairbrass had a change of heart during the Covid Pandemic. 
Along with the Basix line of tackle, Korda released Carp Line. 
As you may be able to guess from the name, it's a no frills monofilament that doesn't cost the earth. It's probably the closest competitor to Daiwa Sensor on this list, and it's had pretty good uptake since it's launch.
I know many people who've used Carp Line and moved to it from more expensive alternatives. It's strong, knots well and casts OK. What more do you need?
Like most Korda products, it's been tested by big name anglers before giving the tackle shop seal of approval.
In terms of breaking strains, it comes in at 8lb, 10lb, 12lb, 15lb and 20lb. – Pretty much everything you need for carp fishing in the UK and abroad.
Now obviously being a budget line, it does have its limitations. 
Like Daiwa Sensor, it's not as supple as some of the more expensive lines on the market. It doesn't cast as well as Excocet or Long Chuck either, due to its higher diameter. 
However, what you do get is a simple and reliable line that comes on 1000m spools for about £12. If it starts to lose its suppleness or gets grazed on gravel bars and snags, you can simple respool without having to remortgage the house!
For Fishing Clear Venues: Korda Kontour Fluorocarbon
Korda Kontour Fluorocarbon
Korda's heavy fluorocarbon, ideal for fishing clear venues.
Pros:
Virtually invisible

Sinks extremely well, so perfect for margin fishing

Good for abrasion resistance
Cons:
Not the best for distance casting

Requires more maintenance (cleaning) than traditional mono
View Price
At the start of this guide, we mentioned that we wanted to cover all bases when it comes to carp fishing lines.
For those who prefer fluorocarbon, the one that we always recommend is Kontour. 
In many ways, Kontour was the original carp fishing fluorocarbon, designed to be virtually invisible in water. When it was first released, carp anglers were buzzing about how good it was for stalking carp in the edge.
As the name suggests, this line also sinks like a brick, hugging the contours of the lakebed. If you're fishing for big, wary carp, there really is no better line. 
If you've done some research about Kontour, you may notice one thing; it only comes in 12lb breaking strain.
That's purposeful, and according to Korda the 12lb version is everything you need for carp fishing in the UK and abroad.
Being a fluorocarbon, you will naturally benefit from its abrasion resistance and knot strength. Even the 12lb version is great at directing carp from snags and overhanging bushes. 
About the writer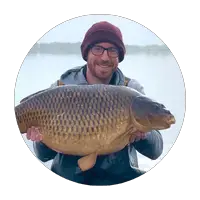 Rob W
I'm Rob, Carp Squad's main contributor. I've been carp fishing on and off for 15 years, but the bug is well and truly back at the moment. Hopefully the articles I write on here help you put more carp on the bank.