On the hunt for a PB and need the best carp fishing scales that your budget can stretch to? You've come to the right place! 
Scales are undoubtedly one of the most important pieces of kit in your armoury. 
While they often go weeks without use (when we're blanking) there's nothing more important than having a set of accurate scales to weigh your quarry.
But are all carp scales the same? And is there a level of accuracy that big brands like Reuben Heatons have over others? 
We'll be answering that in this guide. We'll also be reviewing the best carp scales on the market right now. 
That way you can weigh up the pros and cons and make a decision in line with your budget. In a hurry? Check out the top products highlighted below:
Do you really need Reuben Heaton Scales? 
If you ask 'what are the best carp fishing scales' on any carp Facebook group, I can guarantee you there will be one unanimous answer; Reuben Heaton.
Reuben Heatons have legendary status when it comes to fishing scales, and the majority of carp anglers swear by them.
It's almost like the fishing scale equivalent to Hoover. You know what I mean, where the brand name begins to be said more than the actual product. 
To be honest, if you want to cover all bases in terms of reliability and accuracy, you're not going to beat a set of Reubens. After all, they've been around since 1857 so they must be doing something right.
Do you need to buy a set though? 
Absolutely not. There are many other sets of scales on the market capable of accurately weighing carp.
Although I have recently upgraded to Reuben Heatons, I was previously using Saber Scales for years. They were rock solid and accuracy is bang in. They've also been checked for accuracy alongside a set of Reubens when I managed to bag a lake record from Yeadon Tarn. 
It's completely up to you what fishing scales you go for. 
What to look for in a set of carp fishing scales
Here are some of the things you should consider when purchasing your next set of carp scales. 
Weight limit
The weight limit of your scales is the main spec you should look out for. 
It goes without saying, you need scales that can handle the weight of fish that you might be catching. 
Most scales on the market go up to the region of 60lb. However, you can also get some that measure in smaller increments to around 120lb.
If you're fishing carp lakes in the UK, the former will probably be just fine. That's unless you're fishing for a British record carp of course. 
Your venue might also have a head of catfish. While they aren't our wanted quarry, it's good to weigh them and snare a PB. If you're regularly fishing venues with cats present, or heading over to France, it might be worth getting some capable of weighing more. 
Size and weight
Size and weight of your carp gear is always something to think about. Depending if you're someone who likes to travel light, or someone who likes to take the kitchen sink, you might want to consider your options.  
Based how much they are used, can scales can take up a relatively large amount of space in your rucksack. 
This is particularly evident with the mechanical scales, which I'm assuming need to be of a certain size to house the inner workings. Either way, my Scales take up the largest outer pocket on my Saber Rucksack.
If you like to keep your gear to a minimum, it might be worth looking at a set of digital scales like the Reuben Heaton Digital Scales. 
They're typically smaller and lighter, taking up less space amongst your kit. 
Visibility 
It goes without saying, if you can't properly read the dial, your scales are useless!
Some of them, particularly mechanical scales in the higher weight bracket, can be quite hard to read.
This is exaggerated even more when they get some dreaded condensation behind the casing.
If your eyes are not as good as they used to be, I would recommend digital scales.
They're typically backlit, with a large digital screen that's super easy to read.
Digital or mechanical operation
Probably the biggest choice you have to make is whether you go for traditional mechanical style scales or digital.
Here's why you should go for one over the other:
Go for mechanical scales if:
You don't want another electronic item to recharge ahead of your trip
You want the highest accuracy (less to go wrong!)
Opt for digital scales if:
You want something small and compact
Your vision isn't great 
You want something that can record weights too
How we picked these carp fishing scales
Real + Group Reviews
We've combined real experience plus group reviews from Facebook and leading eCommerce stores to determine what products to feature on this guide.
Variety
What scales people are looking for varies from angler to angler. Therefore we tried to provide some variance amongst the products we've looked at.
No Commission Focus
Whilst we do earn from some links clicked through this site, we have not been biased towards a single product because of that. This is unlike other guides that only feature Amazon listed products.
Our Top Pick: Reuben Heaton England Limited Edition 
Top Pick
Reuben Heaton England Edition Scales
Known as the most accurate scales on the big carp scene. The England edition scales have been seen to weigh some of the UK's largest carp. Our top pick by far!
Pros:
Made by Reuben Heaton, the masters in manufacturing scales

Clear dial with white England backdrop
Cons:
Weighs up to 60lb, so won't be suitable for some waters
View Price
These Reuben Heaton scales make the top pick on this guide.
Why? Because they're super reliable and carpy as hell with the England Heritage background!
No really, these probably are the most well-reviewed scales on the market.
Technically, they're nothing more than a basic dial scale offered by Reuben Heaton. The same design and mechanics that have been trusted for years now.
If it's not broken, don't fix it comes to mind!
Where they have had a facelift, is in the design of the face. Instead of the standard black background, Reuben Heaton have incorporated a cool England flag which is a nod to the heritage carp fishing in the UK.
Everything else remains as what you would expect from Reuben Heatons. The body is made from a shatterproof polycarbonate material. Trust me when I say these are solid, I've seen them bounced off concrete on many occasions.
At the bottom you've got the signature solid stainless hook which will withstand anything up to and over 120lb. And at the top you've got a stainless loop which can be used to hook onto weigh bars or weigh poles.
If we were being picky I would say it would be nice to see a weigh bar included. But hey ho, you can't have everything!
If you're looking for the best of the best, and have the money to spend, you can't go wrong with these carp scales.
Budget Pick: Saber Scales
Saber Carp Scales
Pros:
Very similar to Reuben Heaton Scales

Solid design with shatterproof case

Solid stainless weigh hook
Cons:
Not the Reuben brand, so expect some funny looks if you're weighing a PB or lake record!
View Price
Not everyone has money to burn when it comes to buying carp gear. I was actually in this position myself when I restarted carp fishing and ended up bodging together a carp set up.
After asking on numerous carp fishing groups, everyone was raving about the Saber Scales.
On the face of it, they're pretty much identical to Reuben Heatons, but without the brand name of course.
I bit the bullet, purchased a set and have been happy with them ever since.
They're made from a really super solid casing that's withstood over four years of use. Those that read my blogs will know how little I look after my gear.
These scales are often bounced off the floor as I'm fighting a carp on the mat, and they're still going strong.
Like the Reubens, they feature strong stainless fittings to the top and rear. You can even pair them with a Saber weigh bar for just £32 all in. That's a bargain in my eyes.
The best of all though? I've tried them alongside Reubens and the accuracy is the same.
Bear in mind, there will be people who turn their nose up to them when you get them out (especially when weighing a lake record). However, if you're looking for a set of mechanical scales that are reliable and don't break the bank, I would recommend the Saber Scales.
Best Electronic Carp Scales: Fox Digital Scales
Best Electronic
Fox Digital Scales
The original and first digital scales to hit the market. Fox brought the first version of these out in the early 2000s and they've been a hit every since.
Pros:
Fully electric

Accurate zero button

Backlit screen for use in the dark
Cons:
Battery powered, so don't forget your spare AA's!
View Price
I think it was Fox who released the first ever set of digital scales back in the early 2000s. If my memory serves me correctly, they weren't a big hit initially.
Bankside charging wasn't really a thing back then, and there was always that nervousness about them running out.
But open many anglers kit now and you'll see a pair of Fox Digital Scales.
They've certainly stood the test of time so we've got to give Fox some credit there.
In terms of specs, they offer a lot over mechanical scales. Perhaps the best feature is the simple zero button. Pressing this whilst lifting a wet sling will zero the scales instantly, saving you plenty of faffing about and subtracting after you've put the fish back.
A backlit screen makes it really easy to get an accurate weight whilst night fishing too. No more having to point your head torch and squint to read the dial!
One thing that may worry anglers with digital scales is the electronics being around a seemingly wet area; your carp cradle.
Fox have thought about this in the design, sealing the electronics in a way that prevents water ingress, much like their alarms.
One negative I would say is that they run off AA batteries. This is quite old school in an age where every angler carries a power pack. It would be good to have the opportunity to recharge them. Who knows, you might be having a big hit of fish and need to keep them topped up!
Best for Stalking: Reuben Heaton 3000 Series Flyweight Mk 2
I mentioned earlier on in this article just how large some of the mechanical scales can be.
This can be a major hindrance if you're someone who likes to travel light. The last thing you need is your scales being bigger and heavier than your carp tackle box!
If you are someone who wants to keep weight and space to a minimum, we recommend the Reuben Heaton 3000 Series Flyweight.
Bear in mind, they're not your typical carp scales. In fact, they are more like a beefed up version of the type of scales river anglers use for weighing barbel and smaller species.
But that's where Reuben Heaton spotted a gap with these scales. They knew that mobile carp anglers wanted RH accuracy but without the weight and bulk.
Weighing just 190g, these scales are ideal to add as part of your stalking/floater set up. They're roughly a quarter of the size of the standard Reuben Heaton and Saber Scales.
Weight aside, a major benefit for me is the integrated handle. This just isn't seen on carp scales. I put it down to wanting an additional upsell out of the angler. Either way, with the Flyweights you no longer need to lug around a heavy weigh pole.
Lightness does come at a cost though. And having used the Flyweights, you can tell that they are not made from the most robust materials.
I think thats fine though, as they serve a purpose for the traveling angler. It just means you might need to take a little bit more care of them.
Cheap + Electronic: Korum Digital Scales
Korum Digital Scales
By far the smallest scales you can buy on the market today. They're also packed full of features, comparable to the Fox scales which cost over three times as much. Well worth checking out if you like keeping your kit lightweight.
Pros:
Incredibly small and lightweight

Capable of weighing carp to 66lb

Simple one button control
View Price
I'm adding a little wildcard to this list and that's the Korum Digital Scales.
Prior to the launch of these, you would be looking at £50+ for a set of digital scales. In true Korum fashion, they've undercut the market with what actually looks like a decent product.
In fact, they have comparable features to the Fox Digital Scales. Zeroing function, illuminated display, and multiple measurement types come as standard on the Korum Digital Scales.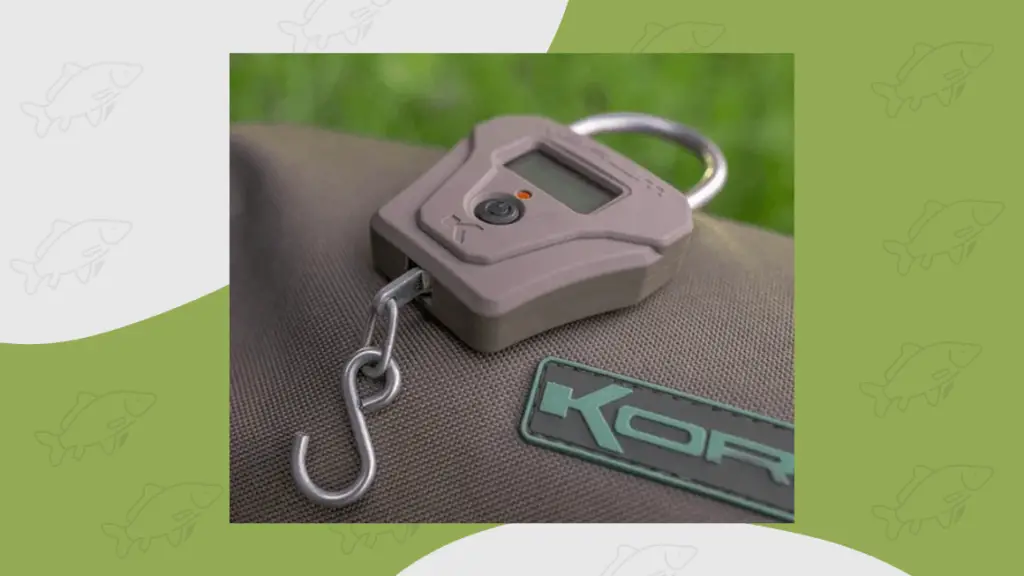 The only downside I would say is the lack of weigh handle. You'll definitely need a storm pole or weigh bar to compliment these. That being said, size is definitely the USP here. The Korum Digital Scales are absolutely tiny, fitting in the palm of your hand.
Speaking of carp size, these scales are capable of weighing up to 66lb, so they should see you right on most waters in the UK. For trips abroad, you may need to upgrade though.
If it's digital scales at a discount you're looking for, check these out.
About the writer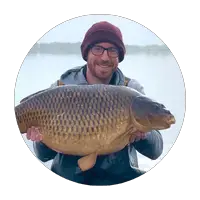 Rob W
I'm Rob, Carp Squad's main contributor. I've been carp fishing on and off for 15 years, but the bug is well and truly back at the moment. Hopefully the articles I write on here help you put more carp on the bank.