When you catch a carp, you're going to want to make sure that you have the right equipment to look after it on the bank. A carp cradle is fundamental to protecting carp, and a common requirement on most UK fisheries. There are lots to choose from on the market, so we've created this buyers guide to help you. In this article, you'll find a full list to help you choose the best carp cradle for your fishing.
Like we always do, we've scoured the entire market to find the most reviewed products available. This guide will cover a range of products, suiting different budgets and fishing scenarios.
Let's get started! Use the links below to skip through the contents of this article:
In a hurry?
If you don't have much time use the links below to quickly find the best carp cradle for you on eBay. You can be assured that we only highlight the best products…
How we picked
Real + Group Reviews
We've combined real experience plus group reviews from Facebook and leading eCommerce stores to determine what products to feature on this guide.
Variety
People like different products for different reasons, therefore we tried to provide some variance amongst the products we've looked at.
No Commission Focus
Whilst we do earn from some links clicked through this site, we have not been biased towards a single product because of that. This is unlike other guides that only feature Amazon listed products.
Saber Everlevel Cradle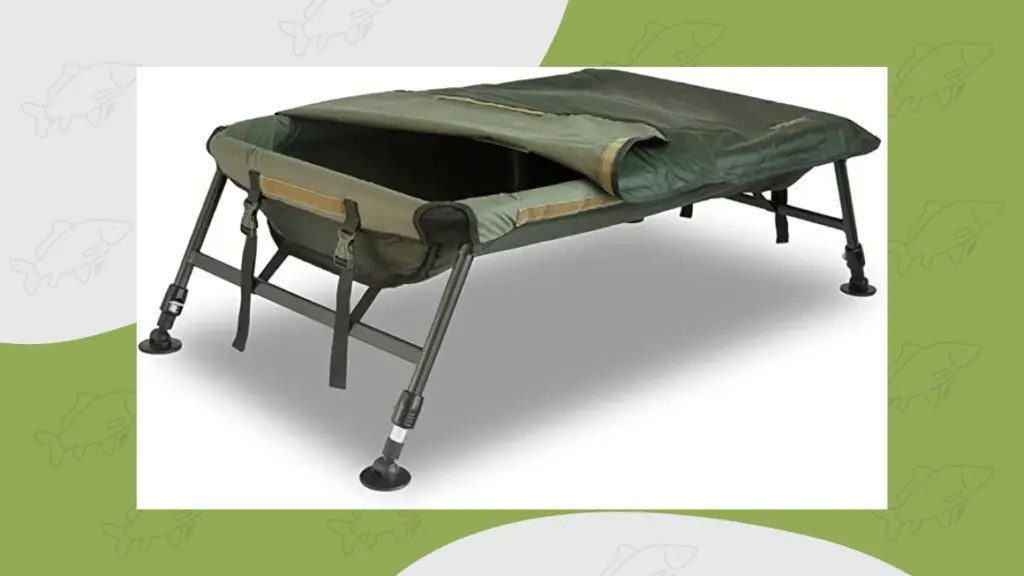 One of Saber's biggest launches in recent years has been their Saber Everlevel Carp Cradle.
Manufactured from a super-soft PVC material, the Everlevel is fish-friendly and you can really feel that from the first touch.
Built on a rectangle frame, the Everlevel is covered in soft material all around the edges too, preventing any hard spots for carp to bash against.
This style of 'crib' has become more popular in recent years, but original designs were always a bit harsh on the edges. It's good to see that Saber have gone above and beyond on the cushioning to improve this.
Throughout the centre of the cradle, the same PVC fish friendly material has been used. It sort of moulds to the carps body shape, providing a safe haven during the unhooking process.
Additionally, you'll find drainage holes at either end of the cradle. This is a key point to consider as I know some anglers prefer to have a cradle that holds a bit of water for the carp to rest in.
Fold flat design
If you're looking for the best carp cradle for ultimate protection, it's common to have to compromise on something. That something is usually size, weight and transportability.
Whilst the Everlevel isn't marketed as a very transportable unhooking cradle, it isn't the bulkiest that we have reviewed.
You probably wouldn't want to use this on a stalking session or for long walking. However, Saber have done everything they can to produce a cradle that wont overload your carp barrow.
In the centre of the frame are two hinges which allow you to fold the cradle in half. The legs fold in from either side, therefore it ends up no bigger than a small carp chair.
In terms of dimensions, it's 62 x 102 x 35cm set up and 62 x 51 x 15cm folded.
Protection cover
Saber's products are never really aimed at the top of the market, which often means they lack the added functionality that you get with bigger brands.
We found that isn't really the case with the Everlevel. Saber have really put their minds into the development of this product, and the 22 5* product reviews on eBay back that up.
A prime example is the protection cover that goes over the entire cradle. This is a life safer for them moments when you forget to have your scales ready and waiting. Simply pop the cover over and secure with the velcro. This is a really nice little feature which adds more protection for the carp when you have to take your eyes of them for a second.
Korda Basix Cradle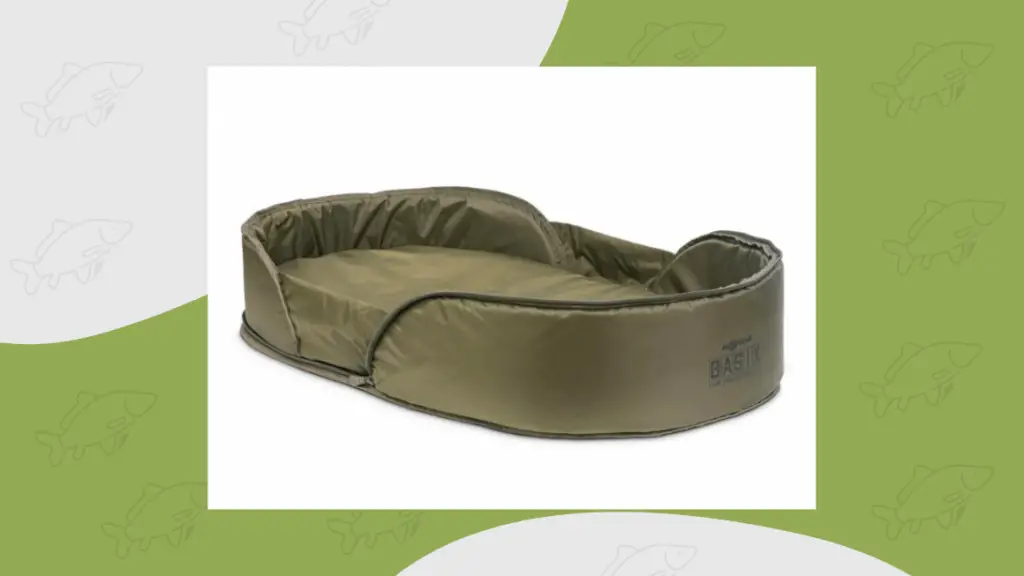 Don't let Korda's 'Basix' sub brand fool you. This fishing cradle is far from basic, lending itself to use in a variety of carp fishing scenarios.
The Basix has been designed to offer maximum protection, without hindering your ability to go stalking or move swims with the cradle.
Featuring 50mm super-soft padding throughout the base and sides, this cradle offers more than enough protection on even the hardest of gravel swims.
The material itself feels fairly robust too. It's fully waterproof and should aid in drying the cradle out after a session. This is always a plus from us it helps to prevent the spread of KHV amongst fisheries.
One interesting thing in Korda's marketing is that they say the Basix is only really suitable for carp up to 40lb. We would probably agree with this following a closer review of the cradle.
Whilst the the sides are padded, there are two central sections that sit a little bit lower than the rest of the cradle. Given time, these may not be as firm as they are from new, posing a potential weak spot when trying to maintain a safe place for large carp.
Unique folding cradle
One of the first things you'll notice with the Basix Cradle is it's unique folding design. the cradle essentially folds in half and is fully zipped together.
This provides two great benefits:
The cradle remains incredibly portable when folded up
You can store your carp care essentials inside the cradle when folded
Obviously this all hinges on the zips standing the test of time, which if Korda's gear is to go by, should stand you the test of time.
Other than that, the cradle really is 'Basic'. But for someone who just wants a well padded, easy to transport mat that can hold a few bits and bobs, it's a viable option.
ESP Quickdraw Cradle
Now this is a product which has really redefined transportability amongst carp cradles.
ESP have been steadily launching their 'Quickdraw' products for a while now and this was one of the first. It's essentially their competitor to the ever popular Scope range from Nash.
The key feature of this cradle is the side walls. Instead of opting for solid padded walls that fold in or zip up, ESP have gone for a drawstring design.
This has the benefit of saving massively on space. When you open the cradle up for the first time, it looks like a flat unhooking mat. Pull in the draw strings and the sides come together to make more of a cradle shape.
The safest stalking cradle
Don't get me wrong, the walls of this cradle are nowhere near as robust and padded as others we have mentioned on this best carp cradle guide. But that's the point; they're not meant to be.
This cradle is in competition with the likes of the Dwarf Sling Mat and the Scope Flat Unhooking Mat. Neither of these have any side protection for the carp and that's where the ESP wins hands down.
In terms of the base, this cradle has a soft padded section with more than enough protection on the hardest of ground. The inner sections are all constructed from a fish-friendly, wipe clean PVC material as you would expect.
Roll up design
The drawstring walls also help in making this cradle incredibly easy to roll up. In fact, it's the only cradle on the market that you can roll up.
That it a major benefit for people who light to go stalking or travelling like carp fishing. Most of the stalker style rucksacks feature some sort of loop system underneath for rolled mats, and the ESP works perfectly with these.
When rolled, the whole thing clips together with two buckles, and can be attached to a rucksack with it's integrated hanging ring.
DPM outer material
Coming to the outside of the Quickdraw unhooking mat, you've got ESP's signature DPM material which is featured on all of their lightweight gear. It's super carpy if that's what you're into.
There are also two soft-touch carry handles for manoeuvring the mat and pegging to the ground if you need to.
Wychwood Tactical Cradle
If you're looking for the ultimate in walled protection from an unhooking mat, the Wychwood Tactical Cradle should be at the top of your list.
Made from fish-friendly material, the foam used on this mat is superior to any other mat on the market, in terms of thickness.
Thick padding and extremely high walls which provide ample protection for a carp whilst unhooking and photographing etc.
Wychwood have designed this mat to be as protective as a crib, but versatile for multiple angling situations too.
Carp cradle & mat combo
Looking at this mat on the images and you may be forgiven for thinking that it is a super bulky. And guess what, it is. However, we think this is outweighed by the fact that you can get rid of the walled section completely.
This leaves you with a traditional style flat mat similar to the ever-popular Aqua unhooking mat.
In this instance, it's not too bulky at all. Effectively, what we're saying is that you get two mats in one here, suitable for a variety of fishing scenarios.
With the walls intact, you've got a full fledged carp safe cradle. Remove the inner flat mat and you've got a more traditional unhooking mat, suitable for quick stalking opportunities around the lake.
Mesh base for quick drying
The walled part of the unhooking mat is held together with a mesh base. This allows for quick drying of the mat as the water can just go straight through. It also enables the walls to be folded down for transportation, but we'll get to that bit later.
On closer inspection we're not sure how much life you would get out of the mesh base. As we all know, the base of an unhooking mat takes a lot of abuse on hard swims. Only time will tell with this one.
The downside: packing it down
The excessive padding on this cradle means that there is a trade off; transportability.
No matter how Wychwood have tried to market it, this cradle is quite cumbersome when folded up. For that reason, it doesn't work well as a mat for someone who likes to travel light.
When you're finished with the mat, you basically fold down the walled section and sit it inside the flat mat. The whole thing is then clipped together into one big bulky square.
It's fine if you have room on your barrow for something of this size. But then you've also got to factor in that there is no waterproof carry case to protect the rest of your gear from getting wet. In my opinion, that's an oversight from Wychwood. (If a waterproof case is a must-have for you, check out our review of the Avid Carp Cradle)
Overall this is an excellent mat when it comes to carp care. There are a few downsides for me including the awkward pack down size and lack of waterproof case. However, if neither of these are your concerns, it could be worth checking out.
Trakker Sanctuary Cradle
If you're looking for a top of the range cradle, then the Trakker Sanctuary Cradle is likely to be the one for you.
Constructed from a fish-friendly 420D PVC material, this cradle provides the upmost protection for your prized carp.
Being a 'crib' design, you get the obvious benefit of this cradle being elevated off the floor. This is particularly helpful on gravel or wooden platform swims. The whole thing is built upon a strong, yet lightweight frame.
Six height adjustable legs give you complete stability, with mud feet that don't sink into any boggy ground.
We're not too sure about the need for an additional two legs in the middle to be honest. Every four-legged cradle has been more than stable enough for me in the past. The legs do have locking pins though, which is a nice feature. Click these into place and there is no chance of the legs folding up whilst using the crib.
Removable cover
What we like most about this Trakker cradle is the removable cover. Unlike other cradles where the material is fully attached to the frame, Trakkers is removable. This provides a number of benefits:
Quick Drying – You can remove the cover and hang it up to dry. This exposes the mesh base underneath which drys in a matter of minutes
Replacement – If the cover were to become damaged in any way, it's much easier to replace that on it's own rather than the full unit
Fold flat design
Similar to the Saber cradle, the Sanctuary folds down for easy transportation. It's not the smallest item to carry, but we are talking about the ultimate in fish care here.
It is in no way ideal for stalking or travelling light. If you're someone who has a decent barrow and hardly moves swim during a session, then the Sanctuary is ideal.
Handy pocked for you carp care essentials
With the top end price for this cradle, you would expect a little something extra from Trakker.
That comes in the way of a handy side pocket situated at one end of the cradle. So many cradles lack this feature, but for us it is invaluable to have your carp care essentials close to hand.
Speaking of carp care, it is clearly very high on the agenda at Trakker, which is nice to see. On the cover of the mat, you have a mini rubber carp care guide which has been sewn into the material.
It's in full view when you're unhooking the fish, ideal for any newbies who have the pleasure of hoisting a chunk up for the camera.
Overall, a high quality cradle, packed full of features that you won't find elsewhere.
NGT Carp Cradle
New and improved for 2022, this carp cradle is the latest addition to the NGT carp care range.
Constructed from a fish-friendly 210D PVC material, it provides more than enough support for your carp on the bank. The material feels soft to the touch, however there is a clear difference between the quality used here and that of the Trakker Sanctuary we mentioned above.
As standard with NGT, this product situates itself at the lower end of the cradle market. Whilst the material is not as high quality as the Trakker or Avid cradles, there are some features you wouldn't expect for the price.
Padded knee pad
A clear advantage of this cradle is the padded knee pad they have included. This is rarely seen on other cradles and helps to provide some added support for your knees on hard ground.
Not only that, but it doubles up as a cover too. Simply fold the cover over the top of the cradle and velcro securely along the edge.
This is an ideal feature for them occasions when you need to quickly run into the bivvy to grab your scales or a fresh camera battery.
Aluminium main frame
Where this cradle is different to others is mainly due to the frame. The NGT cradle features an X frame design, constructed from lightweight, yet strong aluminium. This makes the cradle lightweight at just 5.5kg.
The other difference the X frame brings is the way the cradle folds. This cradle doesn't fold in half across the main section like most others we have covered in this guide.
Instead, the X frame simple folds up at either end. Whilst this does mean it's transport length remains the same, it does mean you can set this cradle up very fast.
Coming down to the base of the cradle, you've got 4 fully adjustable legs with large mud feet. A pretty standard feature but one that will help you create an even base on even the muddiest of swims.
Overall, plenty of features for your money with this NGT cradle.
NGT Pop Up Cradle
Pop up cradles have been growing in popularity in recent years, so we wanted to feature one on this guide.
With an integrated wire frame, this pop up cradle from NGT is incredibly fast to set up, yet benefits from a small pack sown size.
The cradle folds up similar to that of a pop up tent. Simply remove the padded base and you're left with a lightweight frame that folds together figure of eight style.
Pop up cradles of this style offer excellent carp care abilities, in addition to being suitable for roving and stalking anglers.
The sides are high enough to provide ample protection, with minimal sagging due to the wired frame stretching it out.
As you would expect, the base is very well padded and covered in a fish-friendly material that's kind to carp and easy to clean. You can expect this to stand the test of time.
The cradle is lightweight at just 1.65kg, which means you'll have to remember to peg it down during use. Luckily NGT have supplied a couple of pegs with the cradle too.
Along with the cradle, you'll find a hardwearing, olive carry case.
Due to the lightweight, fast pop up design, this cradle lends itself to use as both an every day cradle or a stalking cradle.
Carp Cradle FAQ
What is a carp cradle?
A carp cradle is essentially a padded mat with sides that allows you to keep the carp safe whilst unhooking and photographing. Some cradles are available as simple fold up versions, whereas others come with rigid frames and adjustable legs.
Do you need a carp cradle?
A padded carp cradle is one of the most important pieces of equipment for a carp angler, with many fisheries banning people from fishing if they turn up without one.
It's vital that you invest in a good quality carp cradle to ensure that you look after any carp that you catch. Most UK day ticket venues will issue you with a ban if you try to fish without sufficient carp care equipment.
How to use a carp cradle?
A carp cradle is relatively simple to use. Firstly, ensure that you place the cradle on level ground, to prevent the fish sliding out of it. Gently place the carp in the cradle, ensuring that all of it's fins are flush to it's body, preventing breakage.
At this point, if the carp is relaxed, you can continue unhooking the carp and photographing your prized catch!
Should I go for a carp cradle or unhooking mat?
This really depends on your style of fishing. Whilst carp cradles offer excellent protection for carp, they are not the smaller or lightest of items.
With most of the cradles being built on a steel frame, there is an element of weight about them, and they don't pack up too small either.
On the other hand, you can get some quite compact unhooking mats that are ideal for roving or travelling light. There are many that are made to compress and roll up so that you can attach them to your rucksack easily.
It all depends on the fishing scenario, and it may be worth having a couple of options. One things for sure though; there is no excuse for poor carp care these days.
How best to transfer my carp to and from the water?
A carp should never be transferred to and from the water in your unhooking mat or carp cradle. There are simply too many things that can go wrong, and they are not designed for the job.
The best way to transfer a carp to and from the water is in your carp weigh sling. You can collapse your net down in the edge and put the whole thing in the weigh sling for bringing your carp up onto the bank.
Carp slings are designed to take weight and usually feature well-positioned handles to make lifting them out of the water a breeze. You can then return the carp to the water in the sling too.
Where can I buy a carp cradle?
Cradles can be purchased from your local tackle shop, alternatively you can purchasing from leading retailers via eBay and Amazon.
Carp Care in Summer
Your carp carp equipment, such as your cradle, carp landing net and carp weigh sling can become incredibly hot during the summer months. Follow our tips below to ensure that you take extra care for carp in hot conditions.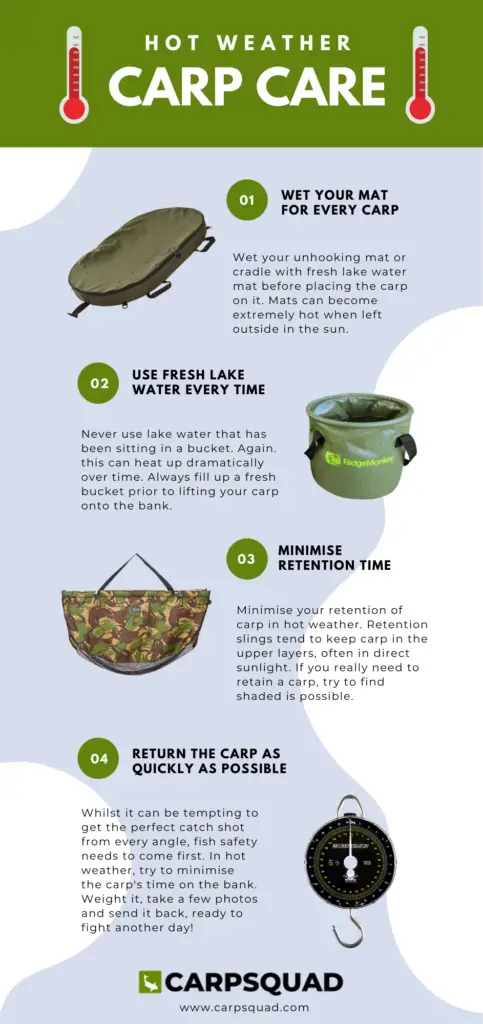 About the writer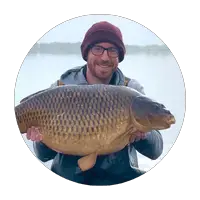 Rob W
I'm Rob, Carp Squad's main contributor. I've been carp fishing on and off for 15 years, but the bug is well and truly back at the moment. Hopefully the articles I write on here help you put more carp on the bank.