Looking for the best winter carp rigs to help you bag a PB in the colder months? We've got you covered! In this week's blog, we'll uncover the most popular carp rigs that you can try try this winter.
Why adjust your carp rigs for winter?
Winter carp fishing poses lots of challenges for anglers that choose to battle through the poor conditions. Most notably, carp become less mobile, feed a lot less and therefore become harder to catch.
With that in mind, it's important to adjust certain aspects of your angling to suit the change in conditions in front of you. Rig choice is an obvious factor which can be tweaked to suit the winter conditions, and here's why:
Water becomes much more clearer in the winter months, so you should adjust your rigs to suit the clearer conditions, and pay close attention to how your rigs look in the water.
Fish feed less, therefore you may opt to use winter carp rigs that can be accompanied with smaller parcels of food such as a maggot rig or solid PVA bag rig.
Fish feed sparingly and less competitively, so you may opt to scale down your carp rigs to use smaller components.
The Mag Aligner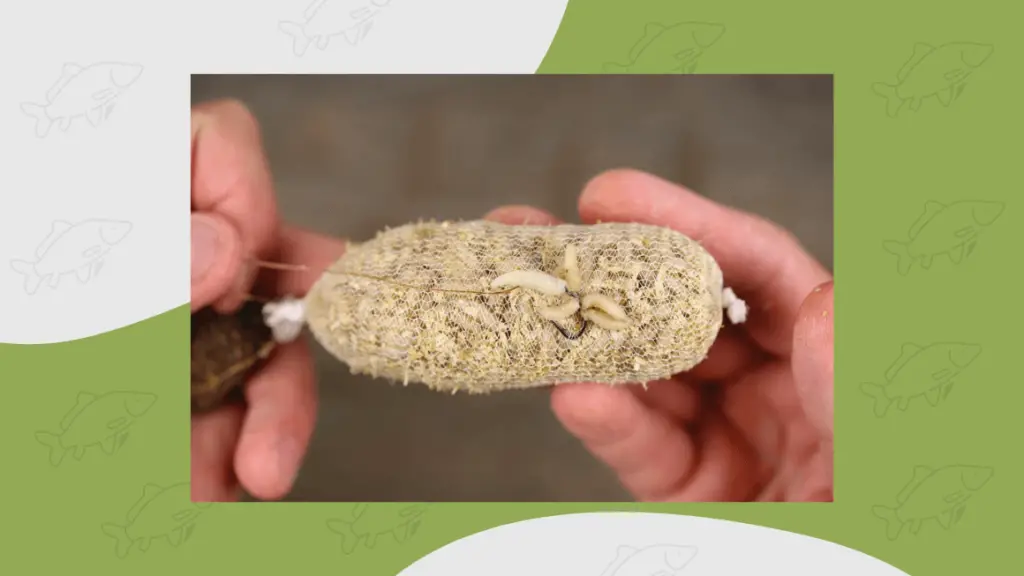 The mag aligner is a classic winter carp rig that's a mainstay in many anglers armoury at this time of year.
Carp love maggots and being able to accurately present them with a neat carp rig can be enough to tempt a carp to feed in the colder months.
The mag aligner rig itself is fairly simply to construct. It's essentially a helicopter setup, but with the inclusion of a quick link that sits at the base of the lead.
The quick link's main purpose is for attaching a large PVA mesh bag of maggots. The PVA mesh bag should span the length of your hook link and you then attach your hook to the other end of the bag.
As a result, you've got an extremely neat, streamlined winter carp rig that can be cast at range and is full of natural attraction. 
And it goes without saying, you should always match this with maggots of some sort added to your hookbait. A pop up with maggots on top 'medusa style' is always a winner alongside the mag aligner rig.
Zig Rig for Winter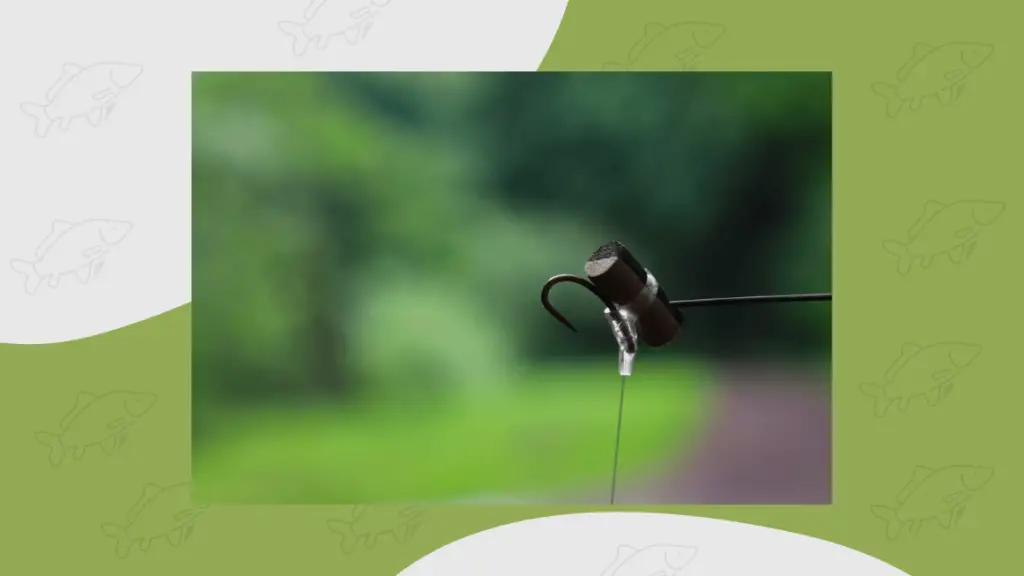 The zig rig is one of the most successful winter carp rigs when fished in the right conditions.
In it's basic form, the zig rig is essentially an elongated version of the simple hair rig, designed to be fished popped up off the bottom in mid-water.
Whilst carp are known as bottom feeders, often they cannot resists a bait right in front of their noses as their cruise through the upper layers.
For many beginners, using the zig rig in winter can feel a bit wrong. We're all taught that carp prefer the deeper water in the colder months.
It's only when you realise that carp spend most of their time in the warmer layers of water, you begin to understand why this is such a deadly carp rig for winter.
Zig rigs really come into their own on warm winter days. The rare glimpses of sun begin to warm the upper layers and carp can be seen cruising under the surface.
A bait presented on a zig rig on a sunny winters day is an excellent tactic that can often produce multiple hits of fish.
Give it a try this winter when you spot an opportunity!
Winter Zig Rig Tips
Here are some tips to get the best from your zig rig fishing this winter:
Fish all three rods on zig rigs at the same time so that you can experiment at different depths and adjust all your rods accordingly.
Experiment with different coloured hookbaits and try to match them to any insect hatches that might be happening around the lake at the time.
Chod Rig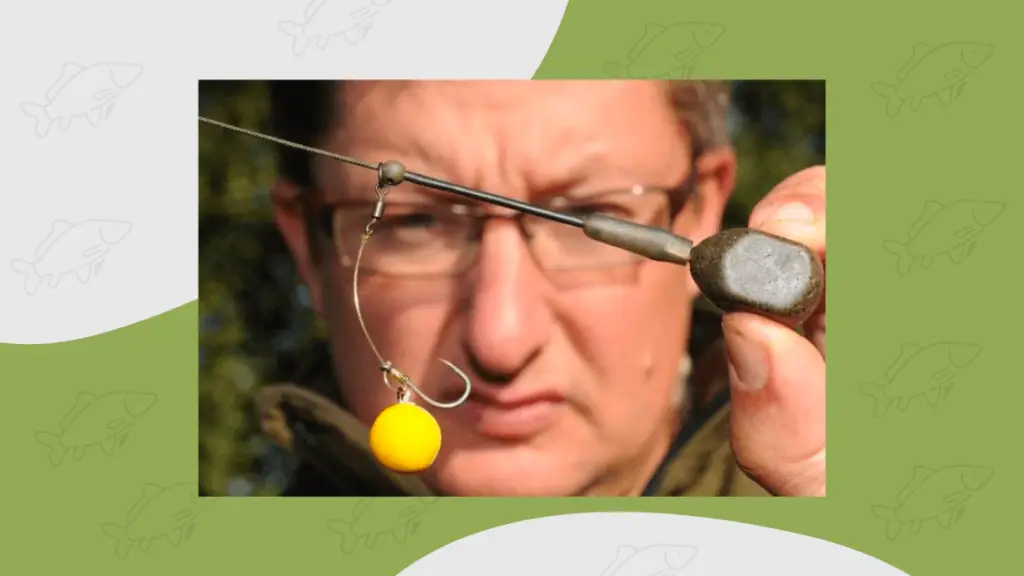 The chod rig if perfect for those who prefer a mobile approach to their winter carp fishing.
This rig was specifically designed to be 'fished over anything', making it ideal for casting to showing fish in areas of the lake that you haven't properly investigated with a lead.
In the winter, the last thing you want to do is ruin your chances by leading around too much over showing fish.
Pop on a chod rig and be confident that you have an extremely high chance of it being presented well, regardless of the makeup of the lakebed.
In terms of the technicalities of the rig, there really is nothing else like the chod rig.
It's essentially a short stiff hooklink that's able to move up and down your mainline or leadcore leader. Constructed from a stiff bristle filament material, it's incredibly good at hooking carp and incredibly hard for them to eject.
It has all the hallmarks of a big fish carp rig, and is particularly successful in the winter months.
Stiff Hinge Rig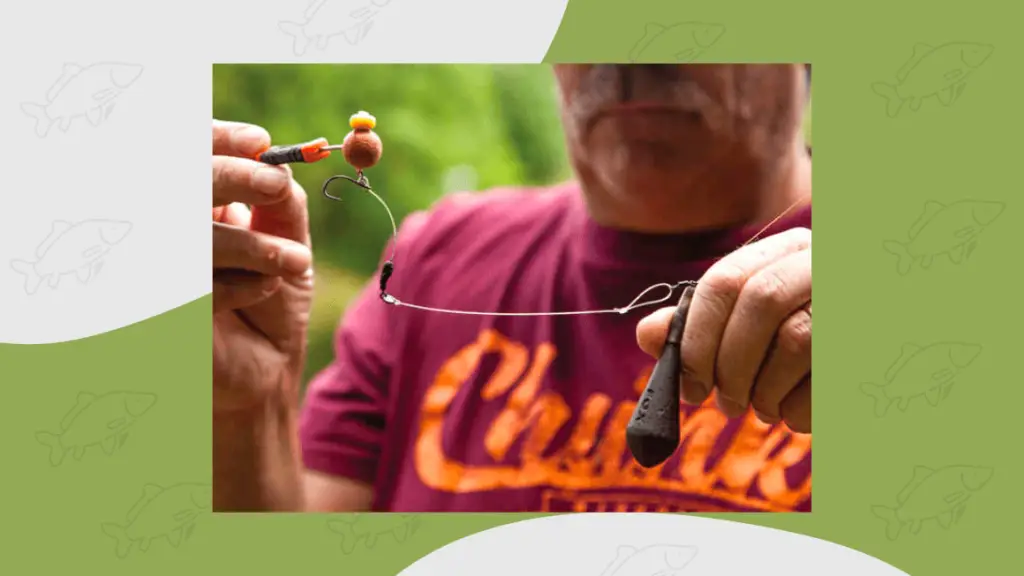 The stiff hinge rig is the true big fish winter carp rig.
When it comes to anti-eject properties, there really is nothing like the stiff hinge. When bites are limited in the winter, you want something that is going to hook a carp and make sure it stays on!
The main advantage of a stiff hinge in the winter is it's mechanics as a pop up rig that sits high off the lakebed.
Being primarily made from a sweeping curved bristle filament material, stiff hinges were made to sit a couple of inches of the deck. – Much higher than a more favourable ronnie rig or spinner rig.
What this does is give you a really aggressive hook presentation that once sucked in, is very hard for carp to shake off.
The height of a stiff hinge also provides another benefit. It's excellent at keeping your hookbait suspended up over chod and debris.
Throughout the winter months, lakebeds are littered with dying organic matter, so having a pop up that sits a couple of inches up is ideal.
Additionally, this rig lends itself perfectly to smaller beds of bait. It's best fished over just a handful of boilies which is often just enough for a winter bite.
Solid PVA Bag Rig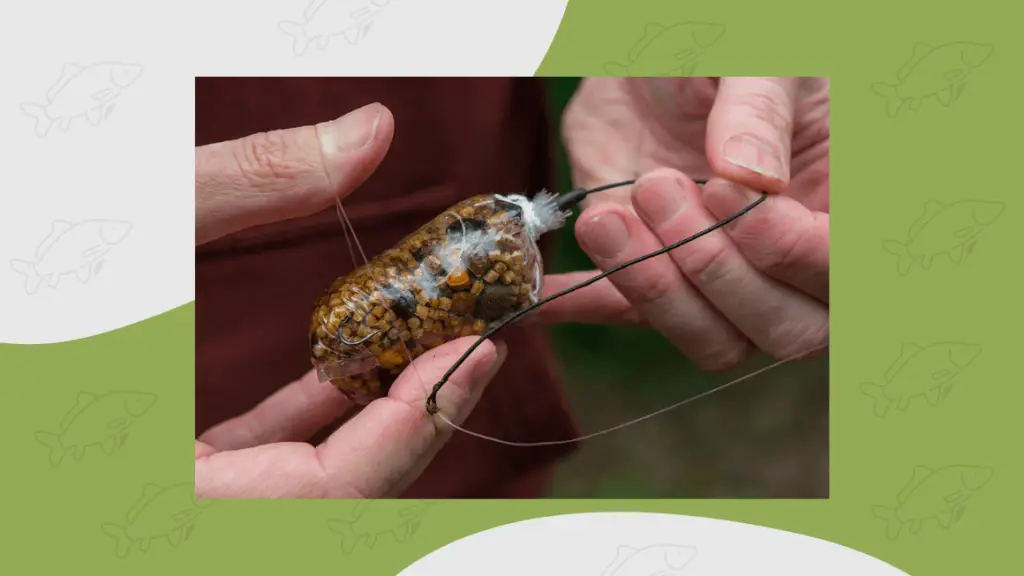 The solid PVA bag is a rig which works well all year round.
However, due to the nature of carp preferring smaller beds of bait in the winter, it's become an excellent cold water tactic.
A solid PVA bag is extremely versatile, offering excellent rig presentation no matter where you cast it.
Due to the rig being encapsulated in the solid PVA bag with pellets, this rig can be cast anywhere, much like the chod rig.
This is ideal for fishing in the winter, when you might only get one opportunity to cast to a showing fish.
Instead of investigating the area with a lead or marker float, you can simply cast a solid bag on it's head and know that it is well presented around a handful of carp pellets.
You can also take the attraction of your PVA bags one step further by using liquid additives. Korda Goo is a good liquid attract to add to your PVA bags in the winter.
This rig works successfully as a pop up, wafter or bottom bait rig.
Winter Carp Rig Tips
Aside from the carp rigs that we have listed above, there are some general recommendations to take into account when adjusting your rigs for winter.
Use smaller hookbaits
If carp are being tough to catch in the winter, you can try using smaller hookbaits.
It's known that a carp's metabolism is slower in the winter, so offering them smaller items of food over larger baits might just be the thing to tempt them to feed.
Obviously you should always adjust your rigs according to your hookbait. In this case, you may want to scale down your hook size to accommodate a smaller hookbait.
Switch to fluorocarbon hooklinks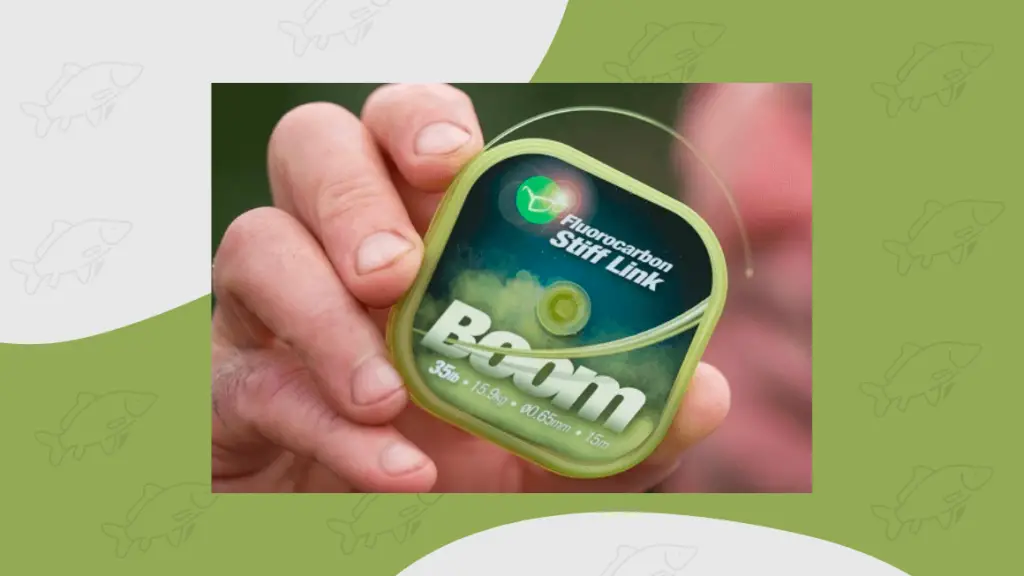 The water is much clearer in the winter months, so it pays to adjust your hooklink materials accordingly. Many anglers tend to switch over to fluorocarbon in the winter as it is virtually invisible in the clear water.
Korda Boom is an excellent fluorocarbon hooklink, offering great anti-tangle properties as well as being hard for carp to spot.
Blend your tackle with the lakebed
We've already spoken about choosing fluorocarbon as a hooklink material for clear water.
But there is so much more to a rig presentation than the last 10 inches. It pays to look into camouflaging the rest of your setup, including the lead arrange, lead itself and leader.
Most brands offering multiple colours of their tackle items, so be sure to match them up to the lakebed on your local venue.
Try PVA sticks for ultimate attraction
PVA sticks are a method which has fallen out of favour in recent years. However, they remain an excellent winter tactic when all else fails.
The beauty of a PVA stick is that you get optimal attraction without filling the carp up on larger items of bait. PVA sticks work wonders when paired with a small hookbait such as a tiger nut or piece of pepperoni.
They are excellent for fishing at range too!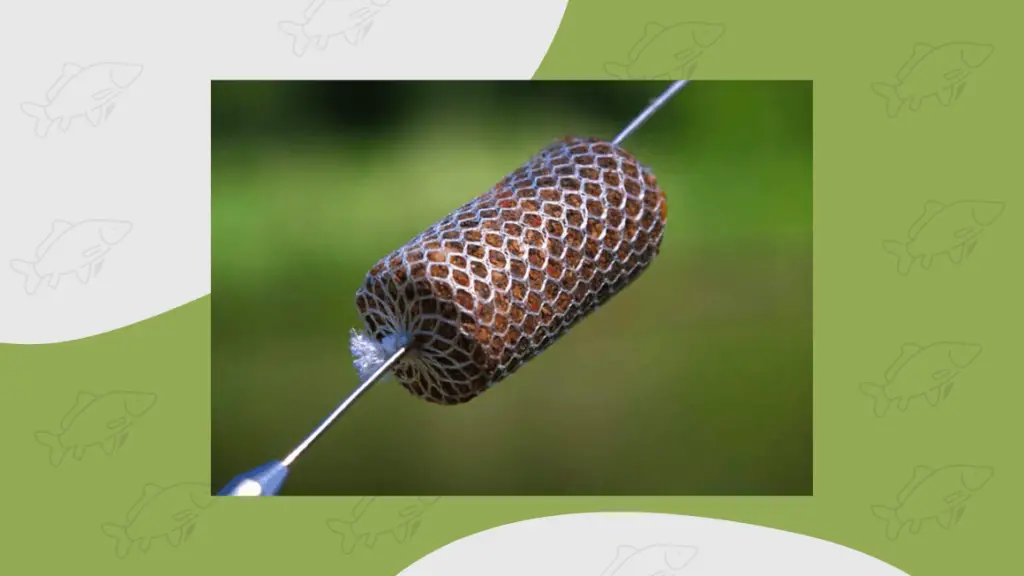 Goo up your rigs!
Attraction is everything when it comes to tempting carp to feed in the winter. A good tip is to ramp up the attraction of your hookbaits by dousing them in liquid attractants such as Korda Goo.
Be prepared with plenty of rigs
Bite time can come and go very fast during the winter months. More than ever, you'll want to make sure that you're prepared when it comes to rigs.
If you are lucky enough to catch one, try to get a fresh rig attached and back out on the spot whilst the fish is resting in the landing net. It's likely that there will be more carp nearby!
Conclusion – Top 5 Best Winter Carp Rigs
Catching carp in winter is much harder than any other time of the year. Carp behave differently and as a result you should adjust your tactics and carp rigs accordingly. The five carp rigs we've covered are tried and tested in the colder months by some of the UK's best anglers.
Give them a try and hopefully you'll catch a PB this winter!
About the writer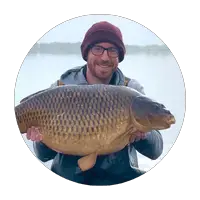 Rob W
I'm Rob, Carp Squad's main contributor. I've been carp fishing on and off for 15 years, but the bug is well and truly back at the moment. Hopefully the articles I write on here help you put more carp on the bank.