Looking to find the best Korda Goo for Winter carp fishing? We know that it can be confusing looking at the array of Goo flavours on tackle shop shelves. So in this article, we'll be highlighting some of the most popular flavours that you might want to try in your winter fishing campaign.
Like most things when it comes to carp bait, it's always worth having multiple options available during your session. That way you can chop and change and find out what works on your chosen venue. 
Let's take a look at some of the best goo flavours for Winter carp fishing.
What is Korda Goo?
Korda Goo is a range of liquid attractants for carp fishing. They are designed to be added to your hookbaits and free offerings, extended flavour leakage and attracting more carp to your baited area. There are over 30 different flavour, from stinky fish flavours to fruity ones that you'll want to sniff all day long!
Is Korda Goo any good for winter fishing?
Liquids such as Korda Goo have gained popularity in recent years, and really come into fruition during the winter months. As carp are more dormant in the winter, chances of a bite are few and far between, so any extra attraction you can add to your baits is a sure winner.
Not only that, but most carp anglers fish smaller beds of bait during the winter, so it makes even more sense to make your hookbaits as attractive as you possibly can. – Korda Goo is perfect for that.
Isotonic Supreme
Isotonic has been a successful winter bait flavour for years, so it was great to see Kiana focus one of their Goo's around this flavour. 
With a distinctive Ester scent, it really hits the back of your throat when you give it a sniff, so you don't need much of this stuff! It's been proven to work in all water temperatures and is ideal for adding to high attract pop ups in the inter months.
Unusually for Goo, it doesn't really have a colour to it so that's worth bearing in mind when choosing to go for this flavour.
Tutti Frutti Smoke
Tuttle Frutti is another classic winter flavour that's been used successfully by so many carp bait companies over the years.
Tuttle Frutti smoke goo is one of the original flavours and is as popular today as it was when it first came out. Being of the 'smoke' variety, it not only adds flavour attraction, but it leave a trail of attraction throughout the water column too.
There's just something about vibrant, fruity flavours that are so successful as winter carp baits. So when it comes to choosing goo for winter, you can't go wrong with this one.
Pink Almond
The colour pink is known to be a successful winter hookbait colour on many lakes in the UK. If that's the case in your winter water, you can't go wrong with adding some pink almond goo into your bait bag.
This stuff will penetrate into anything, and can even turn white pop ups pink if given time to soak in.
Whilst it's well known as an effective hookbait soak, you can also use it to boost your PVA bag mixes too.
The Pink Almond Goo is a personal favourite of Korda boss Danny Fairbrass, as he shows in the video below:
Pinkberry Smoke
Another pink colour goo which has been known to produce results throughout the colder months. In fact, this is one of the only Goos that Kiana state can be used in temperatures below 16 degrees.
Like most of the best winter goo flavours, it has a fruity smell but not an overpowering one.
Where this Goo really comes into its own is with its thick consistency. Pinkberry is of the smoke variety, so has specifically been designed to leak a trail of visual pink attraction over time. 
With that in mind, it's great for injecting into solid PVA bags or adding a small amount to your spod mix. Due to its mild smell, it's probably not the best as a hookbait soak, so you might want to double it up with another potent flavour.
No Name Supreme
For many users of the Goo range, No Name supreme has been one of the most successful flavours for winter and summer months.
It doesn't have the strongest of scents, however the results speak for themselves and Kiana claim it to be one of the most successful flavours during field testing.
Another thing to note is that No Name Supreme doesn't have the colour vibrancy of the typical winter Korda Goo flavours either. That being said, not everyone wants a high-vis hookbait and this flavours tends to lend itself well to those fishing with more subtle boilie flavours.
Tiger Nut Smoke
Tiger Nut Smoke is another successful flavour of Goo for the winter months. 
With a lot of winter boilies being nut and birdseed based, this Goo is an excellent compliment that adds attraction without overpowering.
It's made using real Tiger Nuts, and when in the water the natural sugars will slowly ooze out, drawing in passing any passing carp.
As with No Name Supreme, it doesn't have a vibrant scent or colour that you would typically expect with winter goo flavours. However, if you're someone who uses a nut-based boilie through the winter months and wants a flavour to boost it up, then this Goo is worth a go.
Conclusion
Hopefully we've helped shed some light on which of the Goo flavours you should be using in the winter months. With over 30 flavours in the range, it can be quite confusing (and costly) to choose a few!
My advice would be to stick with the tried and tested fruity flavours which have been so successful in carp fishing well before Korda Goo was invented. 
And don't get disheartened or disregard the flavours you choose if you're not seeing results. Remember, the most important part of carp fishing is location and the best, most attractive hookbait in the world will not catch if it's not in the right place!
About the writer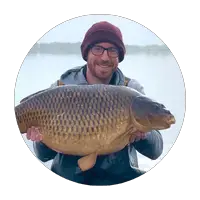 Rob W
I'm Rob, Carp Squad's main contributor. I've been carp fishing on and off for 15 years, but the bug is well and truly back at the moment. Hopefully the articles I write on here help you put more carp on the bank.