On this month's tried and tested review, we're doing out Trakker Tempest Brolly 100T Review.
The Tempest Brollies have been popular for years now. It was only in recent years that Trakker invested in manufacturing a taller version of their faithful Tempest Brolly.
As a previous user of the standard Tempest Brolly, I thought it was time to upgrade to the Tall (T) version to give myself a little more comfort when sat up on the bedchair.
Six months down the line I'm now in a great position to give my thoughts on the bivvy, also taking into account the standard version which I used for three years.
Hopefully this review can help you understand wether the Tempest 100T is right for you. All of the information below is based on the standard Tempest Brolly 100T, not the newer Aquatexx EV version which was launched in January 2023.
Use the links below to jump to each section of the review.
How's the Trakker Tempest Brolly holding up?
It's been around 8 months since I wrote this review. As always, things can change so I wanted to come back and give a little update.
The Tempest 100T is still going strong and is still my main bivvy of choice. I've since added the skull cap to my setup which has helped enormously with condensation in the mornings.
The bivvy is still as solid as ever when erected. It has started to show signs of needing to be re-waterproofed, so I'll be treating it with some Fabsil in the coming weeks. That's to be fully expected though after the amount of times the bivvy has been used over the last 18 months.
Why you should trust this Trakker Tempest Brolly Review
I've been using the Trakker Tempest 100t for about six months now. I'm not affiliated with Trakker in any way so everything I write in this review is my own thoughts on the product.
I just want to help carp anglers make informed decisions on their purchases. I think this is always important when spending lots of money on a bivvy.
Prior to the 100T, I owned the standard size Tempest Brolly 100 for 3 years. For that reason, I feel like I've got a good understanding of the pros and cons of the Tempest Brolly range.
Design
Rating: 4/5
There are many different styles of bivvies to choose from, so it makes sense to start off with my thoughts on the design of the Tempest Brolly 100T.
I was particularly drawn to the block style, free-standing nature of this bivvy. It's built around a solid plastic block in the centre, which fans out and fastens into place at the front.
Not only does this enable rapid set up, but it makes the whole brolly secure with a real rigid feel. I fish on concrete jetties occasionally, so having something that doesn't require lots of pegs is ideal for me.
Some anglers seem to worry about the longevity of the block component on shelters like this, but I can say that I've never had a problem with the Tempest Brollies. In my experience, there's very little that can do wrong, as long as you ensure that the legs are properly laid out before connecting everything up.
The design is not as innovative as other brollies or bivvies
You'll notice that I haven't given the Tempest Brolly 100T a five out of five. My reasoning for that is more about how far other bivvies have progressed, rather than poor design features of the Tempest.
The brolly has been a great addition to my kit, and at a reasonable price too.
However, other bivvies and brollies are entering the market with the following features as standard, which have not yet been added to the Trakker Tempest 100T:
Rain gutter or peak at the front on the base model
Option for an internal vapour guard
Internal pockets or hangers for lights and head torches
Material
Rating: 3/5
When you buy the standard Trakker Tempest 100T Brolly, you need to be aware that it is not made of the the heaviest material. (And this is reflected in the price).
At 5,000mm hydrostatic head, it's probably one of the most lightweight bivvies on the market. Whilst this works for people travelling light, it's probably not ideal for those who like to bait and wait in comfort!
In 2023, Trakker listened to their customers and launched an Aquatexx EV version of the Tempest 100T. These provide better coverage from condensation and give the bivvy a darker feel in sunlight due to the thickness of the material.
There is an additional cost to that material though, and you will the weight of the bivvy increase considerably.
For me, 5,000mm on the Tempest Brolly works perfectly. It keeps the rain and wind out, without bulking out my kit too much. Those who read my reviews know that I like to stay mobile, and the weight of the Tempest Brolly helps with that.
Remember to re-waterproof your Tempest Brolly every year
Like with any bivvy, it is recommended to re-waterproof the Tempest Brolly 100T every year. I've done this with both of my Tempests and it's helped preserve the quality of the material for longer.
A good dose of Fabsil helps the rain water run off easily. You might choose to do this a bit more frequently depending on how often you use the Tempest Brolly.
Unfortunately this will not stop the condensation though, which is always an issue in bivvies without an overwrap or Aquatexx material.
Trakker Revive Waterproofing Kit
Trakker's own waterproofing kit will work on all bivvies, helping to restore the outer material to what it was when it was brand new. Recommended to use once per season.
View Price
Internal Space on the Tempest Brolly 100T
Rating: 5/5
I was quite surprised how much of a big step up the Tall version of this brolly was from the standard version. For that reason, I'm giving it a 5/5.
One of the most annoying things about the standard size was the sloping front. Whilst the bivvy was low and compact, it wasn't great for storing things to the side of the door.
With the tall version being higher, the front seems to be more vertical, giving you much more storage space. This has been a major plus for me, allowing me to organise my kit better inside the bivvy.
As a whole, it's a well sized bivvy, particularly with the front infill panel zipped on. Here are the official dimensions:
Height: 150cm
Depth: 235cm
Width: 250cm
In terms of height, you get a full 25cm more head room than the standard Tempest Brolly. This makes an enormous difference, allowing me to sit on my bedchair and see the lake without crouching down.
My back has thanked me for it that's for sure!
I'm not a tall guy but I'm sure this would be one of the primary bivvy choices for someone over 6 foot.
Depth and width remain the same as the standard Tempest, and to be honest they are just what you would expect for a one man bivvy. Ample room but not so big that you can't fit in tight swims.
I manage to fit my Trakker RLX Bedchair in there perfectly with ample room around it for my gear. There is definitely scope for bigger bedchairs like the Nash Wideboy too.
The Tempest does not have a flat back
Something worth baring in mind is that the Tempest Brolly 100T does not benefit from a flat back design.
Whilst I can push my bedchair quite far back, there is always a triangle gap towards the back of the bivvy where the rear pole sticks out. I know some people hate this but it works really well for me as a storage solution.
I fish park lakes and like to keep everything tucked away out of sight. At the back of my bedchair I manage to fit my folded carp barrow, rod sleeves, waders and bivvy bag.
Features & Extras
Rating: 5/5
I'm going to give the Tempest Brolly 100T a five out of five when it comes to features and extras.
There are so many extras you can buy for this brolly. So much so that you can turn it from a simple oval brolly to a fully fledged two man bivvy with social area.
It's this variety that made me choose the Tempest Brolly range in the first place. I wanted something that was lightweight and open fronted for the summer, but could be adapted as a fully fledged winter bivvy with overwrap.
I'm limited with storage space in my cellar and really couldn't take spending extra money on a second bivvy just for winter.
The Tempest Brolly fits that bill perfectly in my opinion, and only the Nash Titan Hide XL or XL Pro can rival it.
If you do want to use the Tempest Brolly as a full winter bivvy, it's worth baring in mind that the costs do quickly add up. The brolly itself even comes without infill panel and groundsheet, so you have to purchase these before you can even think of an overwrap.
Luckily, these have been around for some time now, so you can opt to purchase bit by bit or get the extras second hand.
Trakker Tempest Bivvy Accessories
Below are some of the accessories that are available to truly pimp up your Trakker Tempest Brolly 100T:
Tempest 100T Groundsheet
Self-explanatory! This is the heavy duty groundsheet for the 100T. It features elasticated rings that allow you to line it up with the pegging points of the bivvy itself.
Tempest Brolly 100T Skull Cap Wrap
This nifty extra is the ultimate addition to the 100T in my eyes, and it's my next investment. The Skull Cap Wrap provides a second skin around the rear and sides of the brolly, plus gives you a peak for rain protection.
Tempest 100T Skull Cap
A toned down version of the skull cap wrap. This is ideal for preventing condensation drip and can be packed down with the bivvy too.
Trakker Tempest Brolly 100T Social Cap
Turn your brolly into a social base for yourself and friends by extending the front. This will allow you to get two bedchairs in lengthways too.
Tempest 100T Mozzie Panel
A full front mozzie panel that keeps the bugs at bay but enabled you to see the lake from the inside of your brolly.
Trakker Tempest Brolly 100T Infill Panel
Probably the most popular accessory, closing the front of your brolly and turning it into a fully enclosed bivvy.
Setup & Pack Down
Rating: 5/5
Due to the central block design, setting up and packing down the Tempest Brolly 100T couldn't be easier.
Simple fan out the poles and clip the front bars together and you have a rigid shelter in seconds.
The setup time really has been a game changer for me. I like to move onto showing fish, so have a shelter that can be up and down in seconds is really advantageous.
At times with my old pram hood style bivvy, I would be questioning whether it's worth the whole pack up process just to move to another swim.
Aside from the tiny pop up style bivvies on the market, I'm sure there is not a bivvy that can go up as fast and as easy as a Tempest.
Other Bivvies to Consider
Following this Tempest Brolly 100T Review, you might get a sense that it's not the right bivvy for you. Here are some reasons why you may opt to choose a different bivvy:
You want a bivvy with a flat back design
As I've already mentioned, you can't push your bedchair all the way to the back of the Tempest Brolly. For those who like the extra few inches of room at the front, this can be a deal breaker.
In this case, you might want to look at the Tempest's closest competitor, the Nash Titan Hide XL. The Titan was designed with a completely flat back, allowing you to push your bedchair all the way back and maximise space near the door.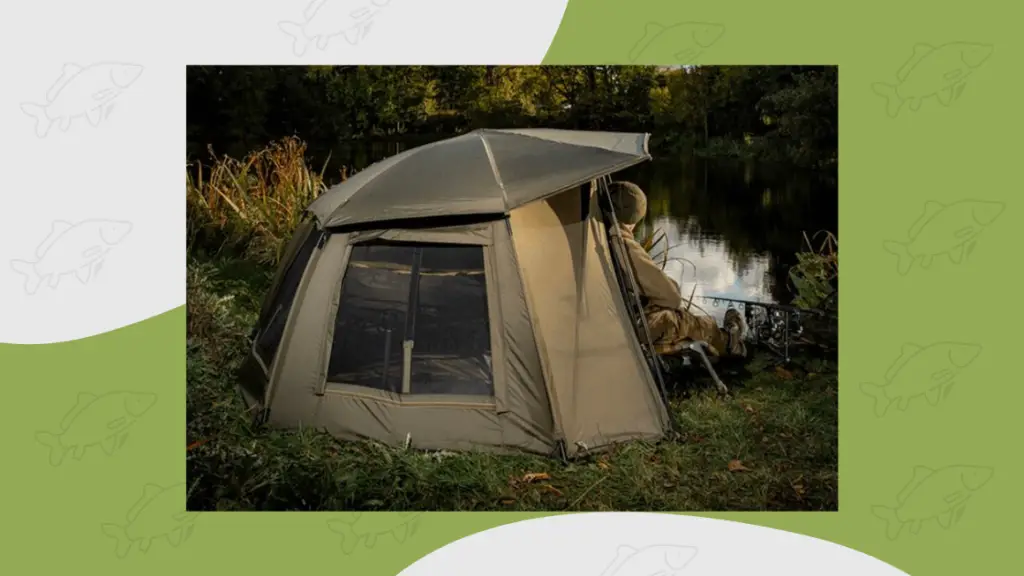 You want a bivvy with thicker material
For some, the material on the Tempest Brollies will simply not be heavy enough. This can lead to condensation if you don't invest in a skull cap or skull wrap. If you're not someone who wants to invest in these extras, it may be worth looking at the Sonik AXS which comes in a 10,000 hydrostatic head material.
Sonik AXS Bivvy
The Sonik AXS has been a big hit since it's launch. Probably the only bivvy to closely match the Tempest, but for a fraction of the cost.
Pros:
High-quality material (10,000mm HH)

Flat back

Front and rear vents
Cons:
Small footprint at the front, so not a lot of storage spac
View Price
If an integrated ground sheet is the top of your list
It's rare that bivvies come with integrated groundsheets these days. I know from experience that some anglers love an integrated groundsheet, as they keep the warmth in and the bugs at bay.
The Tempest range of bivvies and brollys does not come with an integrated ground sheet. If this is a requirement for you, perhaps take a look at the Nash Titan or the Avid HQ Dual Layer.
Ultimate Comfort
AVID HQ Dual Layer Bivvy
The AVID HQ Dual Layer is a real home-away-from-home. A heavy duty outer material combined with an inner capsule eliminates condensation.
Pros:
20,000HH outer material

Inner capsule

Fully removable rear panel is great for ventilation
Cons:
Really heavy at 16kg, so not ideal if you like to move onto showing fish
View Price
Pros & Cons
Pros
Rapid set up
Versatile for use as a brolly or bivvy
Multiple pegging points
Skulls caps and wraps available
Cons
Material isn't the thickest
Let's lots of daylight in
Bag could be bigger
Conclusion – Trakker Tempest Brolly 100T Review
When it comes to purchasing a versatile shelter, there is not many that can compete with the Tempest Brolly. Versatility is it's main advantage, and it can be used all year round in it's base form as an open-fronted brolly.
As soon as the harsher conditions turn you can add on the extras to create a warm and comfortable home from home. For me, the Tempest Brolly has been an excellent addition to my kit and I'm sure I'll get many seasons of use out of it.
Feel free to contact me if you have any questions, and I hope this Tempest Brolly 100T Review has been helpful!
Where to buy the Tempest Brolly 100T
Trakker Tempest 100T
Trakker's tall version of their much-loved brolly. My main bivvy of choice!
Pros:
Can be fully customised with add-ons such as skulls cap or wrap

Fast and easy to put up

Self standing
View Price
About the writer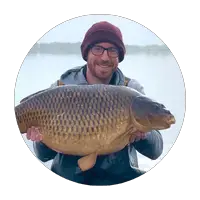 Rob W
I'm Rob, Carp Squad's main contributor. I've been carp fishing on and off for 15 years, but the bug is well and truly back at the moment. Hopefully the articles I write on here help you put more carp on the bank.