It's no myth, the more organised you are on the bank, the more fish you'll catch.
This is especially true for day ticket lakes in the UK, where big hits of fish are largely dependent on how quick you can get rigs and bait back on the spot.
An organised carp bivvy is fundamental to fishing effectively.
For some of us, this regimented way of organising our gear comes naturally, but for others, our bivvies can quickly resemble a tip!
If you're the latter, you're probably wondering what you can do to organise yourself a bit more. After all, it's another small percentage that you can stack in your favour.
Here are 9 ways you keep can your buggy more organised this season:
Use a bivvy table
I'll admit, I was never a fan of bivvy tables when I was younger. 
I just saw them as a luxury that weighed my kit down. But as I've fished more day tickets and wanted to organise my stuff a bit better, they've actually really helped.
With a bivvy table, you can keep all of your essentials to hand, ready to use at a moments notice. The last thing you want to be doing is rummaging around bags and tackle boxes for a baiting needle in the dark. 
Keep baiting tools by the door
One thing I've found helpful is keeping my baiting bits accessible near to the door of the bivvy. 
This means when I'm tying on a new bait or PVA bag, I can simply reach in and grab what I need.
Alternatively, it allows you to sit on the bedchair and easily reach forward for your stuff, without having to pull bags out from behind or under your bedchair. 
Get an all-in-one tackle box
There seems to be a craze amongst anglers to have multiple smaller pouches for various pieces of tackle.
Personally I prefer to keep all of my tackle items in one box. That's everything from hooklink materials, to hooks and metalware.
Again, it just means that if I need to tie up a new rig, everything is accessible without having to rummage around my rucksack.
The RidgeMonkey Armoury Box or Korda Tackle Box are two great examples that will keep you more organised.
Personally, I use a Korda Compact 140 and NGT Tackle Safe. 
Make sure everything has its place
It goes without saying, everything should have its place. You want to be trying to get into a rhythm of putting everything in the same place for every session.
That way when you need something, you're almost on autopilot as you know where it is.
What you don't want to be doing is rummaging around for stuff in the middle of the night. Remember, the key is to get them rods back out as quickly as possible.
Keep your third rod baited, but not out in the lake
Not specially bivvy-related but this one can help massively on big-hit waters. 
If you find that only one spot is doing fish consistently, have your third rod baited, ready to go learning against the bivvy.
While it may seem detrimental not having three rods in the water, it can massively increase your chances during bite time.
Big hit anglers like Tom Maker are known to make use of this one on venues such as Linear Fisheries.
Keep bigger items of luggage out of sight
Once you've unpacked your essential items, try to keep your empty luggage out of sight.
Chances are you're not going to need it once your house it set up, so stack it behind or under your bedchair as far as possible.
You'll be surprised by how much having a clean space at the front of your bedchair helps you find things throughout your session.
Use a bedchair organiser
If you're someone who spends the majority of their time confined to their bedchair, you may find use in a pouch system like the Fox Bivvy Organiser.
This nifty little gadget straps to the frame of your bedchair, proving handy pockets for items like keys, baiting needles and bivvy light remotes.
Get yourself an automatic bivvy light
Sick of getting runs in the middle of the night and fumbling around for your head torch/bivvy light?
Why not upgrade your alarms to a set that automatically turns your bivvy light on in the event of a run? There are a number of bite alarm sets that feature this now, including the ND Tackle range of bite alarms.
Hang important items with magnetic hooks
Keeping things off the ground in a bivvy is often the best way to find them quick.
Magnetic bivvy hooks offer a multitude of uses for keeping things in their place and easily accessible. 
Nash and NGT both offer simple magnetic bivvy hooks that are strong and reliable. Personally, I use them for hanging a receiver, air dry bag or wet clothes after being caught in the rain. 
About the writer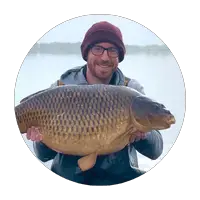 Rob W
I'm Rob, Carp Squad's main contributor. I've been carp fishing on and off for 15 years, but the bug is well and truly back at the moment. Hopefully the articles I write on here help you put more carp on the bank.