For this week's tried n' tested, we're reviewing our Saber Head Torch; more specifically, the Saber Sensorbeam.
When I was on the lookout for the best head torch for fishing, I settled on the Saber Head Torch as it covered my requirements; multiple light settings, rechargeable and doesn't break the bank.
After 3 years of use, I'm now in a great place to provide my honest opinion of this head torch from Saber.
About our reviews…
If you're not aware of our tried and tested reviews on Carp Squad, they are exactly what they say they are; no sales pitch, no sponsorship, no BS. Just gear that we've put through their paces over sufficient periods of time.
Looking to buy the Saber Head Torch? – Check out the latest pricing here.
Use the links below to jump to each section of this review…
Lighting Capabilities
A key purchasing criteria for anyone when looking for a new head torch is it's lighting capabilities. Head torches have come on leaps and bounds in recent years, offering multiple colours and brightness settings.
The Saber Head torch is no exception in this bracket, and I was pleasantly surprised to see it feature more than one light colour. This head torch actually comes with four different settings; white high, white low, white flashing and green.
Main Beam on the Saber Head Torch
The white high setting is your main beam on the Saber Head Torch. At 140 lumens, it is just about enough for all of your carp fishing needs. I personally use it as my main head torch, in combination with my RidgeMonkey Multi Lite Plus as the main bivvy light.
The 140 lumens do what they need to. There's enough light for landing carp, and just about everything else we need to do in the middle of the night.
Bear in mind that it is not the brightest head torch on the market. It's nowhere near as bright as the RidgeMonkey VRH300 for example. I once compared the Saber Sensorbeam with my mates VRH300 and I was blown away at the difference. His main beam was similar to that of a lamping head torch, being able to light up the lakebed in the edge.
That's not what I wanted the Sensorbeam for though, I just needed something for general fishing tasks, not lighting up the far margins.
EDIT: The Saber Sensorbeam has been updated for 2022 to include a 300 lumen main beam. See the new updated features here.
Green Light Setting
As we have previously mentioned, there is also a green light setting on this head torch. To be honest, it's pretty weak. It doesn't give you much of a distance beam at all.
That being said, it's ok whilst you're in the bivvy making a cup of tea or tying a few rigs. I find that it does help to keep the mozzies at bay too.
Just something to note, if you're looking for a green beam that'll light up the pathway ahead of you, this one isn't for you.
Head Band
A pretty standard feature for a head torch, but one worth mentioning in this Saber Head Troch Review. The head band is made from a soft elastic material. It's fully adjustable and features dark green Saber branding throughout.
I keep my head torch on my head throughout the duration of my session, including sleeping. I find the headband comfortable and this is made better with how light the main body of the head torch is.
I've tried the RidgeMonkey head torches on and for me they are too bulky at the front and not as comfy to wear for long periods of time.
The same goes for head torches that feature power packs at the back. These are a no go for me as they're too uncomfortable when sleeping. The Saber Sensorbeam is lightweight and that's a plus for me.
One slight downfall is that after 3 years the elastic has mis-shaped slightly. This has happened to most of my head torches though and it just an outcome of packing it up whilst wet.
Build Quality
For a sub £25 head torch, I wasn't expecting much in terms of build quality. However, after 3 years I am pleasantly surprised with how this head torch has stood the test of time.
The main casing is made from a hard plastic material, with the addition of two rubber buttons to the top. According to Saber's website, it's not IP resistant in anyway, but it has certainly been out in all weather and works just fine.
That's the beauty of cheaper head torches, you don't need to worry too much about looking after it.
I've dropped it hundreds of times and there's not a single crack on the plastic outer casing. It literally looks the same as it did when I bought it, and that's another plus from me.
Another nice addition to this head torch is the case that comes with it. It's hardwearing and waterproof, helping to keep your head torch in good condition whilst packed away.
Battery Life
According to Saber, you're looking at around 20 hours of battery life when fully charged. To be honest, I've never let it fully run out.
There is no battery life indicator like some of the other head torches on the market. Therefore I would just make sure to top it up in between sessions. I do 48 hours on a fully battery with ease.
If you do happen to run out, you can easily charge it from your fishing power pack using the micro USB charger.
When it's charging, you'll see a constant red light showing from the USB port. This changes to green when the ehad torch is fully charged.
Controls
The controls on the Saber head torch couldn't been simpler. On the top of the head torch there are two buttons; one for light and one to turn on the motion sensor.
Using the light button, you simply cycle through the three white beams; full, half and flashing.
Hold down the light button and you activate the green light.
Press the left button once and you turn on the motion sensor. This is a nice little feature which you wouldn't expect on a head torch of this price.
When the motion sensor is activated, you can simply swipe your hand in front of the head torch to turn it on or off. It's designed so that you can rest the head torch on your bivvy table and turn it on whilst reaching for it.
The idea is there but in principle, I don't tend to use it. If Saber tried to add that as a key feature for a more expensive head torch, then it wouldn't be worth it. However, it's a nifty feature in a head torch of this price.
Saber Sensorbeam Head Torch Images
Pros & Cons
Pros
Cheap compared to other brands
Multiple white light settings
Decent main beam for most night fishing related tasks
Motion sensor
Adjustable head band
Cons
Green light is too dim
Sometimes to easy to turn on the motion sensor
2022 Update – New Features!
Despite how much we have enjoyed using the original Sensorbeam, it's good to see Saber continue to develop their product line. Just after publishing this review, Saber released their Advanced version of the head torch.
The head torch remains the same low price, however Saber have included a few new features to bring it in line with their competitors:
High Power 300 Lumen
The biggest update on the Saber Headtorch is the inclusion of a high power 300 lumen beam. Whilst I was more than happy with 140 lumen, this opens the torch up to people who like more distance on their beam.
With an 85m 300 lumen beam, this is now more than enough to use for lighting up island margins and snags.
In my opinion, a great update whilst maintaining the same price of the original Sensorbeam. Kudos to Saber for that.
Built in Power Meter
Saber have also included a built in power meter on the head torch. This is an absolute game changer.
With the first generation head torch, it was a case of just charging it in between sessions as a 'just in case measure'. Now it's simple enough to just check the power meter located on the front and crack on with your session.
Saber Head Torch Conclusion
Overall, I am pleased with my purchase of the Saber Sensorbeam. It's exceeded my expectations in terms of being a solid head torch that doesn't break the bank.
The battery life has lived up to expectations, and quite simply it does what a head torch is supposed to do.
It hasn't let me down once and this has been used for all of my carp fishing and daily dog walks in the winter. The motion sensor in my eyes is a bit of a gimmick, so don't let the marketing material trick you into buying it for just that reason.
However, if you're looking for a head torch that's reliable and rechargeable without breaking the bank, the Sensorbeam should be on your list.
Where to buy the Saber Sensorbeam
---
About the writer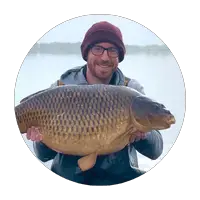 Rob W
I'm Rob, Carp Squad's main contributor. I've been carp fishing on and off for 15 years, but the bug is well and truly back at the moment. Hopefully the articles I write on here help you put more carp on the bank.