A1 Pits is a complex of 6 lakes nestled between the A1, the East Coast Mainline and the River Trent in South Muskham.
Whilst the lakes are multi-species, and the complex controls a stretch of the River Trent known for it's barbel, it is predominantly carp anglers that fish A1 Pits.
And it's not surprising either, when you see the impressive stock of dark commons and scaley mirrors that run to over 40lb.
With 6 lakes of varying size to choose from, there's something for everyone at A1 Pits, whether you're a carp fishing beginner or an experienced angler.
That being said, it's far from easy, and it's by no means a mass stocked fishery like the nearby Norton Disney. For many, that's the draw of A1 Pits, plus a very fair outlook on rules which is refreshing to see.
if you're looking to fish A1 Pits, keep reading for more about how you can approach your session.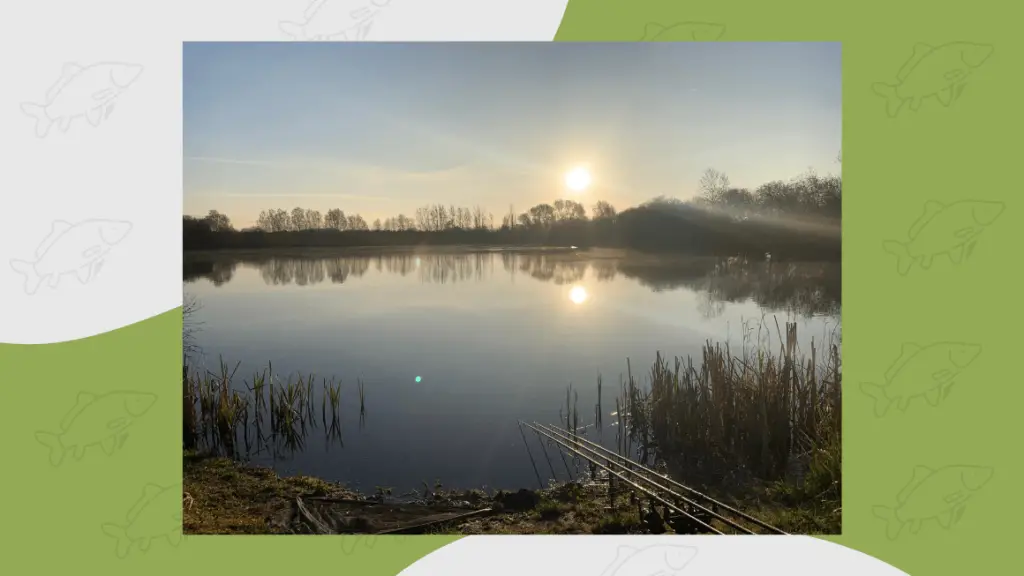 About A1 Pits
Tickets: Day tickets
How to book: Turn up and pay on the bank
A1 Pits Fishing Prices: 24hr £20, day ticket £10, caravans and campervans charged an extra £10 per night.
Carp size: Up to 40lb
How busy: Busy at weekends
On-site facilities: Public toilets, fresh water tap
Address: Church Ln, Newark NG23 6EQ
My experience fishing A1 Pits
I've fished A1 Pits a couple of times over the years and enjoyed my time fishing there. Living in Leeds, I've not fished it as much as many of the locals but I got a good enough impression of the place to be able to recommend it.
What I quite like about the place is the informal nature of just turning up and fishing. It's like the good old days when the bailiff comes around and takes your money!
As someone who doesn't often plan fishing in advance, this is perfect for me knowing that the pits are always available to fish. – No need to book a peg in advance and waste your watercraft talent.
And whilst it does get busy, there's freedom in terms of where you can fish too. For example, I began one of my sessions on Pit 6, only to end up moving to Pit 3 after finding a load of carp jumping in a quiet corner.
Having fished plenty of park lakes up north, it was also refreshing to fish a venue that's mature and tree-lined.
A1 Pits is a really 'carpy' place with loads of clear margins, overhanding trees and stalking opportunities in the edge. It's a nice place to fish despite trains and cars flying by at either side of the lakes too.
As for fish, I managed a nice mid-twenty common on one of my sessions, caught in the edge on the railway bank of Pit 3. The fishing can be really visual which I enjoy, finding fish in the edge and setting traps for the darker hours worked well for me.
The Lakes
There isn't loads of information online about A1 Pits, so I've done my best here to summarise what you can expect from each pit, starting biggest to smallest.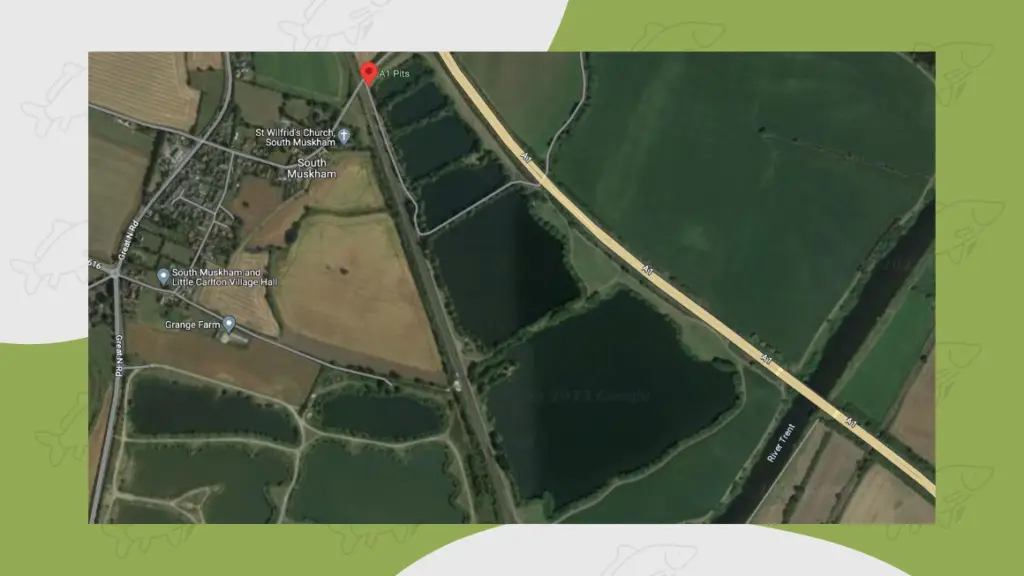 Pit 6
The largest and most difficult pit on the complex. Carp to over 40lb and some huge bream present too.
Being a large body of water, some range fishing is required on Pit 6, and you can regularly see the fish holding up in the centre of the lake.
Two gravel bars dominate the lakebed. These can be accessed by fishing between 36-42 wraps from pegs 5 and 6.
Pit 5
Pit 5 is much smaller than Pit 6 but still represents a challenge for those who are not used to fishing larger waters.
Of all the lakes, it's probably the most feature-packed, resembling an egg box on the lakebed.
Those who do well on Pit 5 are accurate in their approach. Finding the features in front of them and baiting accurately.
In terms of stock, there is carp to up to 40lb, with some really old commons to have a go at.
Pit 4
Pit 4 is notoriously tricky, but from what I've been told it holds carp to around mid-thirties.
I'm not sure of the stock levels but the guys have recently introduced some stockies of the AJS Fisheries strain.
There are some great margin fishing spots on Pit 4 so keep your eyes peeled in the edge.
Pit 3
Pit 3 is one of the most popular lakes on the complex. I believe that since the last flood, many of the stock ended up in this lake.
As a result, multiple hits of fish are common and it can be quite tough to get a peg if you're a weekend angler.
In terms of tactics, do not ignore the margins. The fish get really close in on this lake, and can often be seen patrolling the tree line between Pit 3 & 4.
Pit 2
Pit 2 is very similar to Pit 4 in that it can be tricky at times.
The last time I visited the venue, there was plenty of weed in Pit 2, much more than the other lakes.
Luckily the bailiff team have been working to rectify this by dying the lake which seems to have minimised the weed growth.
It's not much more accessible to anglers of all abilities. Carp go to around 30lb in Pit 2
Pit 1
Pit 1 is the smallest lake, but like most small venues, it's not particularly the easiest.
If you're looking for some short range, intimate fishing, give Pit 1 a go.
There's carp to around 31lb so the rewards are there for those who resist the temptation of pits 3-6.
Being at the entrance of the complex, Pit 1 is probably one of the better waters if you fish from a campervan or caravan too.
Tips for fishing A1 Pits
Arrive early, if you can!
As fishing at A1 Pits is just a turn up job, it pays to arrive as early as possible.
While there are people coming and going at all times, you do tend to get that usual Friday-Sunday rush.
If you're a Saturday angler, it's highly likely that you'll have slim pickings of swims.
This has been the case for me on my sessions. What I ended up doing was just slotting in where I could on Pit 6 and then waiting until the later hours before committing to a swim.
Doing this I was able to move into one of the better pegs on Pig 3 and get on the fish.
Luckily, you can park behind all of the swims so moving your gear is a breeze!
Staying mobile at A1 Pits will definitely catch you more fish.
Don't ignore the margins
One of the first things you'll notice about the lakes is how deep the margins are.
Almost all pegs across the lakes have good margin spots to fish to.
These should not be ignored as the fish will regularly patrol them.
On one of my sessions I actually observed a group of five fish moving up and down the margins of Pit 3. After placing a rod on the patrol route, one of them slipped up in the early hours!
If margin fishing is your thing, I would urge you to check out Pit 4 too. On my recce of the lakes I spotted numerous glowing gravel margin spots that had clearly been fed on.
Take your stalking gear
There are plenty of stalking opportunities on A1 Pits due to the clear water and deep margins.
You'll also find that most pegs have access to some overhanging bushes or reeds where carp like to hide up.
With that in mind it's worth taking a shorter telescopic rod and lightweight kit so that you can target them if the opportunity arises.
I've seen a few lads catch carp really close in at the South-West corner of Pit 3 on the railway bank. There's a tiny bay which the carp like to visit and you can often watch them swimming in and out.
Find the features
Being ex gravel pits, the lakes are full of features on the lakebed.
Pits 5 and 6 in particular have multiple bars and humps running through the lake.
As you would expect, these are frequently visited by the carp and it's worth finding them to fish to.
Be prepared to spend some time leading around on your first few sessions to familiarise yourself with the place.
You can even take some knowledge from the photos of Pit 6 when it was drained below. This will give you an idea of the extent of features on the lakebed.
Those that fish the pits will know that there used to be many more of these photos online. Unfortunately many of them were lost when the Facebook Group changed hands.
To give you a head start on finding these bars on Pit 6, you can hit them by fishing between 36-42 wraps from pegs 5 and 6. Like I said, take your distance fishing gear!
Be prepared for all eventualities
As much as I've talked about the margin fishing available at A1 Pits, it can also be quite the opposite.
Pit 6 in particular is a huge water, and the fish will regularly hold up in the middle. Arriving at the Pits, you really do need to be prepared for all eventualities.
That could be hitting 30+ wraps on Pit 6 or stalking fish in the edge on the smaller pits. Having the right gear to do a bit of everything will stand you in good stead.
Definitely don't forget your shockleaders, they are a requirement on Pit 6 where distance casting if often needed.
Rigs for A1 Pits
Anyone that reads my content knows that I like to keep things simple and that's no different when fishing A1 Pits. There is no wonder rig which will make you catch more than other anglers.
Just fish with what you're confident using and try your best to be on the fish.
The last thing you want to be doing is chopping and changing rigs on your first session at a venue. You'll just lose confidence that way and question what's going wrong.
One thing I would say about fishing A1 Pits is that you need to strengthen your gear. There are plenty of bushes overhanging the margins so a good, strong carp fishing mainline is needed.
It's also in the rule book that you need to use shockleaders on Pits 5 and 6. I'm a big fan of this as not only do they help with casting, they'll stop you getting cut off on the gravel bars too.
Bait for A1 Pits
To my knowledge, there isn't one bait that dominates A1 Pits. (Any locals reading, please drop a comment below if there is!).
This is unlike most other carp lakes in the UK, where they often sell bait and see the same stuff going into the lake.
The venue is also quite quiet when it comes to catch reports. There is a Facebook Group where anglers themselves post catches, but it's sporadic.
As you can imagine, those regularly catching aren't often sharing their biggest secrets.
My advice? Head to A1 Pits with a bait that you're confident in and persevere with it. Again, just make sure that you're putting it in the right place!
What I liked most about A1 Pits
As always, I like to summarise what I liked most about fishing a venue. Here's what I like most about A1 Pits fishing:
The ability to just turn up and pay for your fishing which makes it easy if you're someone who can't plan too far in advance.
Being able to drive around all of the lakes and park behind your swim is a real luxury.
The lakes are very mature with plenty of overhanging trees and marginal features to fish to.
There's something for everyone in terms of fishing ability.
You can take a campervan and fish from it. – This will be a major benefit for me soon.
A1 Pits FAQ
Can you drive to the swims?
Yes, one of the major benefits of fishing A1 Pits is the fact that you can park behind almost every swim. There is a track that leads all around the lakes which you can drive around.
The only parts inaccessible by car are the small pathways that separate pits 1,2,3 and 4.
Are dogs allowed at A1 Pits?
Yes, dogs are allowed on the complex but must be under control at all times.
Do you have to book A1 Pits?
No, you do not have to book A1 Pits. Just turn up, find a place to fish and the bailiff will come and see you.
How do I contact the bailiffs at A1 Pits?
You can contact the bailiffs during the hours of 7am-7pm on 07970 209433.
If you have any basic questions about fishing the pits, you can drop a question in the Facebook Group. just search for 'A1 Pits Catch Report and Captures'.
About the writer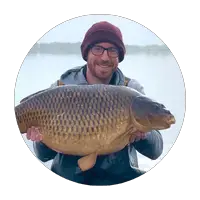 Rob W
I'm Rob, Carp Squad's main contributor. I've been carp fishing on and off for 15 years, but the bug is well and truly back at the moment. Hopefully the articles I write on here help you put more carp on the bank.