Most people will agree that we're at a point in carp fishing now where products are launched to catch anglers, rather than fish.
Some of them make the cut, improving our bank side comfort or enabling us to fish more effectively.
But some tackle launches don't go down so well. Often receiving a backlash on social media by those who feel like tackle companies are just trying to reinvent the wheel to churn out more profit year-on-year.
It's true; innovation is rarely seen these days in carp fishing. Personally I see the heli-safe as the most recent launch that can be considered a real game-changer.
But less of the good stuff, we're here to check out five product launches that didn't go down so well.
Do you remember these?
OMC Magic Twig
Of course you'll know about this one! If you don't know about the OMC Magic Twig, you've probably been living under a rock in 2023.
This product really divided opinions when it was launched in August. It's essentially a spring-loaded device that triggers when a fish applies pressure against it, helping to drive the hook home.
The concept has been tested previously, with materials such as Nash TriggaLink being used to a similar effect. But there was something about The Magic Twig that caused such a stir amongst the carp community.
Whether that was the agressive marketing by OMC or the cumbersome-looking component that sits at the end of your hooklink I'm not too sure.
Day ticket lakes certainly didn't like it, with many of them banning the Magic Twig before it hit the shelves.
Probably not the launch that Ali Hamidi wanted. Then again, he is an expert marketer, so maybe he has a version two up his sleeve?
We'll wait and see.
ND Tackle Water Pump
ND Tackle take their fair share of stick online whenever they launch a new product.
As a brand they do try to innovate, but can often miss the mark.
The water pump falls into that category in our opinion. It's essentially a pump that attaches to a bankstick and draws water to an electronic tap.
In their promo video it was demonstrated as a game changer for keeping your hands clean using lake water.
A bit strange really as I've never seen fetching water as such a challenge that you need a full water-pump set up to alleviate.
I think I stand with most carp anglers in saying that this was a product that really missed the mark.
Trakker PowerFlo Tap
Following a similar theme as the ND Water Pump, Trakker launched their PowerFlo Tap in 2022.
Being an established brand, they marketed the hell out of it, teasing us with all sorts of videos about how this was going to be a game-changer for bivvy life.
So when a USB-powered tap was unveiled it didn't go down too well. It almost felt as if Trakker has lost touch with what made them successful; solid, no-nonsense products for the every day angler.
Plus, who the hell wants something else in the bivvy that you need to keep charged up?
The worst thing about the PowerFlo? It costs £20 and you can get the same thing off Wish for about a fiver.
Korda Floss Caps
I've never met a single angler who uses the floss caps that were released by Korda in 2021.
I remember reading the comments for these when they were launched.
There was an air of disappointment; a brand as innovate as Korda could only think to launch a piece of useless plastic that solves no problems at all.
In fact, it creates a problem, if you use these then you have to go out and buy multiple packs for every colour hookbait that you'll be attaching using floss.
And we haven't even talked about how this is just more plastic that will be getting into our waterways.
AVID Thermatech Heated Sleeping Bag
I'm pretty certain AVID will have expected some stick when they launched their range of heated sleeping bags a couple of years ago.
Any product that makes our bivvy more of a home-away-from-home attracts negativity. Mainly from the old-school guys who talk about how the best days were spent under a 40″ brolly on their mums deckchair.
Well personally I'm glad to see them days gone, and despite this product splitting the carp community, I was very much in favour of it.
If we can make things a little more tenable on them long winter nights while we're blanking, then that's good with me.
About the writer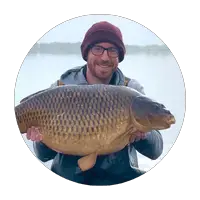 Rob W
I'm Rob, Carp Squad's main contributor. I've been carp fishing on and off for 15 years, but the bug is well and truly back at the moment. Hopefully the articles I write on here help you put more carp on the bank.